Simple Bridal Mehendi Design For Back Side
Looking forward to adorn your backhand with beautiful & artistic henna lines? Let's make your mehendi design back side simple and creative with this guide.
---
Mehendi ceremony is a beautiful wedding ritual where brides apply henna designs. It has a special significance in Indian marriages as it is symbolic of love and affection. In ancient times, henna was applied to the bride to protect her from evil spirits. But in true words, a beautiful mehndi design represents the beauty of womanhood and true love.
But nowadays, mehndi designs have become a great option to slay your elegant bridal look. This oldest form of body art is applied on both hands and feet. As a Kolkata wedding photographer, we have noticed brides flaunting their mehndi designs. We got captivated by the various types of backhand mehndi designs they have chosen. Hence, we thought to share all these alluring mehndi designs with all the brides-to-be. So that you can pick the most gorgeous mehndi design back side simple and creative for your mehndi function. Keep scrolling down and choose the most elegant mehndi design.
1. Mandala Back Hand Mehndi Design
If you are looking for a traditional mehndi design blended with modern ethos then mandala mehndi is a perfect choice. A mandala mehndi design can please millions of hearts with its alluring look. This mandala design accompanied by flowers and dots is an eye-pleasing charm. Hiring professional bengali wedding photographers can help you cherish these joyful moments. forever.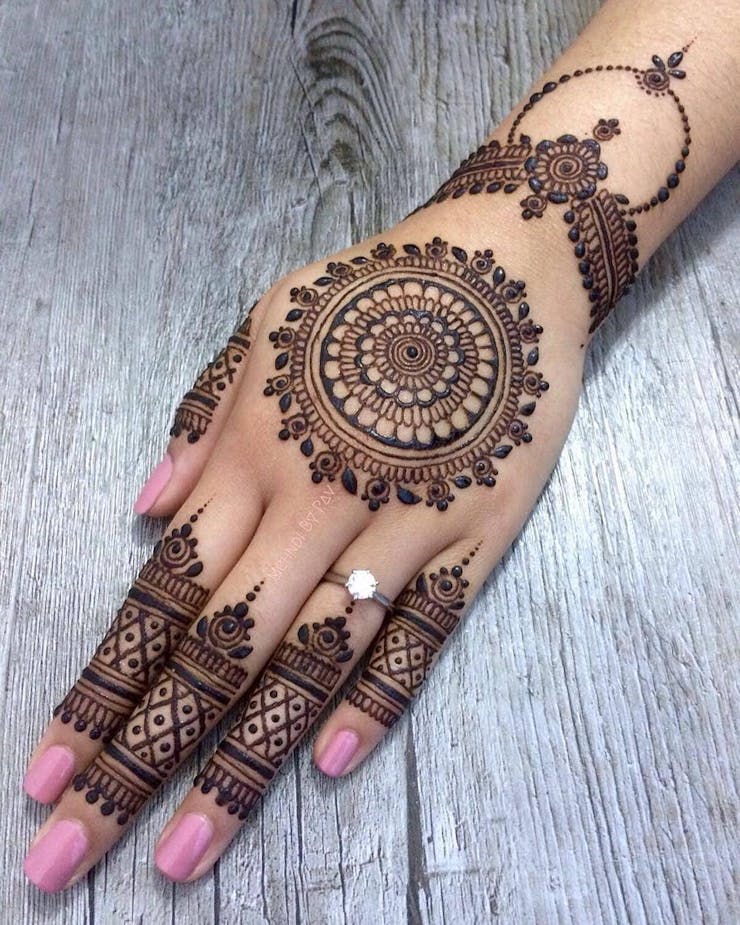 Recommended: 15+ Latest Payal Designs Ideas For Bride in 2022
2. Lotus Motif Mehendi Design Back Side Simple
What can be more beautiful than a divine element like a lotus in your backhand mehndi design? Imbibe the good luck and prosperity with a lotus mehndi design. This breathtaking lotus motif can increase the charm of your designer bridal lehenga. This back side modern full hand mehndi design will definitely catch everyone's eyes.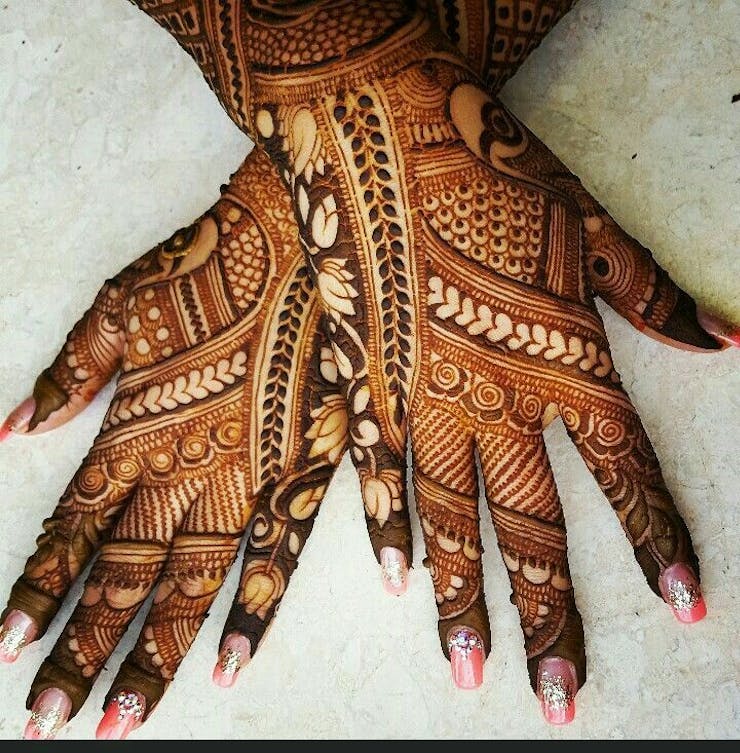 Must Read: Top 15 Trending Bridal Hairstyle For Haldi Ceremony
3. A Flawless Pretty Spiral Mehndi Design
Give your traditional mehndi design a beautiful twist with spiral strokes. This beautiful bridal mehndi design will make you feel nothing less than a beauty queen. You can pair statement rings and bracelets to complement the beauty of this mehndi art. The bold strokes of this spiral mehndi look so appealing to the eyes.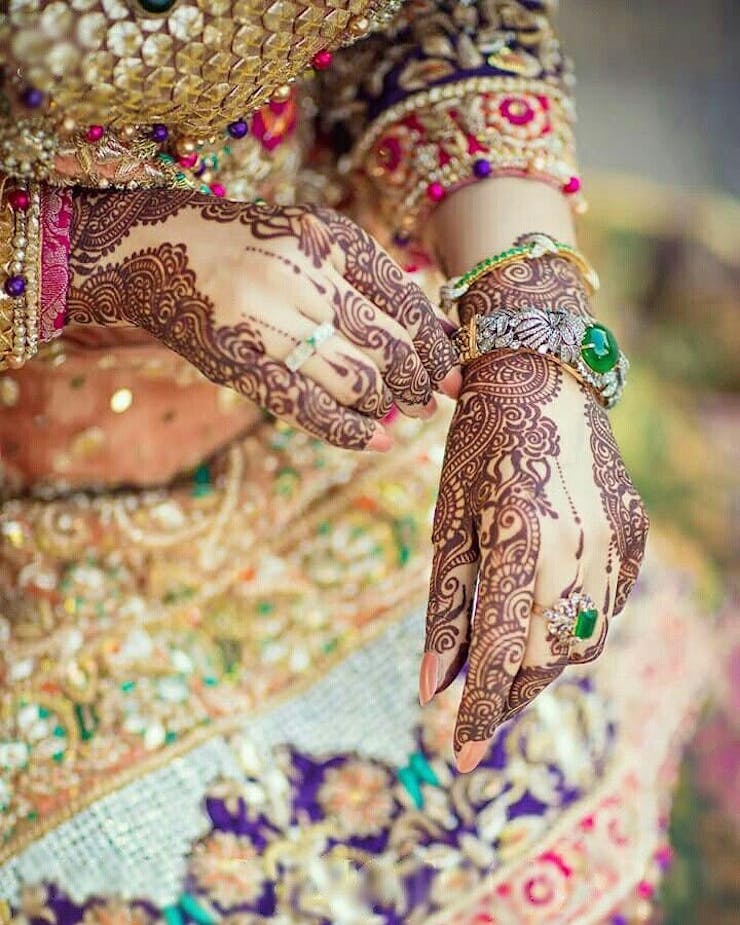 4. A Moroccan Mehndi Design Backside Simple & Beautiful
Are you looking for an unconventional backside easy mehndi design for your mehndi event? Moroccan mehndi design is a beautiful blend of contemporary and traditional mehndi art. The rhombus-like shape designed on the backside of the hand can bring out the best of henna design. This precious mehndi is perfect for your unconventional bridal costume.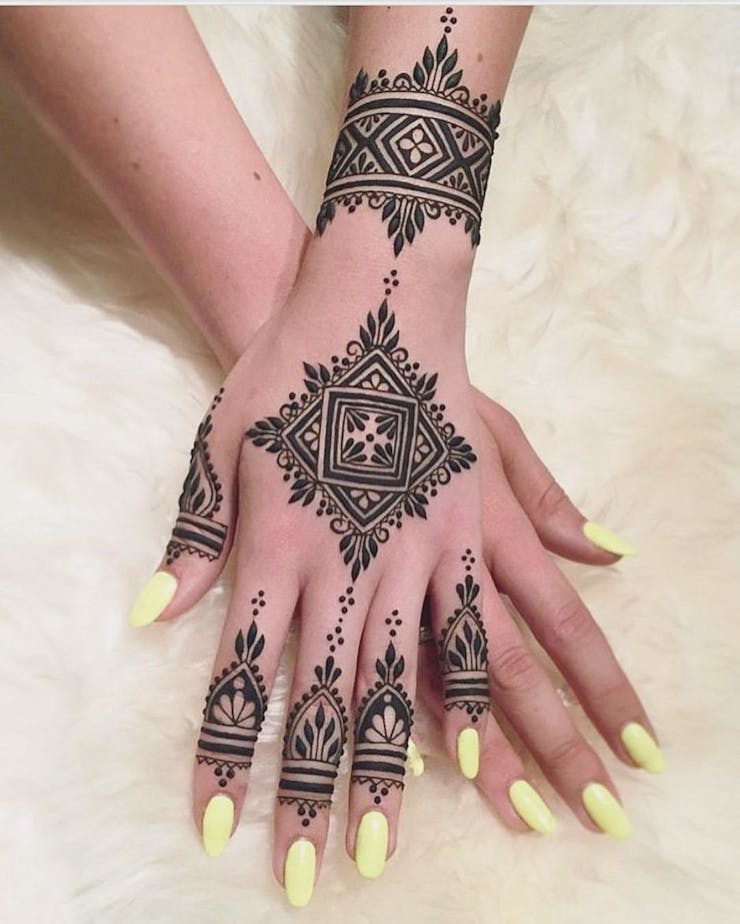 5. Symmetrical Backhand Mehndi Design
Who said that a simple mehndi design back side of hand doesn't look unique and gorgeous? Symmetrical mehndi designs always look elegant and are the best choice for your festive affair. This beautiful combination of a floral and jaal pattern looks very attractive. Adding floral jewelry to this mehndi design can make it look more spectacular.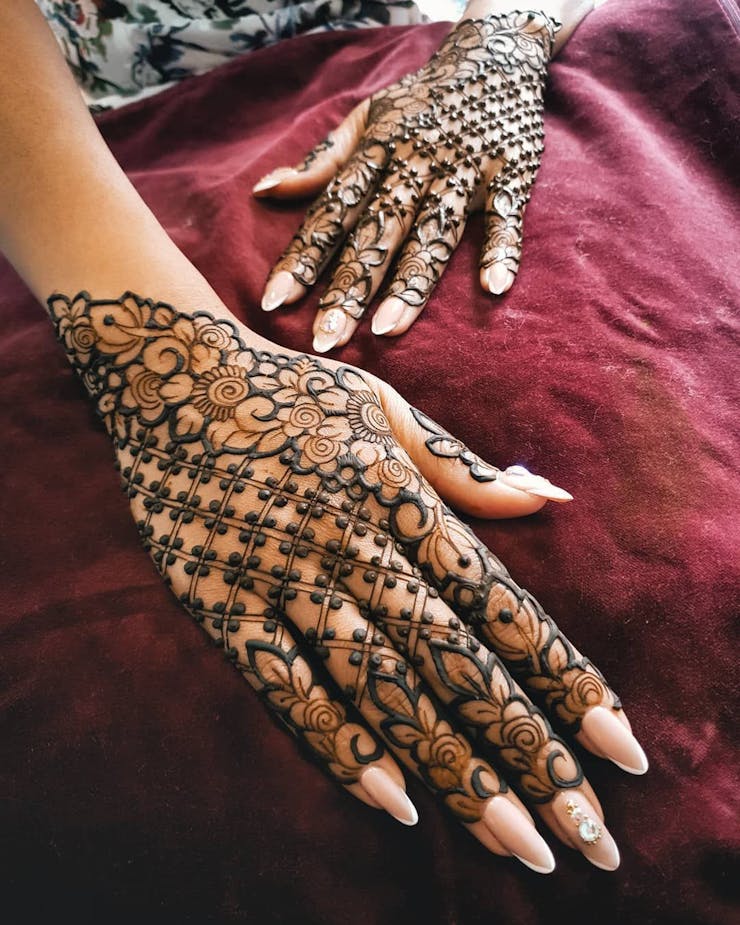 6. Stunning Beauty Of Floral Mehndi Design
Give your traditional mehndi design a modern twist by adding a floral touch. Floral mehndi designs are beautiful and ever-lasting patterns for our gorgeous bride. A floral mehndi design back side simple and easy is the best option to embrace your soft hands. A floral mehndi design can add glam to your ethnic outfit.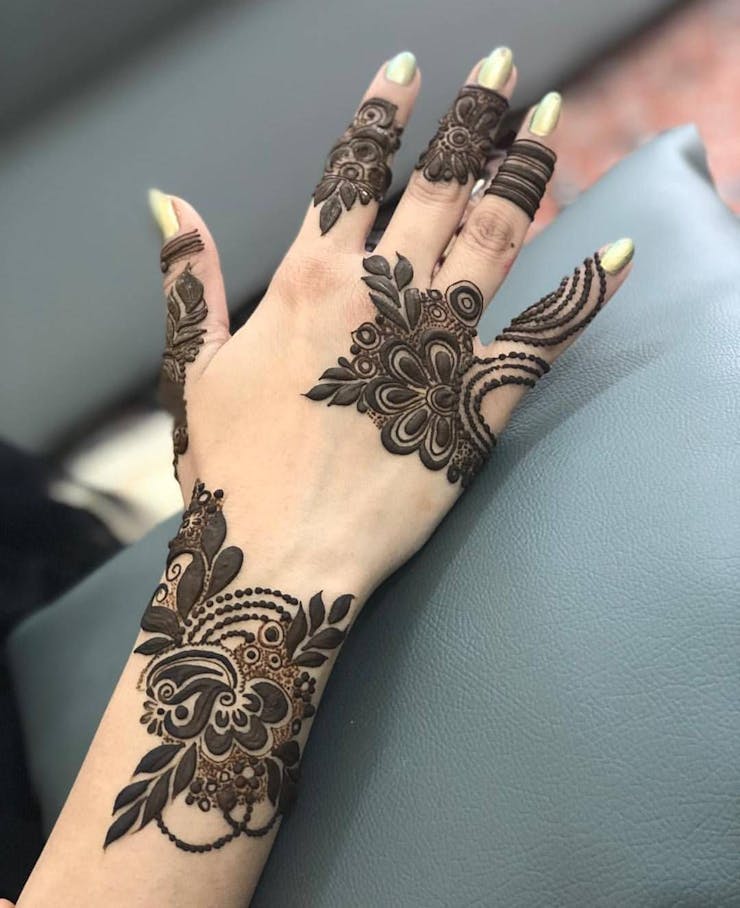 7. Criss Cross Mehendi Design Back Side Simple
Jaal mehndi designs are the simplest patterns that you can try to flaunt your ethnicity. This criss-cross pattern adorned with tiny dots and spirals makes it look graceful. The jaal mehndi pattern is all going to set the bar high on your special day. You can complement this beautiful design with gold jewelry to leave everyone awestruck.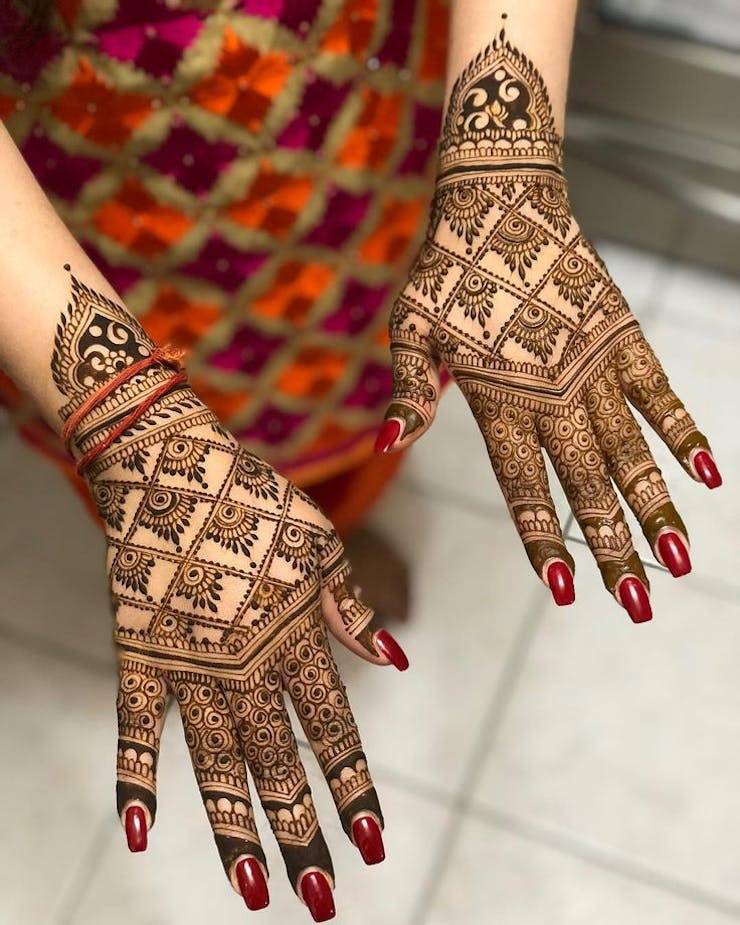 8. An Arabic Mehndi Design For Back Hand
Arabic mehndi designs are the biggest hit among brides who love simplicity. The free-flowing trails of Arabic patterns exude an eye-pleasing charm. This backhand mehndi design can add a glam factor to your bridal personality. The mesmerizing beauty of the gold henna strokes can add further charm to your ethnic wear.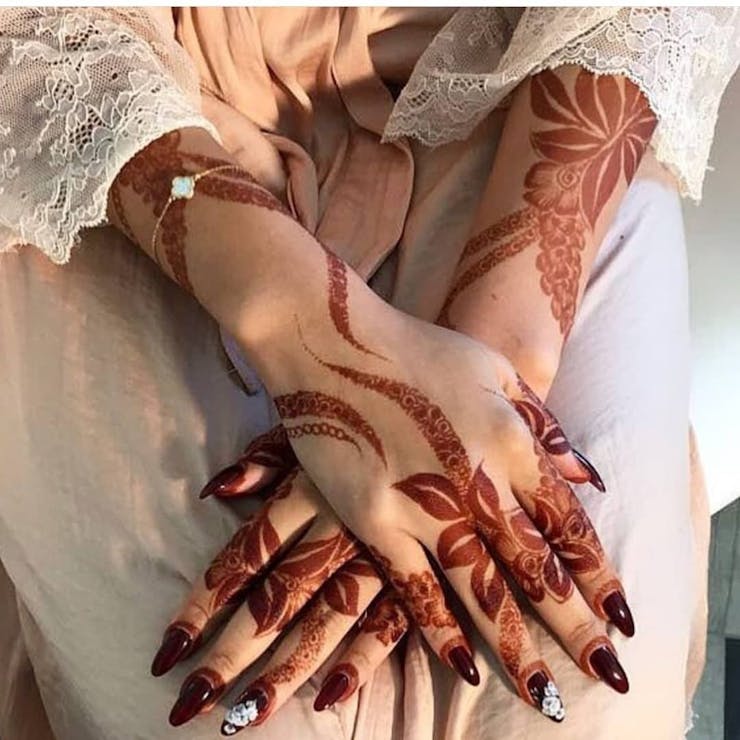 9. Jewelry Pattern Mehndi Design
Forget all your bridal hand jewelry and opt for a jewelry pattern mehndi design for that hand. This aesthetically appealing mehndi design is perfect for jewelry-loving brides. The intricate design of this easy mehndi pattern looks like real jewelry worn on the hand. It looks luxurious and charming at the same time. Such a beautiful mehndi design can give your mehndi look extra glamour and shine.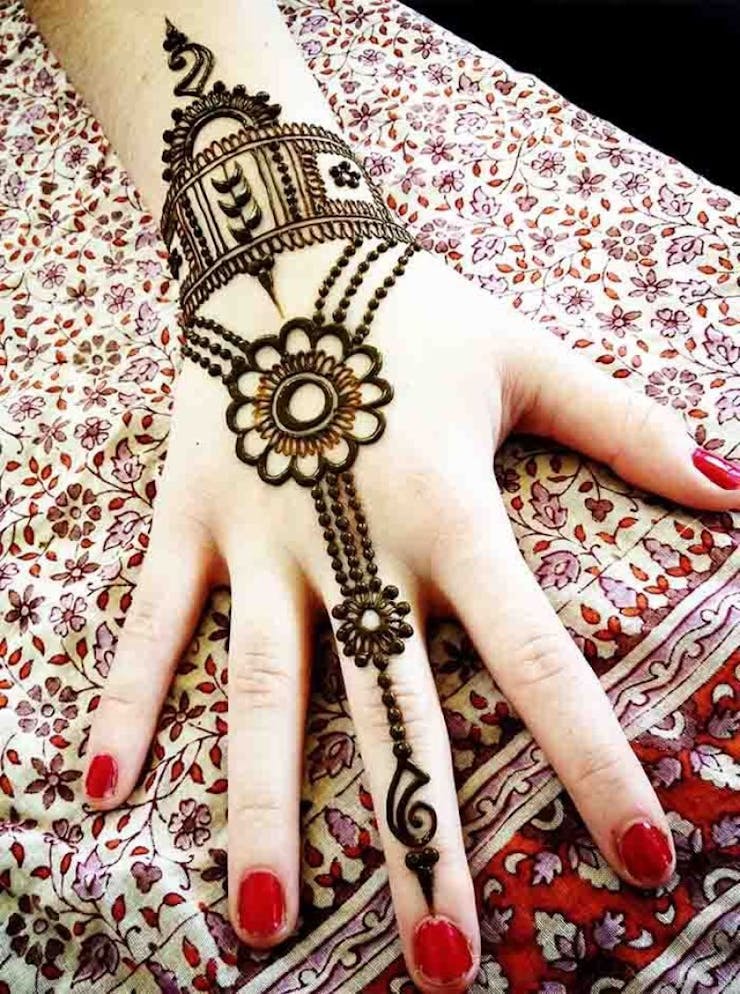 10. Lovely & Cute Heart Shape Back Side Easy Mehndi Design
It's high time to reveal your romantic style through the heart shape mehndi design. Our young brides are falling in love with this heart shape mehndi. You can try for the mini hearts on your backhand to go get an alluring bridal look. The criss-cross pattern and dainty dots in this beautiful henna design look feminine.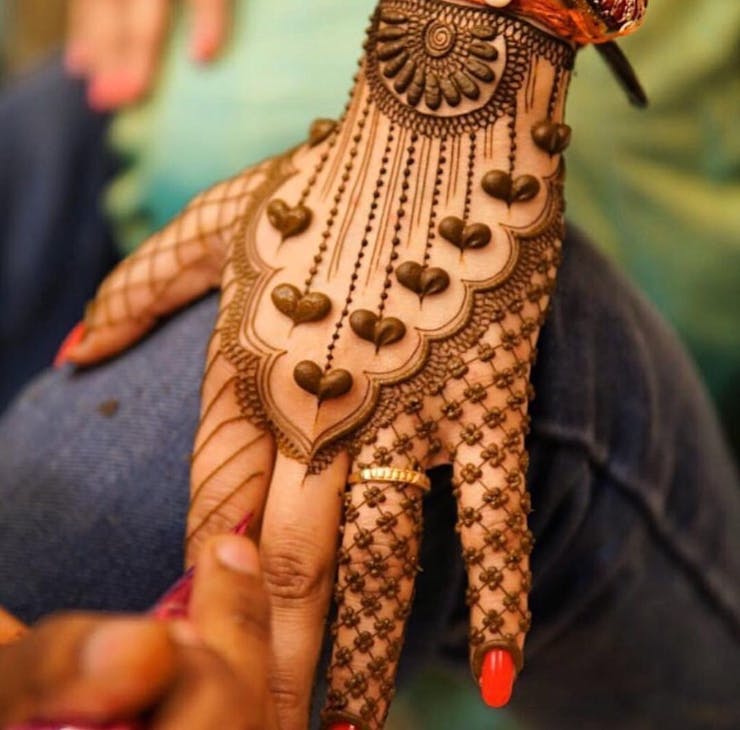 11. Bold Line & Dots Mehndi Design
The beautiful line and dots henna design consist of tiny dots and symmetrical lines that cover all your fingers and wrist. This simple backhand design can make a great impact on your gorgeous mehndi look. This unconventional mehndi design looks wonderful with Indo-Western outfits.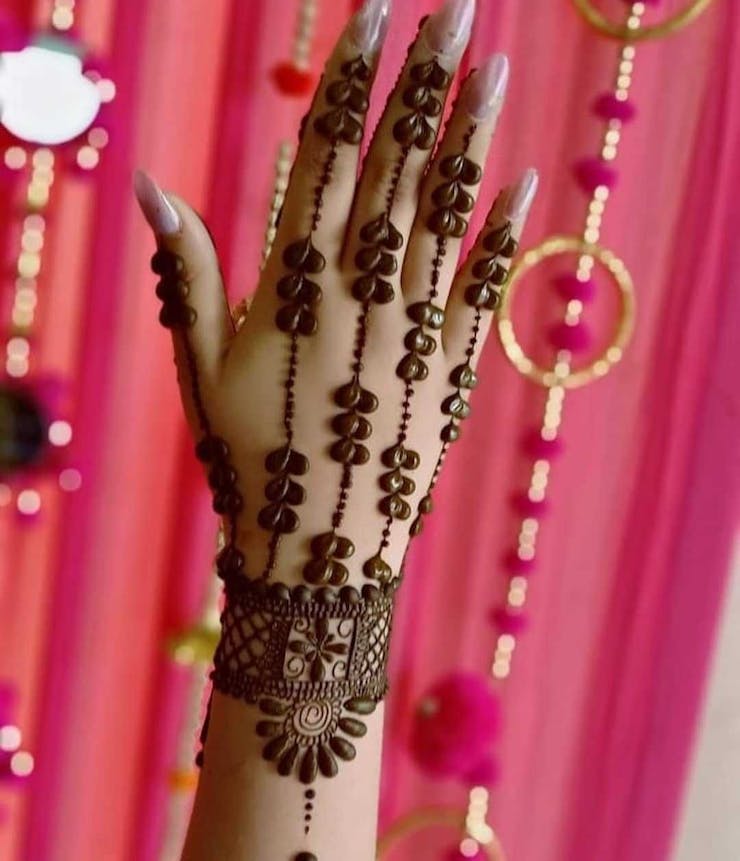 12. Sheer Elegance Of Peacock Mehndi Design
One of the most beautiful backhand mehndi designs is a peacock mehndi design. The fascinating peacock motif on the backhand looks elegant and eye-catchy. The intricate design of a peacock motif is a treat to the eyes. This kind of creative design is a little bit complex but always results in classy body art.