Top 15 Trending Bridal Hairstyle For Haldi Ceremony
Take your fashion game to a whole new level by choosing a trending bridal hairstyle for haldi ceremony from this fashion guide.
---
Have you ever thought that which element makes a bride look most beautiful on her wedding day? Is it her wedding outfit, her glamorous makeup, or her statement jewelry? Yes, all these things enhance the natural beauty of every bride. But the main element which turns her entire look is her hairstyle. The bridal hairstyle was the most underrated element for brides in the olden days. Because brides have only one option in the olden days for their wedding hairstyle. And that was a classic hair bun. But with the evolving times, brides started experimenting with different kinds of hairstyles. They started giving more importance to their bridal hairstyle resulting in a glamorous bridal look. You can see bridal portraits with beautiful hairstyles in the recent works of the best wedding photographer in Kolkata. But if you are unable to decide which hairstyle will suit you the best, then continue reading this blog. We are going to help you to find the perfect hairstyle for haldi ceremony that will add an extra bit of sparkle.
1. Loose Waves Hairstyle For Haldi Function
When it comes to the bridal hairstyle with long hair, the open curls are the best ones to try in the Haldi ceremony. An open hairstyle is a better way to flaunt your wavy locks. It goes well both with a gorgeous lehenga and a glamorous saree.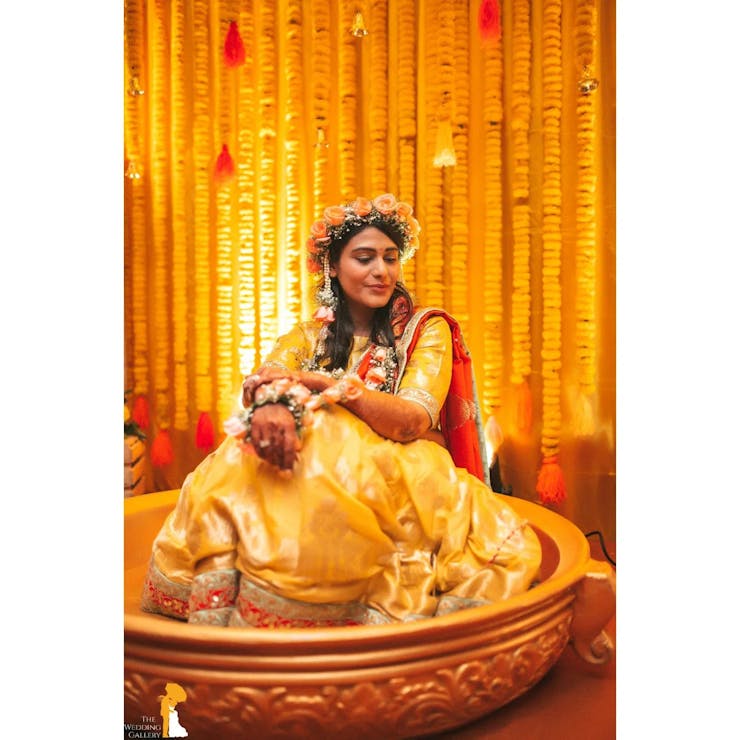 Recommended: All You Need To Know About Rituals Of Bengali Wedding
2. Disney Princess Hairstyle For Pretty brides
Who says that a classic bun or a traditional braid is the only option for your Haldi ceremony? Look at this pretty bride who has to make her childhood dreams come true. She has experimented with a Disney Princess hairstyle and adorned her hair with colorful jewelry to make a fairy tale on her wedding day.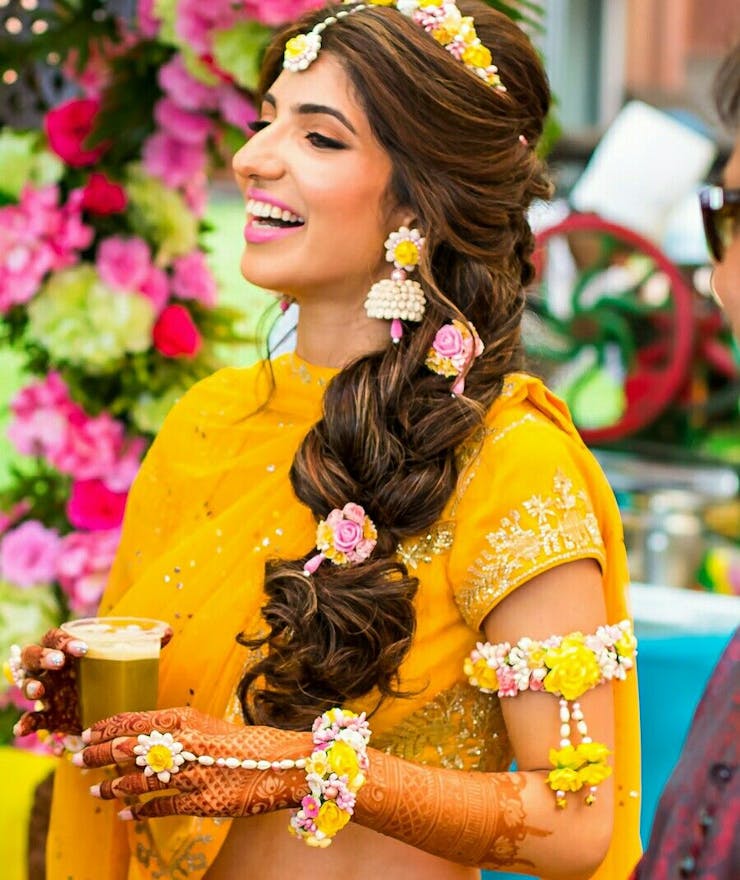 Also Check: 13+ Unique Pre-wedding Photo Shoot Ideas For Every Couple
3. A Lower Bun Hairstyle With Floral Touch
We agree that buns are the most traditional bridal hairstyle. But adding a little twist to your bridal bun can turn your whole look to the next level. A low bun adorned with a pretty floral wreath is the best option to make a statement at your Haldi ceremony. Make sure to hire a professional photographer in kolkata for wedding to get some splendid images of your Haldi function.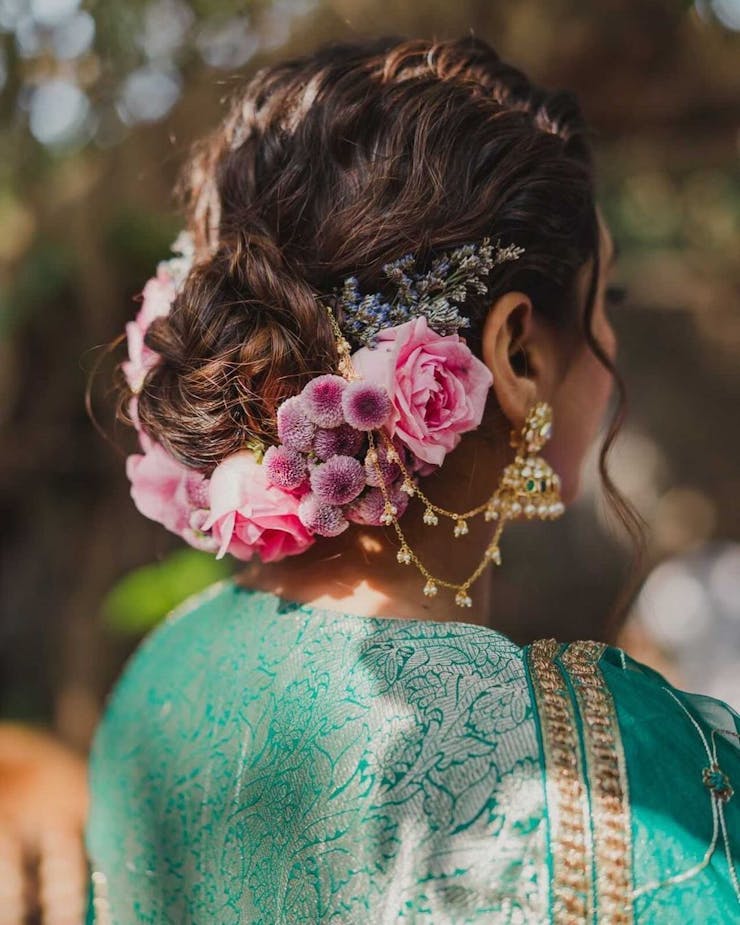 4. A High Ponytail Bridal Hairstyle For Haldi Ceremony
If you are looking for an easy bridal hairstyle for your Haldi ceremony then you can opt for a high ponytail. Take a cue from this gorgeous bride who has experimented with a voluminous high ponytail to complement her sassy haldi look.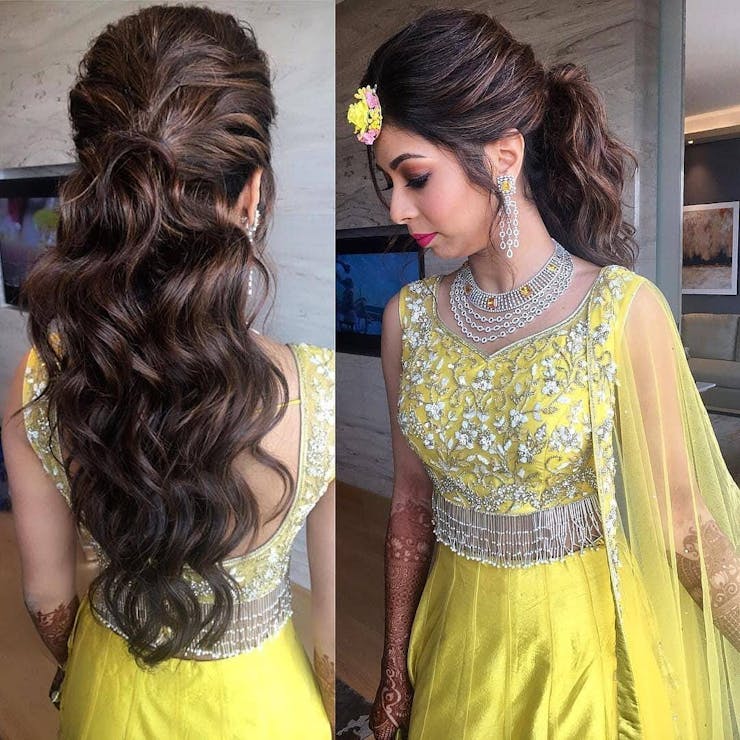 5. Stylish French Braid Bun For Classy Bride
A braided bun is the most classy option to try on haldi day. It looks perfect when paired with a floral gown or ruffle saree. You can add some floral attachments around to give it a dazzling look. This bride has opted for many intricate braids and tied a hair accessory upon it to get an eye catchy bridal look.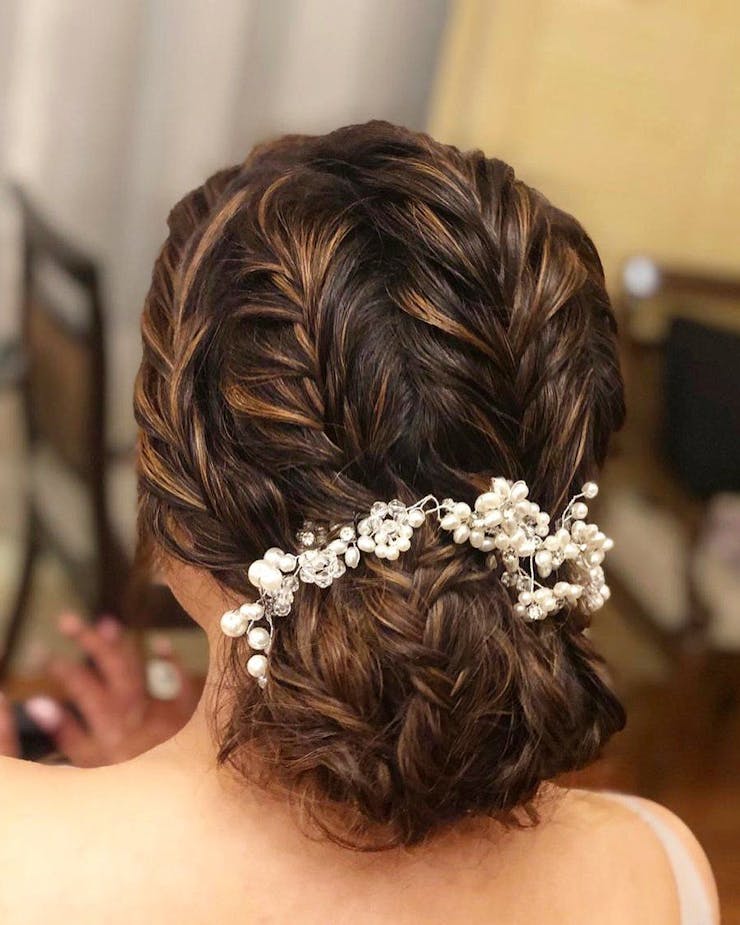 6. A Half Tied Hairstyle For A Princess Like Look
Brides these days are experimenting with new hairstyles to make a fashion statement at their wedding. A half-tied hairstyle offers a classy and elegant look to the bride. Bookmark this beautiful half-tied hairstyle for a memorable haldi day look.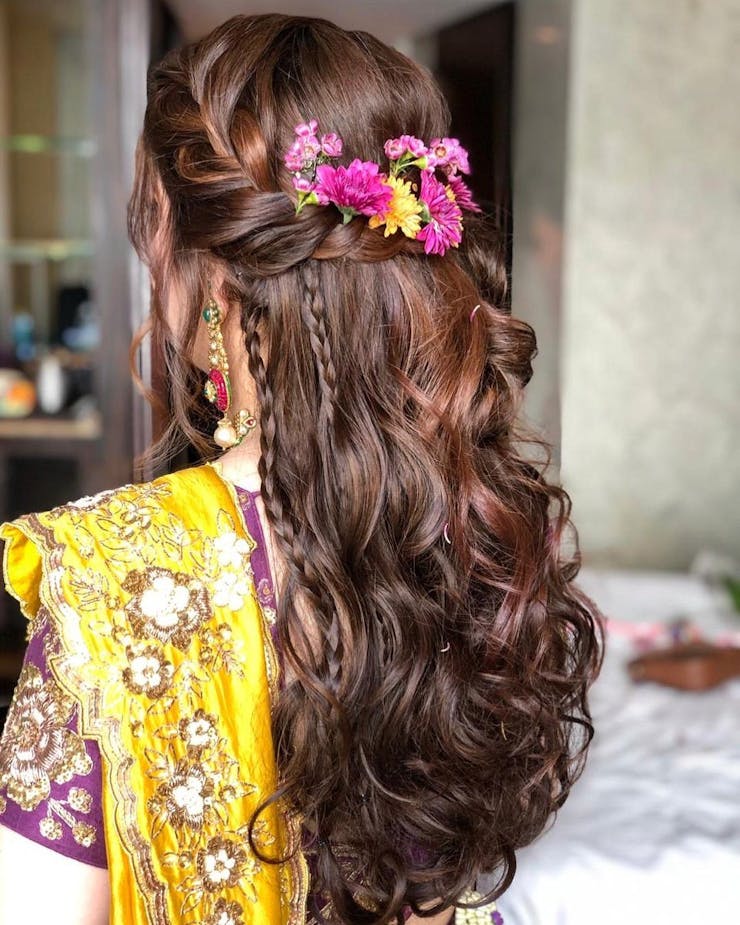 7. Add A Dramatic Twist With Wavy Braid Hairstyle
Another way to look pretty at your Haldi ceremony is to tie your hair into a wavy braid. It looks so pretty that even if you add some dainty pearl accessories to it, it will get you all the limelight.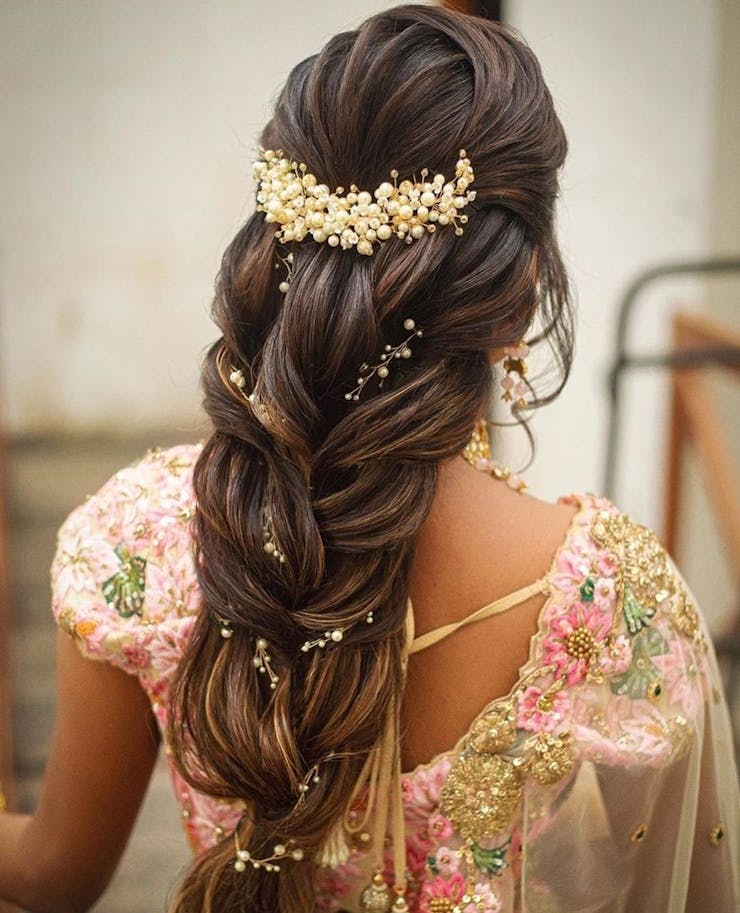 8. Floral Braid Hairstyle For A Stunning Bridal Look
This gorgeous cascading floral braid with open ends looks mesmerizing with a designer haldi outfit. Here the bride has tied her beautiful braid into a floral bun and left the remaining hair open. Adding some dainty flowers to this hairstyle can make it the best haldi look for bride.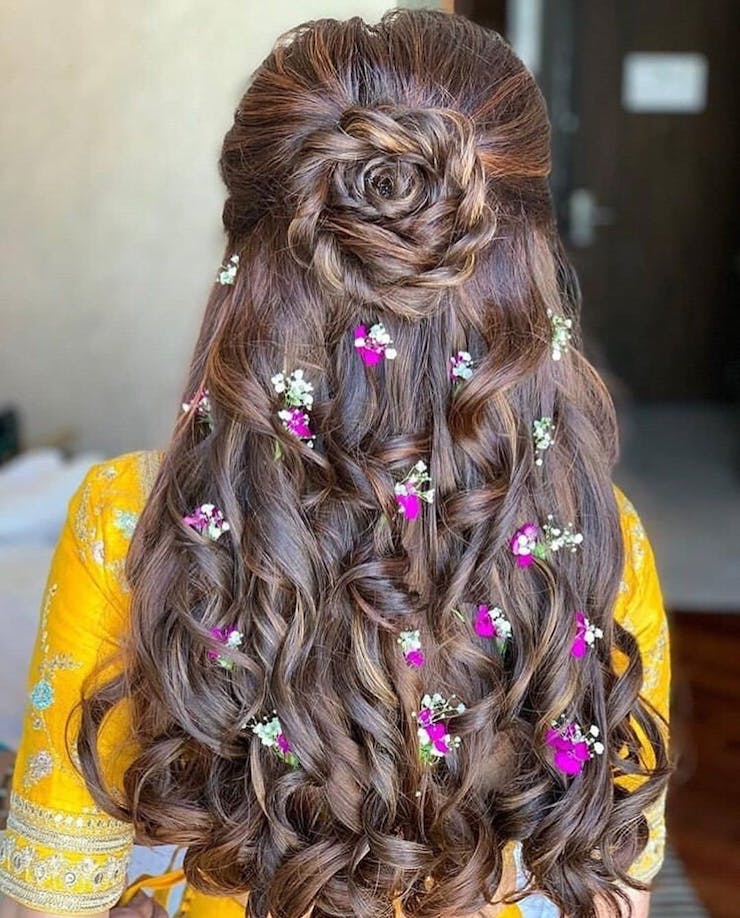 9. A Gorgeous Fish Braid Is One Of The Best Bridal Hairstyles
The fish tail braid is the most popular bridal hairstyle for a vibrant pre-wedding ceremony. Pairing this super amazing braid with soft flowers or a dainty hair accessory can make you a timeless bride. Here the bride has tied her hair in a captivating fish tail braid to complement her ethnic outfit.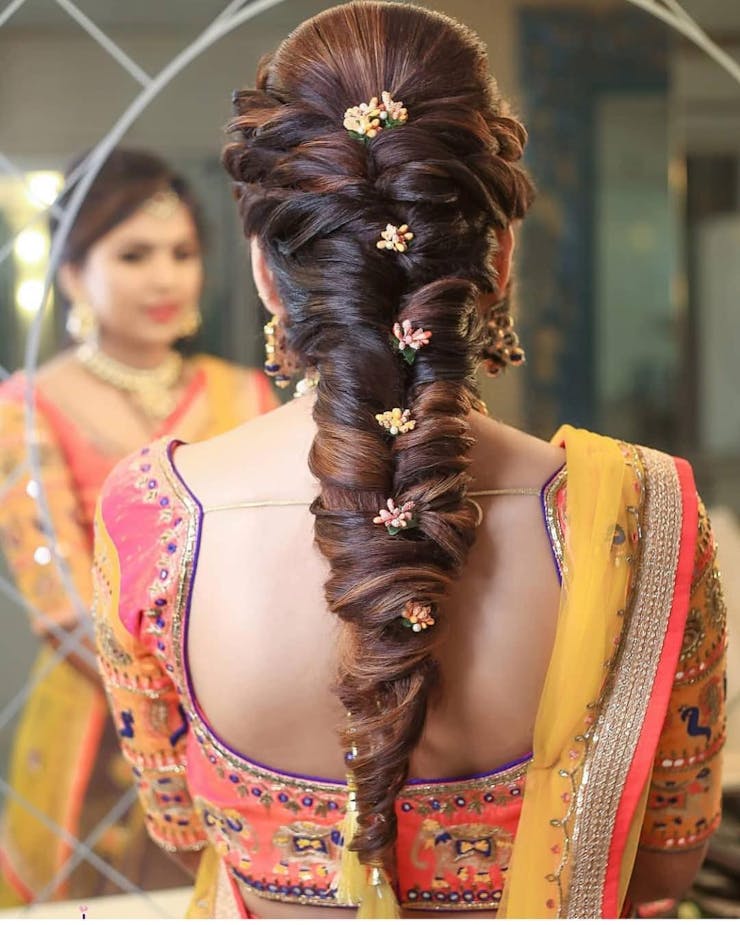 10. When A Messy Bun Meets Floral Fiesta
Here we go with another stylish hairstyle for the Haldi ceremony. This messy hair bun adorned with pretty and fresh flowers is a perfect choice for a Haldi ceremony hairstyle. The contrasting flowers tied upon this pretty bun make it more attractive.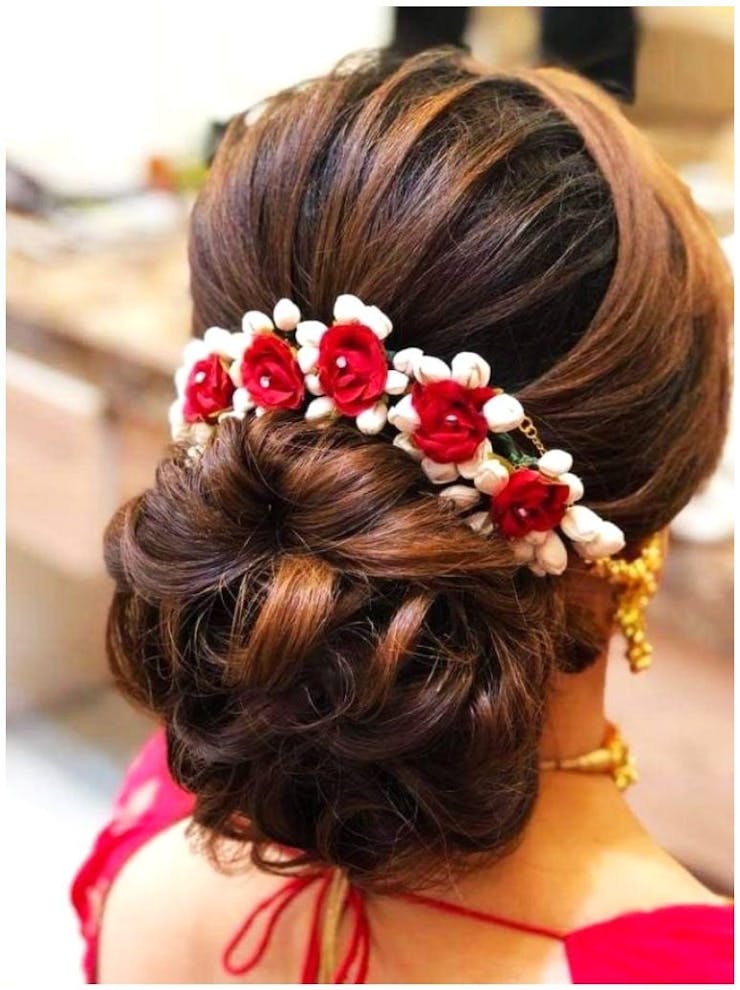 11. A Floral Bun Is The Most Elegant Option
What can be more beautiful than a traditional Indian bride with an elegant floral bun? If you have thick and beautiful hair then opt for this fancy and fragrant bun. It can provide you with the most elegant look on your special day.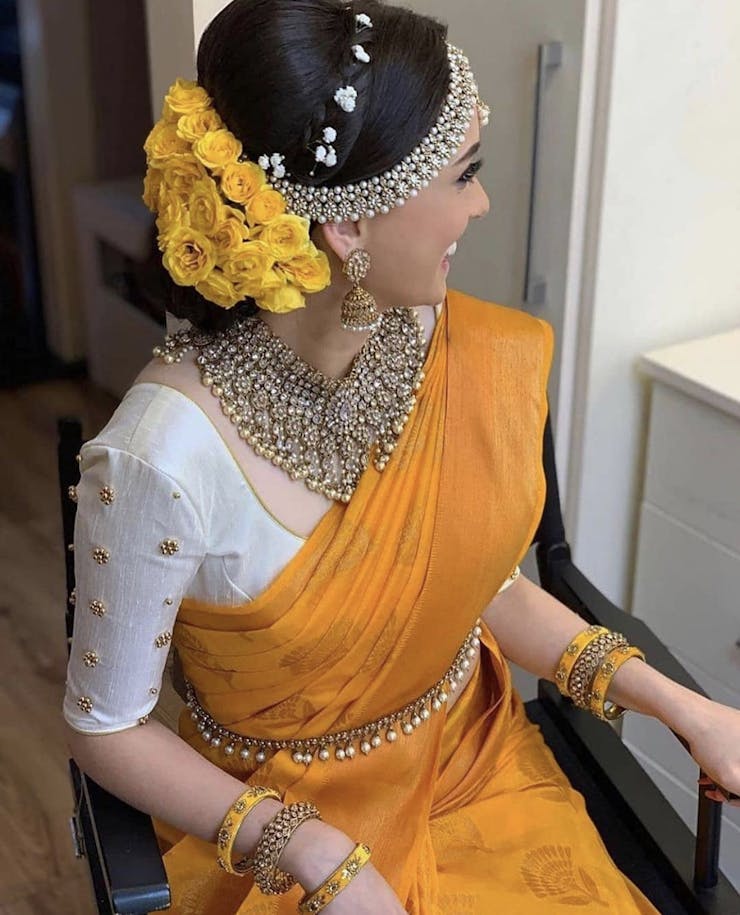 12. Twisted Bun Hairstyle With A Structured Hair Accessory
A twisted bun adds a definition to your bridal look. Pairing this hairstyle with a beautiful hair accessory can add a glam factor to your haldi day look.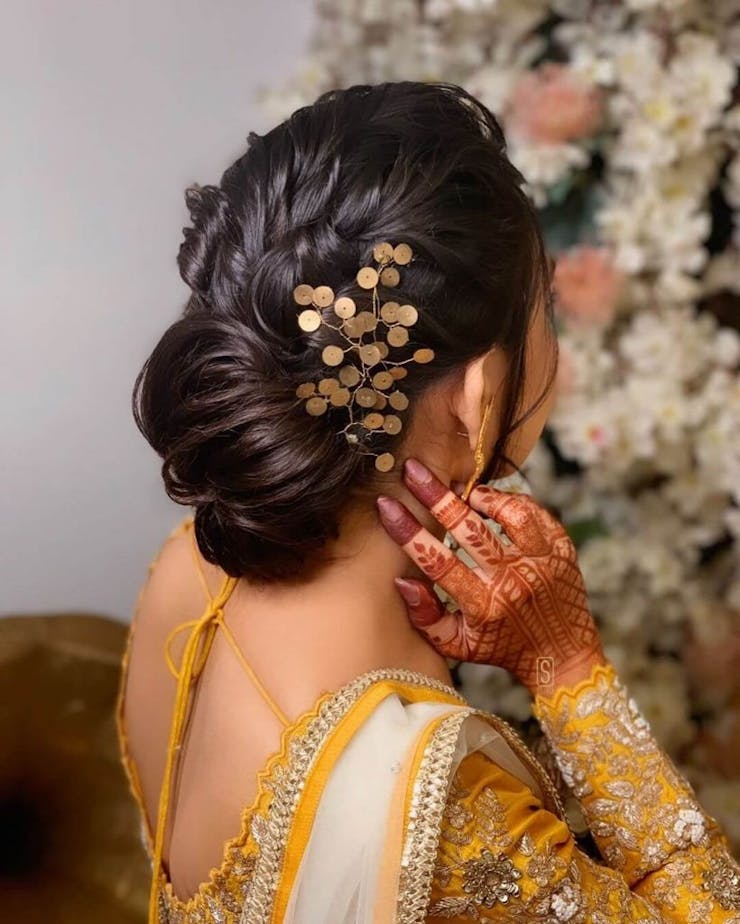 13. A Side Parted Hairstyle For The Lovely Brides
Have you ever come across such an attractive and simple hairstyle? These natural-looking waves brought towards the front of the shoulder add a special charm to this bride's personality. She has added dainty flowers to her braid to enhance the beauty of this beautiful hairstyle.
14. Charming Crown Braids Offers You The Best Look For Haldi
We can't stop crushing over this bride's crown braid hairstyle. If you have medium or full-length hair then you must try this fancy hairstyle on your haldi day. Here the bride has made a beautiful crown using the braid on both sides and adorned it with dainty floral accessory.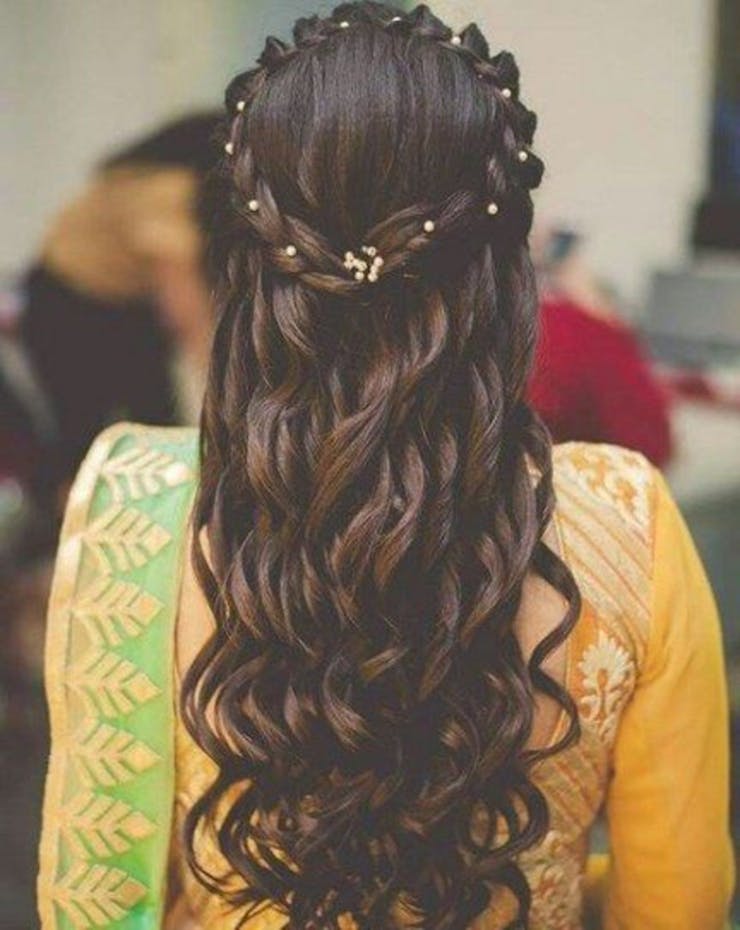 15. A Low Pony Tail With Stunning Hair Accessory
A low pony tail with texture braid looks perfect on a quintessential bride. This pretty bride has added a pearl accessory to her hair to complement her beautiful lehenga. The extra volume of her ponytail at the back makes her look so stunning.