15+ Latest Payal Designs Ideas For Bride in 2022
Payal is an important element of an Indian bridal look. Complete with these trending payal design for bride to make a style statement.
---
Payal is an important part of the bride's solah shringaar that completes her wedding day look. According to Indian wedding customs, a Payal brings peace and prosperity to the couple's life. For ages, this stunning piece of foot jewelry is enhancing the charming looks of brides. Most people think that Payal is a beauty element. But in reality, there is a scientific fact behind wearing an anklet. Metallic anklets like silver or gold provide energy to the body and boost immunity power. Hence, wearing an anklet on the wedding day comes with many advantages for the brides.
Always make sure to book a well-known Kolkata wedding photographer to capture the beauty of your captivating anklet in a perfect way. Creating memories of your bridal look will give you some lifelong joyful memories. Read below the list of 15 trending payal design for bride to find the perfect anklet design for your wedding day.
1. Gorgeous Navaratna Payal Design For The Bride
Navratna Payal has become the popular choice among modern brides these days. Its unique design and fusion of precious gems, pearls, and metals make it the epitome of beauty. This classy jewelry design gives the new-age bride a glamorous look on her wedding day.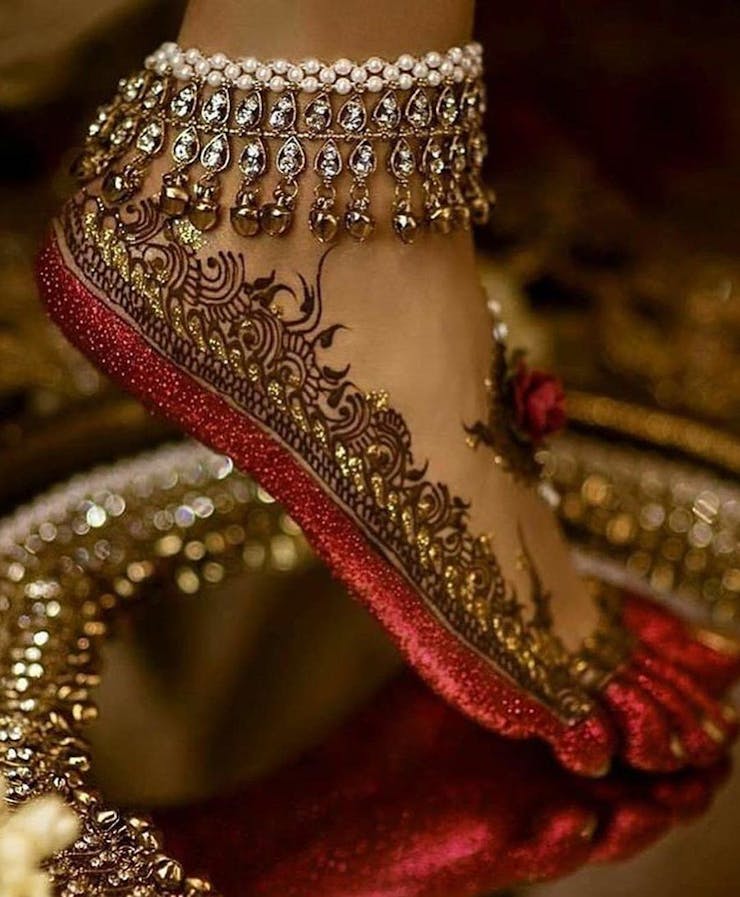 Recommended: 13 Simple Bengali Mehndi Design Ideas – Milan Magic
2. Traditional Gold Payal With Dainty Stones
A gorgeous gold Payal is an amazing choice for your wedding day look. The luxurious shine and grace of a sleek gold chain add the right amount of beauty to your wedding day look. Contact a professional photographer in kolkata for wedding photography to capture your D-day look.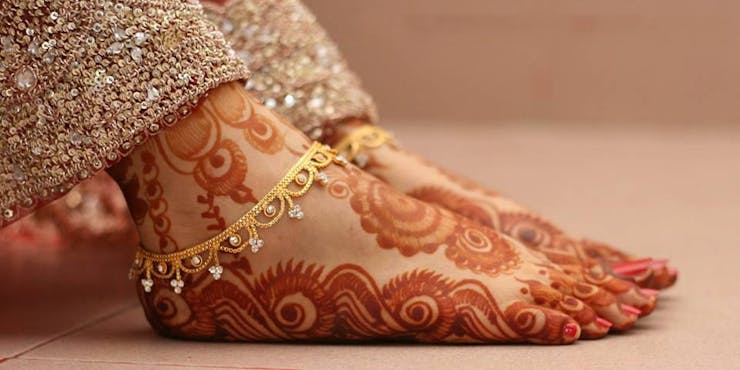 Must Read: Traditional Bengali Bridal Jewellery Collections You Need To Know
3. Trendy Doli-Baarat Payal Design For OTT brides.
Adorn your feet with the latest doli-barat Payal design for a unique bridal look. This stylish Payal design for a bridal look goes well with an exquisite wedding lehenga. The excellent design of this Payal can provide you with a stunning look.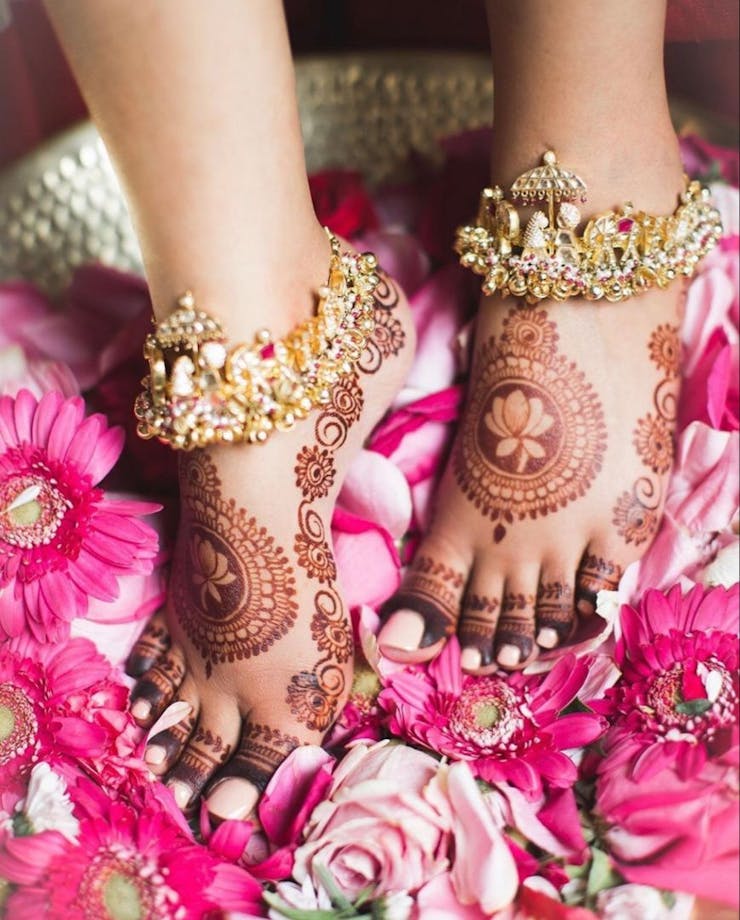 Also Check: Top 15 Prettiest Haldi Look For Bengali Bride – Milan Magic
4. Astonishing Chaandbali Payal For Glamorous Look
A Chaand Bali Payal design is a favorite amongst many Bengali brides who love the luxurious look. The beautiful meenakari work of this Payal is sure to add a regal vibe. It looks more beautiful than glittery mehndi adorned feet. An addition of pearl hanging on this intricate Payal can make it appealing for the eyes.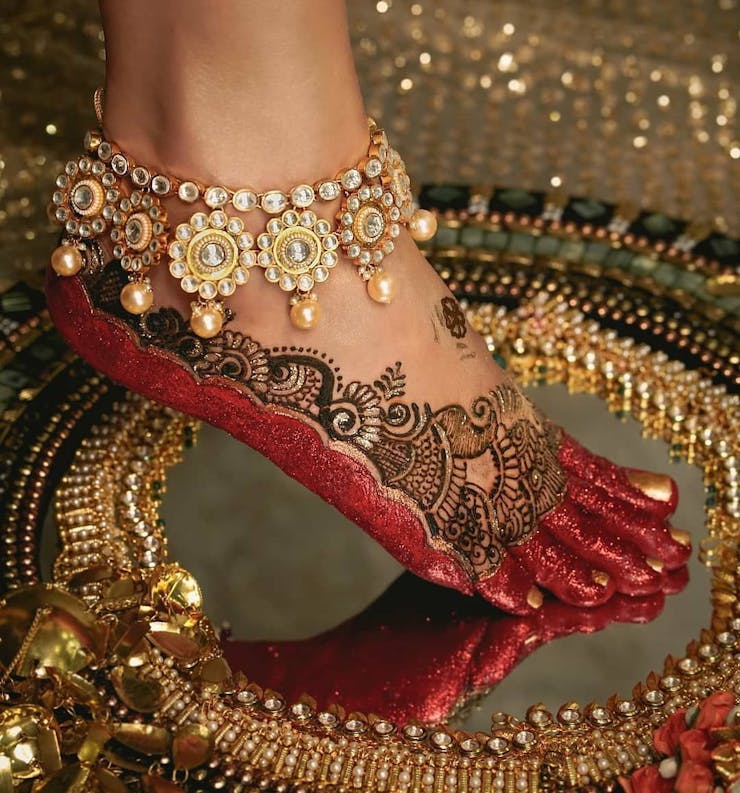 5. Stunning Kundan Payal Design For Wedding Festivities
Kundan jewelry is the most classy option to wear at weddings. The modern age brides don't feel shy to flaunt stunning Kundan anklets adorned on their feet. You can embrace this unique bride Payal design with four strands to get a diva look for your wedding day. The small pearls attached with the Payal are sure to enhance the charm of your beautiful feet.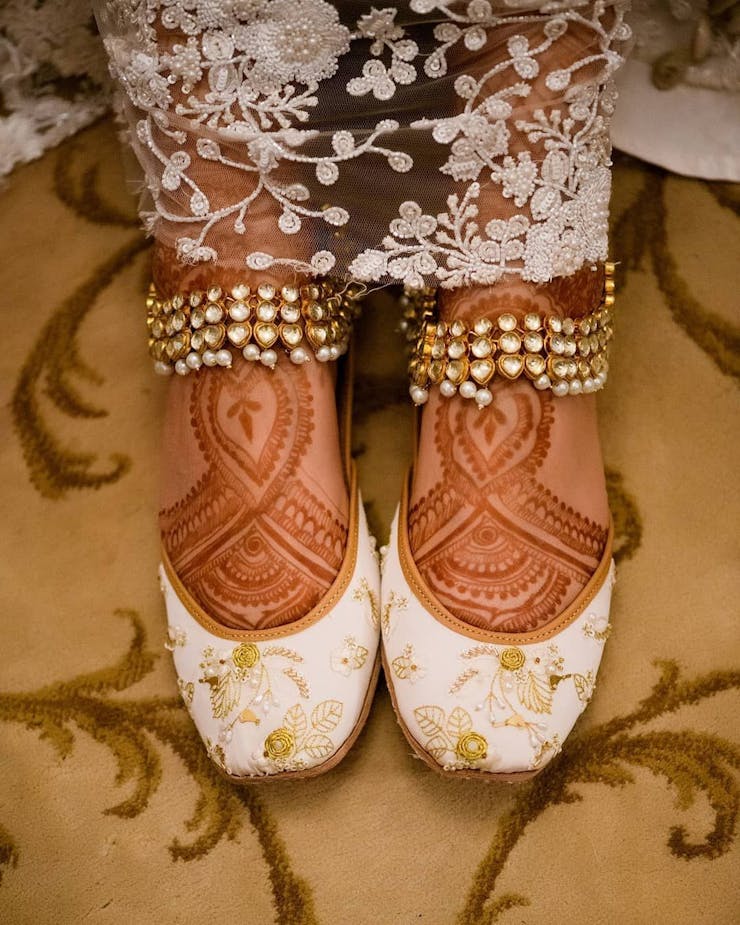 6. Magical Charm Of Pearl Payal To Grab The Eye Balls
This beautiful pearl Payal attached with silver strings can give you a graceful bridal look. The exquisite design of this pearl Payal is sure to steal the show in your grand event. Its unusual charm can compliment an off-white lehenga. It can also add grandeur to the entire bridal look.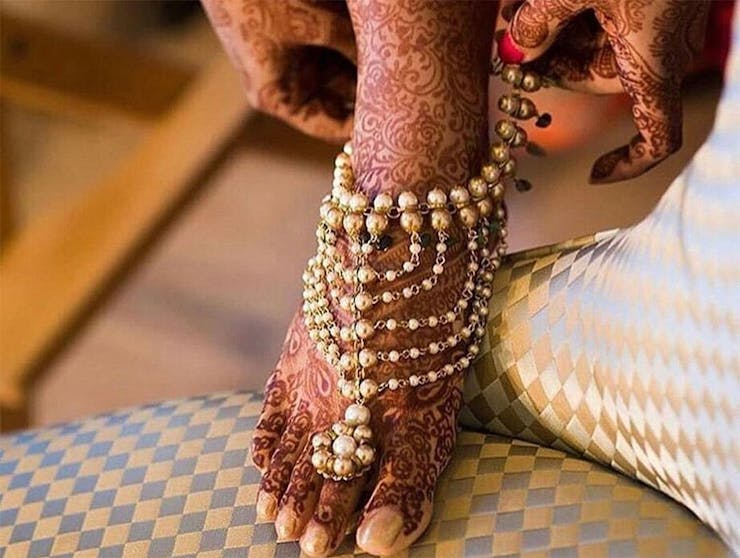 7. Simple And Dainty Polki Payal For Subtle Looks
There is something exceptional about a polki Payal design that always draws brides attention. If you want to keep your bridal look simple and elegant, then you must try this polki payal design. This delicate bridal anklet looks more classy and beautiful with a gorgeous silk saree.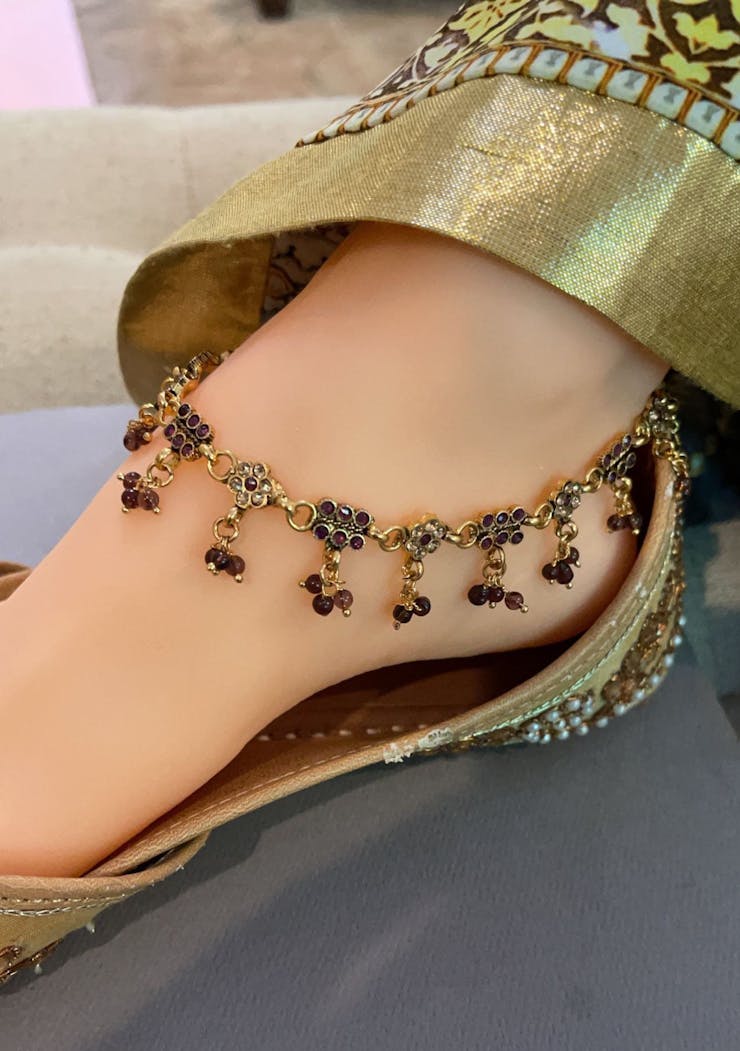 8. The Elegance Of Diamond Payal Is The Best Choice For A Sangeet Night
An gold and diamond Payal sets a perfect example of the royalty and class of the bride. If you are planning to wear a pastel outfit on your wedding day, then you must wear a stunning diamond payal along with it. It's perfect bridal jewelry for a wedding event that follows a regal theme. This alluring spark and shine can turn heads around.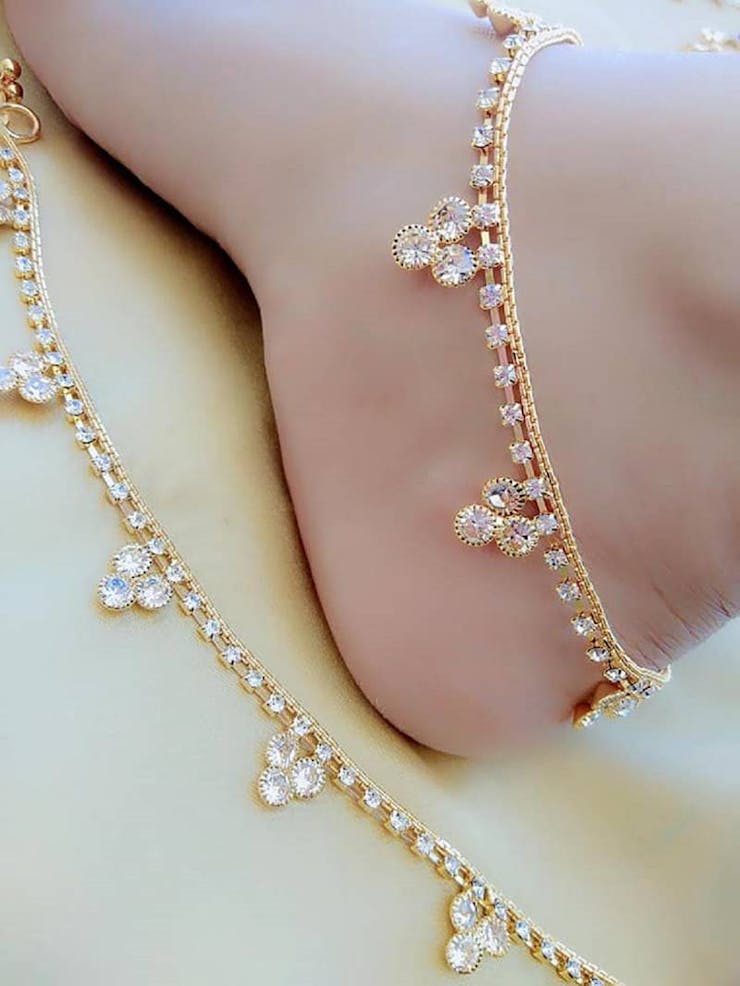 9. Unique Gemstone Payal Adds A Luxurious Charm
The next one on this list is heavy payal designs for bride. A silver anklet designed with precious gemstones is statement jewelry for a royal wedding. This stunning Payal exudes a luxurious vibe. A gemstone anklet add splendor to the attractive foot mehndi design of the bride.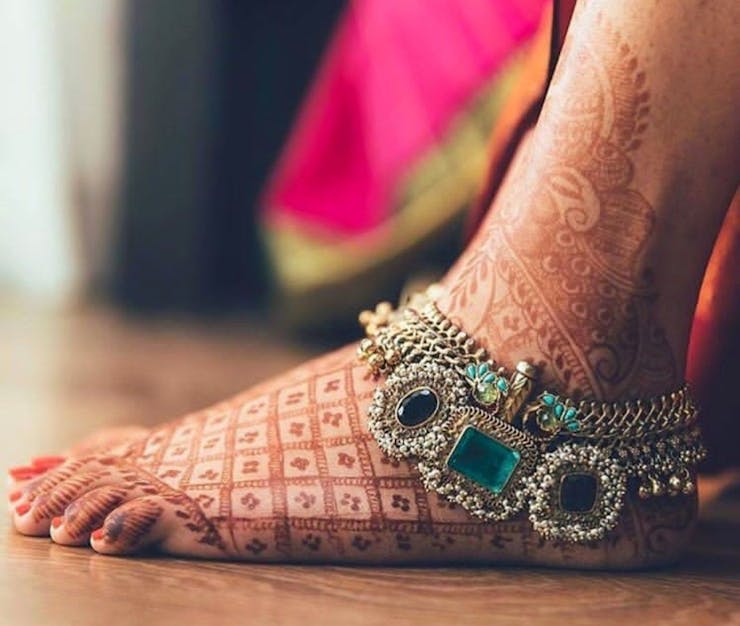 10. Silver Payal Design For Bride Always Win Million Hearts
The intricate and fancy chandi payal designs for bride is a timeless piece of jewelry among Indian brides. A broad silver anklet with a meshwork design is a classic option to adorn your feet. The unique motif of heart and flower intricately crafted on this anklet is no doubt a masterpiece of art. Such a beautiful anklet always marks a style statement at weddings.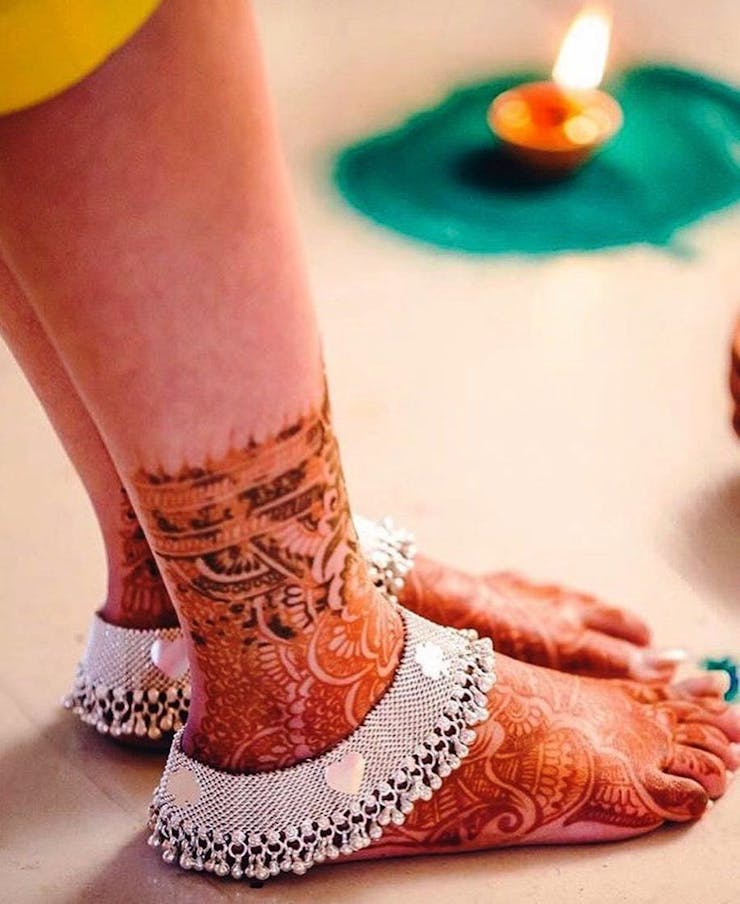 11. A Gota Patti Anklet Is The Latest Payal Designs For Bride
A gotta patti Payal can enhance your look and transform you into a beautiful princess. This Payal design is a perfect fit for a pre-wedding event look. With delicate patterns of flowers and tiny pearls, this gotta patti Payal design can turn you into a fashion-forward bride.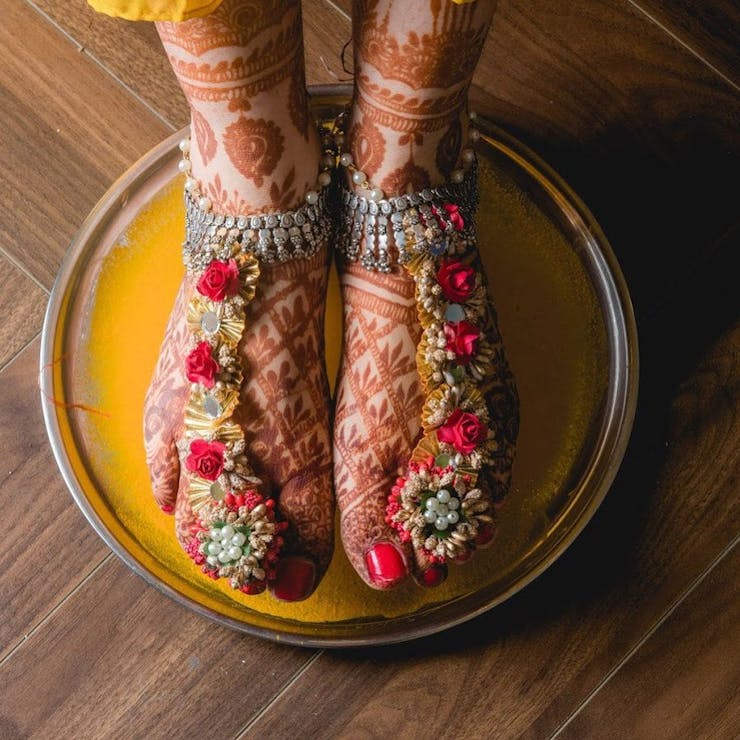 12. Amp Up Your Haldi Ceremony Look With A Floral Payal Design
Wearing floral jewelry at Haldi ceremony is the latest fashion trend for brides. The enchanting look of a floral anklet can leave everyone spellbound. A vibrant floral Payal in pink or yellow shades looks beautiful with your Haldi ceremony outfit. You can choose any flower of your choice to create a stunning floral payal.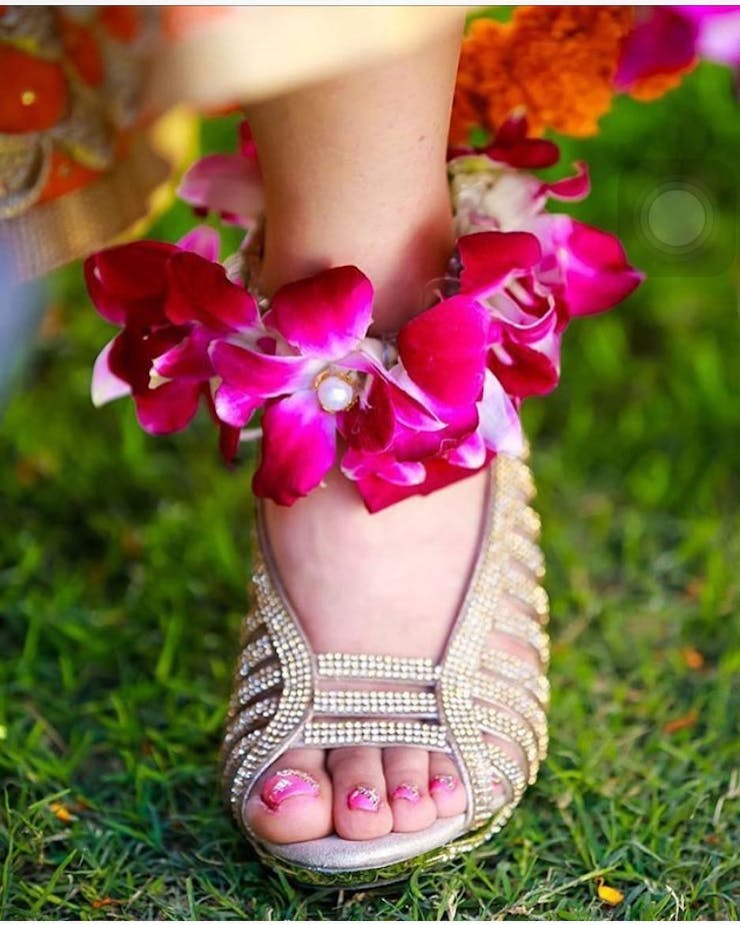 13. Oxidized Silver Payal Adds A Modish Touch To Your Wedding Day Look
An oxidized payal with personalized elements like a peacock is gaining a lot of attention these days. These fancy Payal designs are ideal for a fun-filled pre-wedding ceremony. Their attractive charm and brilliant meenakari design add a beautiful touch to your feet.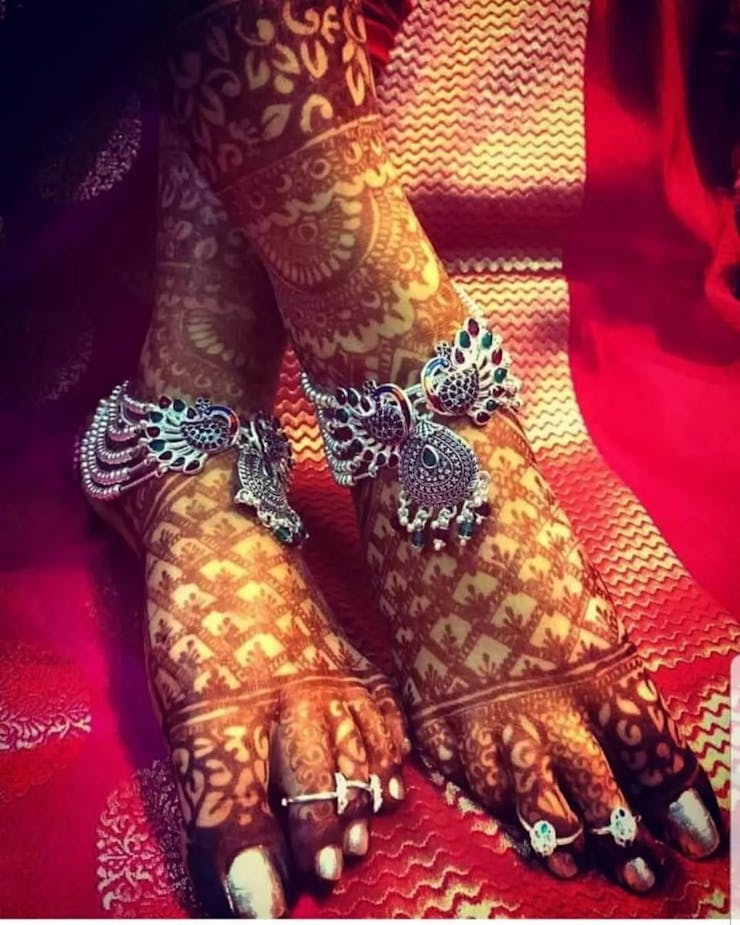 14. The Tingling Sound Of Ghungroo Payal Pleases Everyone Around
Ghungroo Payal is the most popular design among the traditional jewelry of Indian brides. The pleasing sounds produced by these ghungroos make it an amazing choice for a wedding day look. The classy nature of this Payal can make you stand out amongst the crowd.
15. An Attractive Peacock Payal Design Will Make Your Guests Wow
Peacock Payal design is the most fascinating design in bridal jewelry. The intricate meenakari work on this payal can enhance your wedding day look and grab everyone's attention towards you.