13 Simple Bengali Mehndi Design Ideas – Milan Magic
Check here some beautiful and simple bengali mehndi designs to bring a dramatic effect to the mehndi bridal pose and to be a stunning mehndi bride.
---
Our diverse country is blessed with many beautiful cultures and traditions. One such beautiful ritual and the age-old tradition of our country is adorning the brides' hands with beautiful and elaborate designs before their wedding day. Bengali brides have been adorning their hands with a red day "Alta" for years. But with the changing times, a lot of changes have been seen in the bridal look of Bengali brides. The bengali wedding photography is flooded with numerous mehndi poses of bong brides. Although this henna design is not a part of Bengali culture, this beautiful art enhances the beauty of your Bengali bridal makeup. Whether it's a gorgeous henna design or pretty alta paint both of these are a symbol of celebration, prosperity, and happiness. With the growing trend of applying mehndi in brides' hands, there has been a growth in various beautiful patterns for the mehndi ceremony. Thus, if you also want to experiment with your bridal look then scroll down to explore some of the best and single mehndi designs to rock your wedding look.
1. Stunning Paisley Design
If you are a henna lover then you must have seen or heard about this most beautiful and traditional paisley design. Beautiful flowers dots and curvy patterns give an amazing bridal look to your hands. You can try designing Arabic paisleys that can make your look distinctive. These over-dramatic henna designs are undoubtedly the most preferred choice of a Kolkata wedding photographer to capture a lovely bong bridal look.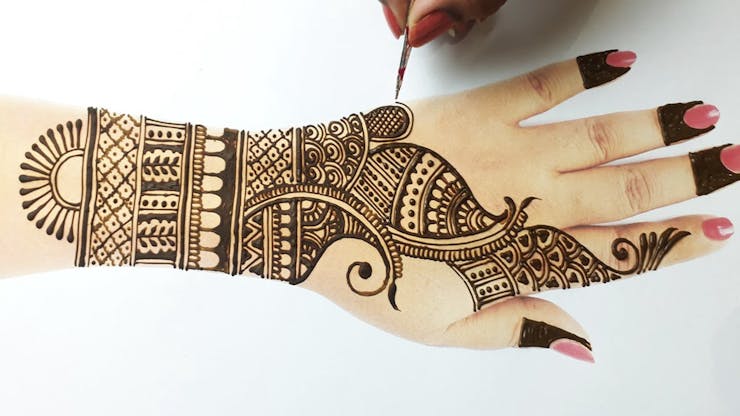 2. Shaded Floral Design
A floral mehndi art is a visual treat for the eyes. This front hand shady henna pattern created with bold strokes looks charming and attractive with every ethnic outfit. You can ask your mehndi artist to draw some big flowers to give your hands a classy aesthetic feel. This simplistic floral design is an ideal choice for a minimalist bride.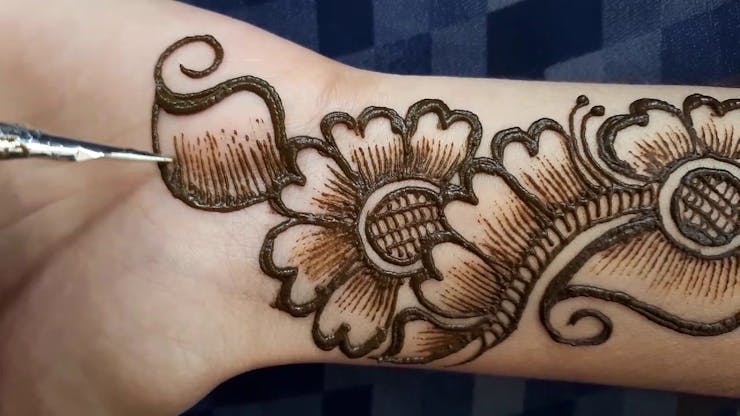 3. Contemporary Rangoli Design
Always craving for something unique? Style your bridal look with this contemporary rangoli patterned design. This wonderful henna pattern is a sheer reflection of beauty and tradition. The gorgeous flowers and vines are giving her hands a breathtaking look. To get an effortless and dreamy mehndi ceremony picture, hire "Milan Magic", one of the best wedding photographers in kolkata.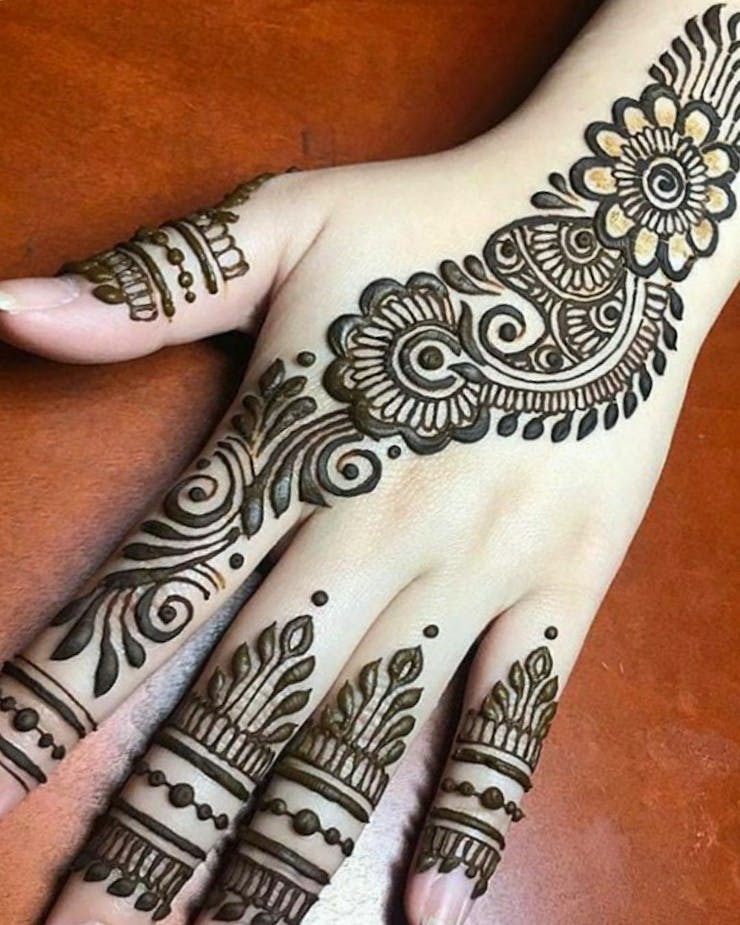 4. Intricate Full Hand Design
Just as the name suggests this intricate mehndi design is a brilliant example of a beautiful art form. This bridal mehndi designmade of spiral and radial motifs looks delightful with a designer lehenga or Banarasi saree the fingers and palm area are fully covered with this wonderful mehndi design. Try this highly creative henna design if you want to be in the limelight of your reception ceremony.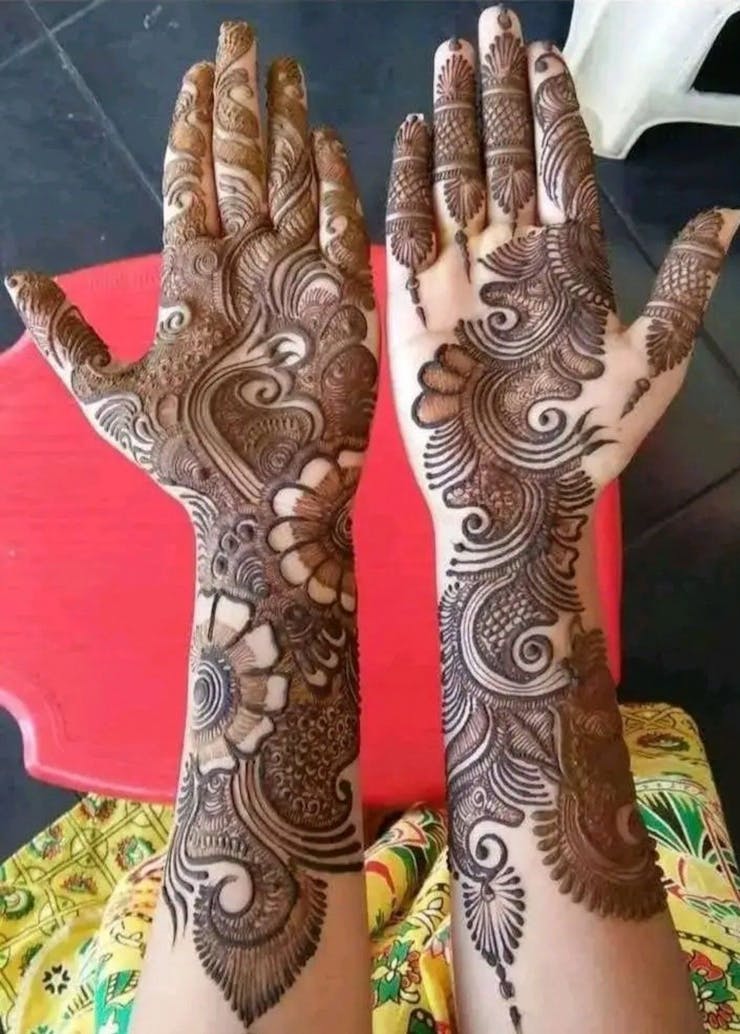 5. Trendy Jewellery Pattern Design
This hand mehandi design is absolutely gorgeous and unique. The beautiful spiral and dotted chain are connected. This jewelry design is a fine work of creative art. These kinds of designs are done on the backside of the hand keeping the front hand vacant. This charming jewel design gives you a fresh and contemporary feel.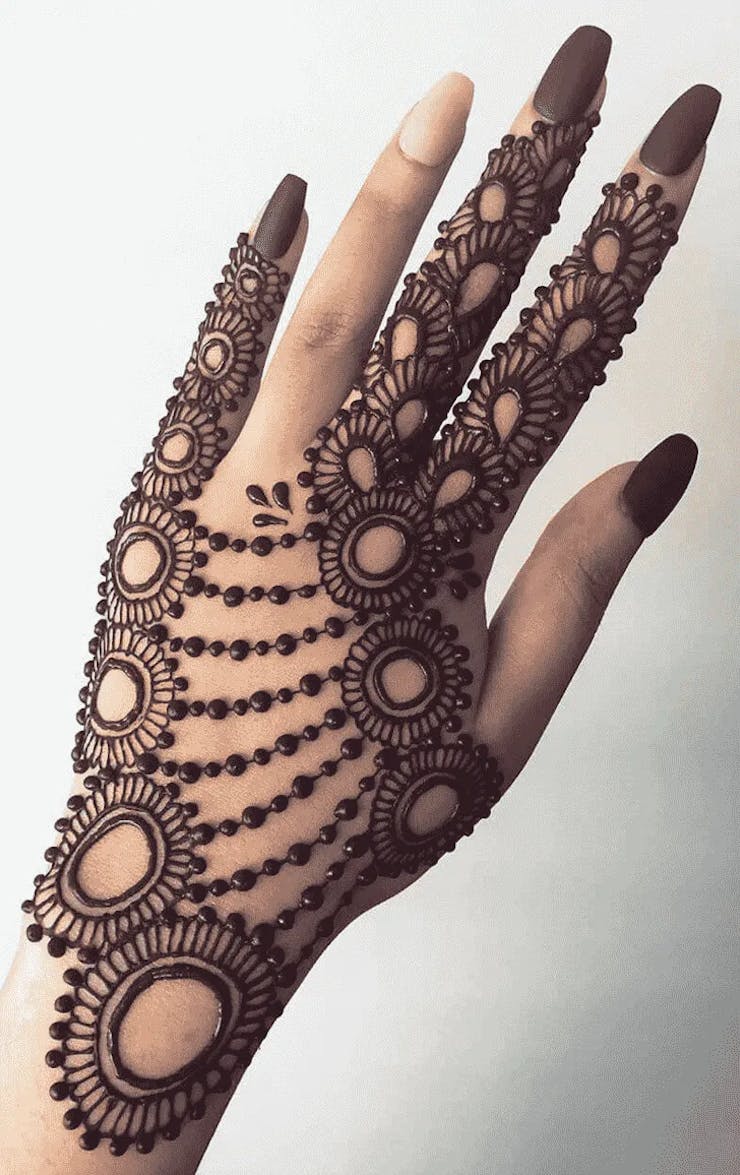 6. Simplistic Bengali Mehndi Design
This simple and lovely mehndi design definitely deserves an adorable pose for your wedding album. Today most of the brides and young girls look for simple bengali mehndi designs. The unusual pattern drawn from wrist to finger looks appealing to the eyes. Opt for this simple and sweet mehndi design to get a sophisticated look.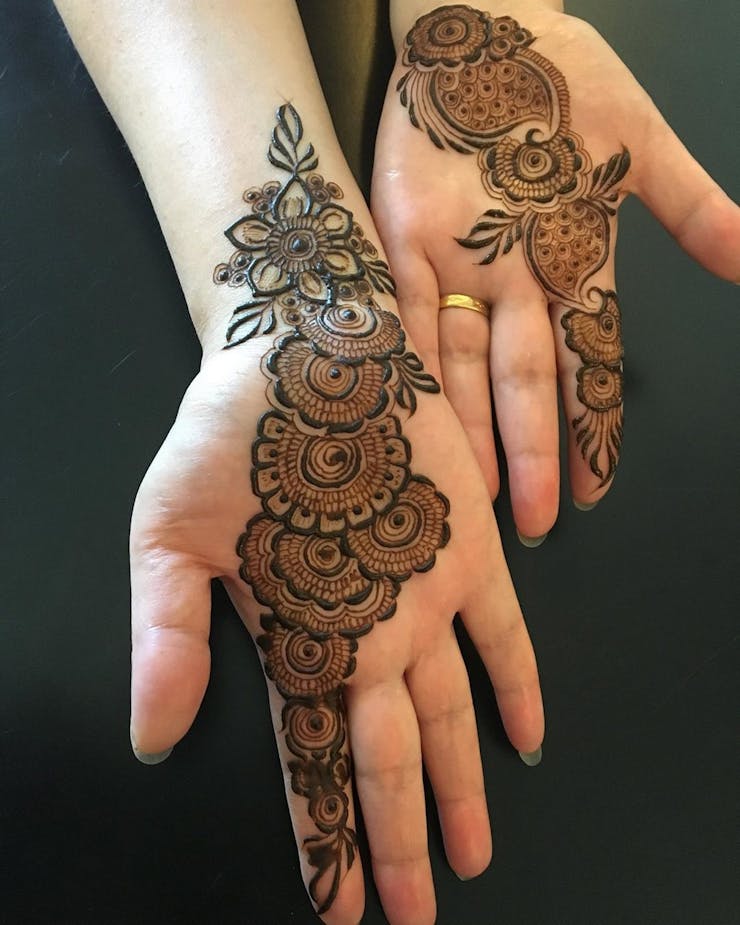 7. Beautiful Rose Motifs Design
Roses are the symbol of love and beauty. This beautiful flower mehndi design on a bride's hand leaves a mesmerizing effect. The charm of rose motifs enhances the beauty of your hand. These are considered as one of the best mehndi designs in Indian weddings.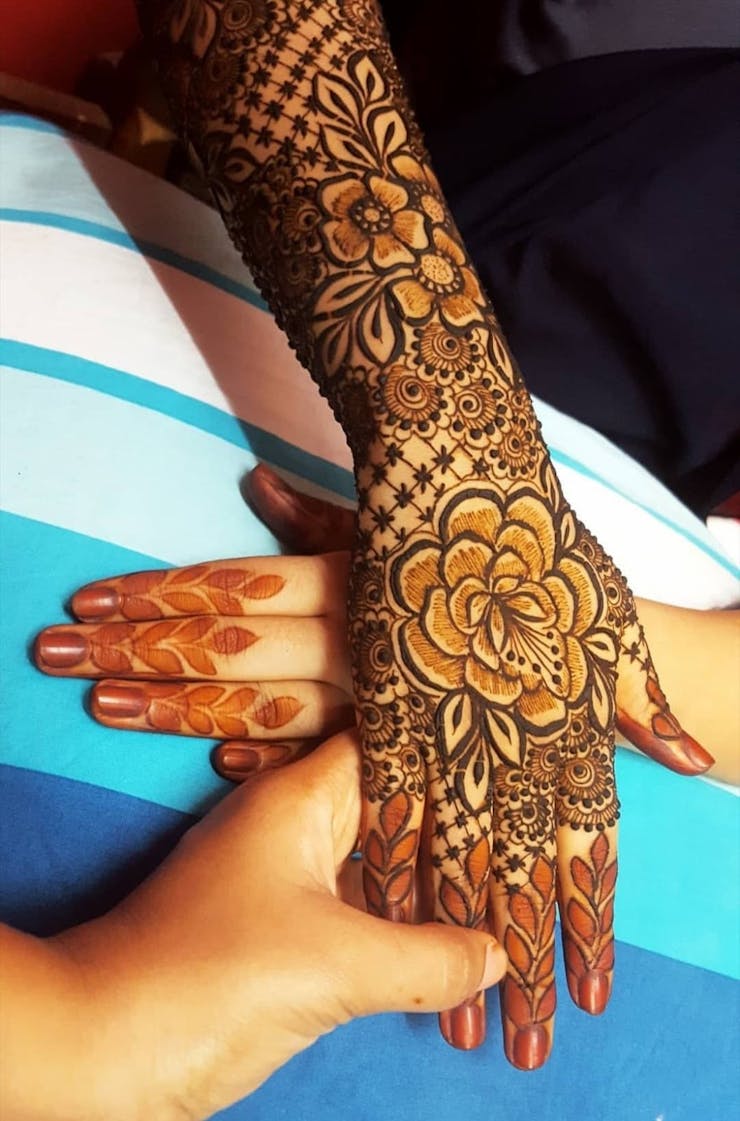 8. Gorgeous Moroccan Design
It's time to wear the most beautiful Moroccan mehndi art on your hands to create a romantic mood. Ditch the traditional one and try to create a magical look with these easy mehndi designs for hands. This fashionable geometric pattern leaves a great impact on your bridal photoshoot. It will also reflect your attitude and personality in the best possible way.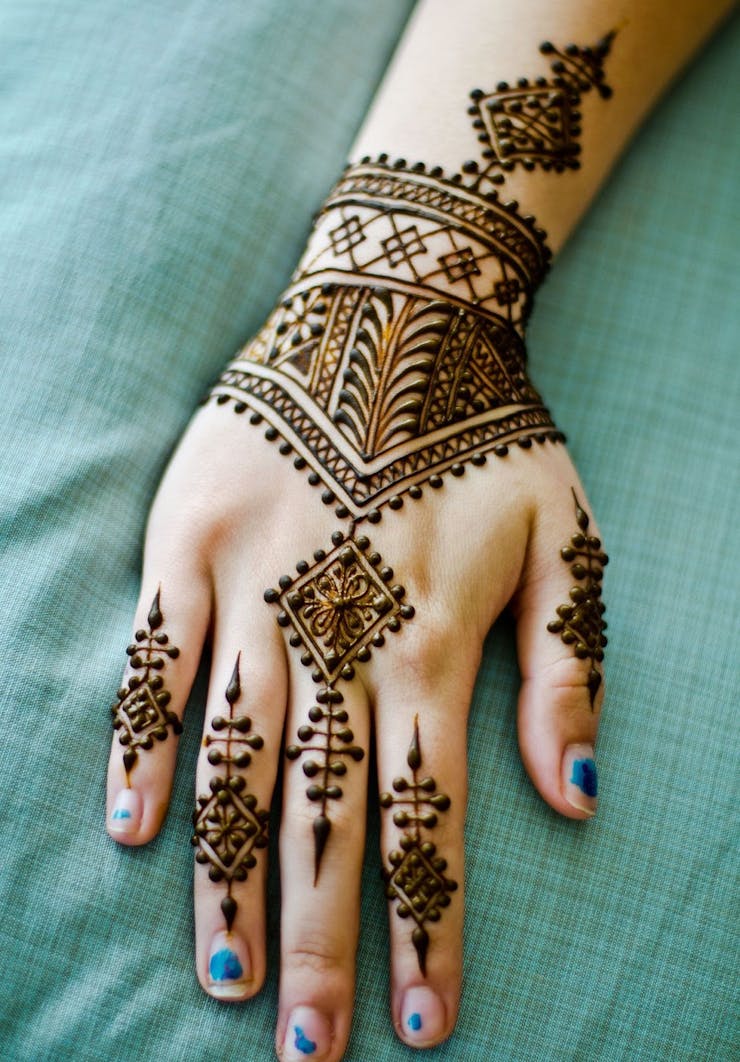 9. Traditional Foot Mehndi Design
The traditional bridal foot mehndi design has a special charm and alluring grace. The simple circular pattern made with Alta and the side portion of the feet covered with this red dye gives you a magical and traditional Bengali look. These days young girls are experimenting with a floral, vine pattern and other beautiful henna designs to provide their feet a heavenly look.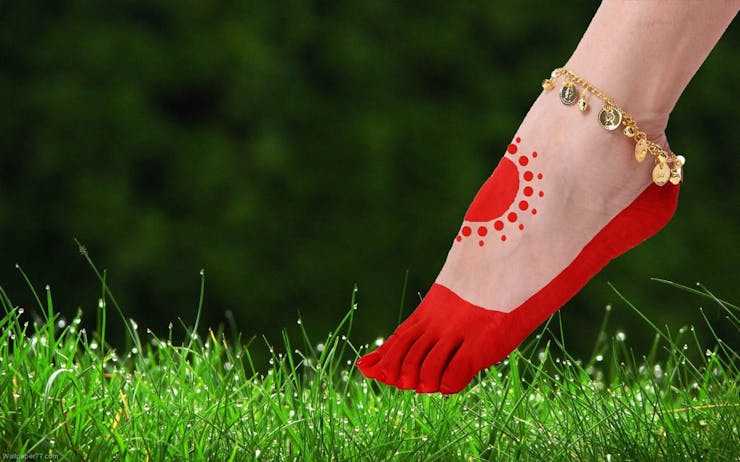 10. Creative Half & Half Jaali Design
Half-hand mehndi designs are the new trend of the bridal fashion world. Two coordinating designs look pleasing to the eyes. The fusion of meshwork and Arabic design is such a unique choice for a charming Bengali look. The simplicity and elegance of these simple Bengali mehndi designs can easily win million hearts.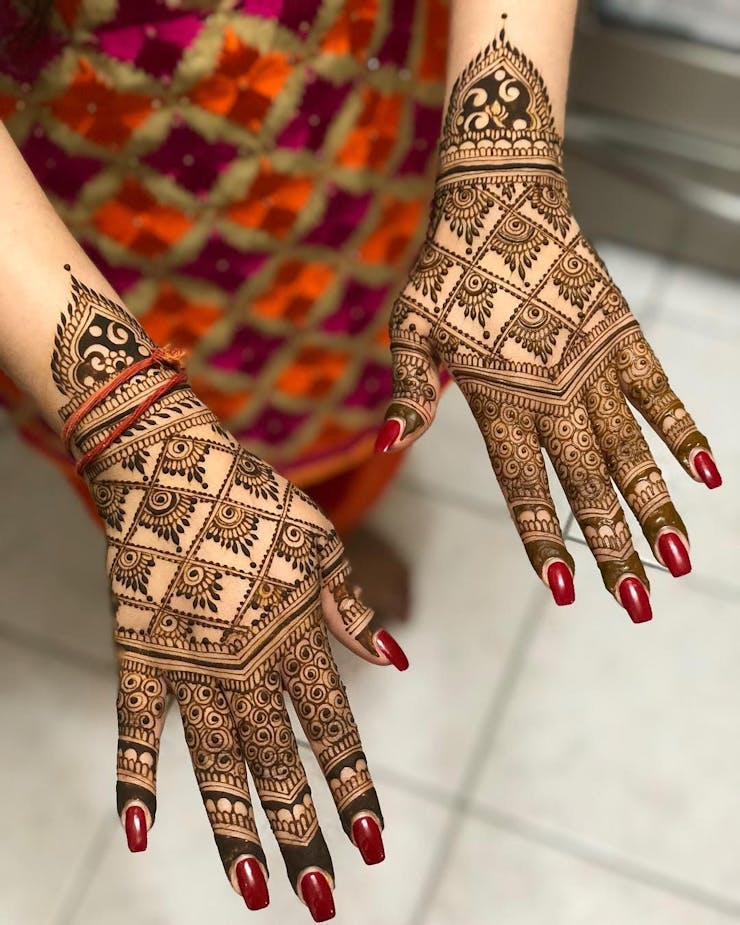 11. Mesh Finger Design
The splendid look of this beautiful finger mehndi design made of criss-cross pattern and adorable heart motifs. The intricate design of this finger mehndi can be the highlight of your bridal look. The exotic design carved on the finger is a great masterpiece in itself.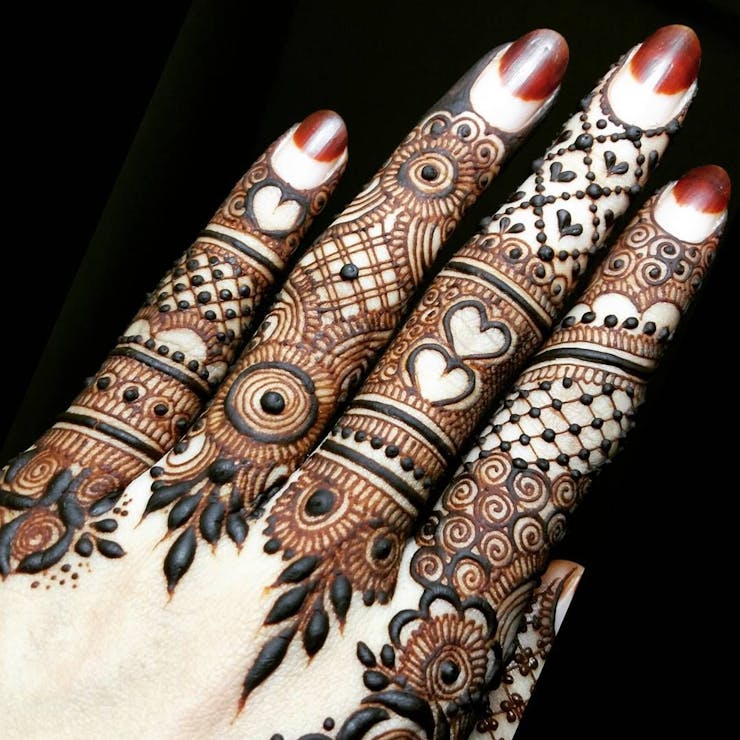 12. Astounding Alta Design
The traditional Bengali mehndi design made of delightful blossoms and spirals looks fantastic with a red Banarasi saree. These Alta designs inspired by henna art have gained much popularity in recent times. This alluring Alta art looks divine and majestic.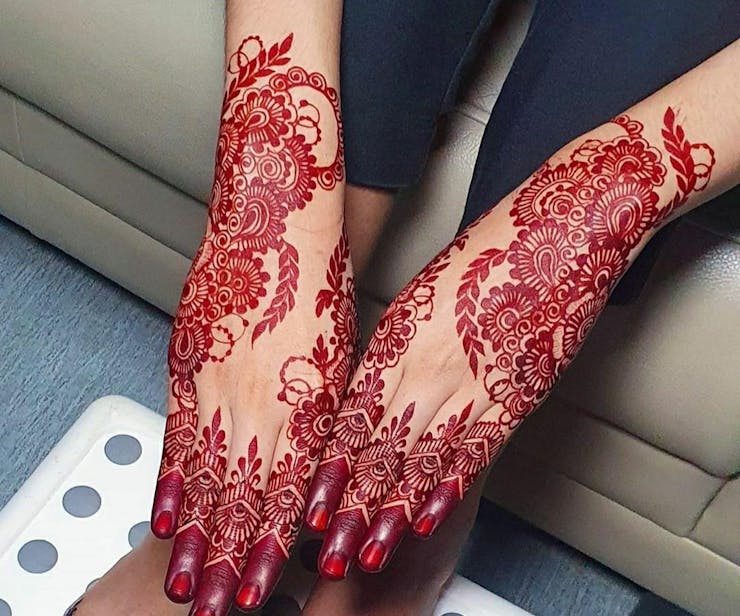 13. Mandala Mehndi Design
Give a little twist to your bridal look by opting for a creative and sophisticated mandala design. The Mandala design not only looks decent on the hands of a pretty bride but also enhances the beauty of hand jewelry.
So, what are you waiting for? Bookmark your favorite henna art from this exclusive list and adorn your hands with these simple mehndi designs to shine like a diva on your special day.