Traditional Bengali Bridal Jewellery Collections You Need To Know
Want to ace up your Bengali bridal glow? Then try these traditional bengali bridal jewellery to stand out in the crowd.
---
A gorgeous bride wearing a red Banarasi, white mukut, forehead adorned with kumkum and sandalwood paste, glossy red lips and graceful golden ornaments is a signature look of a traditional Bengali bride. This fascinating look is also filmed in many Bollywood movies. One cannot stop himself from admiring this dreamy bridal look. The graceful gold jewelry enhances the beauty of a Bengal bride making her feel like an adorable queen. If you are a bride-to-be then add a little bit of golden touch to your bridal persona. And ask your kolkata wedding photographer to turn this divine look of yours into a stunning wedding picture through his creative touch. You can browse this quick jewelry guide to look for some statement traditional bengali wedding jewellery collection for your big day.
1. Mukut
A gold mukut for bride is a very important piece of Bengali bridal jewelry. This golden crown is worn by the Bengali bride on her head to provide a regal touch to her bridal look. This golden crown is usually available in two shapes – round & triangular. You will be able to see this kind of traditional gold mukut replacing the conch shell crown in bengali wedding photography.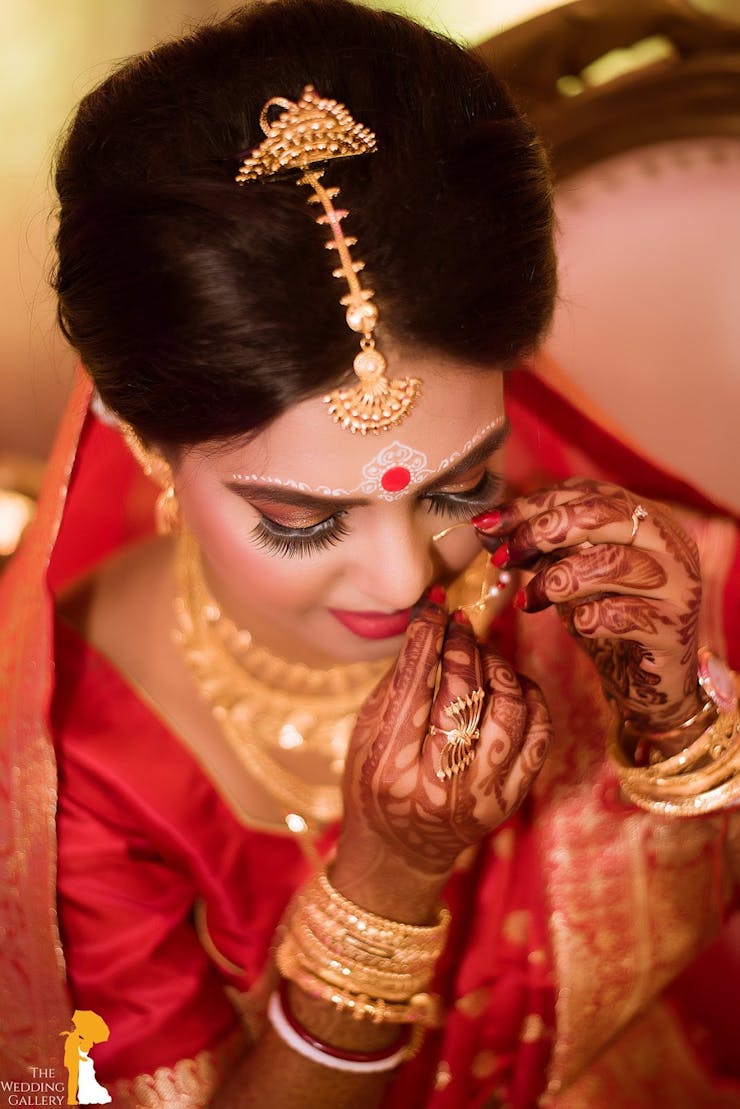 2. Tikli
Just like a mang tika in Indian bridal trousseau, a golden tikli is often worn by a Bengali bride on her forehead to give her face a charming look. This golden tikli is often attached with a gold tiara to provide a royal definition to the bridal hairstyle. This piece of bengali bridal jewellery is used to keep the veil of a bride in the proper place.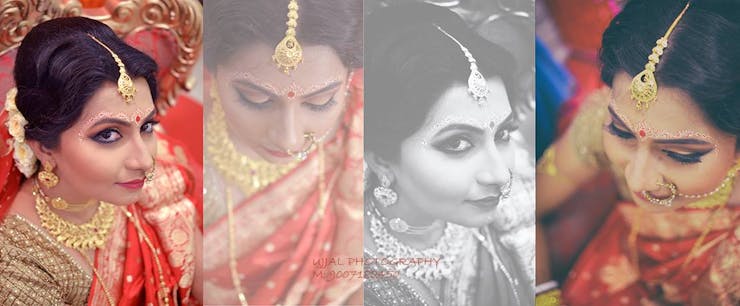 3. Kaner Dul
Indian women never leave a chance to decorate their ears with different kinds of earrings. Women in Bengal loves to wear large intricate earrings designed of gold metal which is called kaner dul. These ear-shaped earrings are attached with layered jhumkas which looks absolutely stunning with a red Banarasi saree. One can hardly go unnoticed after wearing these statement earrings. Today you will be able to see various kinds of ear-shaped rings designed intricately in a jewellery shop.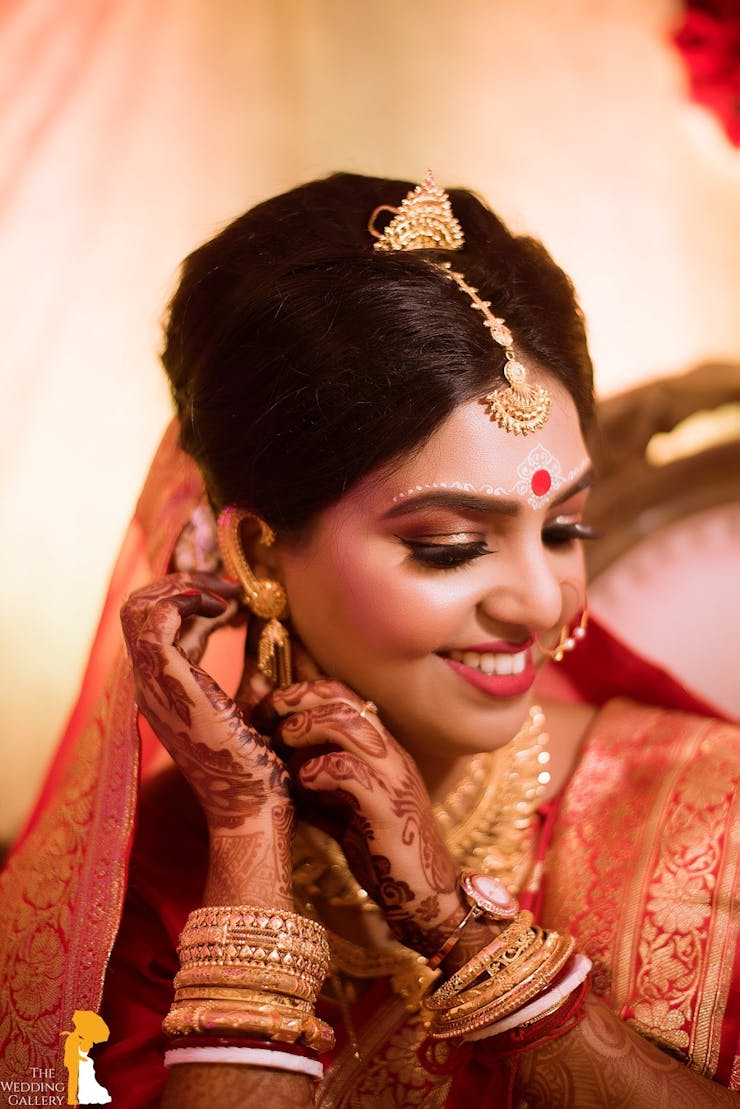 4. Ratanchur
Make sure to ask your candid wedding photographer in kolkata to take a bridal pose in this Mughal era classic jewellery. This traditional Bengali bride gold jewelry was a part of Indian weddings for centuries. Usually, a Ratanchur is a large pendant that is attached with four or five rings joined through individual chains. You can see different kinds of pendants are available in sun, moon, and flower shapes. A Bengali bride wears this delicate piece of jewelry on her wrist to adorn her Alta design hands.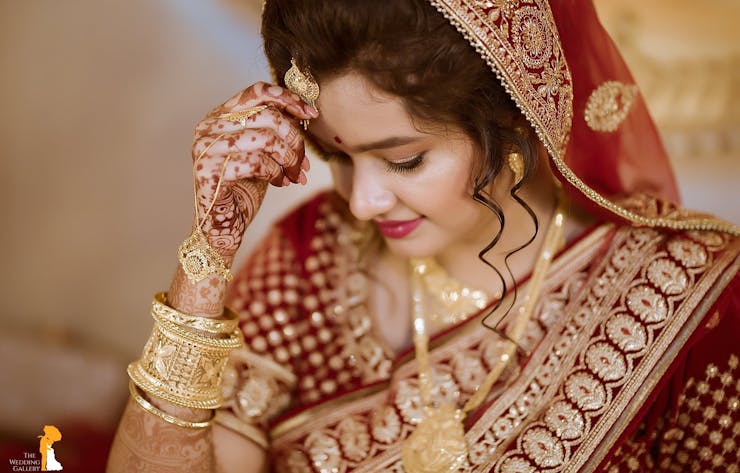 5. Shankha Paula
A Shankha Paula is similar to an Indian mangal sutra that symbolizes the married status of a woman. The white bangle is known as Shankha is designed of conch shell while the red bangles known as Paula are made of coral. You can also see gold studded Shankha Paula in a Bengali bride's hand. This signature jewelry has truly defined the craftsmanship of Bengal artisans.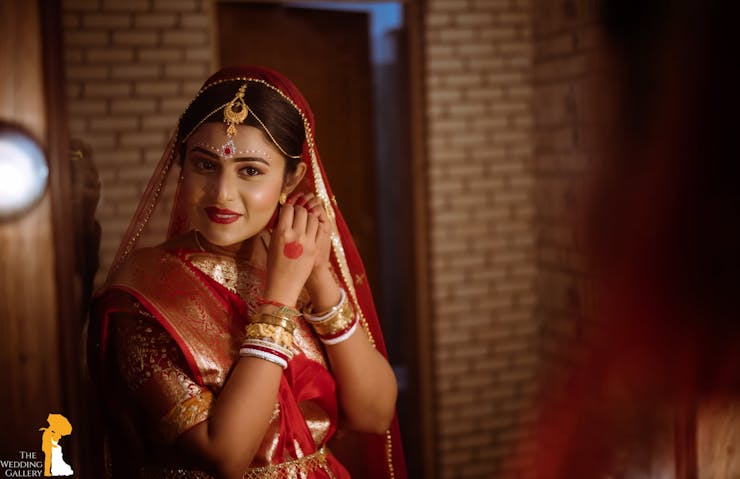 6. Nath
A Nath is another splendid gold jewellery for bengali wedding. This piece of traditional nose ring is very popular in Bengali weddings. Also known as Nolok in some areas, this bridal nose ring is usually a large ring attached with a delicate chain that goes up behind the air. A large gold Nath defines the higher status of the bride in Bengali culture.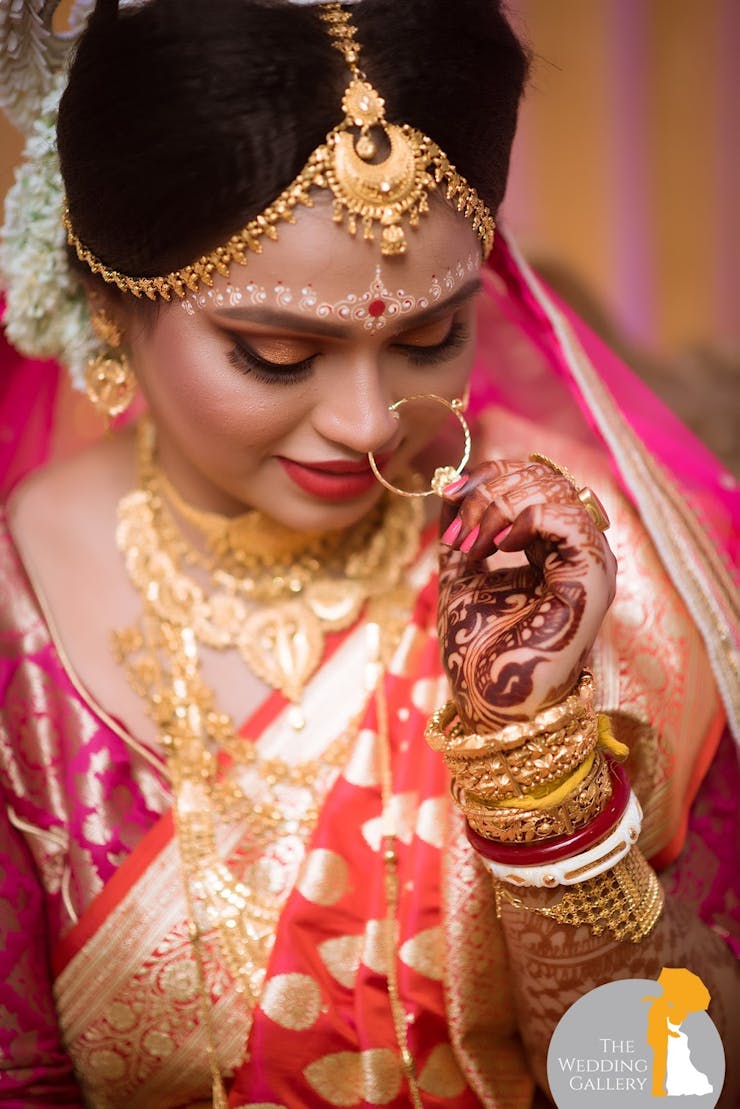 7. Tiara
This magnificent bridal jewellery is worn in the middle parting of the bride's hair. It is adorned with precious stones and pearls to enhance the beauty of a Bengali bride. The exquisite design of this broad gold tiara for bengali wedding is often considered auspicious in a Bengali wedding. Today you will get endless options starting from a floral tiara to a Kundan tiara, but nothing can replace the original charm of this classic gold tiara.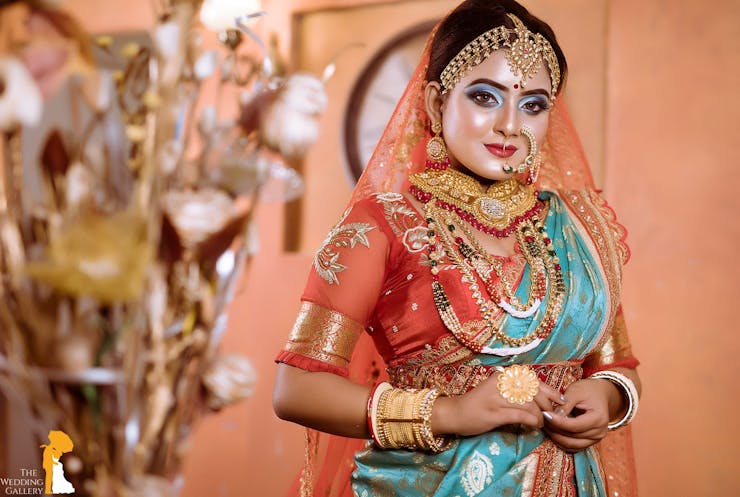 8. Choker
Often known as a chick, this choker necklace is an absolutely gorgeous piece of gold jewellery for bengali bride. This tight-fitting elaborate gold necklace is worth wearing on your wedding day. The fine detailing of the gold design is a great representation of excellent craftsmanship. This stunning piece of the broad gold necklace will easily grab the attention of your guests.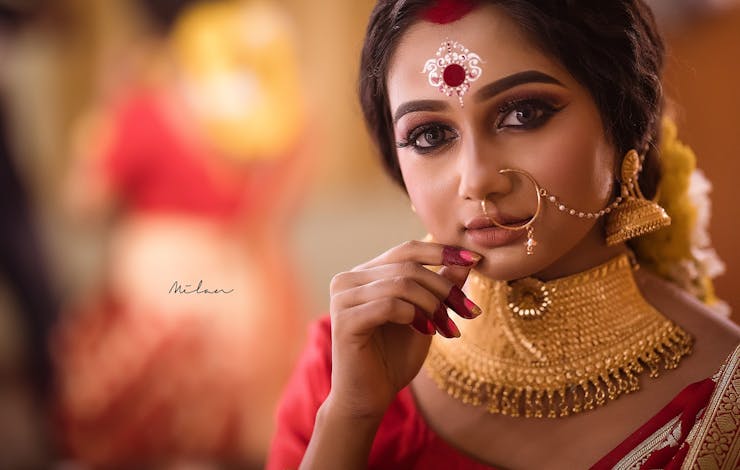 9. Saat Noli Haar
How can we forget about the most beautiful and royal piece of bengali bride gold jewellery? This statement necklace is a piece of heritage jewelry that is passed from generation to generation. It is a seven layers gold necklace that offers you a divine look in your wedding photographs. This traditional jewelry has been evolved several times over centuries and has become more beautiful and royal with the passing times.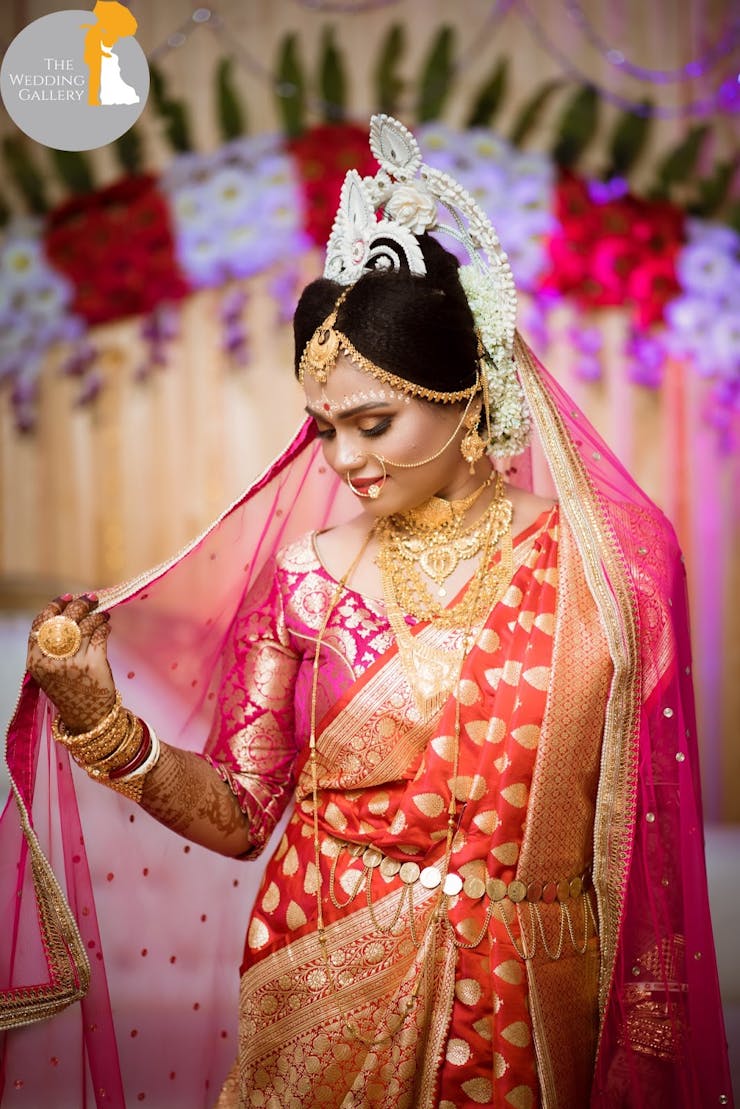 10. Bala
A bride's bangle enhances the beauty of her hands. And a golden Bala makes it extremely beautiful with its luxurious charm. A gold Bala is similar to an Indian Kada. Bengali brides love to adorn their hands with these stunning balas on their special day. They provide an elegant look to your wrist area.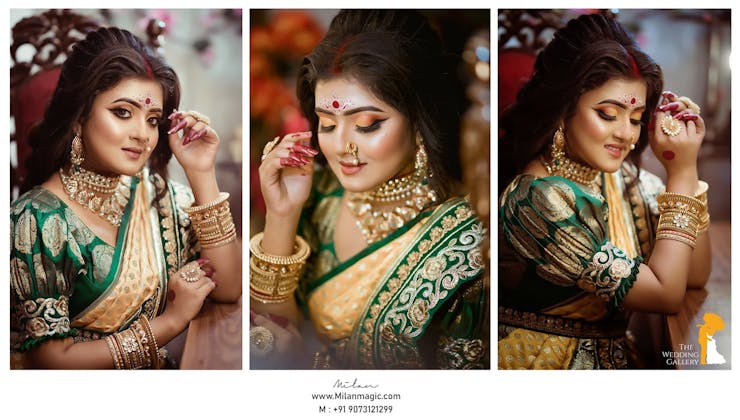 11. Chur
Who doesn't love to wear a golden chur in hands? This signature collection of bangles is a part of traditional Bengali bridal jewelry which is often worn in a single hand. This broad bangle is designed intricately. The high level of intricacy and sprinkling shine offers an elegant look to the bride's hand.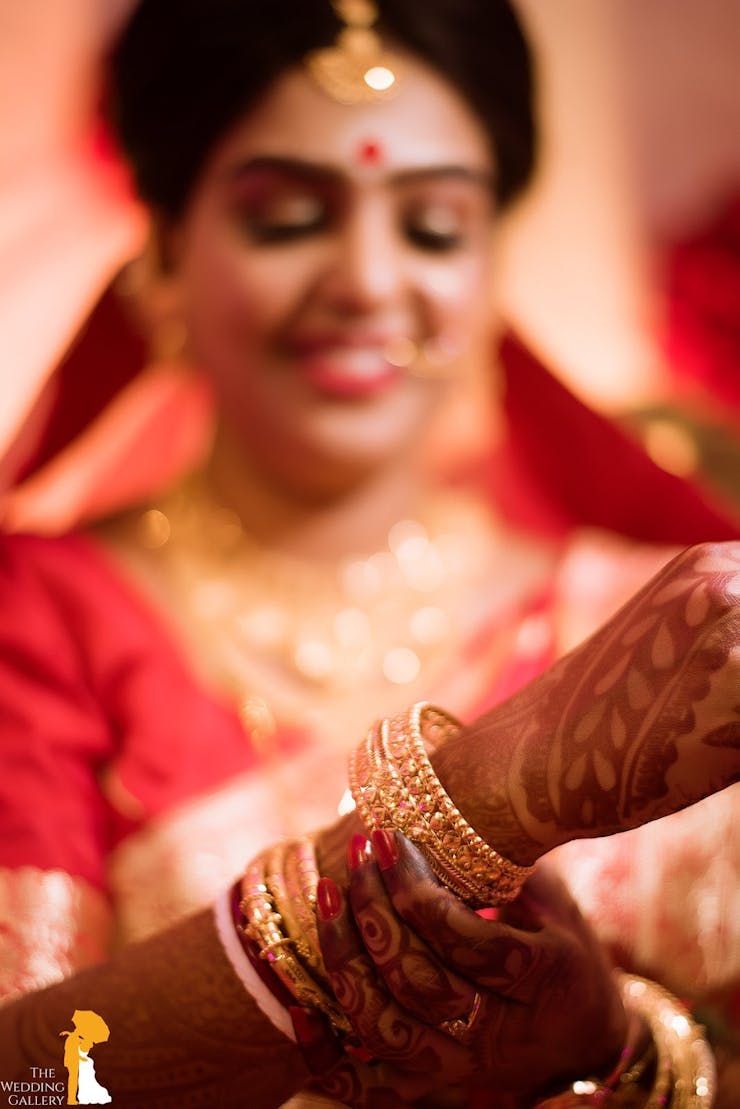 12. Maantasha
A gold bracelet like Maantasha adds a touch of glamour and elegance to the bride's hand. This gold bracelet is a heavy piece of gold jewelry usually worn by brides on their wrists on their wedding day. This simple gold bracelet with intricate design looks absolutely stunning with a red Banarasi saree with golden brocade work.