Bengali Haldi Photoshoot For Couples
Looking for some unique ideas to make your Bengali Haldi photoshoot memorable? Check those Haldi poses to create a treasure trove of good memories.
---
The trend of pre-wedding photoshoots has been gaining popularity in India over the last few years. A common theme in such photoshoots is the Haldi ceremony. It is during the Bengali haldi photoshoot, that the couple poses for various creative and fun-filled haldi poses. These poses provide a beautiful reason for couples to remember their special event. While they might seem like any other pose they carry with them a deeper meaning of love.
Today, we want to highlight some couple haldi poses captured by the best Bengali wedding photographer in Kolkata.
So, read this entire blog. And find out some better ways to perform outstanding Bengali wedding gaye holud photography.
1. Colorful Haldi Photoshoot Poses
The colorful portraits of the Haldi ceremony look beautiful. This picture portrays your gorgeous Bengali Haldi look. It can be a fun way to capture some amazing couple moments during the Haldi ceremony photoshoot. These colorful haldi pictures will be one of the best addition to your wedding album.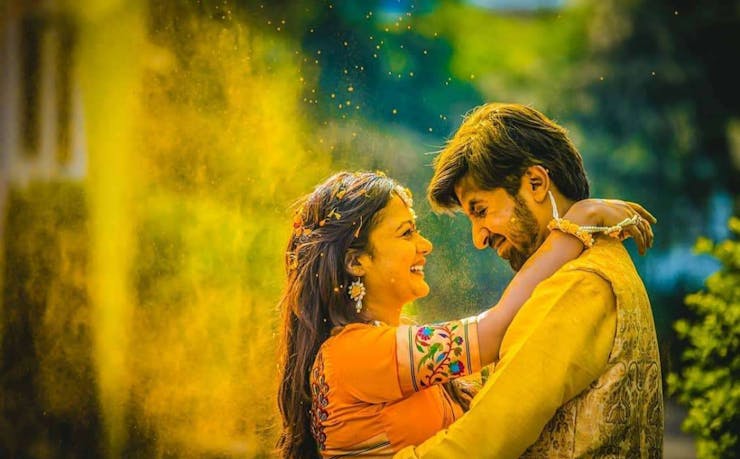 Recommended: Men's Winter Wedding Outfit Ideas You Should Know
2. Candid Bengali Haldi Photoshoot
Pure candid moments are filled with love and real emotions. Capturing a Bengali bride haldi look during the Haldi ritual is a vital part of Haldi photography. This kind of bridal picture holds the essence of a traditional wedding. It also represents her natural feeling and emotions. This is why you must book a talented candid wedding photographer in Kolkata to create the best candid wedding photos.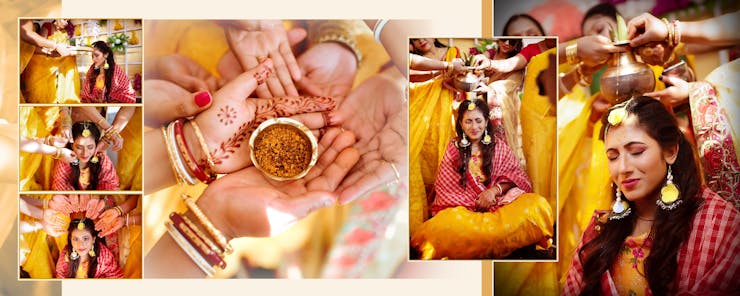 Read More: The Most Beautiful Women's Winter Wedding Outfit Ideas
3. Paint Me Yellow Haldi Couple Photos
Moments that capture happy moments of a Haldi ceremony always make a place in people's hearts. This adorable Haldi picture shows how romantic can be a Haldi couple photoshoot. This couple painting each other with yellow turmeric is celebrating their special day with joy and love.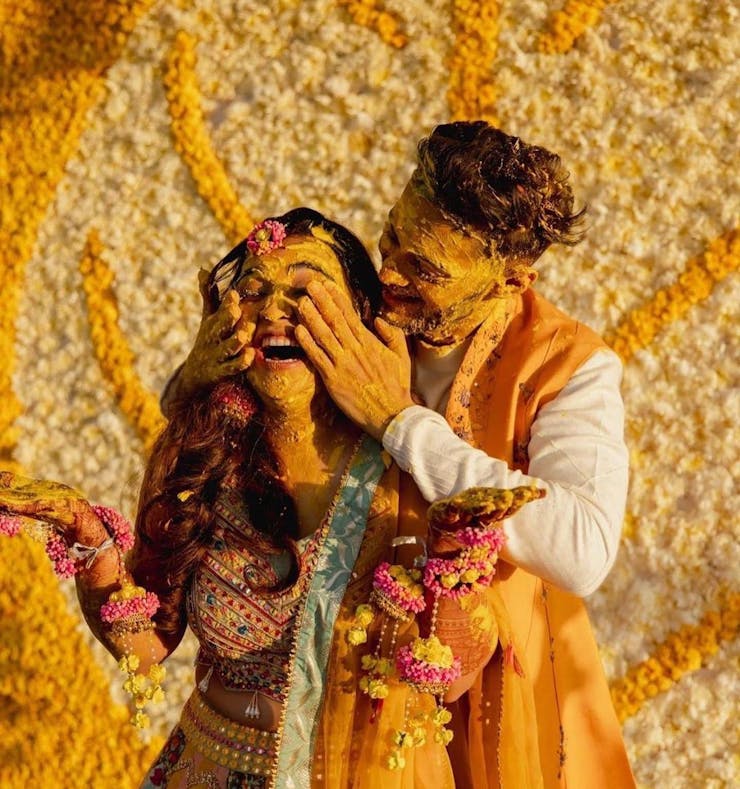 Check This: Top 15 Trending Bridal Hairstyle For Haldi Ceremony
4. Funfilled Haldi Photoshoot With Friends
A wedding event remains incomplete without the involvement of your close friends. Haldi photoshoot with friends can provide you with some of the most wonderful moments of your life that you want to treasure forever. To click such joyful Haldi portraits you must hire a photographer in Kolkata for wedding photography.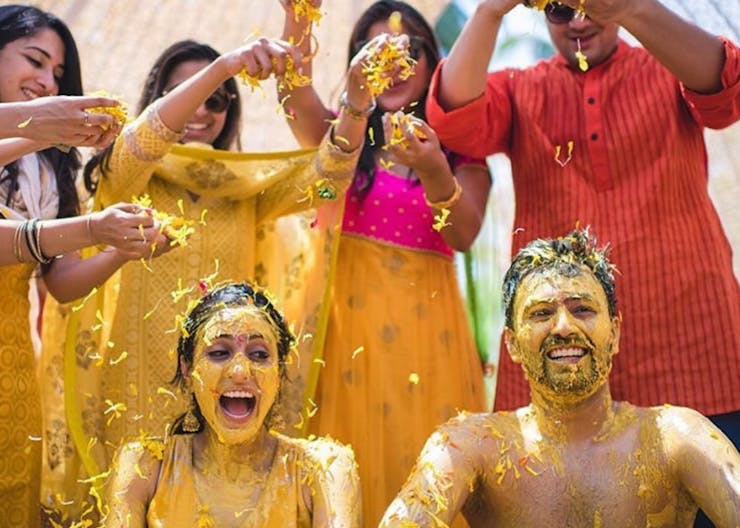 5. Romantic Haldi Shoot Poses
How can we miss this beautiful moment captured during the Haldi couple photoshoot. This is one of the best haldi photography ideas that bring out the raw emotions and feelings of love wonderfully on the picture frame.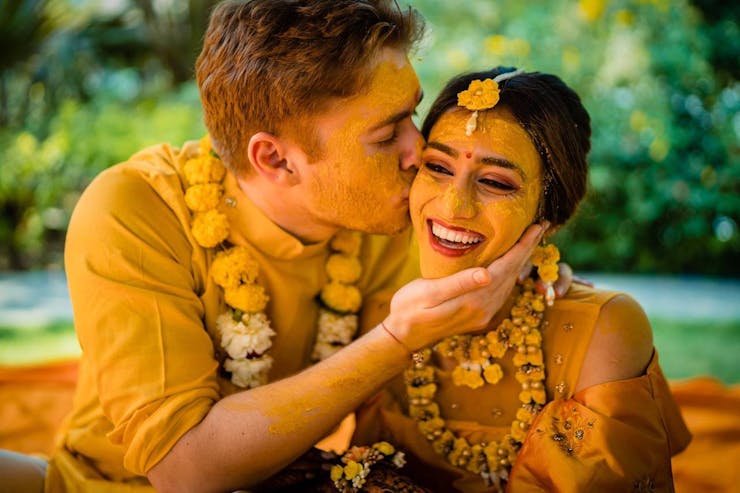 6. Twirling Bridal Haldi Photoshoot
You might have seen a twirling bridal pose many times in the pre-wedding pictures. But you can do the same thing with your Haldi ceremony photoshoot also. A dramatic twirl in bridal lehenga and floral jewelry can result in a stunning Haldi picture.

7. Dramatic Haldi Photography Ideas
This is one of the most creative haldi photoshoot groom pose that we have ever seen. The photographer has highlighted the feet of the groom during his haldi ritual. This kind of dramatic pose conveys the beauty and vibrancy of our rich culture.