Latest Flower Jewellery Ideas For Haldi Function
Gorgeous floral jewellery for haldi function is the latest fashion trend. Look at these amazing floral jewelry collections to accentuate your bridal look.
---
Floral jewelry has been enhancing the pride of Indian women for centuries. Flowers are the most beautiful gift of nature when decorated in bridal jewelry to enhance her stunning bridal look. This beautiful jewelry was first designed in ancient India when ancient Indians did not learn to make jewelry made of metal. So, during this period Indian women used to wear necklaces, bangles, and rings made of flowers. But with the arrival of metal and stone jewelry in the markets people of India totally forget about these beautiful jewels.
But with the changing times, these attractive floral jewelry has made a grand comeback. Today it is considered the best haldi jewellery for Indian brides. So, if you also want to follow this popular trend on your Haldi function, then make sure to hire a professional photographer in kolkata for wedding who can capture your beautiful Haldi look and turn it into a dreamy pre-wedding picture.
Here are some gorgeous and latest floral jewelry collections for achieving a stunning Haldi bride look.
1. Floral Hair Piece
One of the most beautiful options who style your hair bun is adding a beautiful floral hairpiece on it. The enthralling charm of contrasting flowers will add a great effect to your bridal bun or hairstyle. You can also opt for a floral gajra made up of jasmine, roses, or lavender.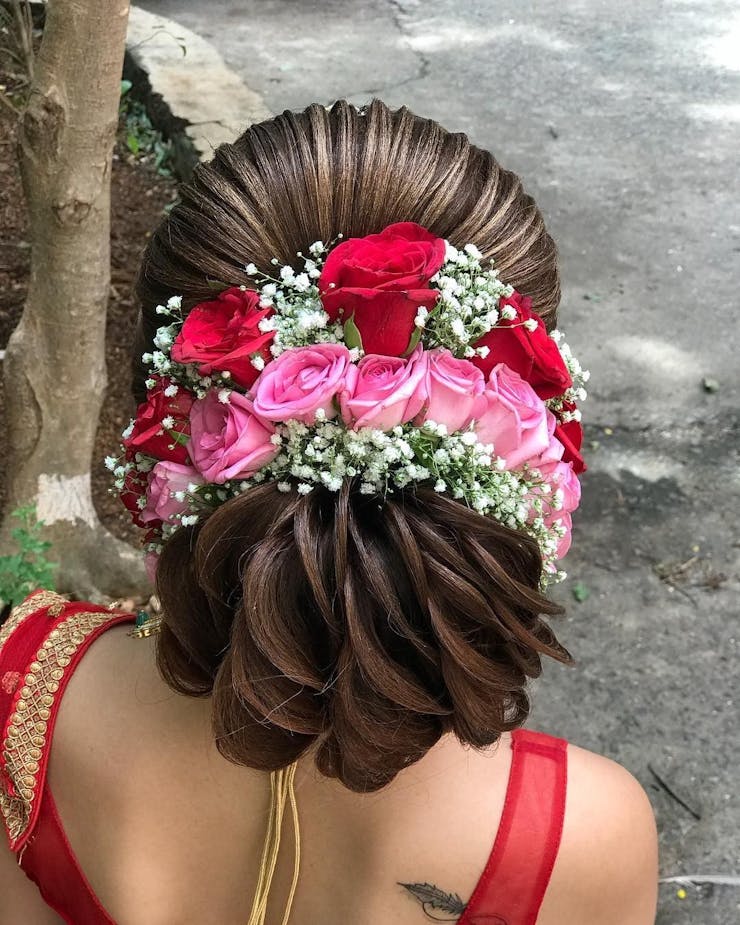 Recommended: All You Need To Know About Rituals Of Bengali Wedding
2. Floral Necklace
This happy bride has leveled up her Haldi look by adorning an elegant floral necklace made of flowers and pearls. This haldi ceremony jewellery elevates the beauty of your Haldi outfit and also provides you with a fresh feel. You can consult a well-known candid wedding photographer in kolkata to plan a memorable Haldi event.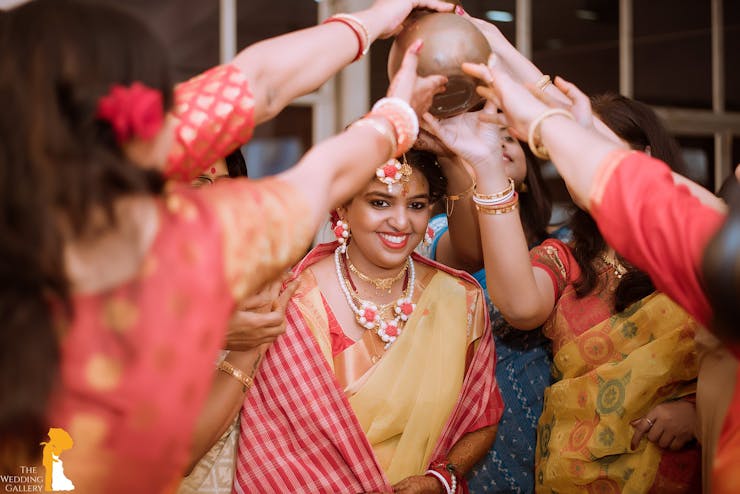 3. Floral Maang Tikka
This pretty bride has beautifully coordinated her green saree with her floral Maang tikka design. This type of bridal Maang tikka looks quite delicate and charming when adorn on a bride's forehead. This dainty floral buds Maang tikka is going to look fabulous on a minimalist bride.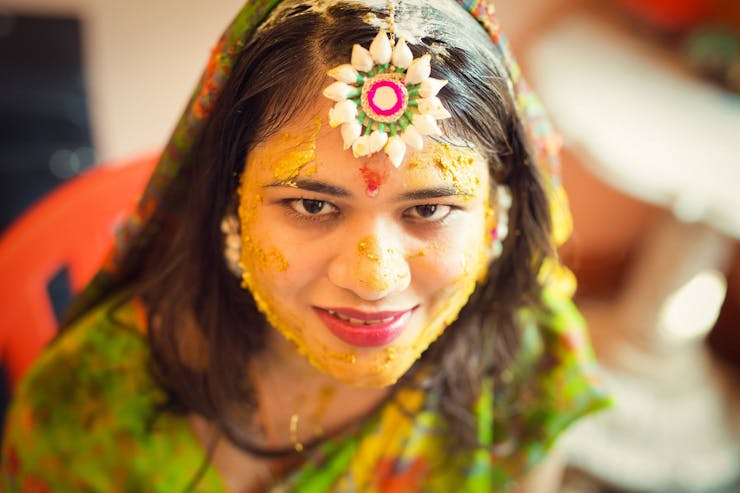 4. Floral Matha Patti
Ditch the traditional gold Matha Patti and opt for a gorgeous red and white floral Matha Patti design. A floral Matha Patti can be a game-changer when it comes to your Haldi bridal look. This beautiful bridal haldi jewellery is usually designed with dainty flowers or beads that can add enough glam to your Haldi outfit.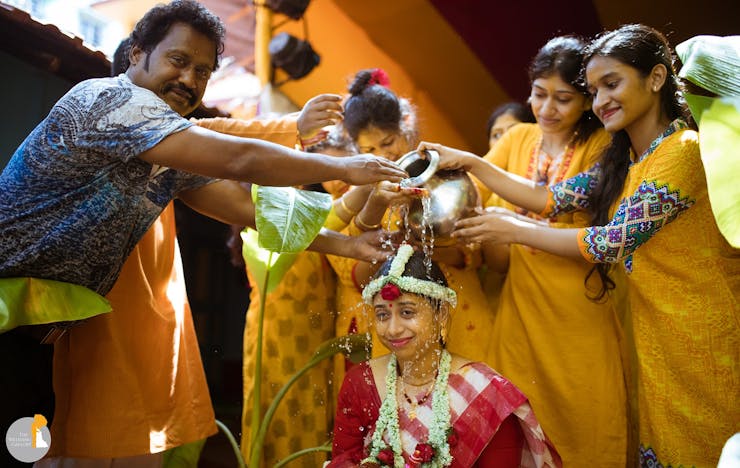 5. Floral Nath
Your Haldi look would become the most breathtaking look when you put on a beautiful piece of floral nose ring. The multicolor shades of a floral Nath can easily grab the audience's attention. Here the bride has beautifully contrasted her bridal dress and eye makeup with her floral jewelry for the Haldi function.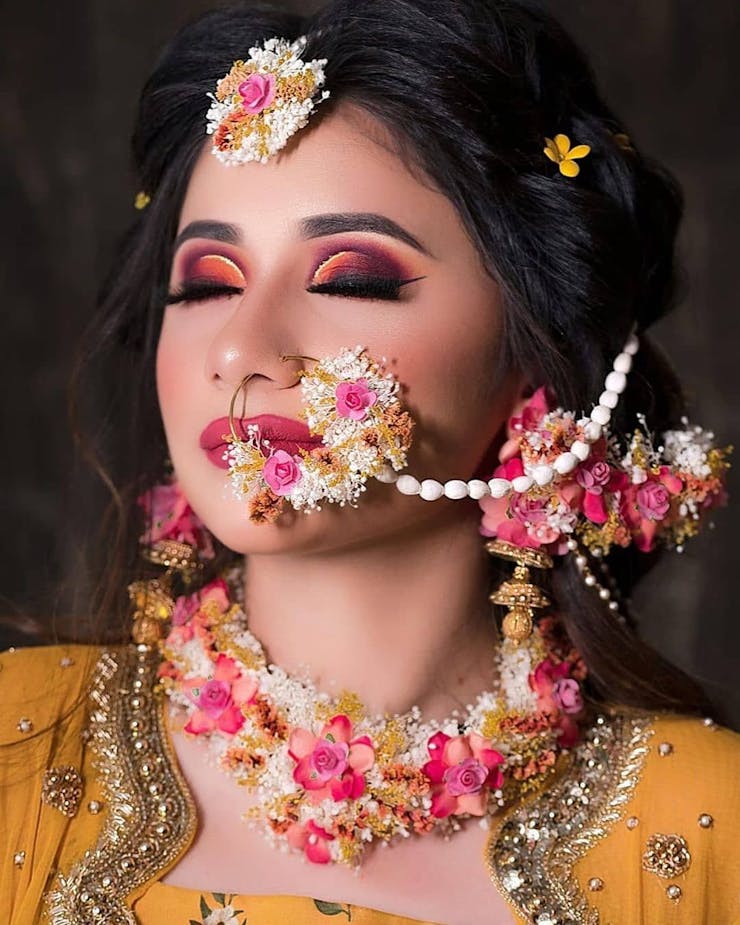 6. Floral Bangles
Keeping it all minimal this cheerful bride has chosen a simple and elegant floral bangle to accentuate her mehndi design has. This real flower jewellery set will be a great option to add a stunning effect to your Haldi pics for sure! This beautiful jewelry set has been designed of dainty tuberose and red rose that will soon almost all types of bridal outfits.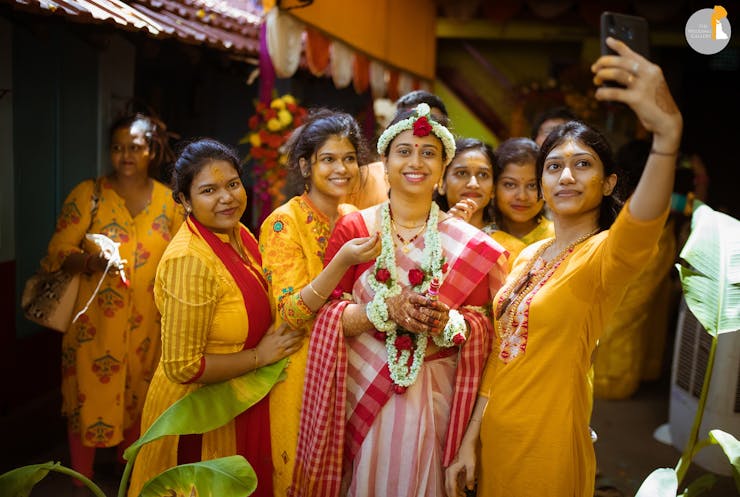 7. Floral Kallera
A floral jewellery for haldi function like kallera can be highly mesmerizing for your bridal look. Bridal kalleras have become the latest fashion trend for a gorgeous bridal look. It is quite amazing to capture a bride wearing colorful and delicate hanging jewelry in her hands. The beautiful combination of lighter hues like pink and white flowers leaves a mesmerizing effect in your pre-wedding pics.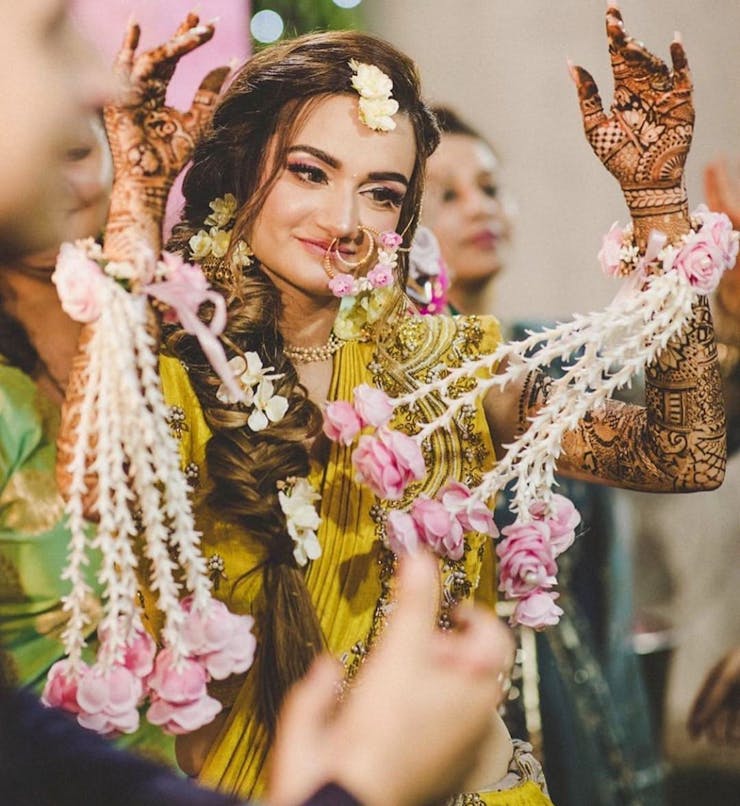 8. Floral Finger Ring
Artificial flower rings add a certain amount of glamour and charisma to your Haldi look. This kind of floral jewellery for haldi ceremony looks more beautiful with a contrasting lehenga. A single floral ring is enough to draw everyone's attention towards you. This huge floral ring is perfect for brides who are looking for a simple yet classy option.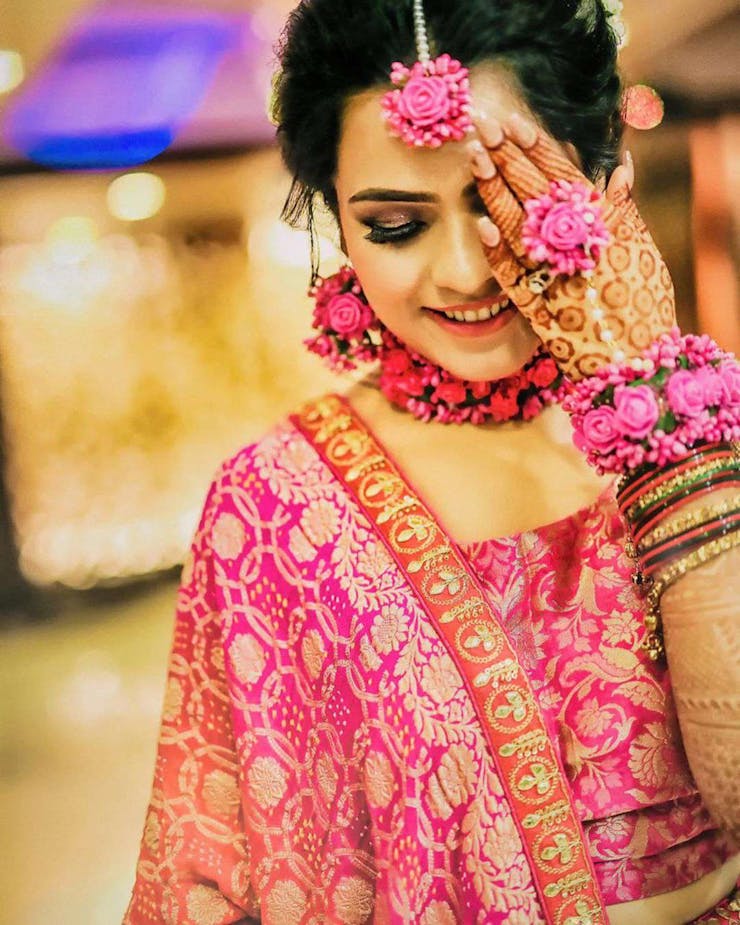 9. Floral Waist Band
Wearing a Kamarbandh or waistband is a century-old tradition in India. Floral Kamarbandh is underrated jewelry that provides a charming look to a pretty bride. An outstanding combination of pearls and flowers provides a sophisticated look to your bridal saree or lehenga. this floral waistband will surely do justice to your gorgeous Haldi look and offer you the most beautiful pre-wedding picture.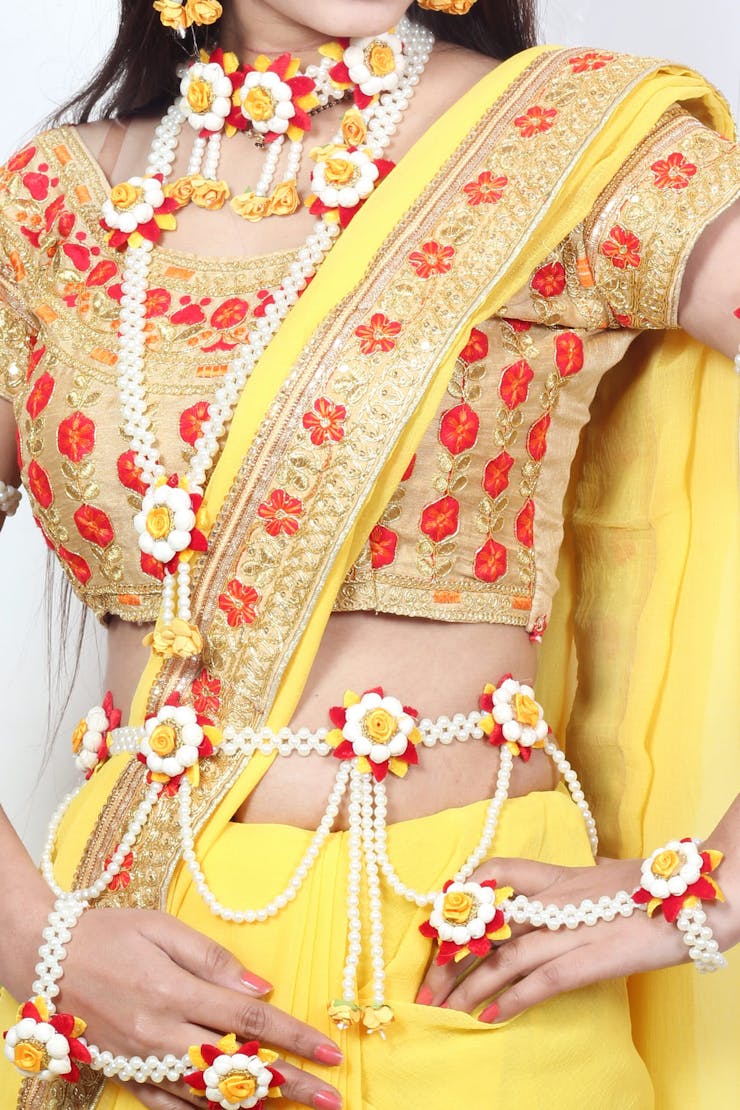 10. Floral Haathphool
A floral haathphool is just like a hand bracelet that can amp up your fashion game. The addition of pearls or beads in the haathphool makes it a sophisticated piece of hand jewelry. These haathphool designs can add a delicate appeal to your adorable hands. You can go for any color that matches your Haldi outfit but pastel hues will always give you the most wonderful impression in your Haldi pose.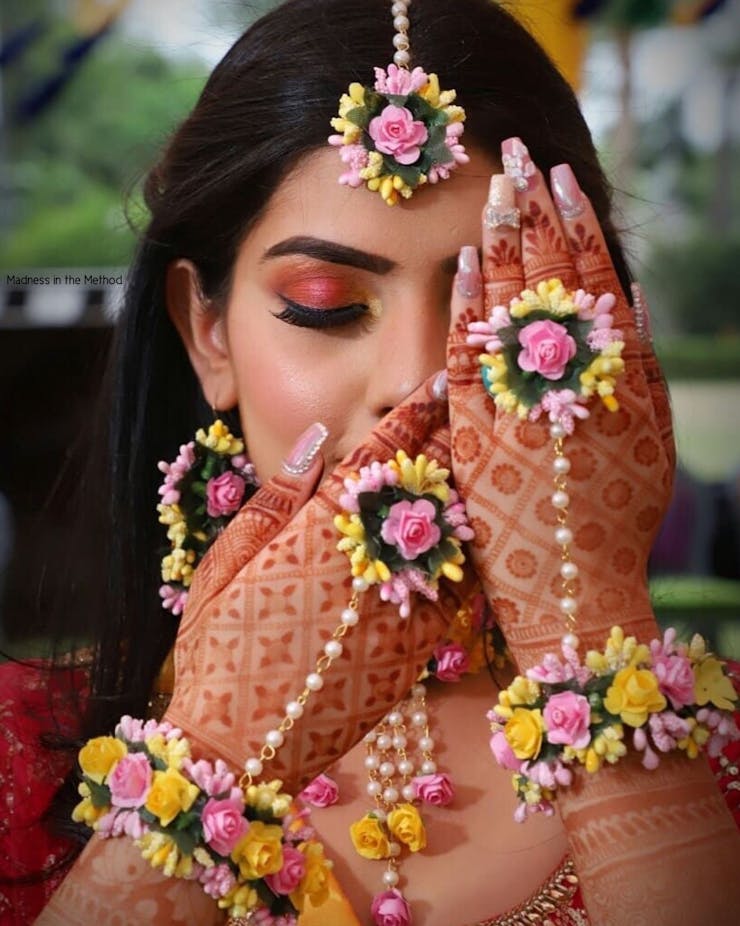 11. Floral Earrings
Have a look at this fascinating look of this stylish bride wearing a pink floral Jhumka in her ears. These floral rings look spectacular in daylight a vibrant shade like pink offers a fresh appeal to your bridal poses. This oversize floral Jhumkas is a beautiful fusion of contemporary and traditional looks.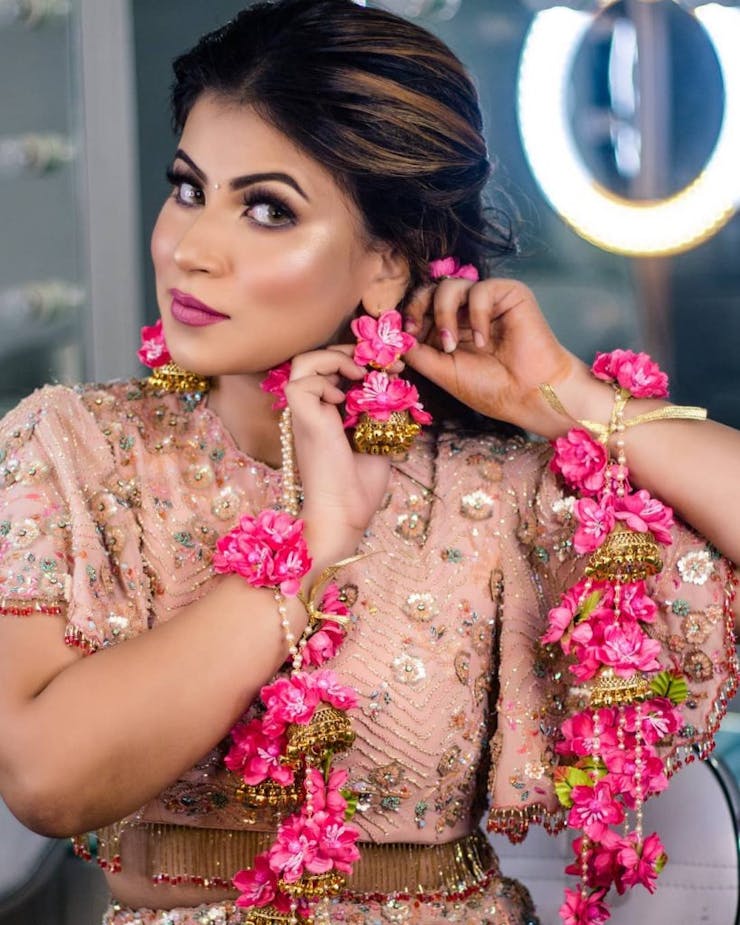 12. Floral Passa
Nothing can beat the beauty of a floral Passa. This gorgeous bride has wisely chosen a contrasting floral Passa that perfectly matches the pastel shade of her bridal outfit. This dual-tone floral passa looks super pretty on pastel outfits. So, if you are a huge fan of pastel shade then you must try this multi-colored floral passa to complete your Haldi look.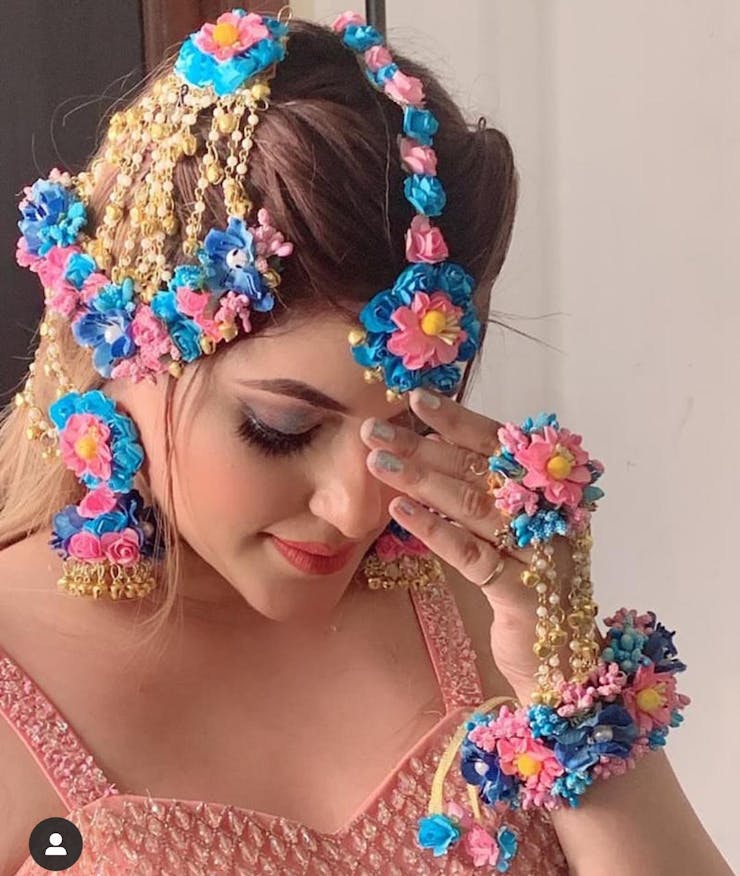 13. Floral Anklet
Ending this interesting guide with the most amazing floral jewelry. A floral anklet designed of pretty flowers and small beads would make you look epic at your Haldi ceremony. You can adorn your beautiful feet with this delicate floral anklet that leaves a spectacular effect in all your Haldi ceremony pictures.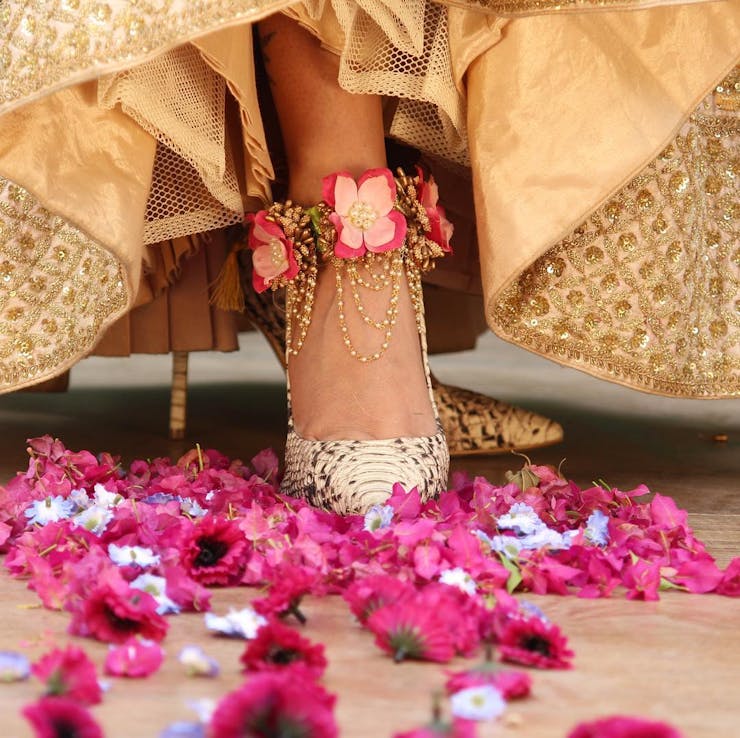 We hope you love these ideas of flower jewellery for haldi function. And have decided what to wear in your Haldi function.