Latest Bengali Bridal Topor Design Ideas
Here is a list of stunning bengali bridal topor designs that will turn you into the most beautiful Bengali bride. Bookmark the best topor for your D-day.
---
Have you seen the wedding look of a Bengali bride? A gorgeous bride donned in a red Banarasi saree with a large red bindi and rosy red lips look ethereal. She looks divine from tip to toe. Whether it's her statement jewelry or Alta design, every bridal element of her looks speaks about her elegance. But the focal point of their wedding look is the stunning white bridal mukut. Indian brides wear different kinds of mukut depending upon their region. For example, a Kashmiri bride wears Kalpush and a Marathi bride wears Mundavalya. But the elegance of a Bengali topor makes it an alluring bridal headgear. This lightweight bridal crown comes in various designs and sizes. For clicking beautiful pictures of bridal crown you will need the best wedding photographer in kolkata.
Thus, here we have enlisted some unique bengali bridal topor designs that can make you a royal queen. So, bookmark these creative topor designs to complete your charming bride look.
1. Glamorous Topor With Paisley Designs
Nothing beats the elegance of paisley motifs carved out on a white topor. This glamorous bride has worn a unique topor over her head. The creative part of this bridal portal has stolen our hearts. This bengali bridal crown is perfectly complementing her red and gold Banarasi saree.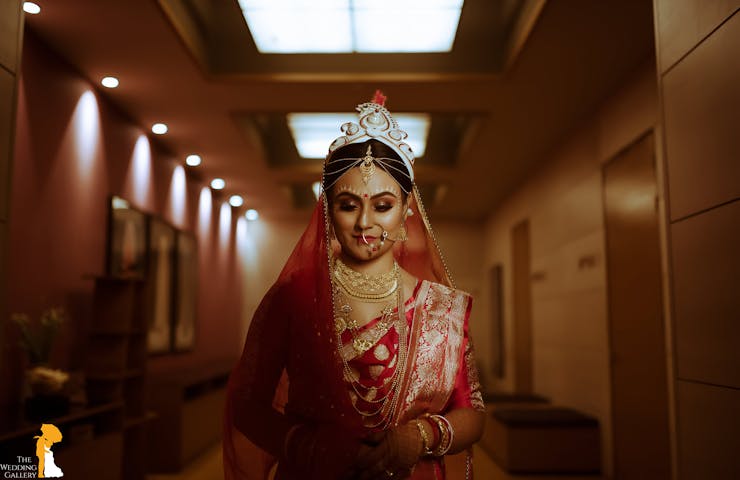 Recommended: Latest Flower Jewellery Ideas For Haldi Function
2. Beautiful Red & White Topor With Lotus Design
If you are one of those brides who love simplicity and style then you must choose this wonderful bridal topor. Our charming bride has adorned her net dupatta with a creative mukut design. The lotus motifs on the crown look too gorgeous. The hint of red color on this white bridal crown is complementing her red silk saree.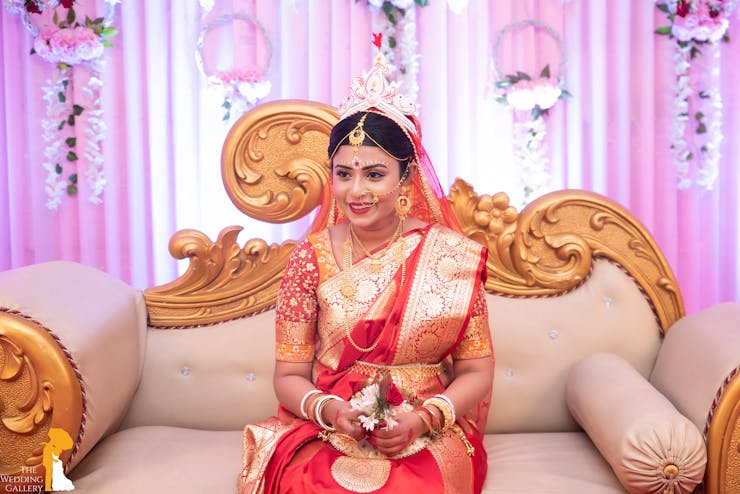 Must Read: Top 15 Unique Pre Wedding Poses For Couples You Should Try
3. Royal Elegance Of A Golden Crown
Hiring a talented photographer in kolkata for wedding can give you the best pictures of your wedding look. Bengali brides love wearing gold jewelry. And this is why a golden crown for bengali bride is her most precious ornament. Because it makes her feel like a regal queen.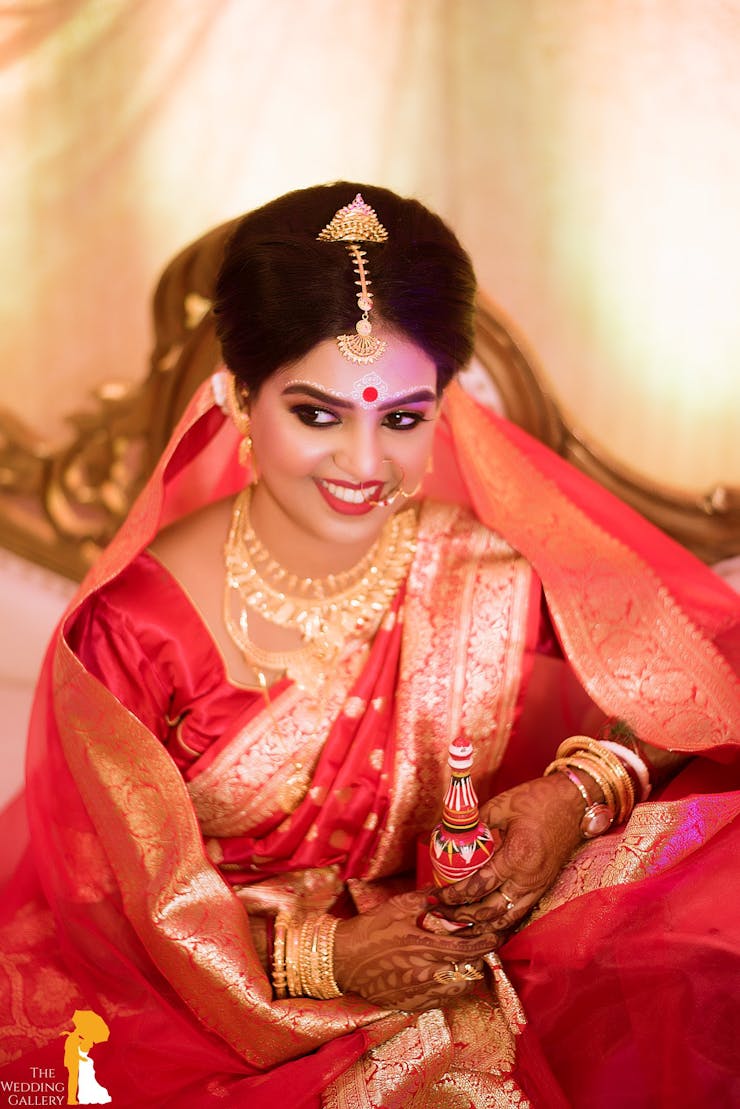 See More: Top 13 Wedding Shopping Places In Kolkata For The Bengali Bride
4. Breathtaking Charm Of Pure White Topor
How breathtaking is this white topor looks? The wonderful shape of this pure white topor is making this bride look more gorgeous. The white shade of her mukut is complementing her white and red Chandan art. This kind of bridal topor is perfect for brides who have oval faces.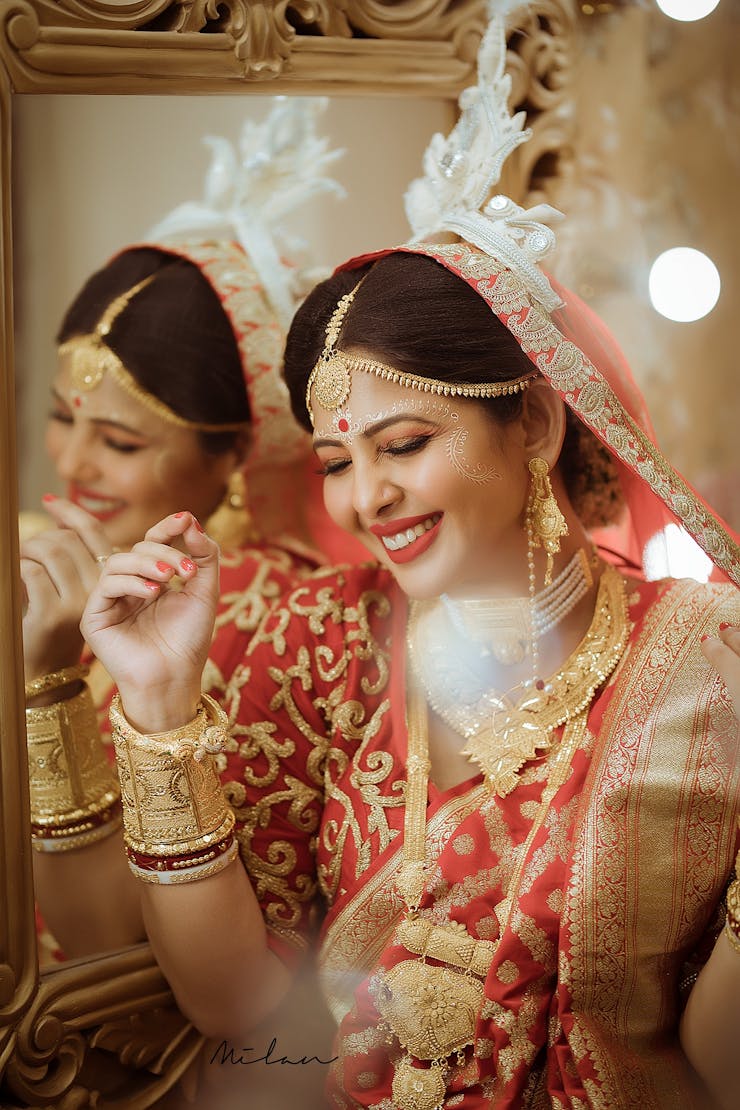 5. A Creative Bengali Bridal Topor Design
This artistic mukut is adding a surreal charm to her wedding look. The creative design of her mukut is making it the best option to wear with statement jewelry. The contrasting shades of this bridal outfit are further enhancing her bridal beauty. If you are looking for a unique topor, then you must choose this creative bengali mukut design.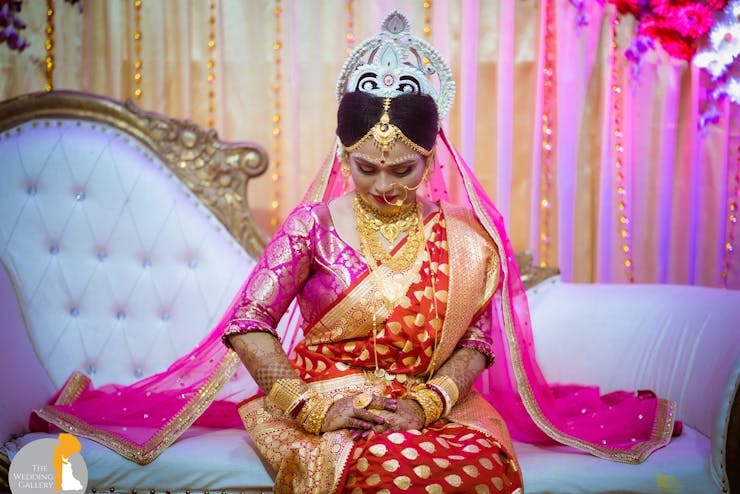 6. A Tall Bridal Topor With Stunning Designs
This tall wedding crown made is adding a special charm to the Haldi look of our charming bride. This beautiful bridal topor, designed with silver motifs looks wonderful. The delicate red feather is a cherry on the top. The red and white shade of this bridal crown is complementing her floral jewelry.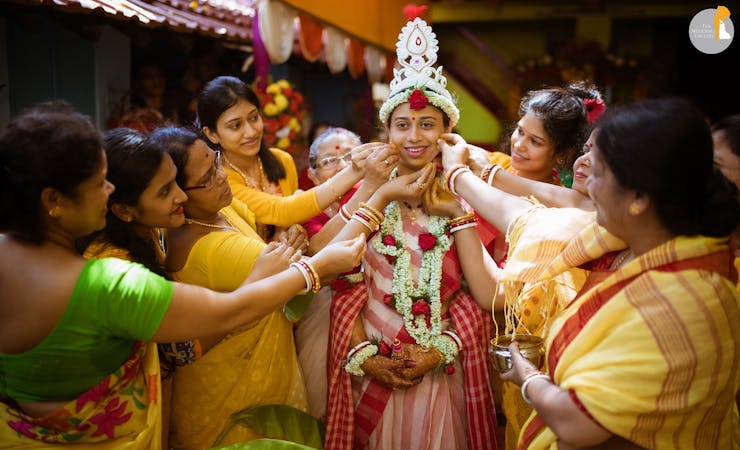 7. Triangular Topor With Butterfly Design
A triangular bengali wedding mukut is the most conventional design. The red shade on this stunning mukut design is adding definition to her gorgeous look. The butterfly motifs curved on her white topor is adding more beauty to the crown. We would recommend such a beautiful topor to complement your wedding saree.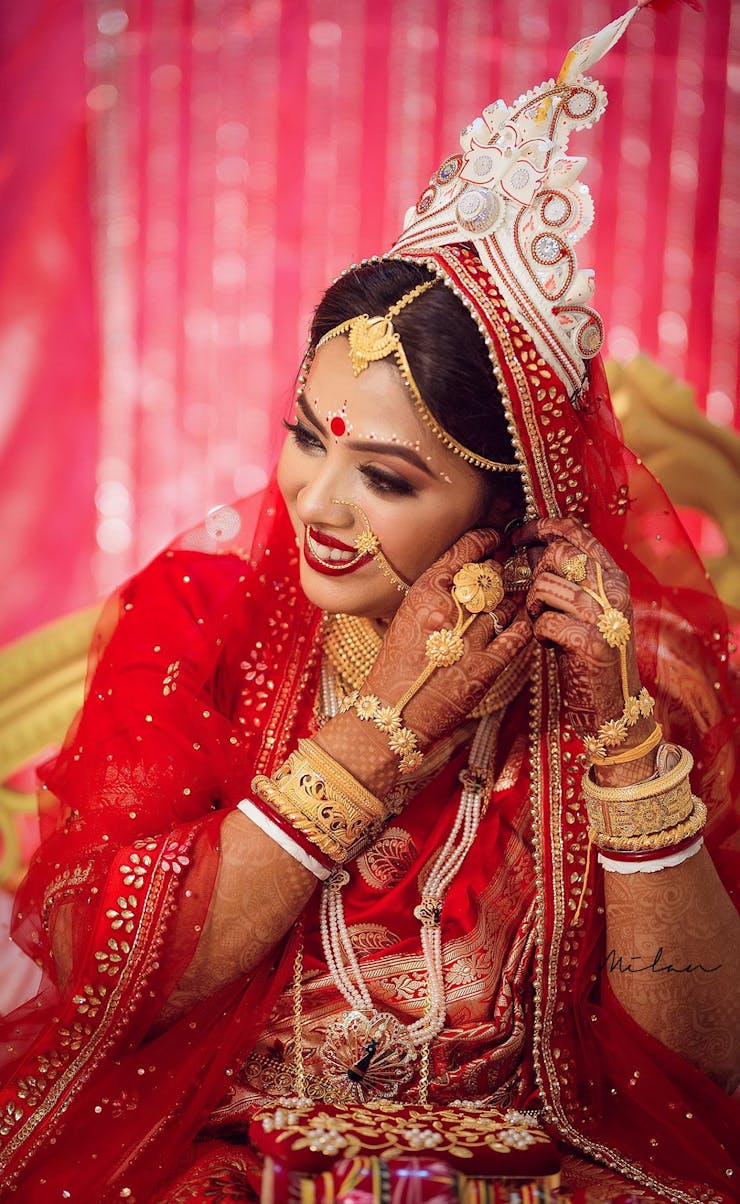 8. Small Petite Bengali Bridal Topor
This one is designed for brides who believe in simplicity. The small petite mukut of this bride is highlighting her eye-pleasing floral garland. The fine detailing of this mukut reflects the brilliant craftsmanship of Bengali artisans. This tiny bengali bride mukut designs looks adorable on round faces.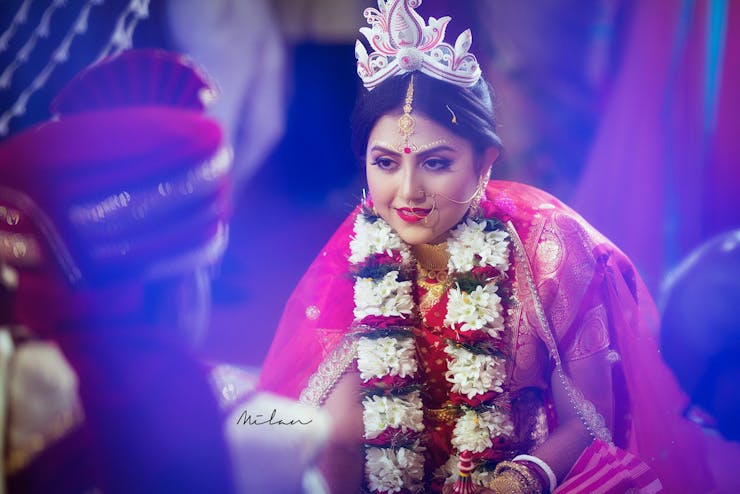 9. An Intricately Carved Out Bridal Topor
This intricately designed bridal topor will make you look like an attractive bride. The intricate detailing of his bridal topor is winning our hearts. This bong bride has paired her bridal topor with Kundan jewelry. This is the most unique Bengali bridal look that we have ever seen.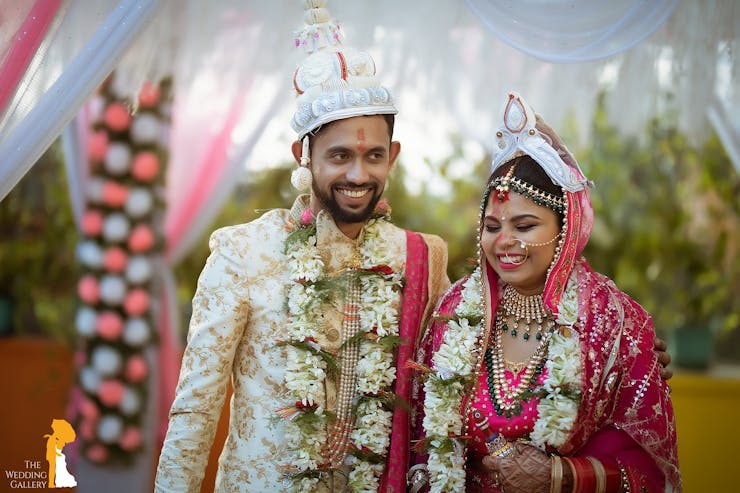 10. Hint Of Gold In White Topor
Adding a hint of little gold to your bridal crown for bengali wedding will work wonders. It can provide you with a graceful look. This white and gold bridal topor can also complement your traditional jewelry. The geometric patterns carved on this bridal topor will add a creative touch to your look. It goes well with glittery bridal makeup.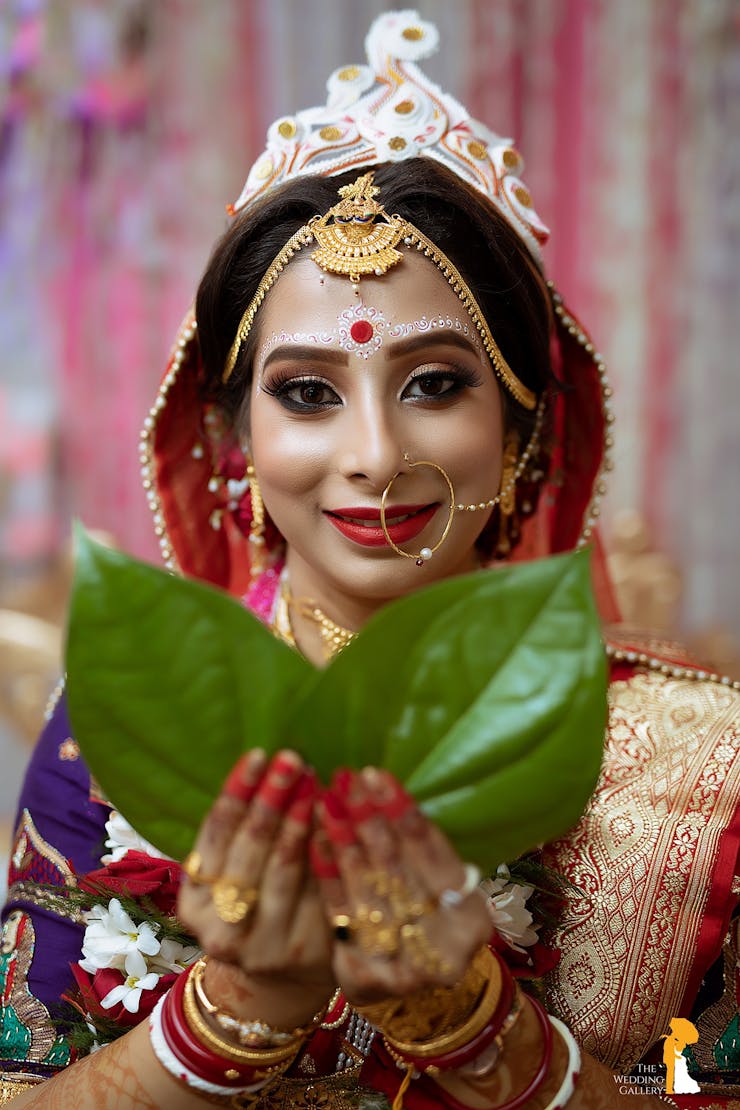 11. Classic Charm Of A Floral Topor Design
The divine beauty of this bridal topor is too hard to explain in words. These floral crown bengali bride mukut designs are the most captivating option for a bridal look. The tremendous beauty of the floral motifs can grab everyone's attention.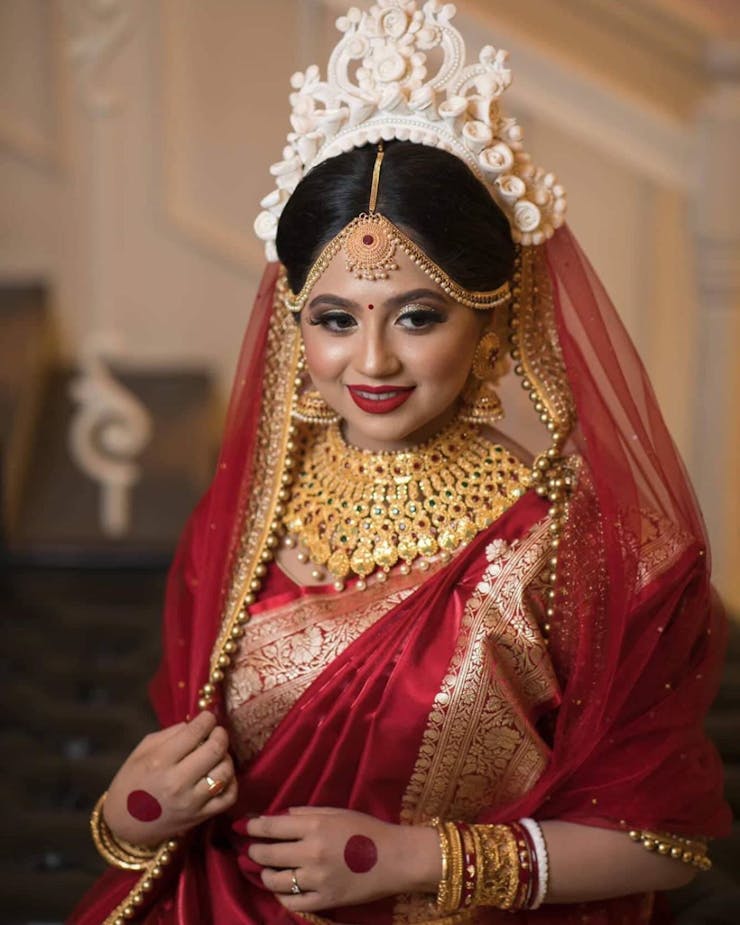 12. Divine Topor For An OTT Bride
What a beautiful bridal topor design! This elaborate bridal mukut adorn with faux pearls is increasing her bridal charm. She has opted for a stylish hair bun to flaunt the beauty of this wonderful bridal head gear. Such unique designs can turn you into a most alluring bride.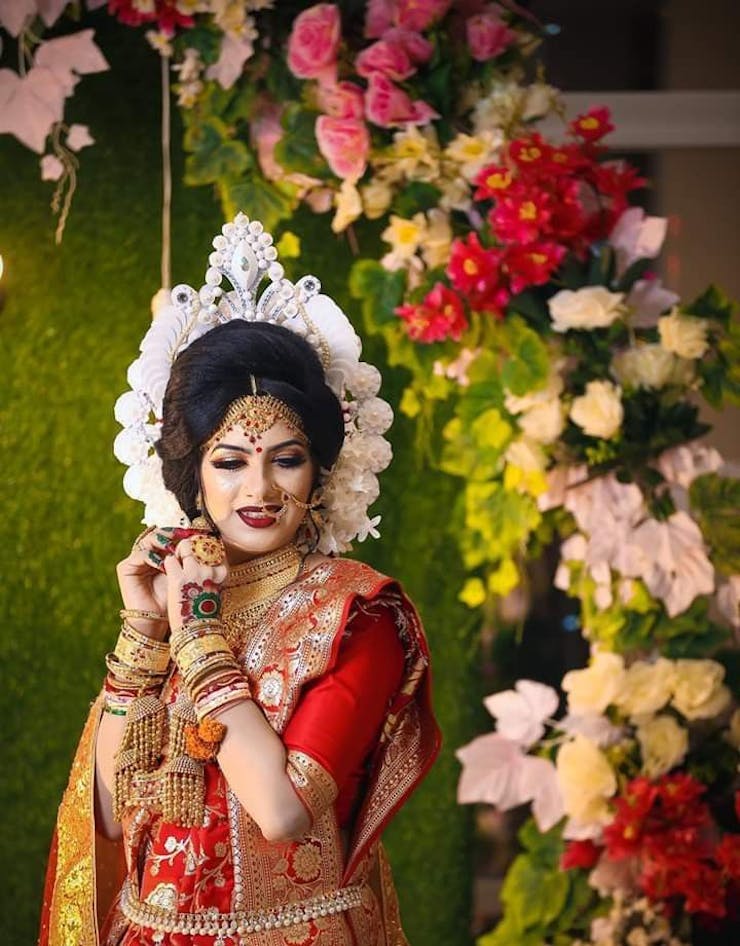 13. Surreal Charm Of Round Topor Design
Which is more beautiful – Her captivating bridal crown or her hypnotizing eyes? The radiating charm of this bridal mukut has made her a real apsara coming straight from heaven. Her outstanding bridal dupatta is a wonderful addition with this bridal topor.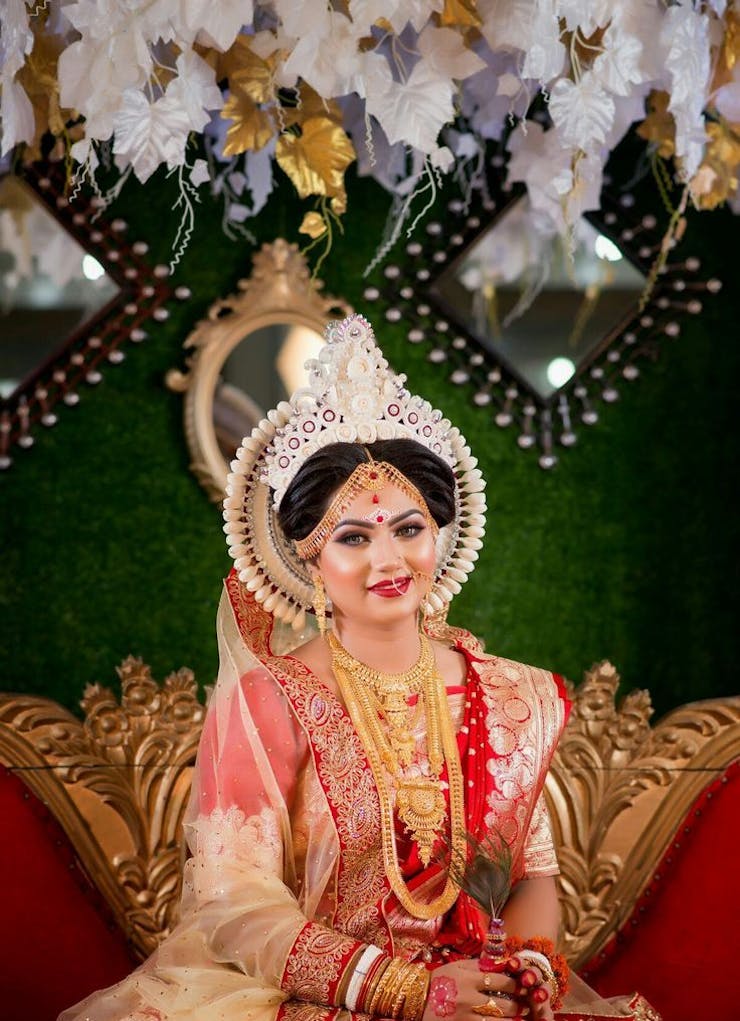 14. Pop Of Colors In A Stone-Studded Bridal Topor
Ending this fashion guide with the most stunning bridal mukut design. This glamorous bride has chosen to wear a stone-studded bridal mukut. The off-white shade of her crown is complementing her antique gold jewelry.