Here's How To Wear The Bengali Style Saree Like A Pro!
Take a look at these beautiful Bengali saree style that we have specially curated for you. Bookmark the favorite one to be the most gorgeous Bengali bride.
---
Wearing a saree can be an incredibly beautiful experience if you are going to be a Bengali bride. If you have noticed a Bengali saree look, you might have seen its elegance and glamour. The gorgeous Banarasi silk saree can make you look like an eternal beauty of paradise. Many kinds of saree draping styles can be worn to weddings and other religious occasions. The Bengali style saree draping entirely depends on the choice of bride. She can choose anything between traditional draping or a modern style. Traditionally Bengali women do not wear blouses with their sarees. But now in the present time, designer bridal blouses are added to the wardrobes of Bengali brides. Being the best Bengali wedding photographer in Kolkata we have captured various Bengali saree style of brides. So, here we are sharing Bengali saree draping style step by step guide to help you plan your wedding look.
1. Front Pleat Bengali Saree Style
A gorgeous Banarasi saree with a front pleated pallu is the classiest choice for conventional brides. To wear a front pleat silk saree, you'll need to place the pleats of the saree from the back to the front. It is an elegant Bengali wedding saree style that goes well with a half-sleeved blouse. Also, book a good photographer in Kolkata for wedding to preserve the memory of your bridal avatar.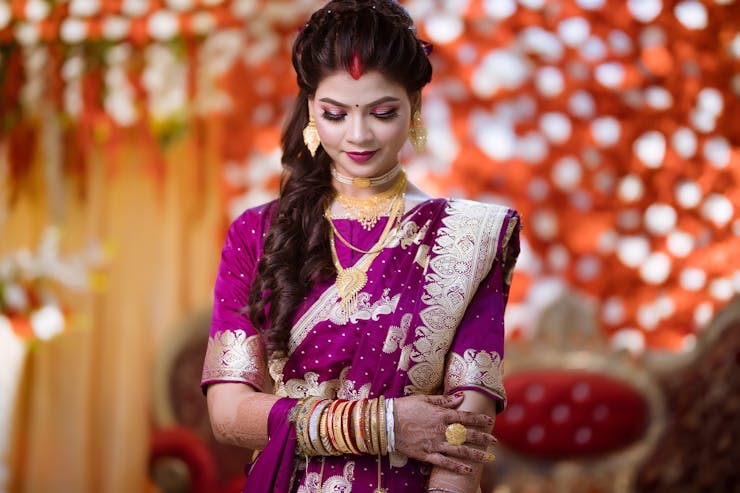 Recommended: Trending Bridal Entrance Songs 2022 You Should Bookmark
2. Bengali Saree Style With Belt
Wearing a belt on a wedding saree might seems to be a modern style Bengali saree look. But in reality, this fashion was introduced in ancient times when brides used to wear Kamar bandhs on their waistlines. It takes very less effort to drape this kind of saree. All you need to do is simply wrap a leather belt on your simplistic Bengali bride saree style.
Must Read: Latest Bengali Bridal Topor Design Ideas
3. Typical Bengali Saree Style With Gorgeous Veil
This is the most beautiful and traditional Bengali saree style. Here you can see the bride has worn a pleated red Banarasi with stunning gold jewelry. The highlight of this Bengali bride saree draping style is the pallu and the veil. The veil is left open on both sides This is the best Bengali reception saree style to try.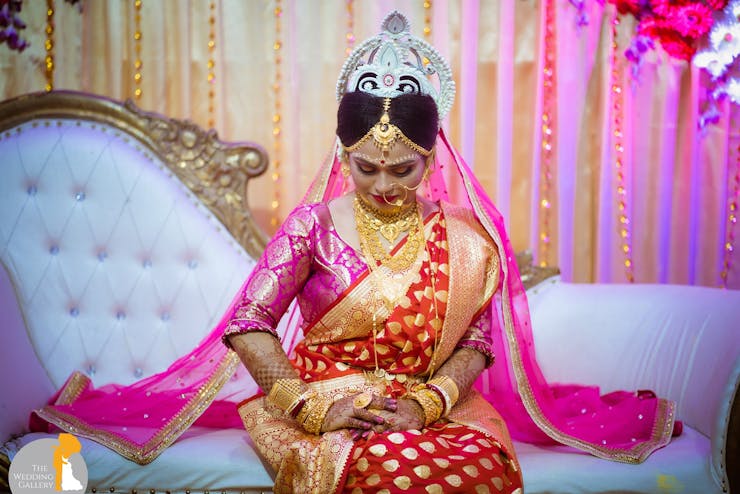 4. Aatpoure Bengali Saree Style
The Bengali Atpoure saree style is famous for providing a captivating look to the brides. This Bengali-style saree draping must be right-folded to every corner possible. The saree is draped with box pleats in the front while its pallu is placed on both shoulders. In the olden days, the women of zamindar's family wear this kind of traditional Bengali saree wearing style to keep a bunch of keys on one end of the saree.
5. Latest Bengali Saree Style
Wearing a saree like an Indian lehenga has become a popular choice among Bengali brides. This is a modern Bengali saree style for those who wish to fulfill their desire of wearing a beautiful lehenga at their wedding events. Here you can make as many pleats from the saree as you want to give it an elegant and super stylish look.