13 Gorgeous Bengali Bridal Banarasi Saree Designs For 2022
Planned to wear a banarasi saree on your D-day? Check here the latest collection of bengali bridal banarasi saree to be the most glamorous bride ever.
---
A wedding saree is a very important element in a Bengali bride's trousseau. Made of pure silk and designed with gold or silver embellishments, a banarasi saree is the favorite ethnic wear of Bengali brides. This evergreen silk saree has an unparalleled ethnicity. It offers a royal touch to the classy bridal look. This timeless piece of bridal saree is making waves in the Indian fashion industry. Bengali Brides look charming and divine in this beautiful saree on their wedding day. The mother of every Bengali bride wants to dress their dear daughters in a luxurious banarasi saree with a plethora of gold jewelry.
Do you know that this gorgeous wedding saree dates back to 1000 to 300 B.C? Isn't it wonderful to wear such an ancient piece of fabric on your big day? A candid wedding photographer in Kolkata believes that the main highlight of his Bengali wedding photography is a Bengali bride. Today we are taking you on an impressive journey of exploring some of the most gorgeous bengali bridal banarasi saree designs. Take inspiration from these gorgeous brides to find a perfect wedding saree.
1. A Contemporary Touch In Bengali Bridal Banarasi Saree
Let's begin the list with an unique saree in a vibrant shade of violet. Vibrant colors like violet, blue and green are gaining much popularity in Bengali weddings these days. This pretty bride dressed in a violet banarasi saree with silver motifs is a true example of beauty.
Recommended: Latest Flower Jewellery Ideas For Haldi Function
2. The Beauty Of Contrasting Shades In Banarasi Saree
Wearing contrasting shades banarasi saree is the latest fashion trend in Indian weddings. These trending saree designs give the brides an esthetically beautiful look. You can pair such a beautiful saree with statement jewelry to amp up the bling factor.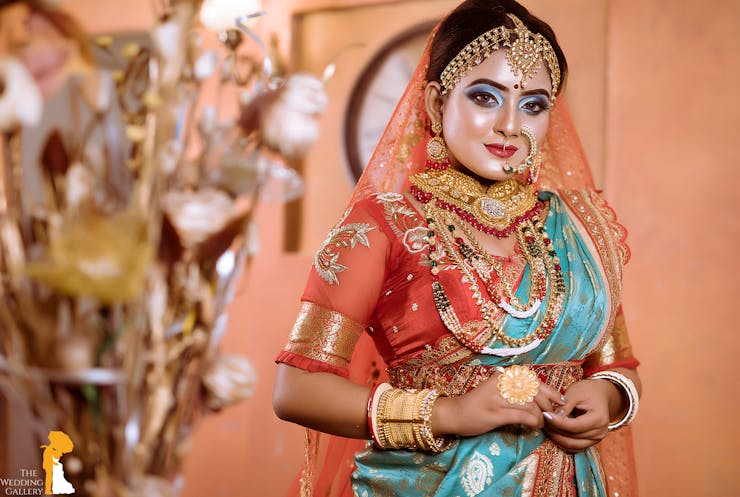 See More: All You Need To Know About Rituals Of Bengali Wedding
3. Classic Red Banarasi Saree For Bengali Bride
A red banarasi is a timeless piece of Indian fabric that is a popular choice among Bengali brides. A classy red banarasi is the most beautiful ethnic outfit that is a perfect fit for the wedding day. Contact the best bengali wedding photographer in kolkata to capture the beauty of this divine wedding look.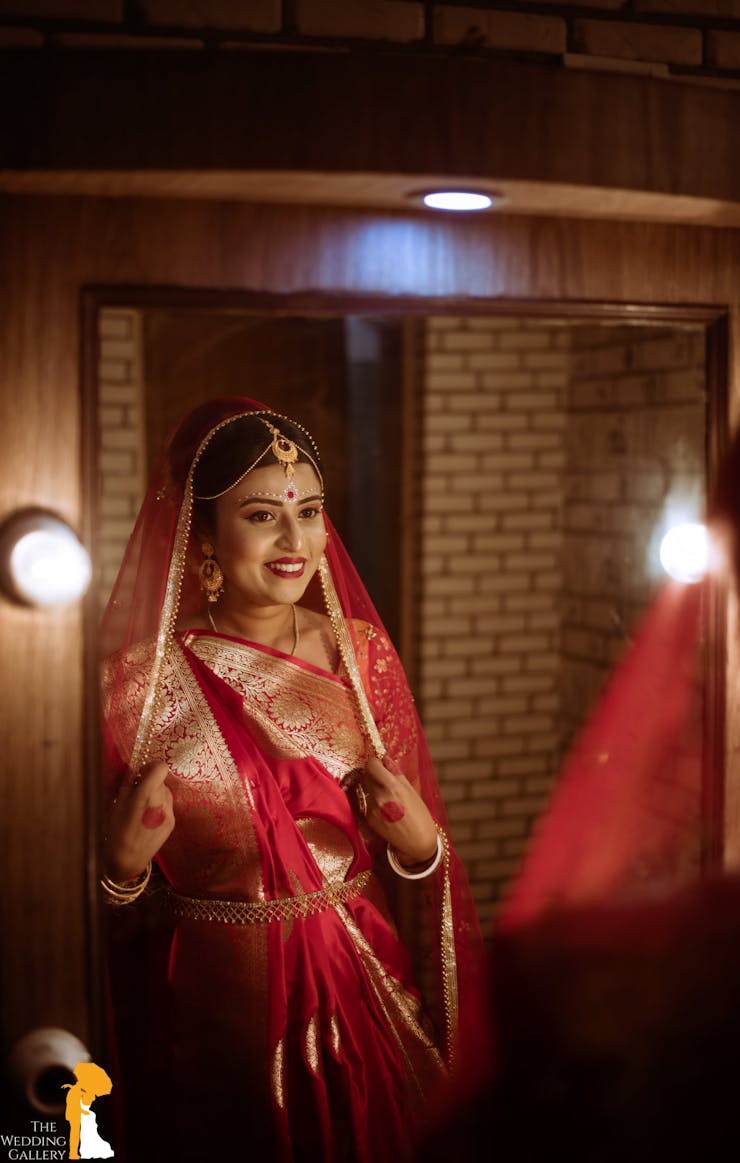 4. Gorgeous Bride In Green & Yellow Banarasi Saree
The sheer base of a yellow banarasi with green embroidery and matching blouse looks so beautiful on this bride. This bengali saree design would look more beautiful with stunning gold jewelry. This dual-tone saree is definitely going to make you the most gorgeous bride of the year.
5. The Alluring Charm Of Yellow Banarasi With Red Blouse
A sunshine yellow banarasi saree with a red blouse and net dupatta adds a simplistic charm to your bridal look. This beautiful combination of banarasi saree with gold jewelry is a wonderful option to wear on wedding events. It adds a special charm to the bride's face.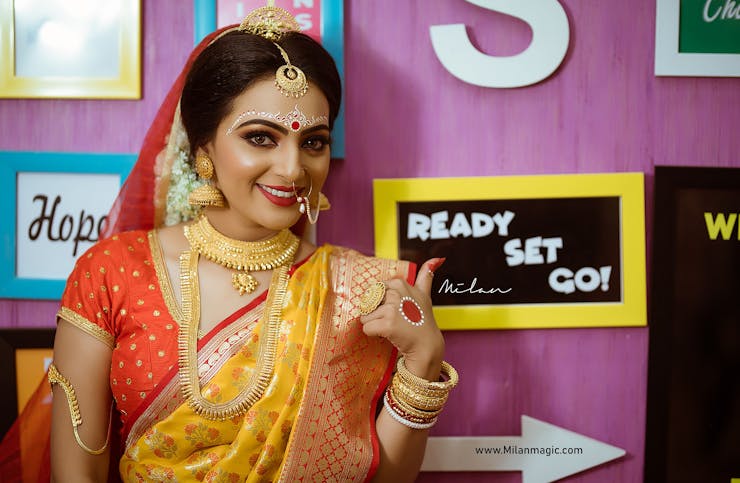 6. A Luxurious Red Banarasi With Pink Designer Blouse
We can't take our eyes off this beautiful bengali wedding banarasi saree. Pair your traditional red banarasi with a blush pink silk blouse and net dupatta to grab the attention of your guests. The auspicious shade of red with leafy motifs increases the charm of this saree.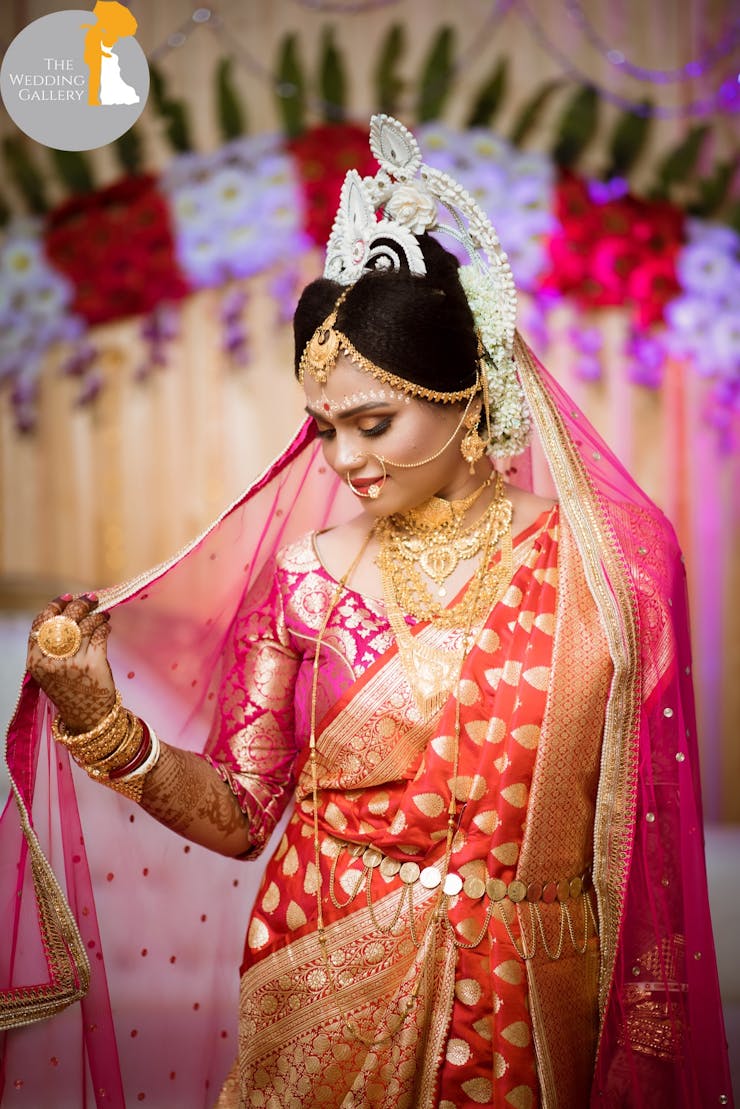 7. A New Style Saree For Chic Brides
Now coming to the most unique option we have seen in banarasi sarees. One would have never imagined a vibrant shade like blue with silver motifs in a banarasi saree for a wedding day look. This kind of wedding sarees for bride will grab the attention of everyone around.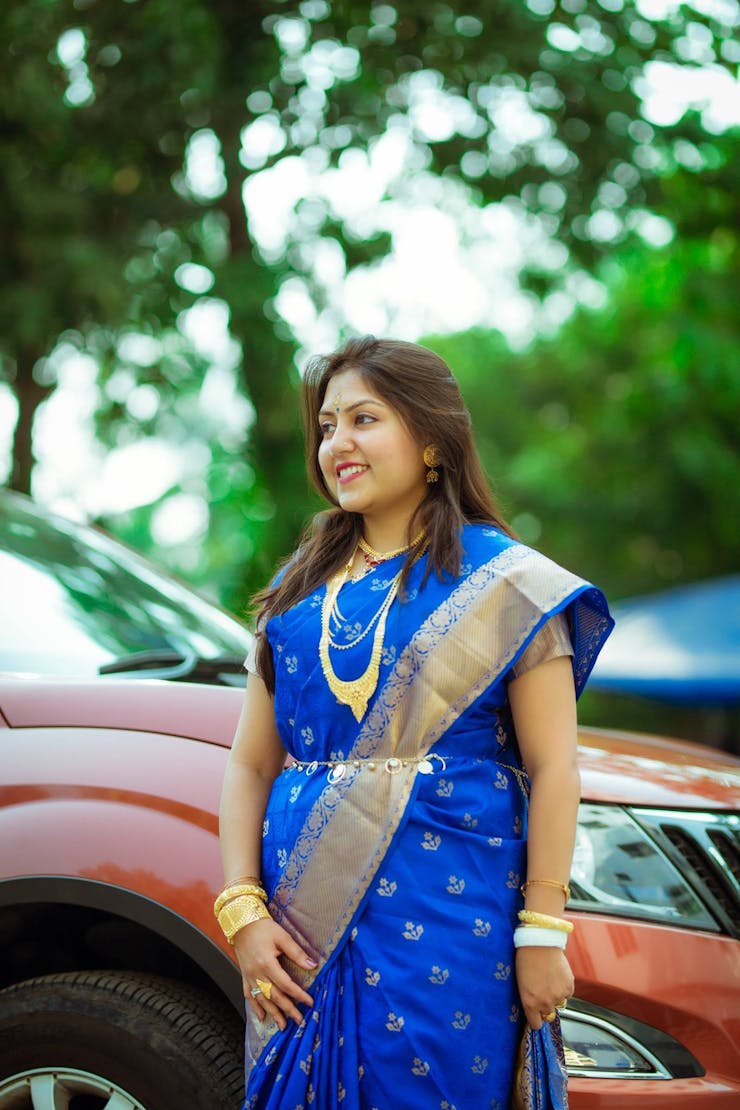 8. The Attractive Fusion Of Off White & Rustic Red Banarasi
Is there anything more beautiful than this off-beat banarasi saree with a red blouse? This kind of simple bridal saree with captivating motifs is a perfect choice for post-wedding functions. Here the bride has worn an enchanting gold necklace to complement her off-beat banarasi saree.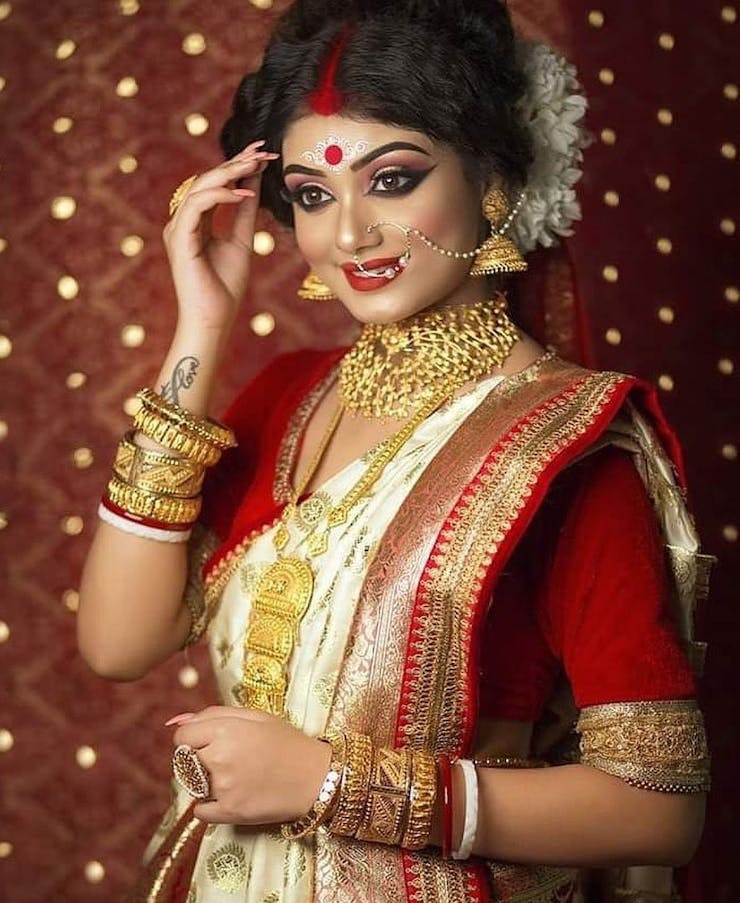 9. A Regal Combination Of Designer Blouse With Traditional Red Banarasi Saree
Brides who love the shade of red will definitely love this alluring bridal look. Red color is a symbol of love and romance. Wearing a fairy red banarasi with a golden motif blouse can make you look gorgeous in pictures. Her net pallu in the same shade and design is taking the whole bridal look to the next level.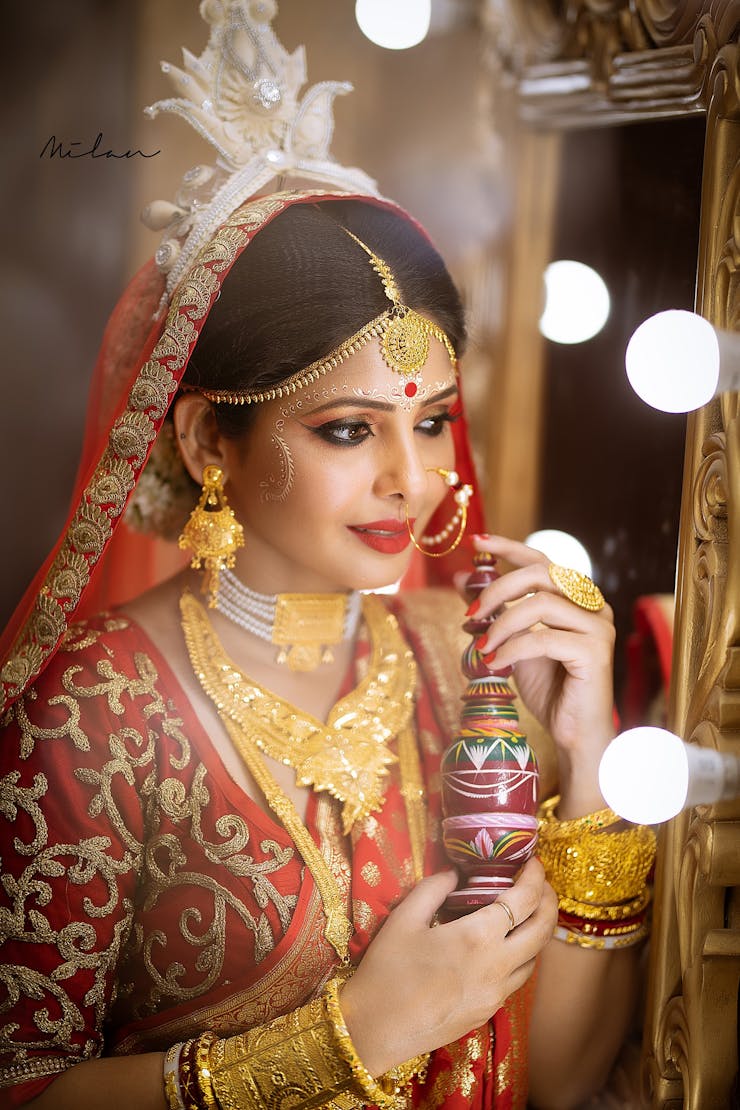 10. A Bubbly Bride In A Fancy Banarasi Saree
This pretty princess is looking fabulous in her blush pink banarasi saree. The intricate designs over her saree have a certain charm that is impossible to ignore. The unusual combination of an orange blouse and a pink saree gives you an impressive bridal look.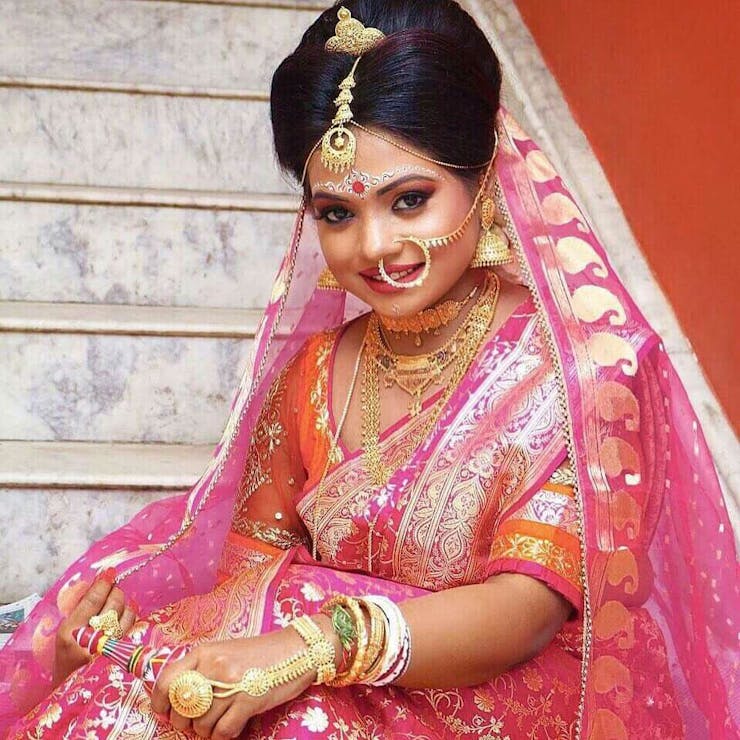 11. An Attractive Red Bengali Bridal Banarasi Saree With Alluring Blue Blouse
Here we have another gorgeous banarasi saree design. The floral design on her red banarasi is complementing her blue blouse. This simple bridal look in saree with statement jewelry and blue gajra in the hair is adding classic charm to her look.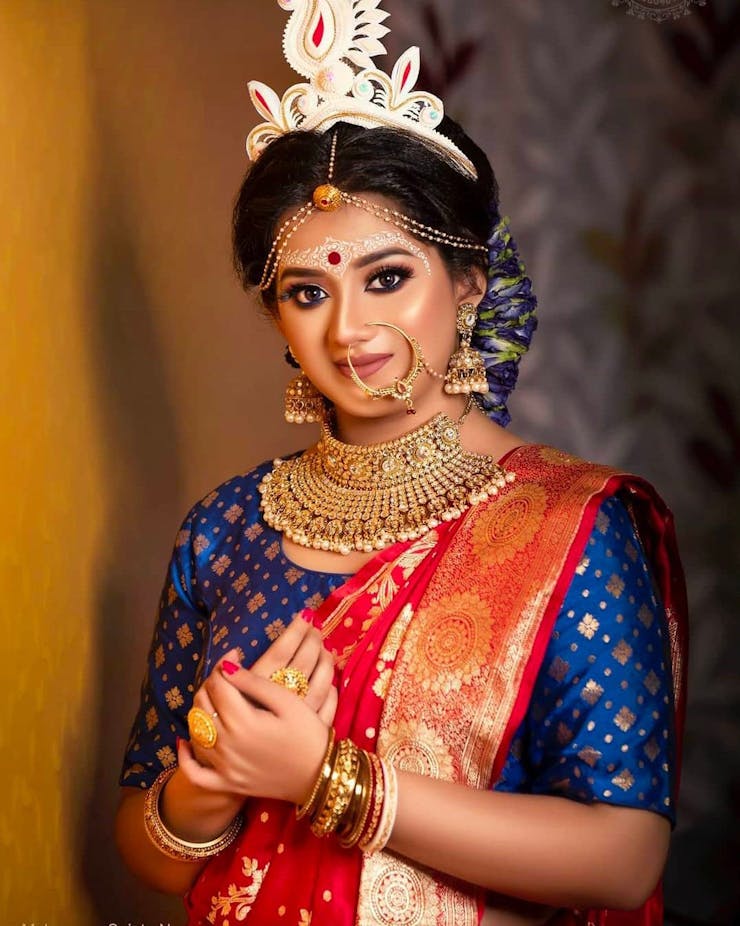 12. A Bold Green Banarasi For Millenial Brides
This pretty bride dressed in a green banarasi saree with designer blouse is stealing our hearts. She has enhanced her bridal essence with diamond jewelry to look marvelous in her bridal pictures.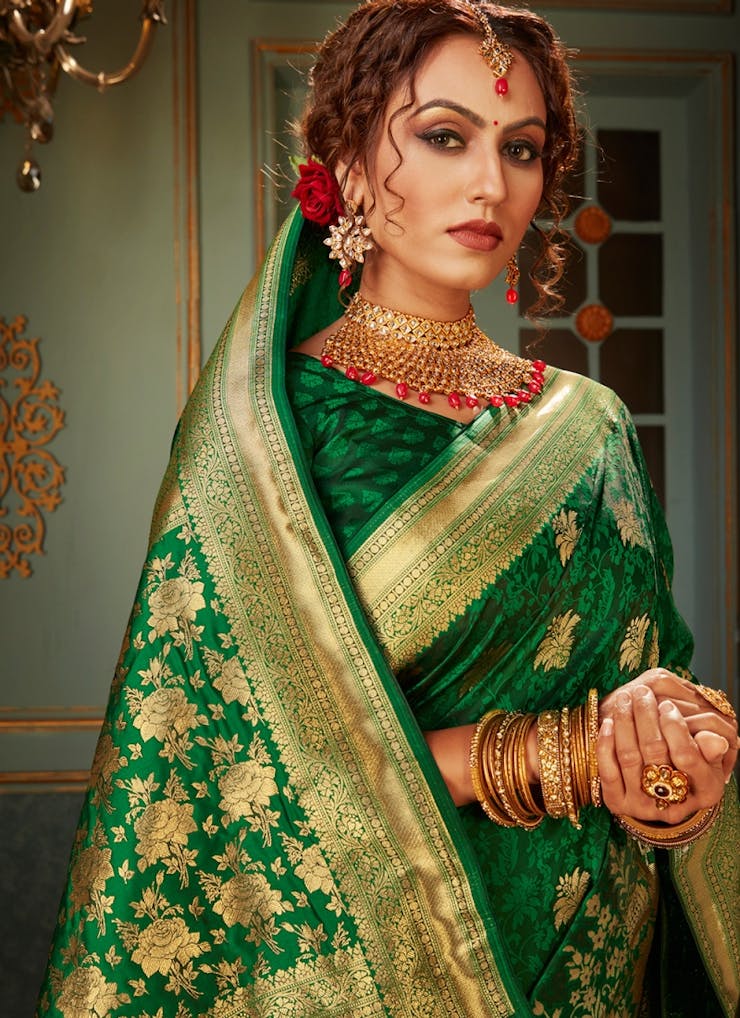 13. An Offbeat Banarasi For A Grand Affair
The last one on this list is another beautiful benarasi saree for bengali wedding. An unusual banarasi saree in sky blue and red shade gives some serious fashion goals to the young brides over there. The intricate design of this bride's saree is the major highlight of her bridal look.