Top 15 Amazing Wedding Shoes For The Bride In 2022
Stun everyone with your stylish Dulhan avatar at wedding by wearing Cinderella-like shoes. Check here amazing collection of wedding shoes for the bride.
---
Indian Brides shop almost everything from top to toe that can turn her into an attractive bride. But they often overlook the most important bridal ensemble in the rush hours of the wedding. But believe us a pair of perfect bridal shoes can give you an ultra voguish look. You can also live your childhood dreams of wearing dreamy Cinderella-like shoes. Matching stylish bridal shoes can add a glamorous appeal to your wedding attire. In recent weddings, we have spotted brides wearing heels, floral juttis, and comfy wedges with their wedding lehengas. This stylish footwear can add a dash of quirk to your bridal persona. We have picked the top 15 trending wedding shoes for the bride that are super eye-catchy and unusual. Keep reading this fashion guide to find out a stunning bridal shoe to match your wedding lehenga.
Let's check here the stunning bridal shoe images clicked by the professional wedding photographer in kolkata.
1. The Artistic Embroidery On This Red Juttis Has Made Us Speechless!
You will need comfortable footwear to carry your heavy bridal ensemble. A bridal jutti with thread embroidery looks wonderful and also relaxes your feet. It's a perfect fit to complement your embroidered lehenga. The enchanting designs of bridal jutti are what you need for an epic look.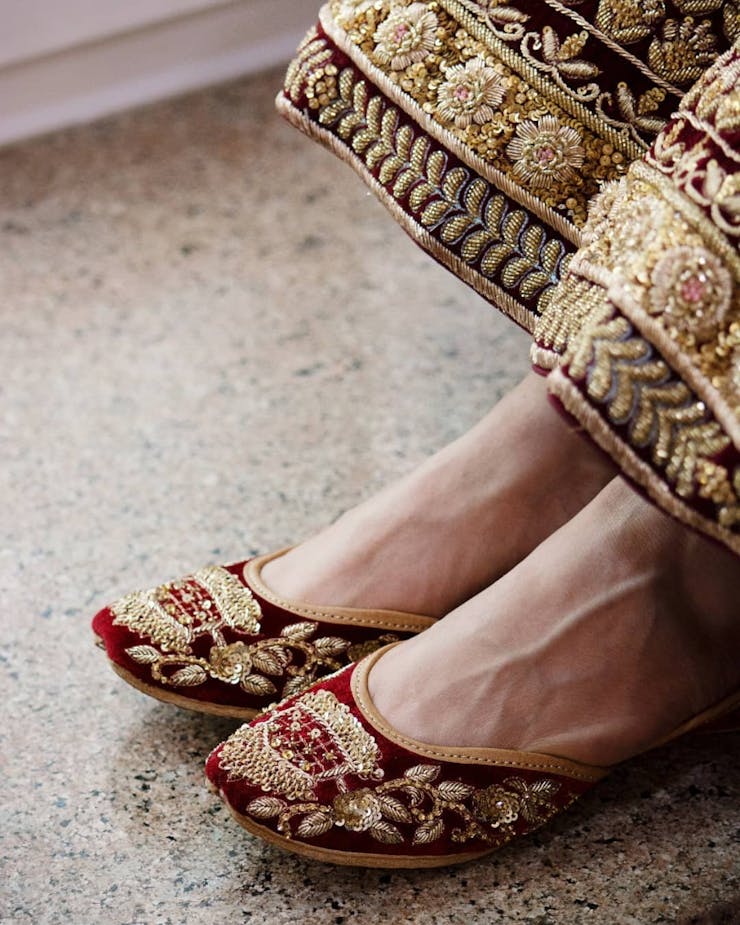 Recommended: Top 15 Prettiest Haldi Look For Bengali Bride – Milan Magic
2. Strapped Flat Sandals Looks Amazing On The Feet Of A Fashion Forward Bride
There's no better footwear choice than strapped flat sandals for walking the aisle. It's the most beautiful wedding shoes for bride white gown. This pretty strappy sandal can take your fashion quotient up several notches.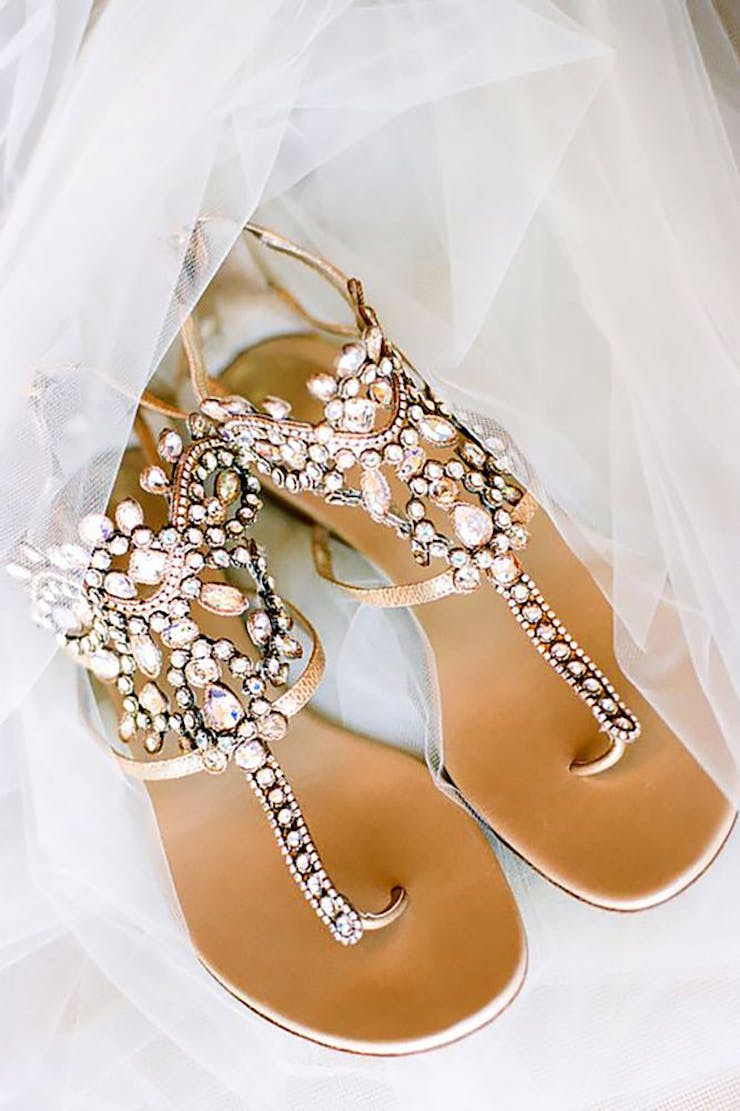 Must Read: All You Need To Know About Rituals Of Bengali Wedding
3. Platform Heels Are The Perfect Wedding Shoes For The Bride With Short Height
You might want to walk through the aisle in high heels. But it can make your wedding experience worst if you can't handle high heels. Instead of a high heel, you can choose the platform heel footwear in a golden hue. Along with that book a photographer in kolkata for wedding to capture your bridal beauty.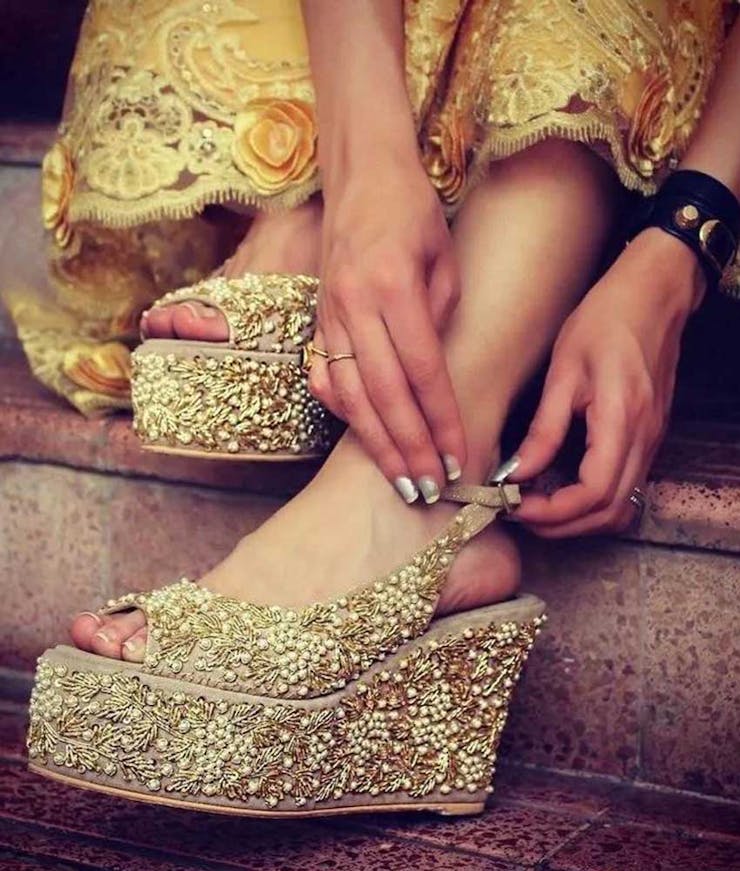 See More: Traditional Bengali Bridal Jewellery Collections You Need To Know
4. The Super Sassy Block Heels Can Add Glitz & Glamour
But if you think that heels are the perfect footwear for wedding gowns or lehenga then you can try wearing a block heel sandal. These bridal shoes are comfortable to wear and are very stylish. It can add a glam factor to your evening gown dress.
5. Pretty Kitten Heels Are Sure To Grab The Eye Balls
Kitten heels can make your feet feel like Cinderella. The short heels of this glittery shoe will underline your wedding outfit with grace. It is the most comfortable shoes that can provide you with a feminine feel at your special event. The hint of a shimmer in these kitten heels sandals goes well with a mirror or Gota Patti lehenga.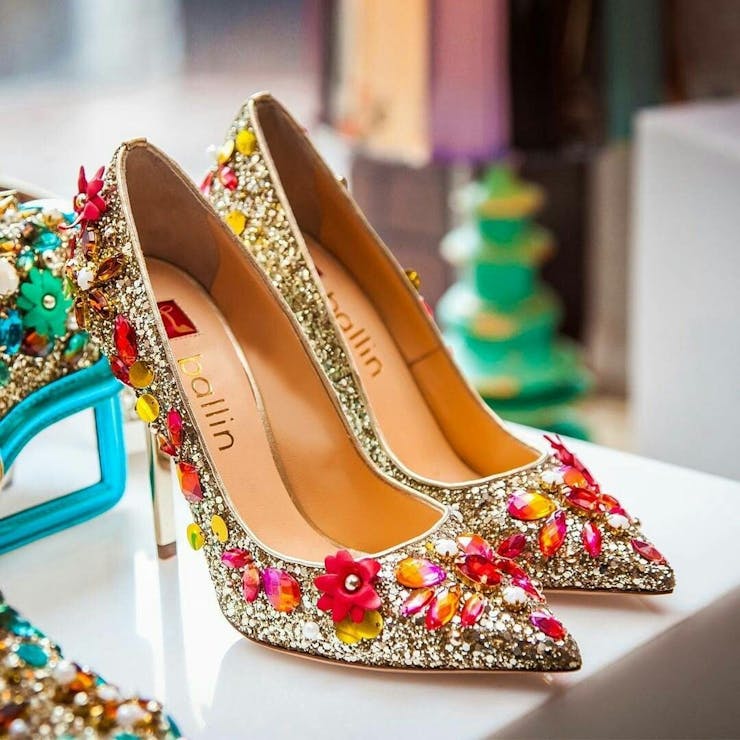 6. A Stylish Pencil Heel Is A Very Popular Footwear For Bride In Indio
A pencil heel sandal is the queen of high heels. These gleaming golden pencil heels are an ideal combination of fashion with elegance. It is a dream wedding foot wear for Indian bride who wants to make a dhamakedar entry on her wedding day.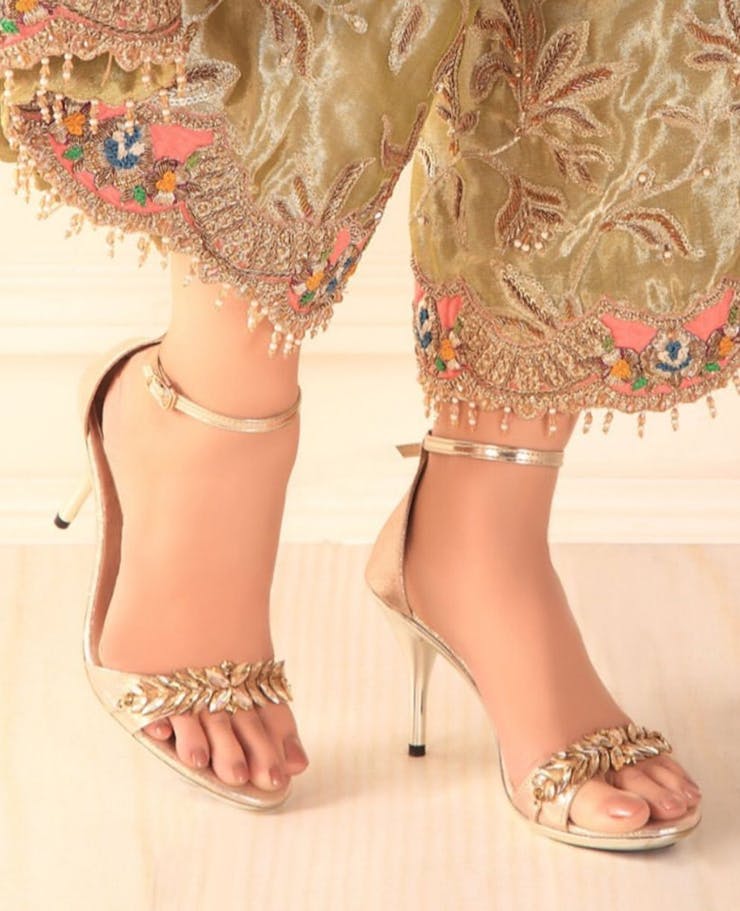 7. Pick A Scillinating Silvery Sandal For Your Sangeet Ceremony
Are you planning to wear an ivory outfit on your big day? If yes then go for silvery shoes that give you a flashy and bold look. This stone-studded silvery sandal looks enchanting with an ivory lehenga.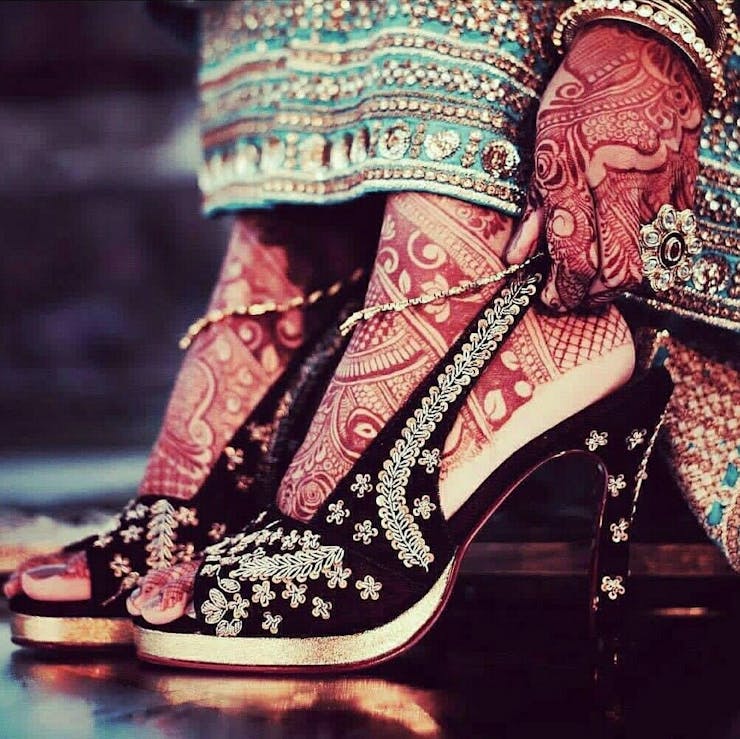 8. Stun Your Guests By Wearing An Embellished Footwear With Mirror Lehenga
This black high-heel sandal is our favorite on this list. Embellished footwear can enhance the beauty of your mehndi design feet. The intricate embroidery on this shoe complement the wonderful mehndi patterns drawn on the bride's feet.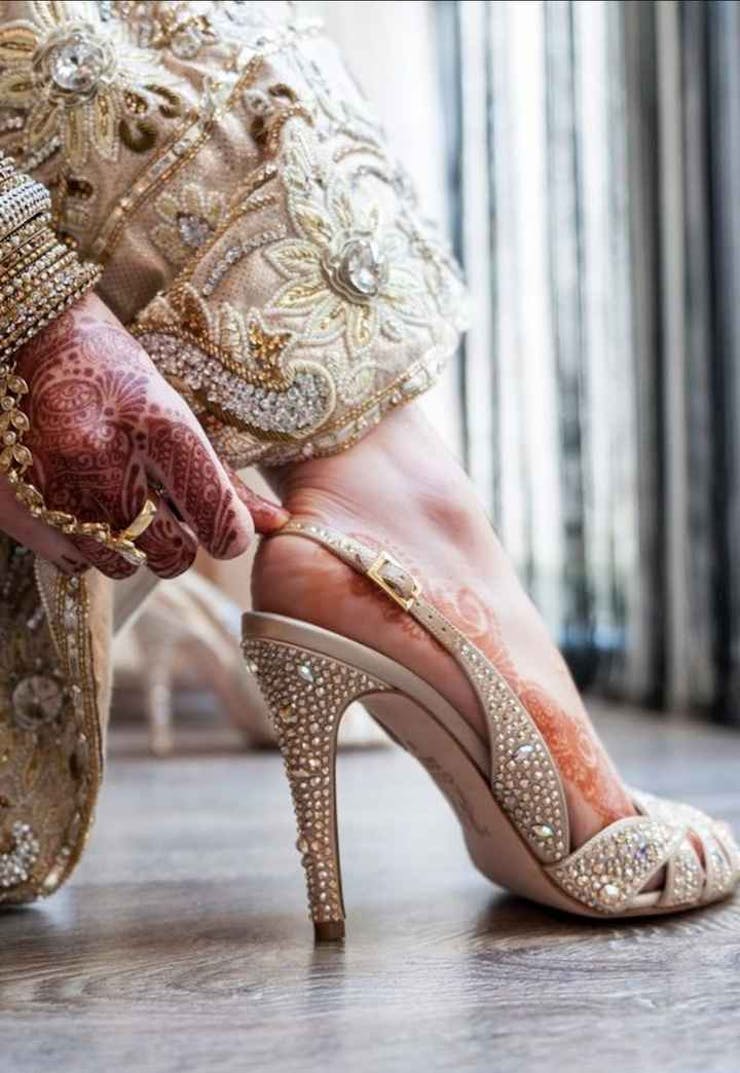 9. Opt For A Rose Gold Sandal To Complement Your Blush Pink Lehenga
The rose gold sandal is the dream footwear of every Indian bride. This wonderful pair of shoes add extra inches of elegance to the bridal personality. Putting on these classy shoes on the wedding day can give you a sassy bridal look.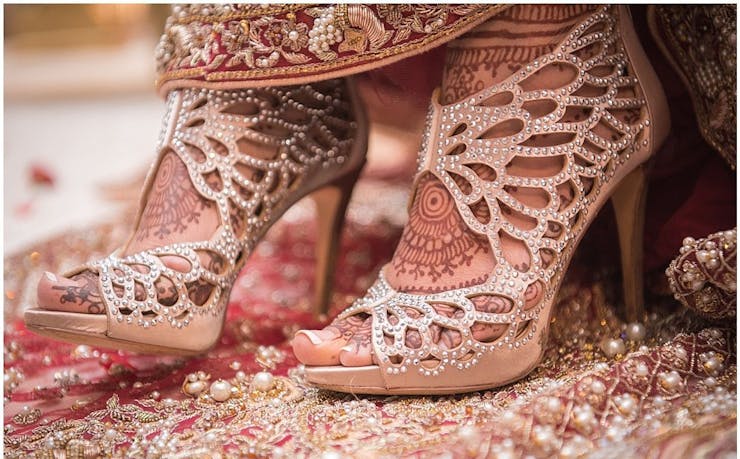 10. Blooming Beauty Of Floral Sandal Is The Perfect Match For Your Floral Lehenga
A floral jutti is a perfect match for your floral jewelry and lehenga. The color of floral jutti is so vibrant and beautiful that it can grab anyone's attention towards your feet. The best part about a floral jutti is they are comfortable and fashionable.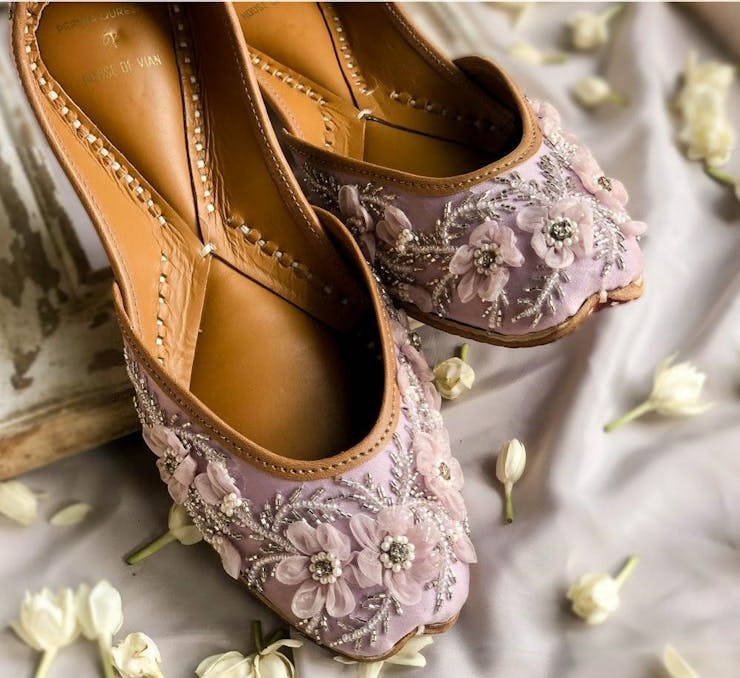 11. Take Your Wedding Look A Notch Above This Stunning Blue Shoe
A silvery blue wedding shoe is an unusual choice for a bride. This is the most attractive wedding shoes for bride low heel that is perfect for a pre-wedding event. This whimsical sandal can be paired with ethnic wear and western wear.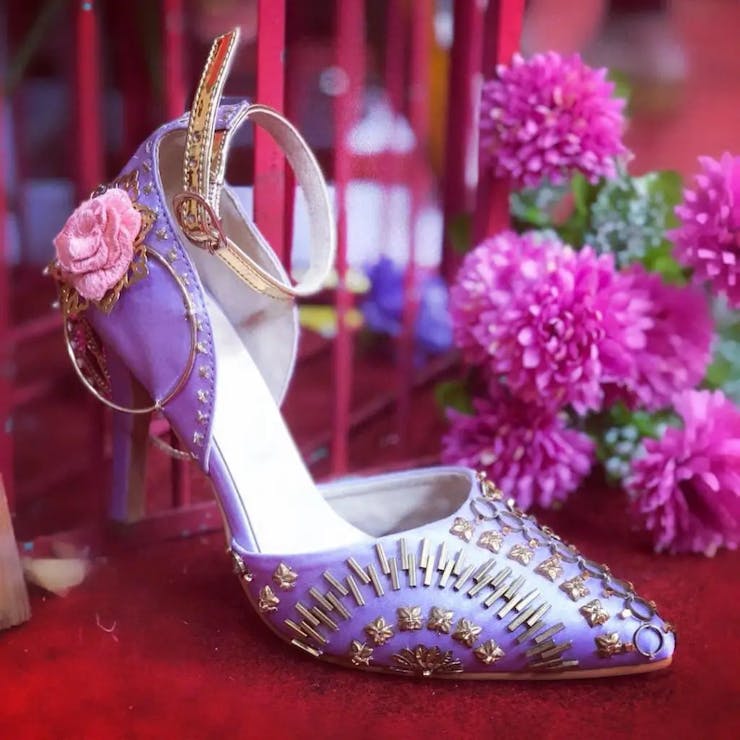 12. Personalized Sneakers Can Make You The Coolest Bride
If you don't want to choose between high heels and juttis then you can try a personalized sneaker. Make a fashion statement at wedding events by wearing these super comfy sneakers. The personalized prints on the bridal shoes are the best option to wear at a luxurious event. These personalized wedding shoes are the most quirky and stylish wedding sneakers for the brides.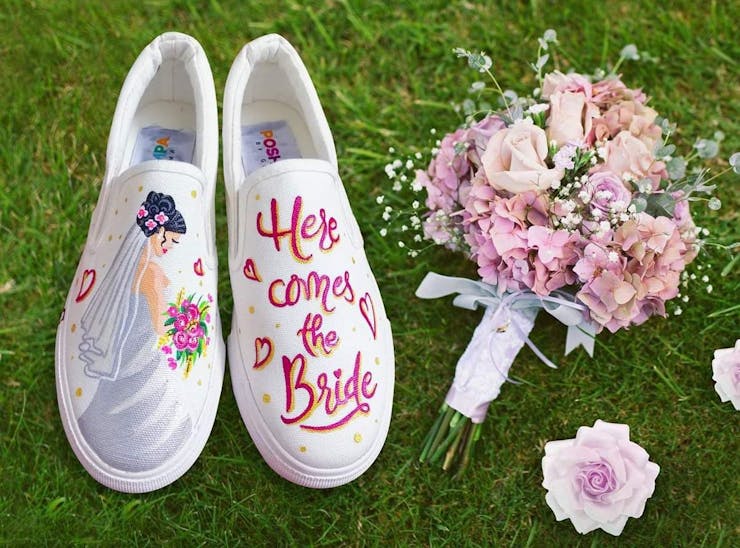 13. An Illuminated Shoe To Rock The Dance Floor
This dazzling pair of footwear is perfect to rock your sangeet night's dance floor. Dancing on an LED floor is a common thing we have noticed at the wedding party. But if you want to make a grand wedding story then you must wear this metallic golden footwear.
14. Fusion Of Red & Gold Is The Best Wedding Footwear For Indian Bride
A red bridal outfit is the most popular and traditional bridal attire in India. The romantic shade of red from top to toe can give you a classic look. To complement your gorgeous red lehenga you can try red and golden-hued bridal louboutin wedding shoes.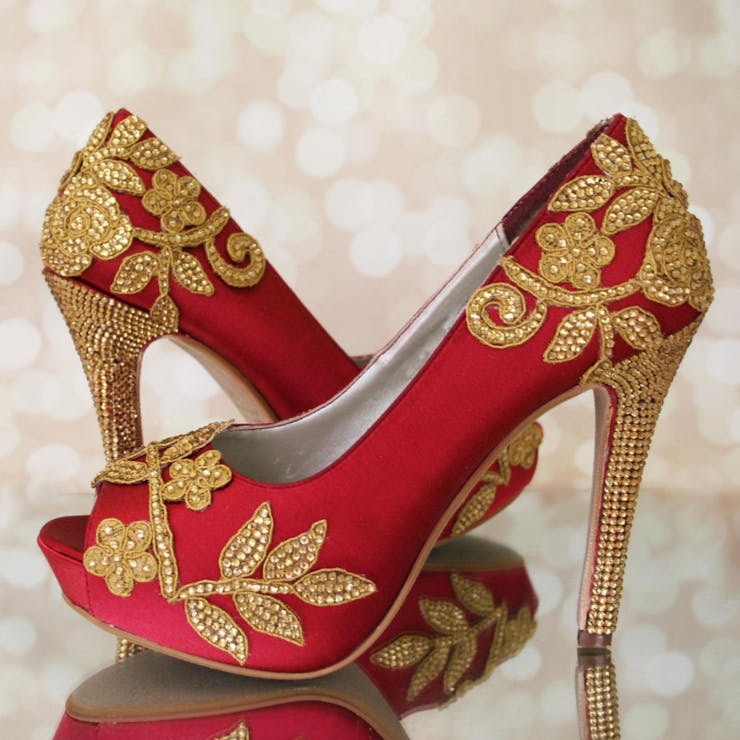 15. Celebrate Your Vibrant Affair With A Pair Of Colorful Footwear
How amazing is this vibrant bridal footwear! These colorful wedding shoes are lightweight and trendy enough to make any bride feel special. This wedding shoe is the best combination of comfort and beauty.