11+ Best Wedding Sherwani For Groom 2022 – Milan Magic
Hey guys, read this interesting guide on the best wedding sherwani for groom to find the most stylish outfit for your wedding.
---
There are endless options for a bride to find a dream wedding outfit. But when it comes to a groom, he starts wondering what to wear at the wedding. Nowadays, there are plenty of options in Indian groom wear. But the most popular wedding outfit for the groom is a stunning sherwani. Sherwani is a regal outfit that adds charm and grace to the groom's personality. It is the most lavish outfit worn by Indian men. This knee-length garment looks more elegant when paired with a stunning churidar. This regal clothing is inspired by the Mughals' clothing style. Its regal effect is still endured in Indian weddings. Don't forget to hire kolkata wedding photographer to capture your dapper groom's looks. So, step into this amazing guide and find a stunning sherwani design for your big day.
1. An Offbeat Sherwani For Pre-Wedding Events
A stylish close neck jacket with sherwani will make you stand out from the crowd. A vibrant sherwani jacket with full embroidery gives you a royal look at your wedding events. Wearing a stylish sunglass with this royal sherwani can give you an impressive look. Hire the best photographer in kolkata for wedding to capture your stylish groom look.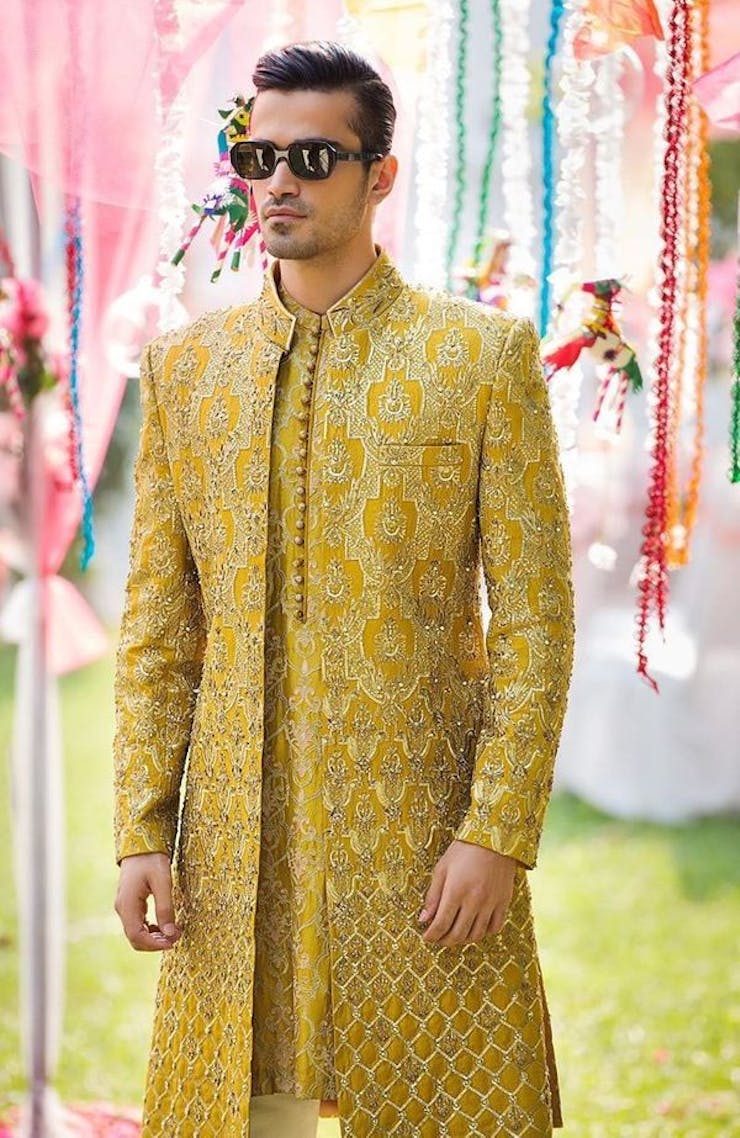 Recommended: Top 15 Unique Pre Wedding Poses For Couples You Should Try
2. Pastel Sherwani For Summer Weddings
A pastel sherwani is the best wedding sherwani to wear at a summer wedding. The peach sherwani with a buttoned collar gives you a very classy look. Pair this pastel sherwani with an embroidered stole for an elegant look. You can add an extra layer of elegance by adding a stylish brooch to the chest pocket of your wedding outfit.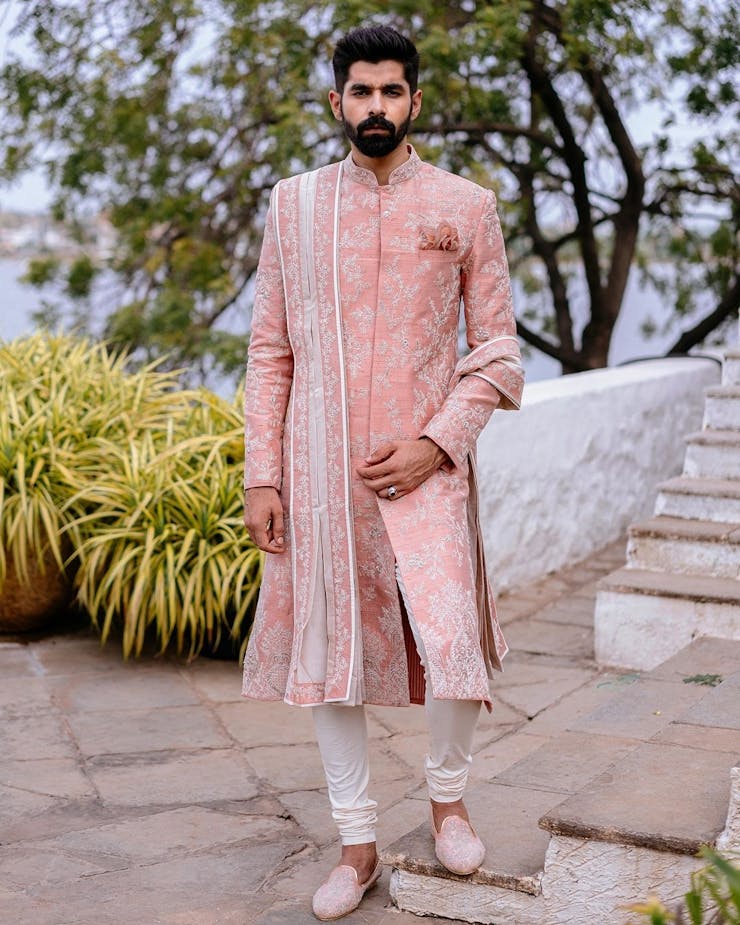 Must Read: 9 Best Pre Wedding Shoot Locations In Kolkata
3. Embroidered Sherwani Are The Best Wedding Sherwani For Groom
This is the most masculine groom outfit on the entire list. This Sikh groom flaunts an embroidered sherwani in the ivory shade. The most attractive aspect of this classy look is his embroidered stole in a metallic shade. You can team this impressive sherwani with a statement necklace and stunning safa to rock your wedding day look.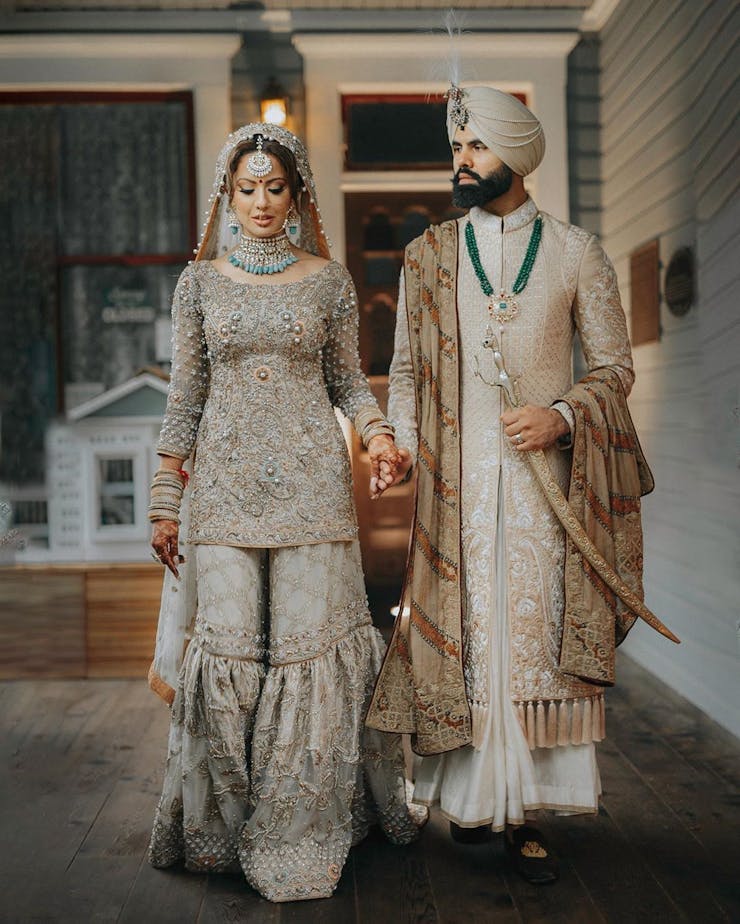 Also Read Traditional Bengali Bridal Jewellery Collections You Need To Know
4. Floral Sherwani For The Stylish Grooms
Floral sherwani is the best wedding sherwani design for mehndi and sangeet ceremonies. A floral sherwani gives you an attractive look at wedding events. The beautiful floral prints on the sherwani add an elegant charm to your entire look. A floral sherwani is one of the latest trends that you must try to get all the attention at your wedding events.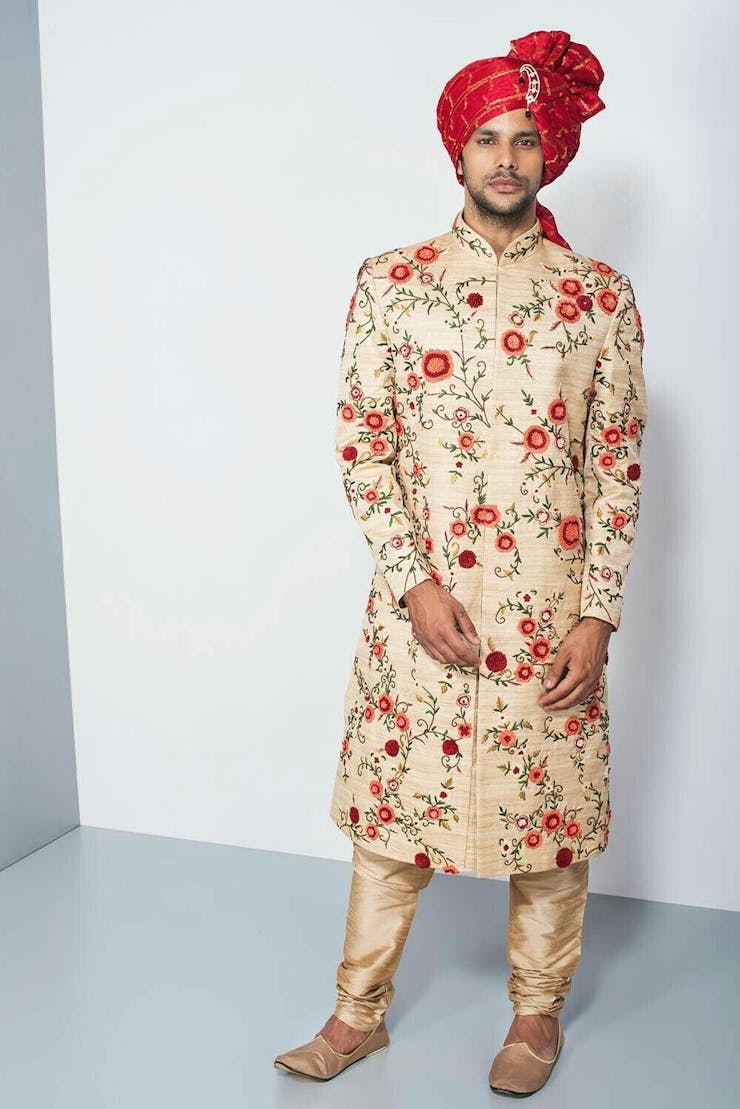 5. Manarkali Are Latest Groom Wedding Sherwani To Make Style Statement
If you are one of those grooms who loves to make a fashion statement then is the perfect option for you. This is the latest groom sherwani for wedding that will add every bit of style and fashion to your wedding day look. You can accessorize this wonderful outfit with a stunning necklace to rock your wedding look.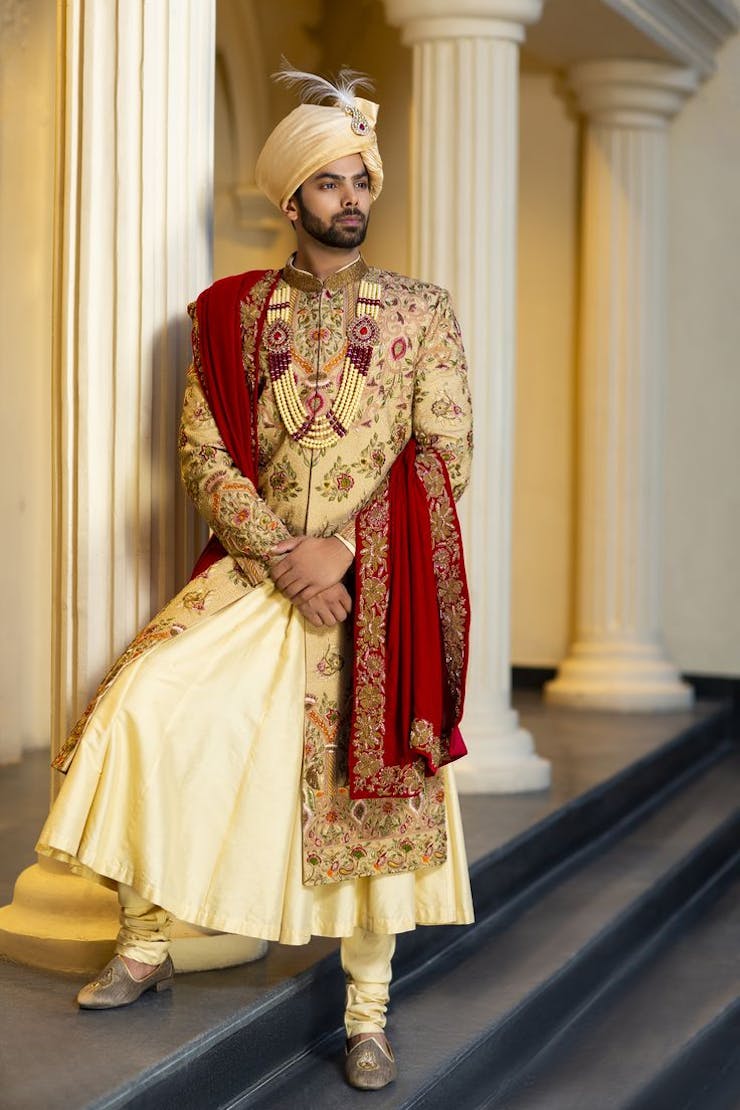 6. A Pure White Sherwani For An Elegant Groom
Who said that white wedding outfits are only for girls? Take a cue from this dapper groom who has worn a pure white sherwani on his wedding day. The red and golden borders of the sherwani are complementing his beautiful red safa. His white and red sherwani look complements the color of his gorgeous bride's outfit.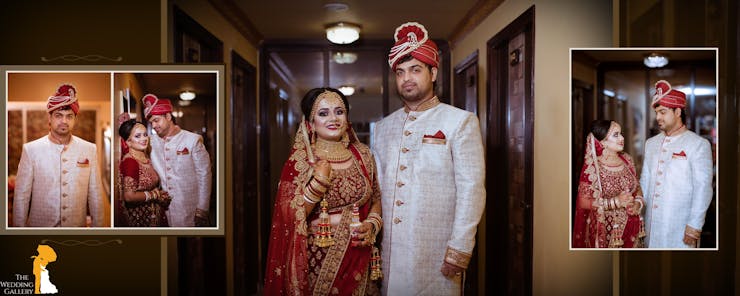 7. Beige Sherwani For Royal Wedding Look
A beige sherwani is the latest fashion trend in Indian men's wedding outfits. This royal sherwani gives you an awesome look when paired with a contrasting churidar. You can go with a matching embroidered dupatta to give your wedding day look a complete touch. The pretty floral prints in golden hue is making this sherwani more classy.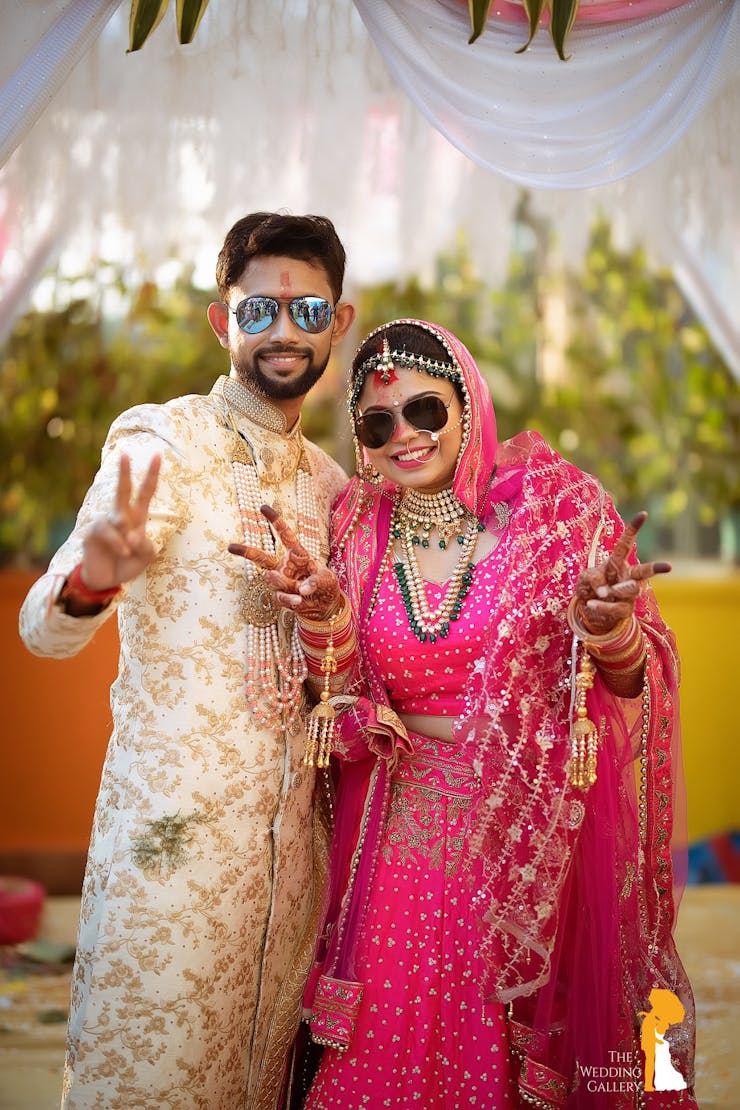 8. Booti Print Sherwani In White Hue Are The Most Subtle Groom Outfit
This booti print sherwani is a unique and subtle sherwani design to try out on your wedding day. This button-less sherwani looks more beautiful in the daylight. Paired this classy outfit with a dark shade necklace to add more charm to your wedding look. This stylish groom has complemented the gorgeous lehenga of his bride with his wedding outfit.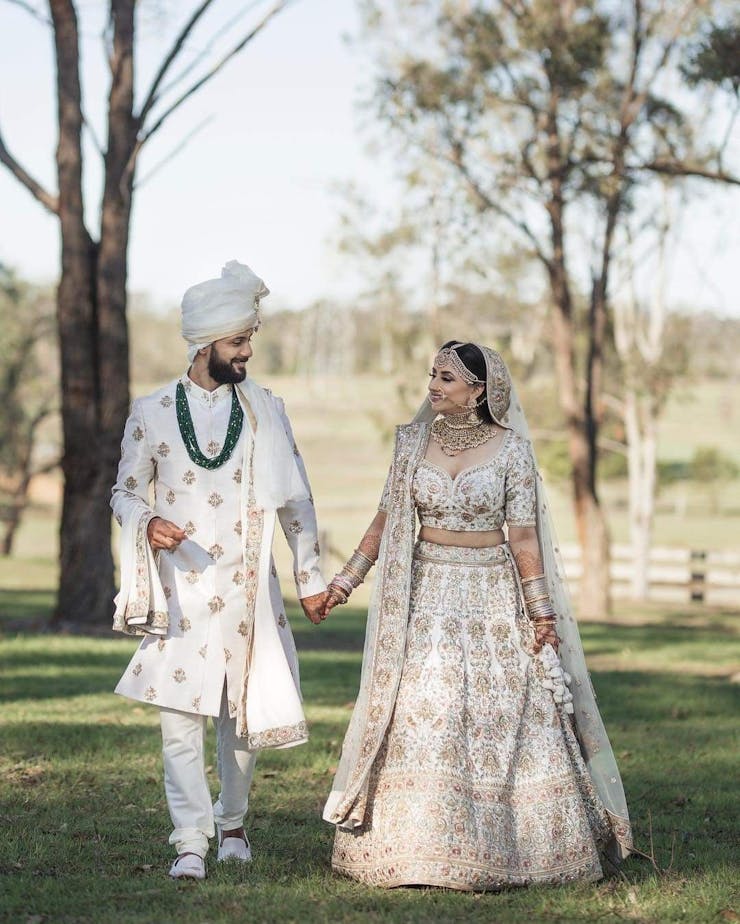 9. An Open Jacket Style Sherwani Are The Most Stunning Groom Marriage Wedding Sherwani
Looking for something stylish? This open jacket sherwani is the perfect outfit for you. Stun everyone with your swag by wearing an embellished jacket over your sherwani. Picking a pastel shade in this stylish outfit will do wonders. This open jacket style sherwani is one of the best wedding sherwanis for groom that you must add to your wardrobe immediately.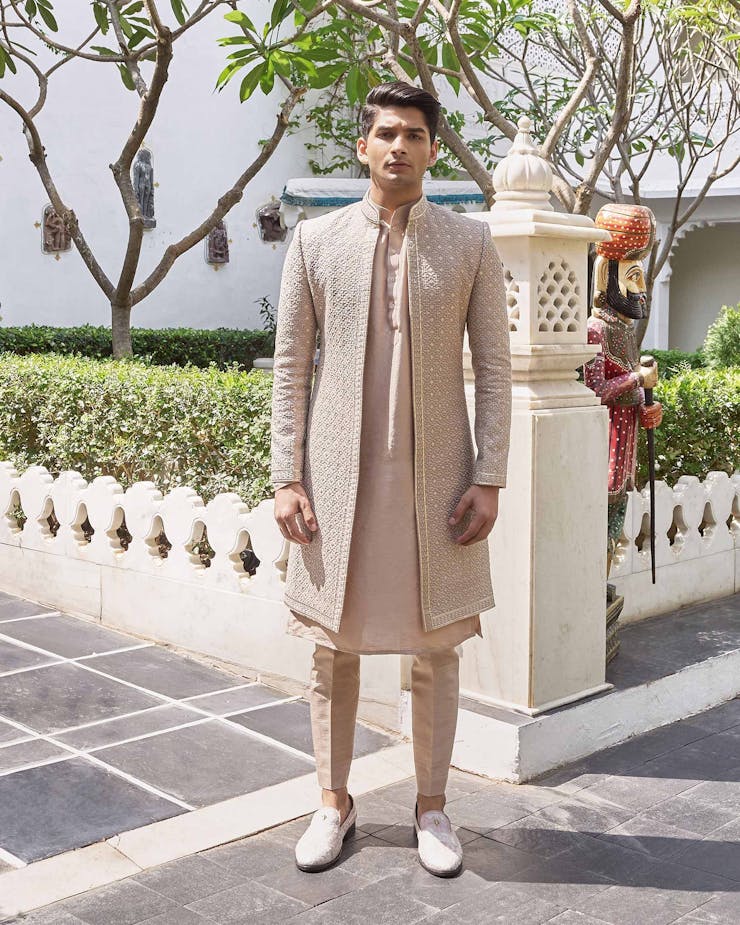 10. Monotone Sherwani For An Attractive Wedding Look
If you believe in maintaining simplicity at your wedding function you must choose a monotone sherwani. Groom these days is replacing the traditional sherwanis with an all monotone look. Take a cue from this charming groom who has opted to wear a patterned sherwani in all white hues.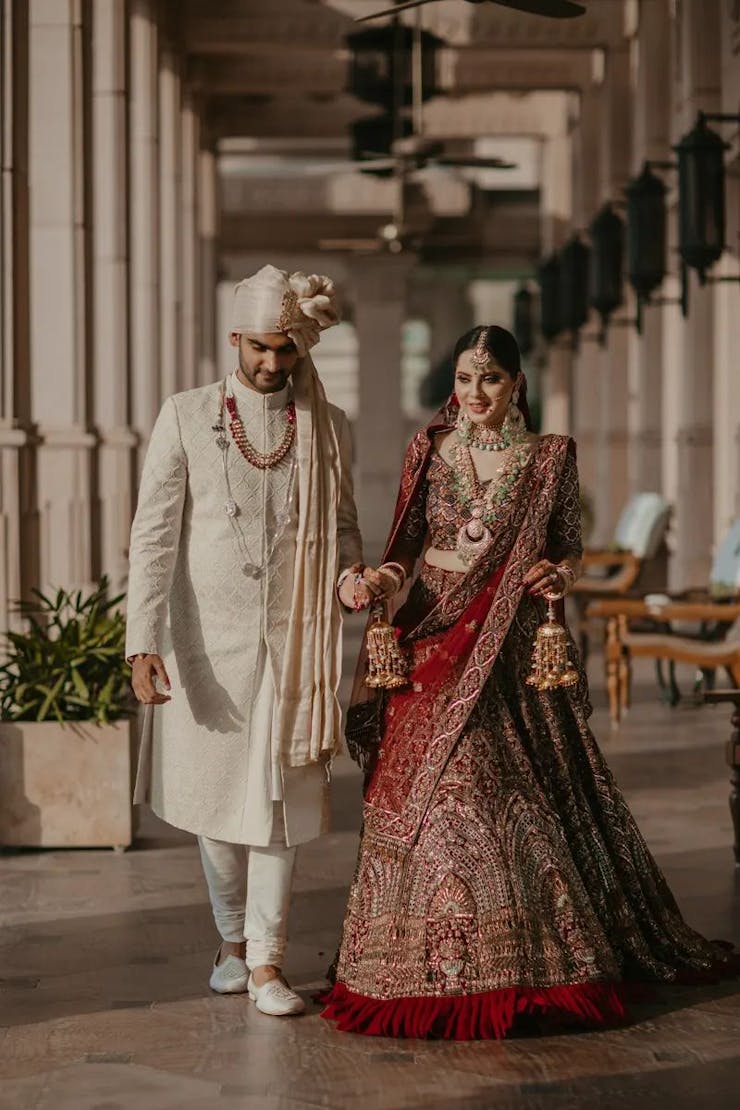 11. Zardosi Sherwani Are The Most Classy One
If you want to go for a traditional groom look then a zardosi sherwani will be a great option for your wedding look. This heavy embroidered sherwani in a vibrant shade of red a gold adds a classic charm to your wedding day look. You can team it with a contrasting churidar to complete the royal look.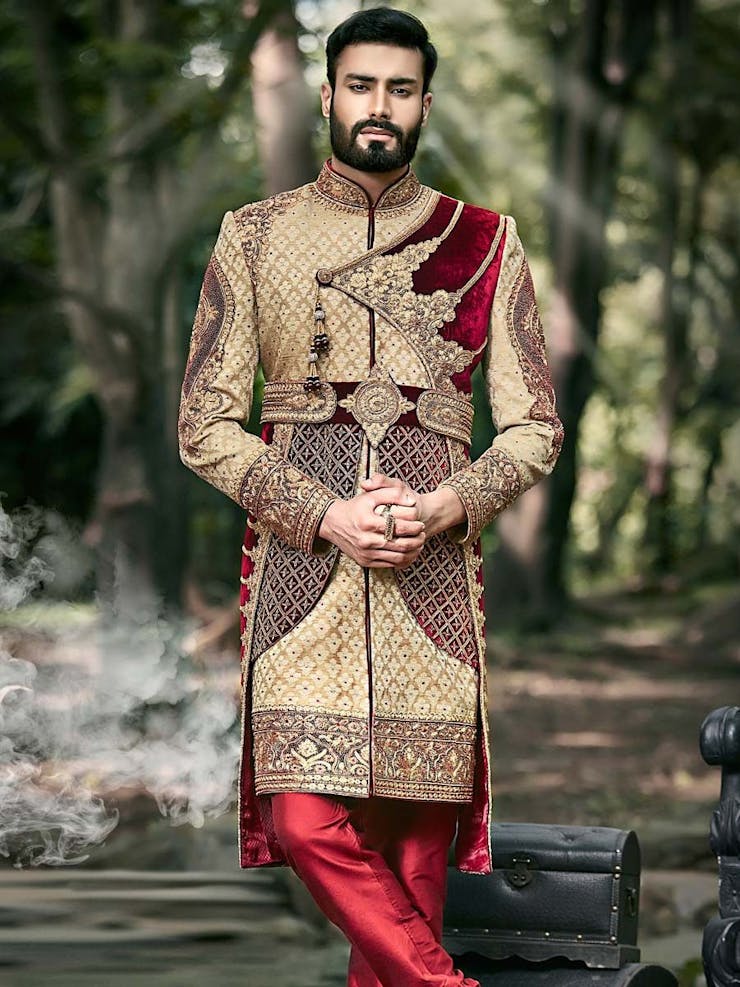 12. A Blue Printed Sherwani Is The Best Option For DayTime Wedding Events
Are you a groom to be who is a great lover of dark blue shades? If yes then this electric blue printed sherwani is the perfect choice for you. This is the best sherwani for marriage events in the daytime. The vibrant shade and captivating prints on this stylish sherwani are an ideal outfit to wear at mehndi events.