14+ Beautiful Pre Wedding Dress Ideas For Couples
Want to get pictures of a dreamy pre-wedding shoot then you must look here for some most fascinating pre wedding dress ideas. Read this guide to know more.
---
Have you got the best location and professional wedding photographer in kolkata for your pre-wedding shoot? If yes then you have done almost 70% preparation for shooting a fairy tale pre-wedding shoot. You might wonder what is the remaining 30% of pre-wedding shoot planning goes to? A pre-wedding dress plays a significant role in creating dreamy pre-wedding pictures. Wearing a stunning outfit at a picturesque location can add a dramatic effect. These romantic pictures of your special moments will bring a beautiful smile to your face whenever you will look back at them. A perfect dress, picturesque location, and experienced cameraman can fulfill your dream. You can choose a dress from the glamorous wardrobe that suits your personality and style. But make sure to pick comfortable wear that you can handle during your photoshoot. We've created this guide to share with you some beautiful pre wedding dress ideas that are trending in past few years.
1. Wear A Ruffle Gown At A Scenic Location
Let's begin this interesting guide with the most beautiful pre-wedding dress on this list. A ruffle lehenga in a milky white hue is all that you need to shoot a filmy pose in Bollywood style. The breathtaking ruffle of the gown will add a dramatic effect to your pre-wedding story. A Picturesque sight on the backdrop can make your pre-wedding pictures more spellbinding.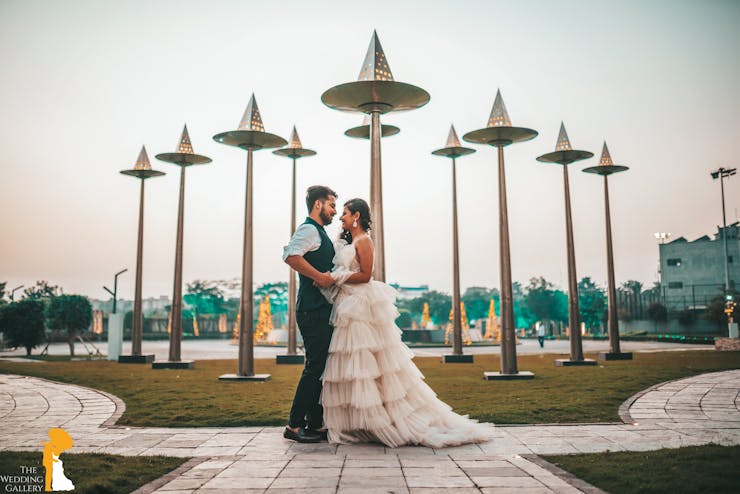 Recommended: Top 15 Unique Pre Wedding Poses For Couples You Should Try
2. Opt For A Traditional Saree To Flaunt Ethnicity
If being traditional is your style then go for it. Wearing a beautiful saree with a bell sleeve blouse is a perfect choice to flaunt your ethnicity. Book a passionate kolkata wedding photographer to conduct a memorable pre-wedding photoshoot.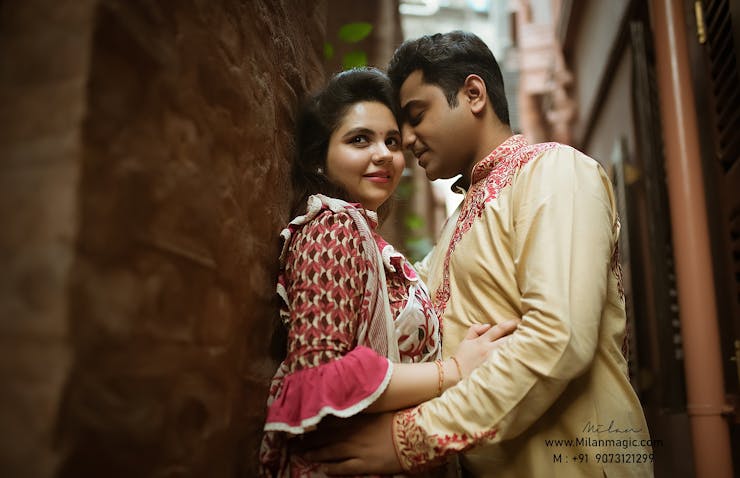 See More: 9 Best Pre Wedding Shoot Locations In Kolkata
3. How About A Pinkish Salwar?
A vibrant salwar suit with exquisite embroidery will enhance your pre-wedding photoshoot. The vibrant pink salwar can produce some stunning pictures of your pre-wedding photoshoot. A hot pink suit with a lovely dupatta can never go wrong for a dreamy pre-wedding shoot.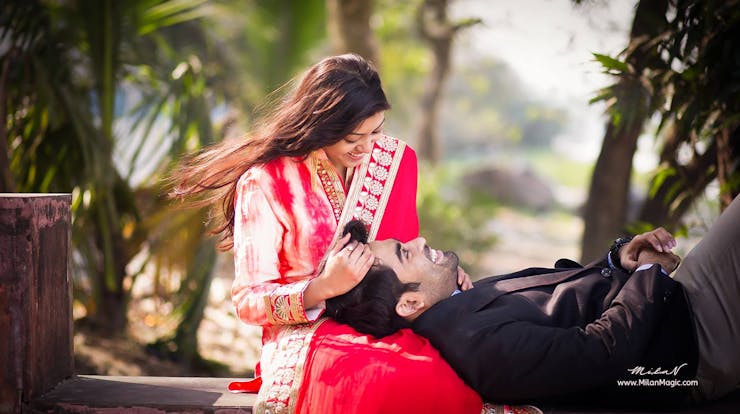 4. A Dramatic Affair Of Breezy Lehenga
A purple lehenga with a picturesque backdrop can give you a magical pre-wedding picture. Paired with stunning jewelry and a net dupatta this lehenga is a perfect outfit for a fairy tale photo shoot. This is one of the best pre wedding photoshoot dress ideas that you can try for a memorable wedding tale.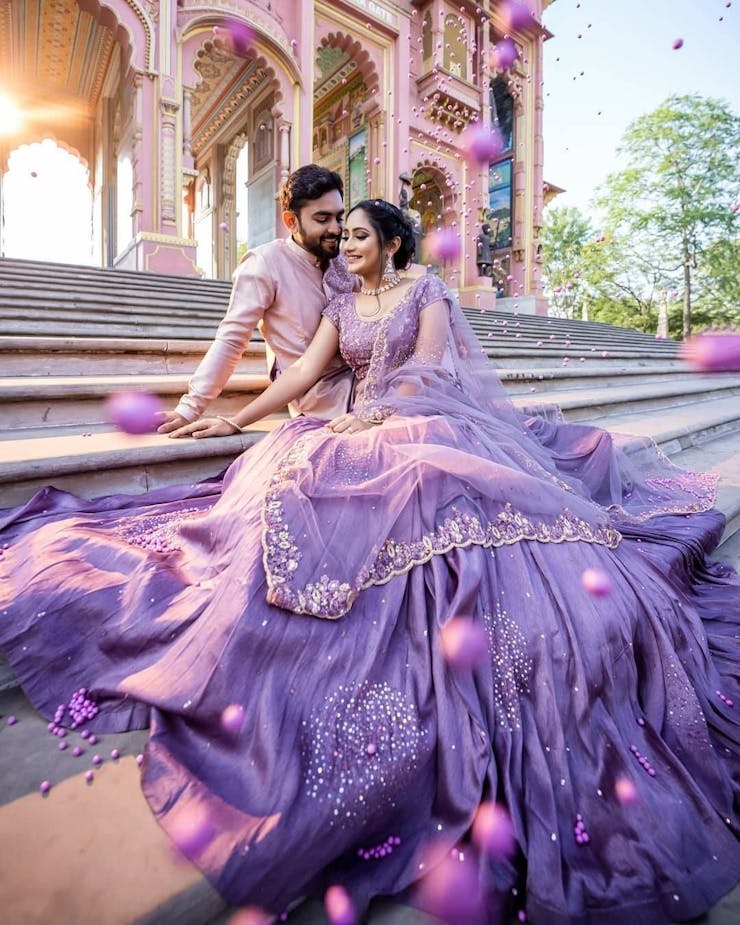 5. Check Out This Pretty Midi Dress
Isn't she looking like the hottest bride in her black midi dress? A short midi dress in a charming black hue can glam up your pre-wedding look without much effort. Pair it with a stylish chain and wear high hills to pose like a celebrity in your photoshoot.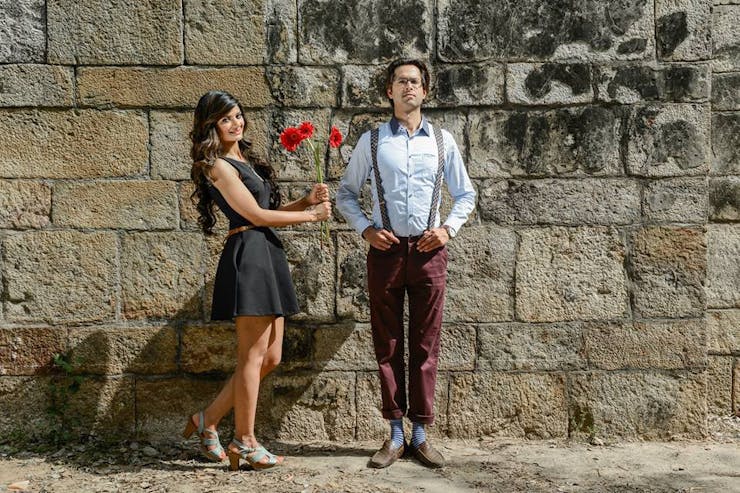 6. Twirling Pose In A Gleaming Anarkali
An Anarkali is a gorgeous outfit for brides-to-be to try at the pre-wedding shoot. This cheerful bride giving a twirling pose in her sparkling Anarkali looks amazing. Her stunning hairstyle and classy jewelry is adding more beauty to the pre-wedding picture.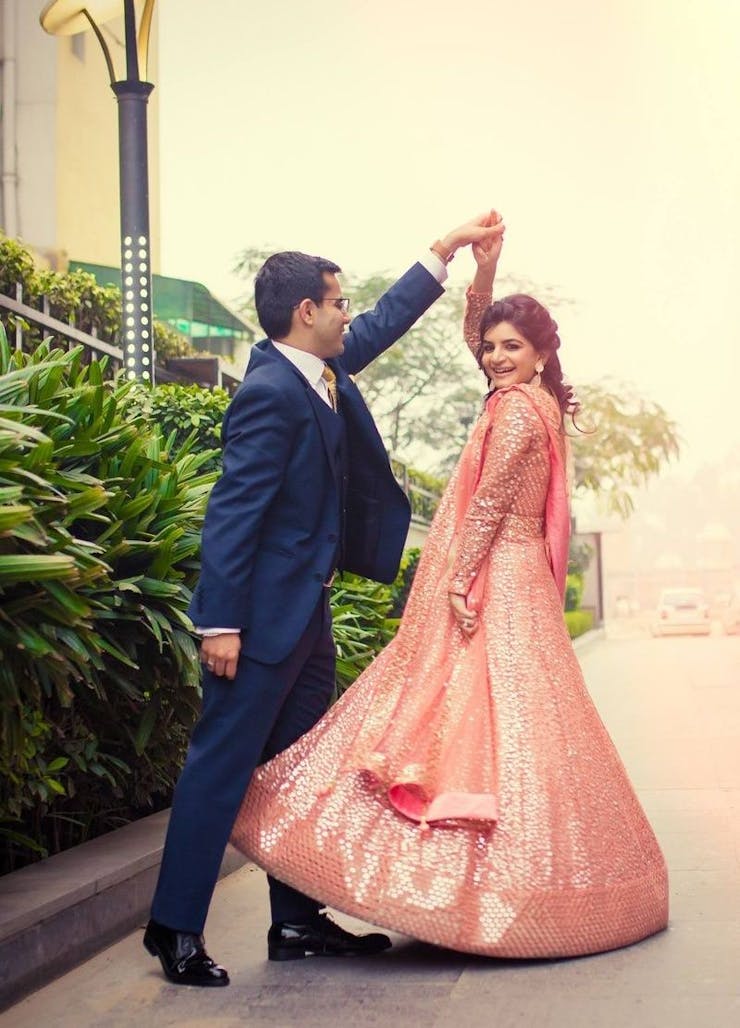 7. Romantic Red Gowns Are The Popular Pre-Wedding Dress Ideas
The fiery red gown can add a romantic vibe to your pre-wedding pictures. A picturesque background can make it more dreamy. The flowy gown in a red hue with your romantic partner recreates a classic scene from a romantic movie.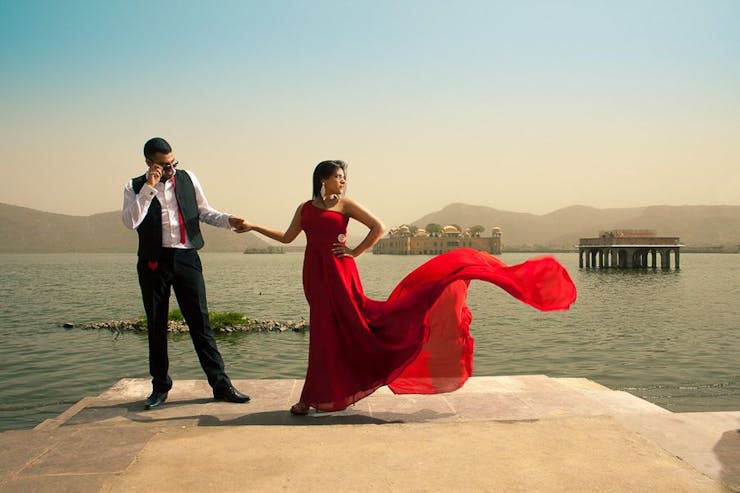 8. Wonderful Match Of A Crop Top & Long Skirt
How about a pre-wedding shoot in a crop top and a long skirt? An ethnic crop top with a long skirt is the best pre wedding dressing ideas for the brides who prefer to look simple.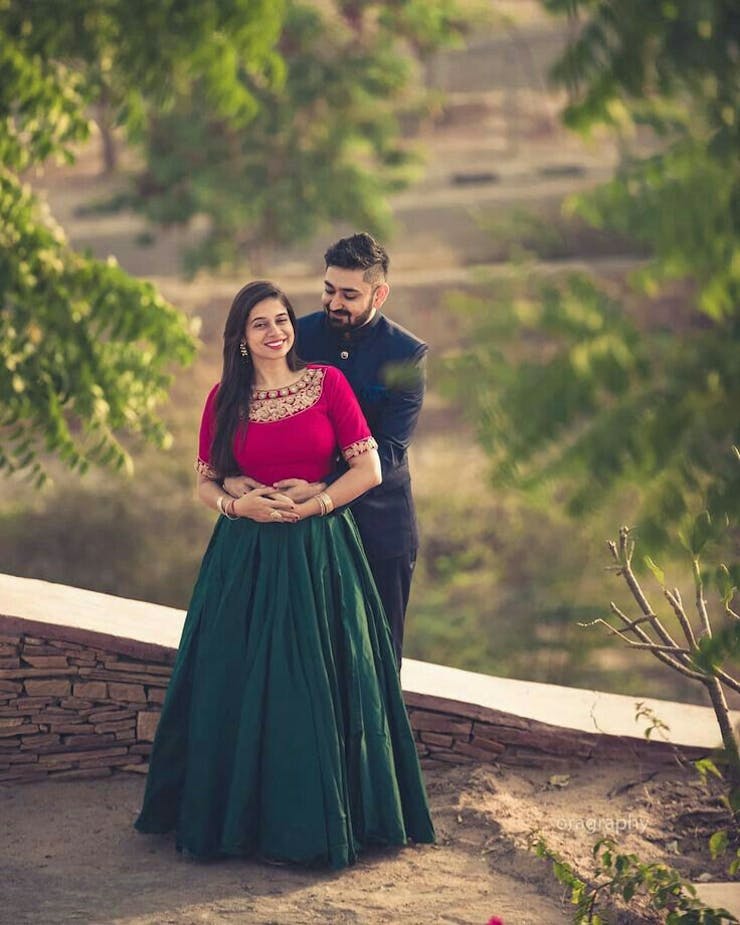 9. A Black Tuxedo For The Charming Guy
Looking for some stunning outfits that can offer you breathtaking pictures? Create a glamorous story by choosing a black tuxedo for a nighttime pre-wedding shoot. A black tuxedo is the most popular pre-wedding outfit for the groom that make him look the most charming guy.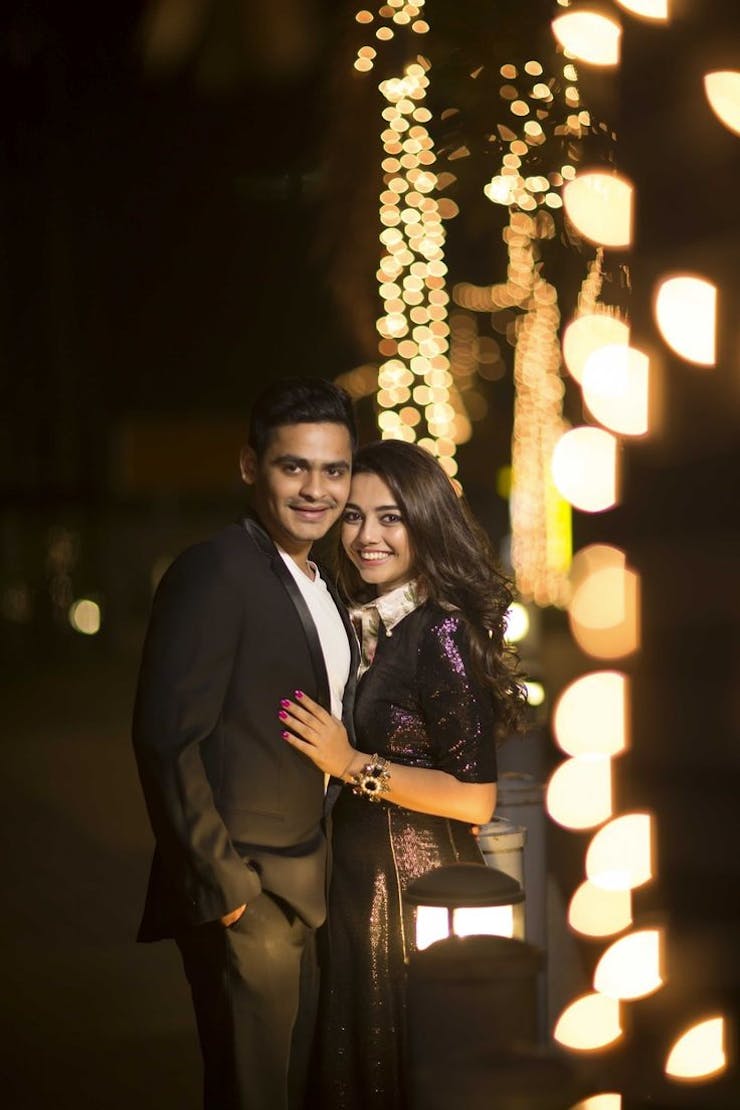 10. When In Doubt Opt For A Nehru Jacket
This charming groom has opted for a Nehru jacket for this pre-wedding photoshoot. His simple yet elegant look makes an amazing pair to his bride's gorgeous Anarkali. This is the best pre wedding shoot dress ideas for a groom who wants to create an OTT story.
11. Shirt & Pant Is The Evergreen Pre-Wedding Dress Ideas
A classic combo of shirt and pant lets you be simple and comfortable during the pre-wedding shoot. The unique pose of this adorable couple in comfy wear is creating a romantic pre-wedding tale. A classy suit makes your moment more special and beautiful.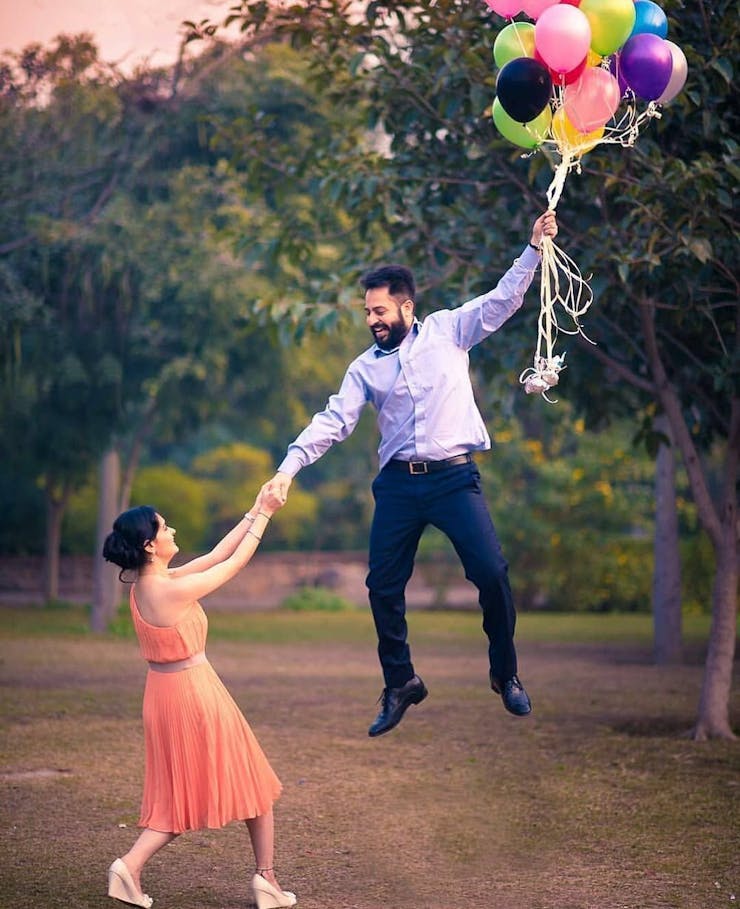 12. Go Stylish With A Pair Of Blue Jeans
Want to celebrate your love story in stylish and comfortable wear. Plan your pre-wedding photoshoot in a casual outfit to make a fashion statement. Putting a stylish blazer over your t-shirt can give you a hot and sizzling couple portrait.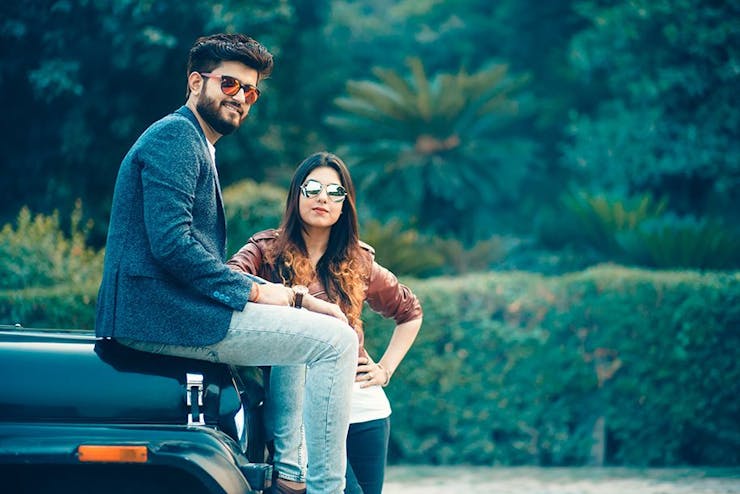 13. Coordinating outfit Is A Major Fashion Trend
A coordinating dress for your pre-wedding shoot creates the most spellbinding pre-wedding story. These are the trending pre wedding dress ideas for couples to look super stylish and adorable. This couple's white suit and pants are creating an elegant pre-wedding tale.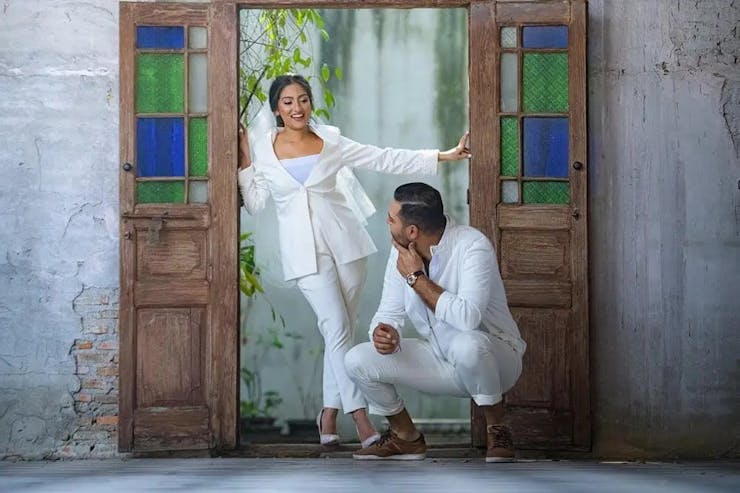 14. Opt For A Printed Kurta For An Ethnic Look
Another steal-worthy outfit for our Indian grooms is a red kurta with a tight churidar. The printed red kurta of this groom is adding elements of beauty and ethnicity together in the frame. His vibrant outfit is the perfect fit to complement her bride's dress. These are some most amazing pre wedding dress ideas for couples to make the cutest wedding tale.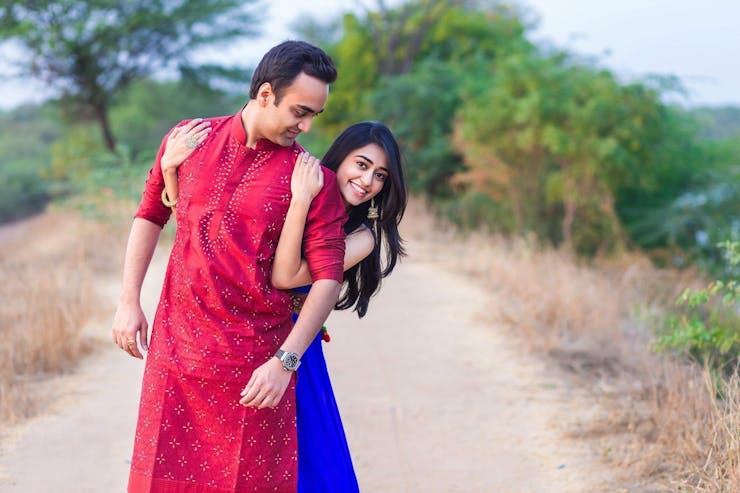 15. Why Not Use Your Uniform To Create A Memorable Tale
This handsome groom serving in the Air force has decided to create his pre-wedding tale in his uniform. This kind of pre-wedding outfit is sure to create some off-beat pre-wedding pictures. These are the most creative dresses ideas for pre wedding shoot to make a stunning pre-wedding story.