Top 13 Beautiful Bridal Bindi Designs You Should Try In 2022
Bindi is an attractive element in bridal look. Explore here some super glamorous bridal bindi design to add oodles of prettiness in your wedding day look.
---
Putting a red bindi on the forehead of a bride brightens her entire look. Nowadays, Bindi has become a fashion symbol. But in the olden days, it was worn by women and brides to prove their marital status. A Bengali bridal bindi design is the most attractive element that makes her look gorgeous. A Bengali bride dolled in a beautiful banarasi saree, white bridal mukut, and stunning chandan bindi looks no less than a divine beauty on earth.
Chandan bindi design made with Chandan paste and kumkum looks super attractive. There is an old belief about the use of Chandan and kumkum in bridal bindi. According to that belief, sandalwood brings peace and prosperity to a bride's life. Whereas the red color of kumkum represents love. Moreover, the Chandan paste works as a natural cooling agent to keep the bride stress-free during her wedding hours. The white and red bindi art makes the Bengali brides an epitome of beauty. The beauty of Bengali bindi design has also gained the attention of many photographer in kolkata for wedding photography. Get acquainted with some trending bridal bindi design that Bengali brides have worn on their big day to look glamorous. Read this amazing fashion blog and bookmark the bindi design you loved the most.
1. An Elegant Bridal Bindi Design
This gorgeous bride has covered her forehead with an elegant Chandan bindi design. The floral vines spreading towards the end of her brow is adding more glam to her bridal look. This beautiful Chandan bindi design is a complement to her champagne pink eye makeup. Apart from her white Chandan art, the red dotted bindi in the middle is the major highlight of her look.
Recommended: Top 15 Unique Pre Wedding Poses For Couples You Should Try
2. Adorable Dainty Dot Bindi Design
How about this dainty dotted bindi design on the forehead of this beautiful bride? The red and white motifs made from Chandan and kumkum give this bride an enchanting look. We must admire her choice of a minimal bindi design which is adding a unique charm to her D-day looks.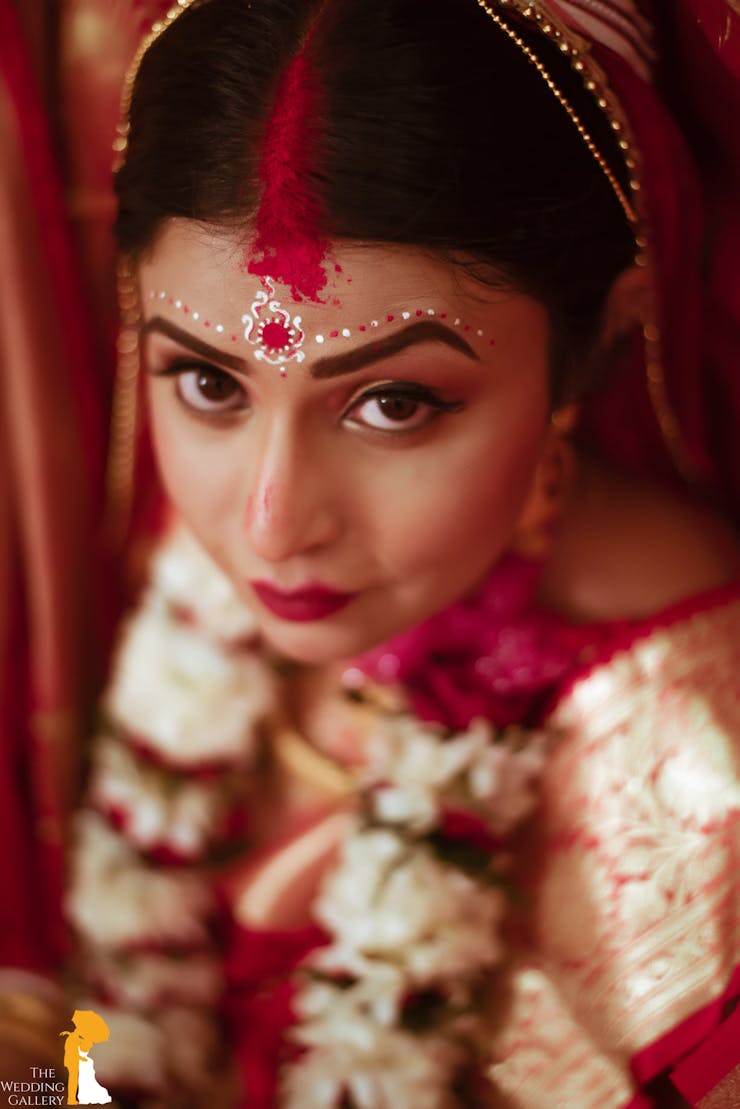 Also Check: 13 Simple Bengali Mehndi Design Ideas – Milan Magic
3. An Artistic Affair A Swirly Bindi Design
Always hire the team of best wedding photographers in kolkata to preserve the beautiful memories of your bridal look. This swirl pattern bindi design is driving us crazy with its beauty. The attractive hue of this bindi is a stunning sight to behold. The intricate filling of red kumkum in the Kalka art adds a beautiful definition to her bridal look.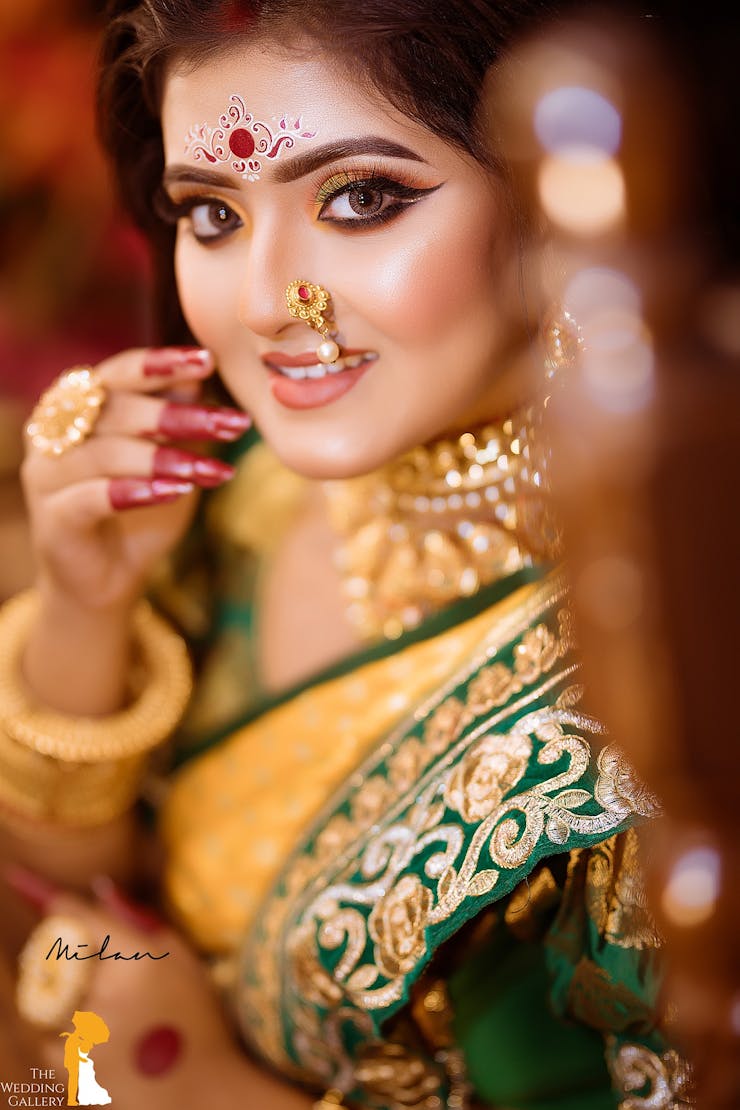 4. Super Charming Kalka Bindi Design For Bride
It's impossible to miss the popular Kalka art while talking about bindi designs for bengali bride. The intricate Kalka bindi design on this bride's forehead is something hard to ignore. This creative art has been the pride of Bengali for many years. This gorgeous bindi design can complete the traditional look of the prettiest Bengali brides.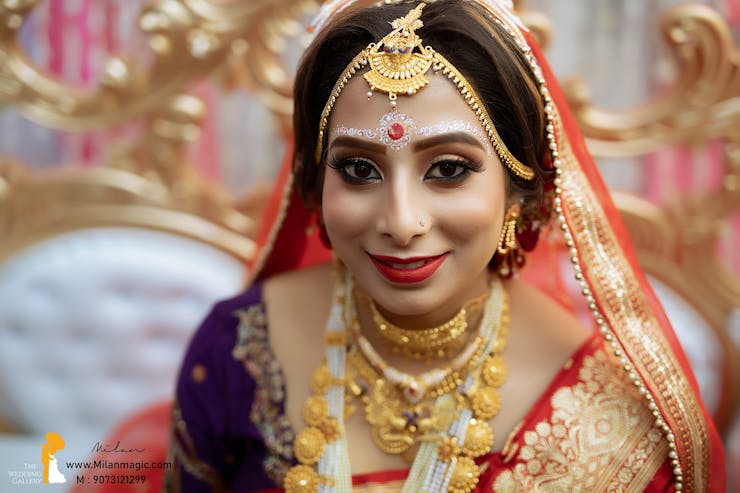 5. An Eye-Catchy Bridal Bindi Design
The magical charm of such a beautiful Chandan bindi art can leave people spellbound. This is one of the best bindi design that you can pick for your bridal look. Also, make sure to wear some classy gold ornaments to complement this stunning bindi. This eye catchy bindi is adding a new dimension to the conventional bridal look.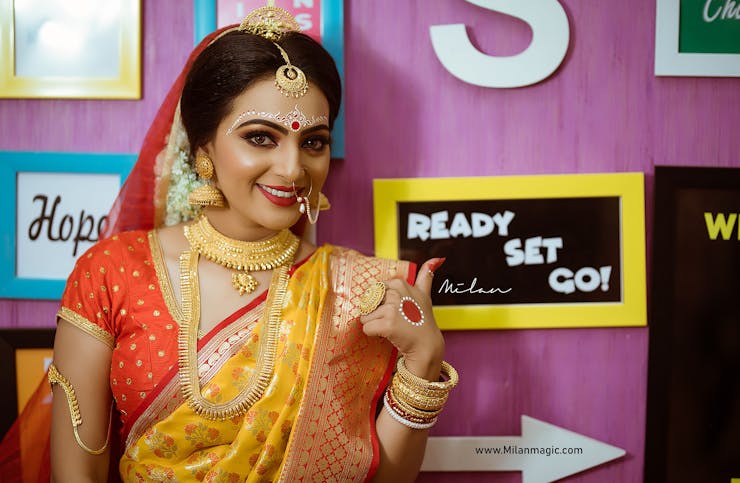 6. Dramatic Wedding Bindi Design For OTT Brides
Do not shy away to do a little experiment with your bindi design. We can't take our eyes off this bridal bindi design spreading down the cheekbones. This simple yet stylish bindi is perfect for brides who want to add a dramatic touch to their wedding day. Her red and gold classy outfit with a creative bindi design is a visual treat for the eyes.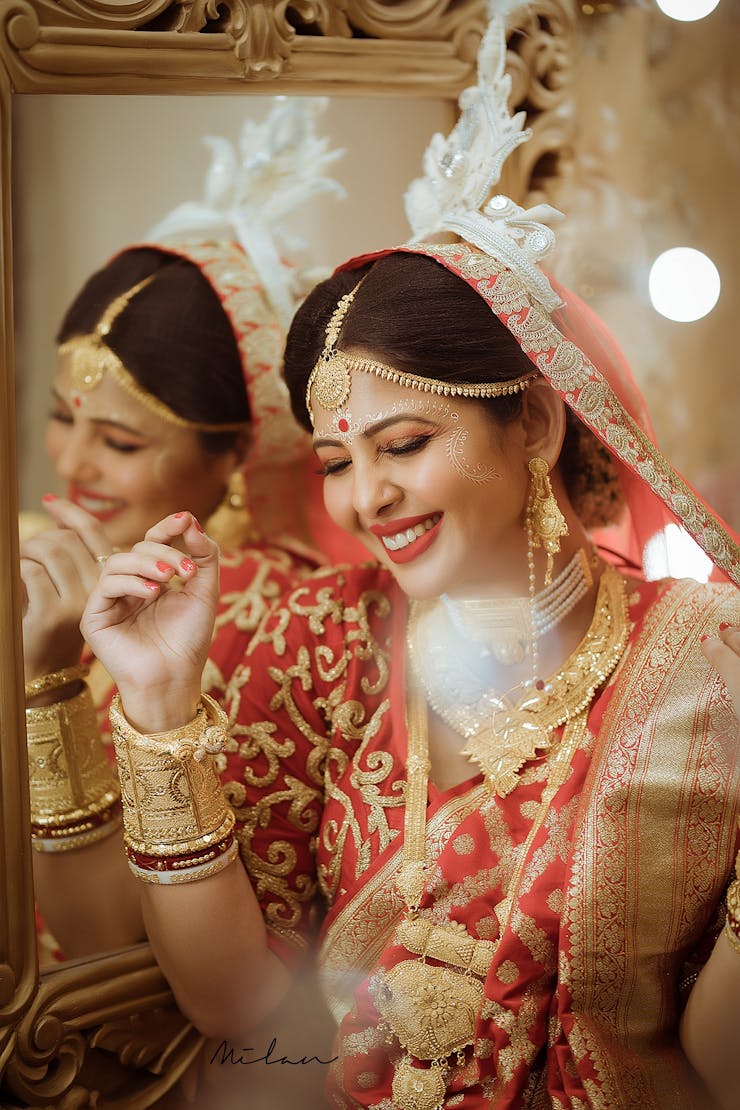 7. The Rhombus Shape Bengali Bridal Bindi Design
A rhombus-shaped bindi design can provide you with a divine charm. This beautiful bindi brings the entire focus to the center of the forehead. A heavy maangtika in the middle pointing to the bindi can attract everyone around the bride. This geometric bindi for bride can give her a bridal look that will be remembered for years.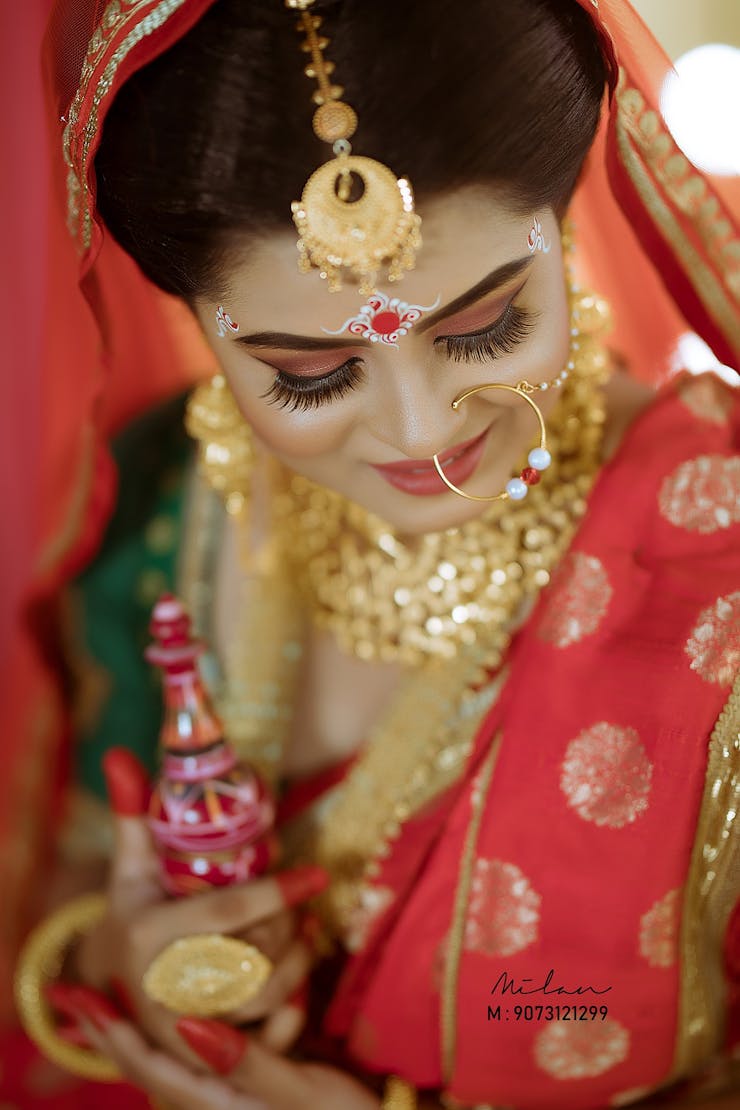 8. Super Glamorous Bold Bindi Design
We don't have any words to express the beauty of this super glamorous bride. The bold and large red bindi in the middle of her forehead is making her a classy Bengali bride. Her large and bold smoky eye is picturesque. You can pick this bindi design for a bold reception bridal look.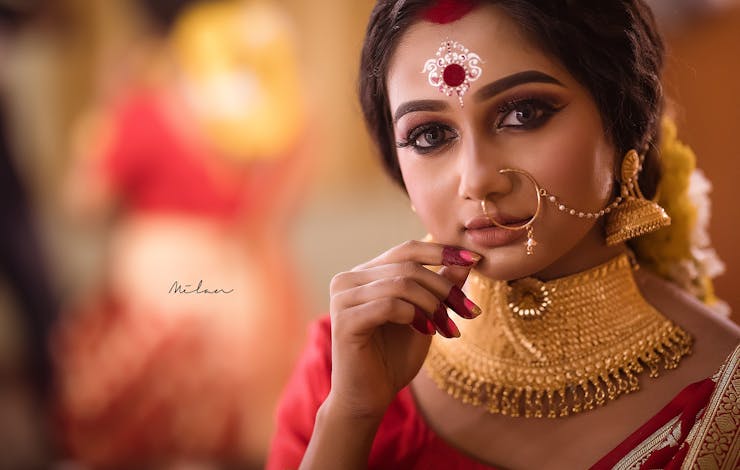 9. Elaborate Bindi Design Of Bong Beauty
Isn't she looking like a real beauty queen? Her elaborate bindi design has stolen our hearts. The intricate Kalka art with small red bindi is a modern adaptation of conventional Chandan bindi design. This bindi design looks more beautiful on the brides having round faces.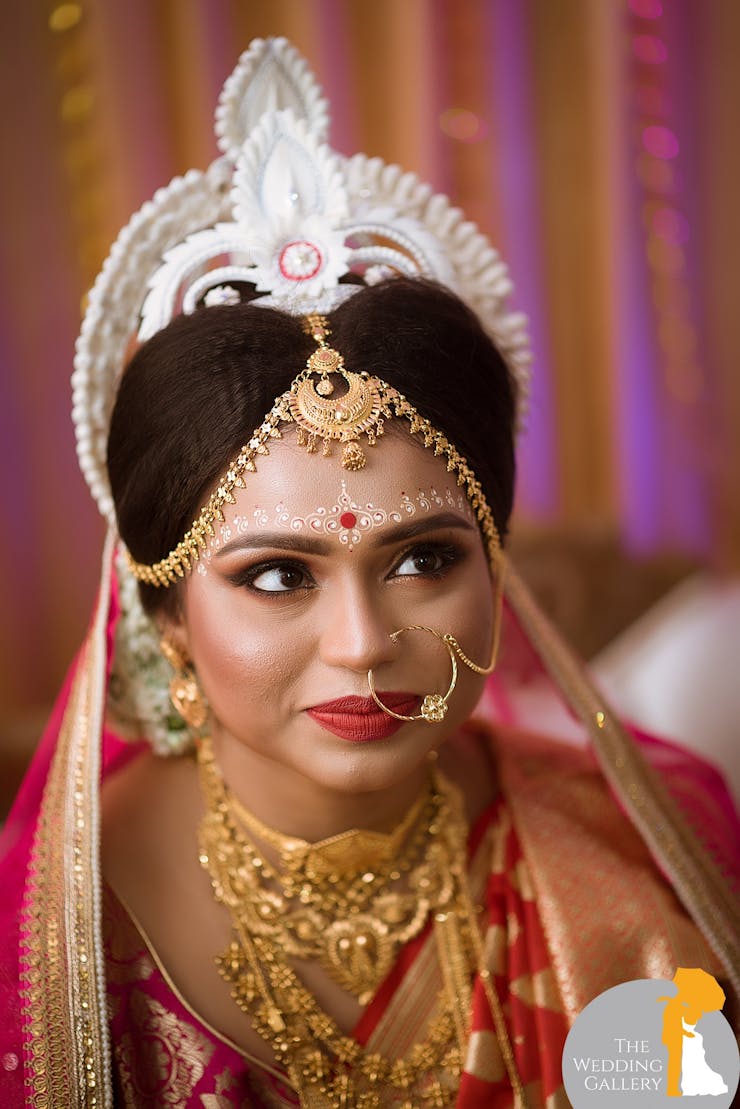 10. Simplistic Bindi Design Of The Minimalist Bride
Here comes a simple bridal bindi design for minimalist brides. This gorgeous bride has chosen a simple bridal look for her special day. And her simple Chandan bindi is adding more elegance to her bridal makeup. This lotus motif with dainty dots is giving her a flawless bridal look.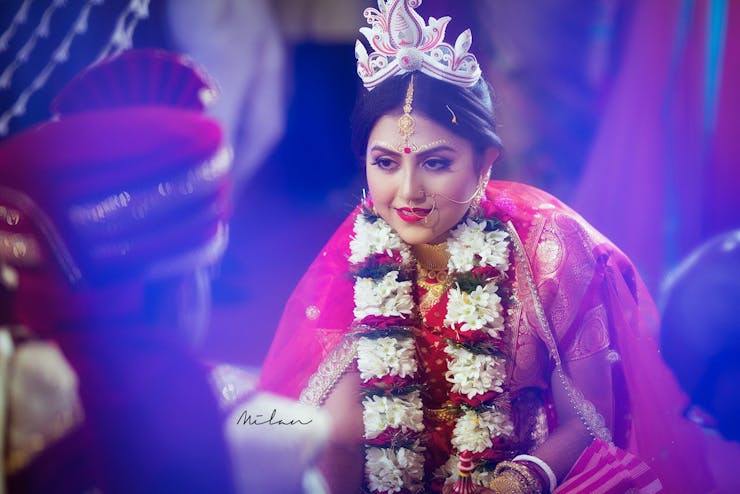 11. The Divine Charm Of Elongated Bridal Bindi
The detailing done with utmost perfection makes this bindi a wonderful piece of art. The attractive red bindi of this beautiful bride is complementing her red banarasi saree and bold red lips. The simplistic elegance of this bride is winning our hearts.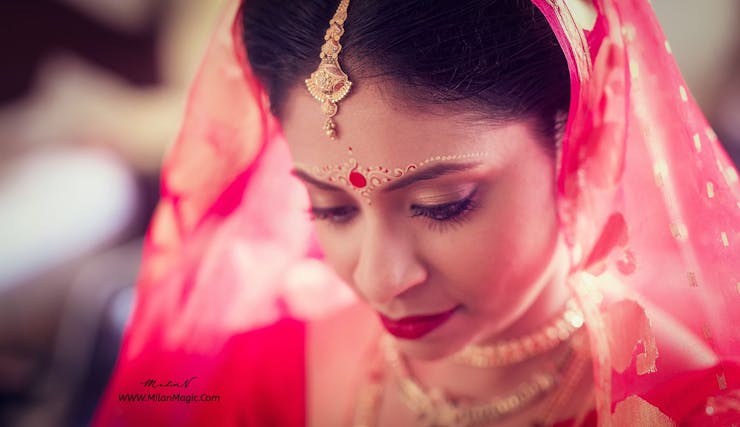 12. A Glittery Touch In Bridal Bindi Design
Adorn your forehead with a glittery gold bindi design. Adding a hint of golden hue in red kumkum bindi can make you look super glamorous. Give a finishing touch to this bridal makeup with shimmery eye makeup. Do not forget to add the gold jewelry essentials to grab all the attention in the room.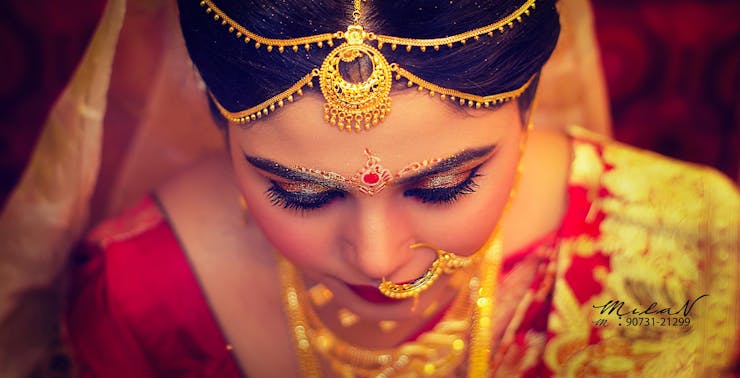 13. Gorgeous Bindi Design Spreading Down To The Cheek
Look at this conventional bride donned with exquisite gold jewelry. This creative Kalka bindi design is a perfect match for the classic kohl eye makeup of Bengali brides. The swirl, dots, and mango leaf motif together form a breathtaking bindi design. The intricate design made on the cheekbone and chin can make you a showstopper bride.