Top 13 Trendy Groom Jewellery For Wedding In 2022
Have you found stunning jewelry to match with wedding outfit? If not then check this list of trending groom jewellery for wedding to be a dashing groom.
---
Indian jewelry has a special aura and glory that can enhance the beauty of the person wearing it. In Indian society, wearing jewelry signifies the wealth and status of the person wearing it. People often relate the jewelry to a woman or bride's ensemble. But they don't know that in the ancient culture of India it was worn by men and women both. Even our ancient epics have depicted the Indian gods wearing gold jewelry. But with the evolving time, we have seen a decline in the use of jewelry as men's attire. The northern provinces of India kept continuing the use of jewelry as wedding attire. Nowadays groom from all over India is wearing jewelry at the wedding to make a fashion statement. Being one of the best wedding photographers in kolkata we have spotted many grooms who have worn statement jewelry. Perfect wedding attire and remarkable jewelry can give you an impressive look. Dear groom-to-be, it's high time to play the fashion game. Let's dive into this comprehensive guide to find some most amazing groom jewellery for wedding.
1. Classy Puligoru Necklace – For A Graceful Personality
Puligoru is a unique piece of jewelry that resembles the claws of a tiger. This traditional jewelry belongs to the south region of India. This attractive necklace made of precious stones and gold is a remarkable one. It is the most trendy groom jewelry for wedding that is making headlines in the fashion world.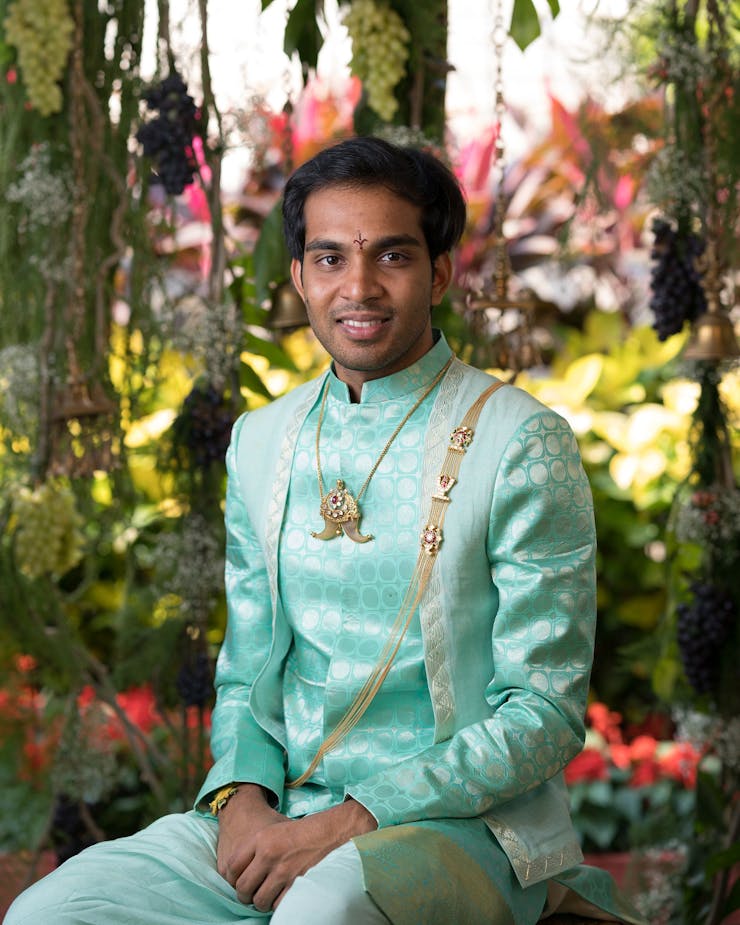 Recommended: 15 Latest Engagement Dress Ideas For Couples
2. Multilayered Saathlada Necklace – Adds A Glamour
You might have heard about the saat noli necklace of Bengali brides. Likewise, a saathlada is a wonderful necklace that dates back to the nawabi period. This multi-layered necklace woven with pearls and precious gem stones can turn your wedding look into the most attractive one.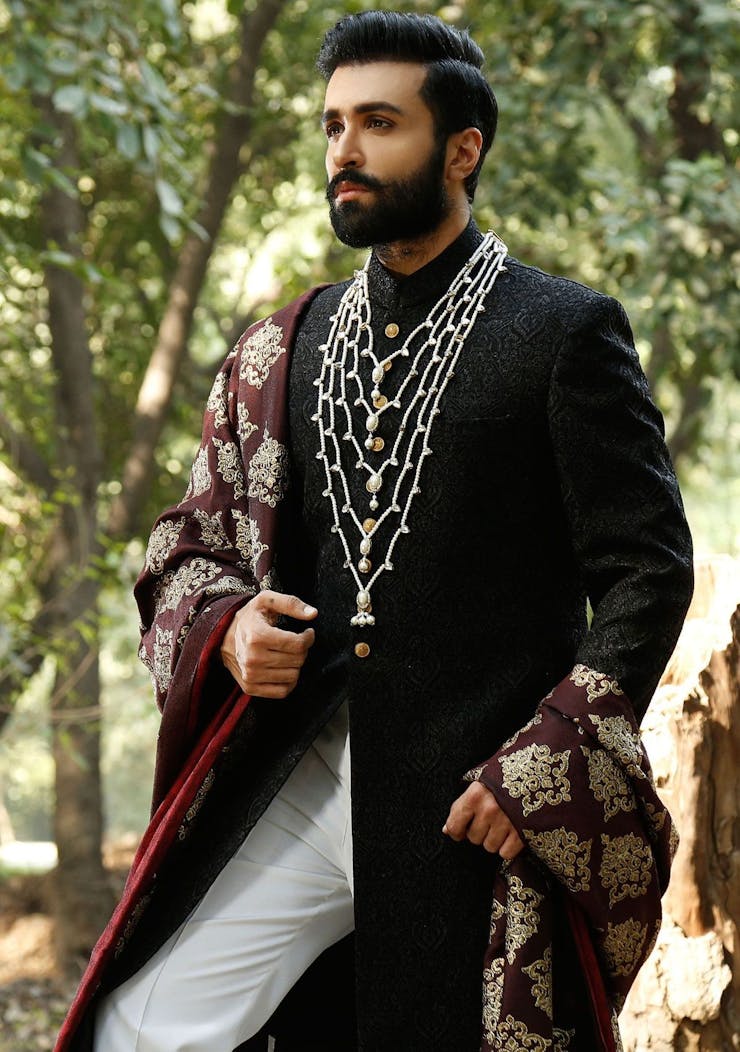 Also Check: Traditional Bengali Bridal Jewellery Collections You Need To Know
3. Traditional Temple Jewellery – A Divine Touch
This traditional necklace has become a trendsetter in traditional weddings. The temple jewelry is a statement ornament that you can wear at your wedding event. The heavy gold pendant attached with a beaded necklace looks great with ethnic wear.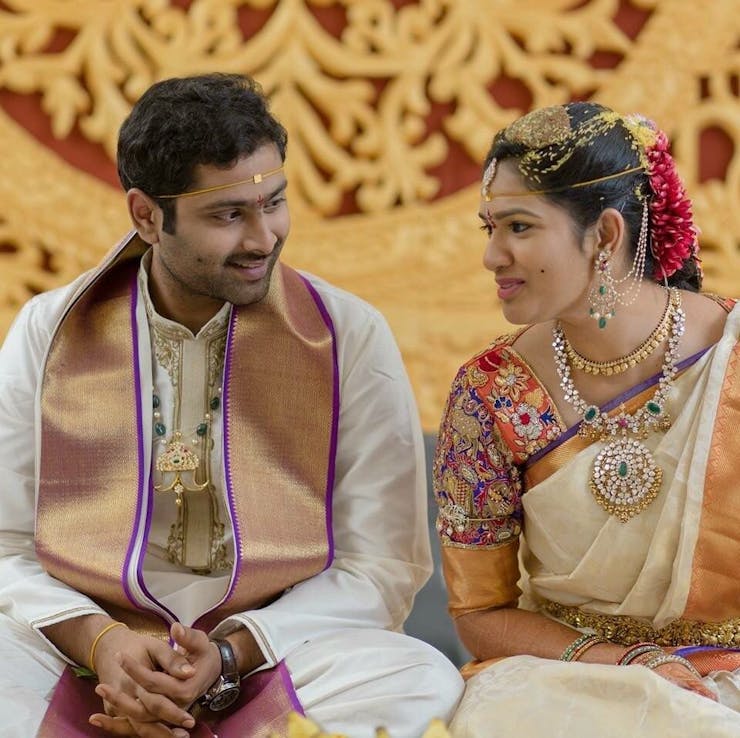 Must Read: Top 15 Prettiest Haldi Look For Bengali Bride – Milan Magic
4. Elegant Pearl Necklace – For A Subtle Look
If you can't decide what to wear with your subtle sherwani then choose a classic pearl necklace. An exquisite pearl necklace is fantastic groom jewellery for sherwani. A multi-layered pearl necklace adds a beautiful twist to an off-white sherwani. The simplicity and elegance of this necklace give you an ethereal feel. The white pearls of the necklace give you a graceful look that catches everyone's attention.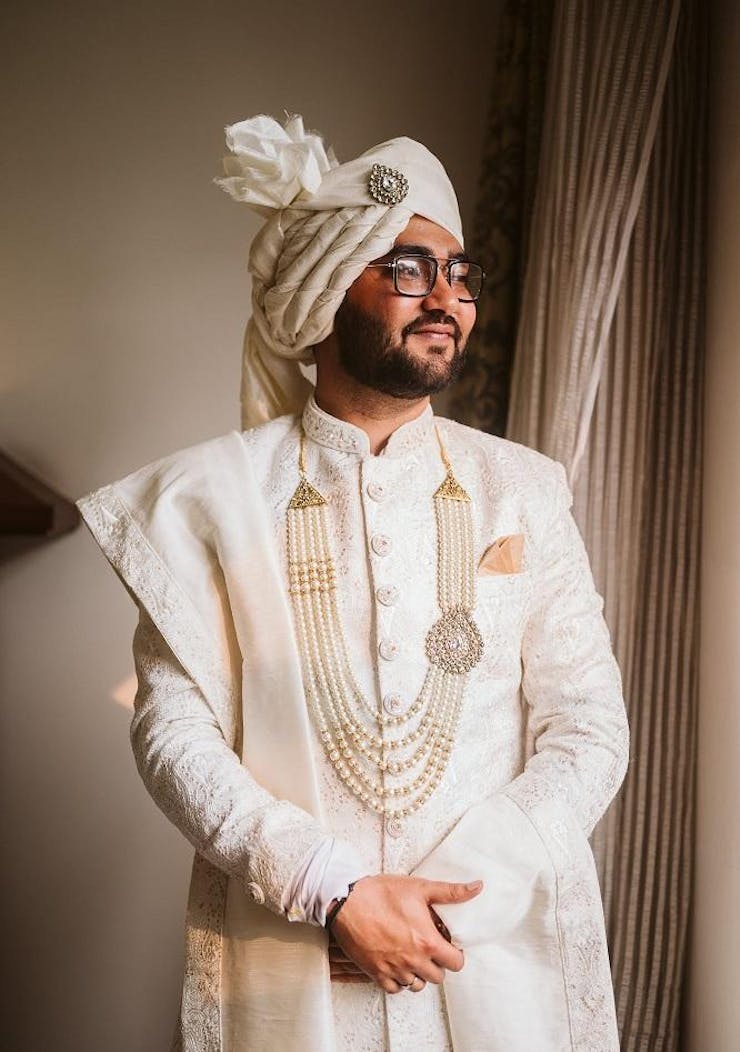 5. Stunning Kalgi With Feather – Treat For Eyes
Grooms who want to add a royal touch to their stunning turban can add brooches with feathers. Turban is a very essential part of the groom's attire in a North Indian wedding. To make it more impressive you can put on a statement kalgi over your safa. This stylish kalgi can add a grandiose to your entire look. You can choose a feather kalgi to make a statement on your wedding day.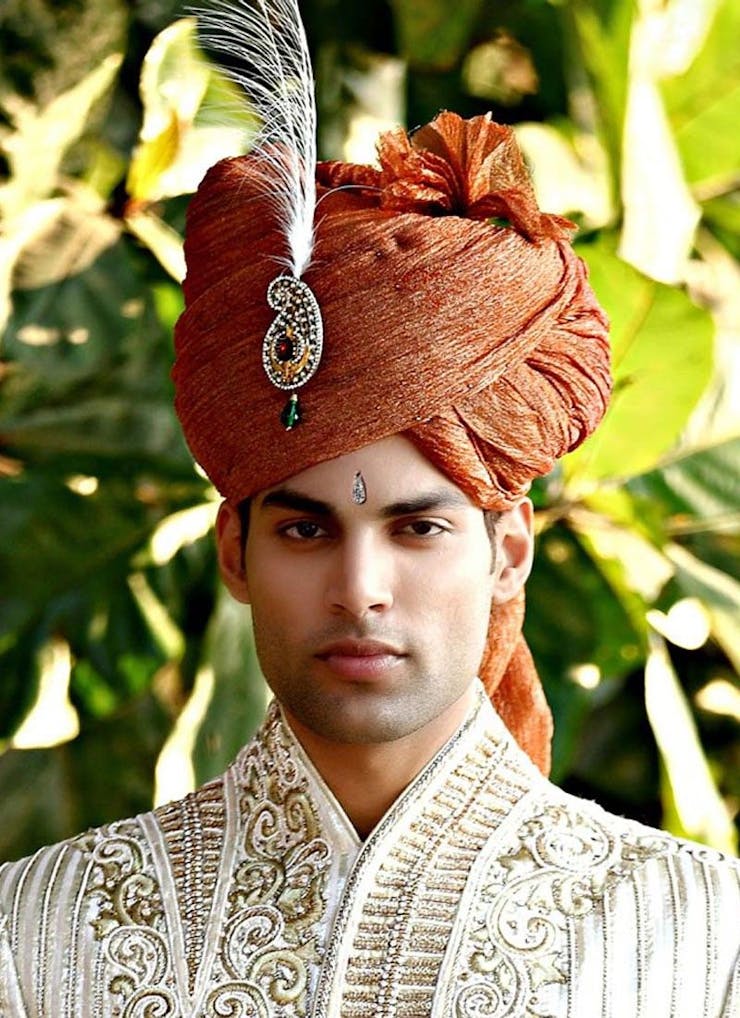 6. Fusion Of Pearl & Jewel – Represents Your Class
Modern grooms can experiment with anything that can make them the most dashing guy. Choosing a super classy necklace made of white pearls and precious gems can offer you a royal look. This is the perfect fit to make a royal statement on your special day.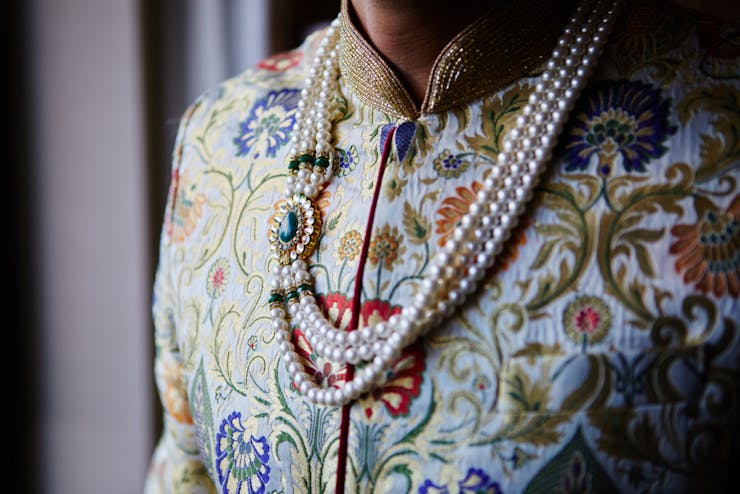 7. Royal Emerald Necklace – An Enthralling Groom Jewellery For Wedding
Who said an emerald necklace is only made for brides? Take inspiration from this charming groom who has given a tough competition to his bride in terms of wedding jewelry. This is one of the finest jewellery for groom to wear with an embroidered sherwani. Emerald necklaces are the most fashionable choice among the fashion-forward groom.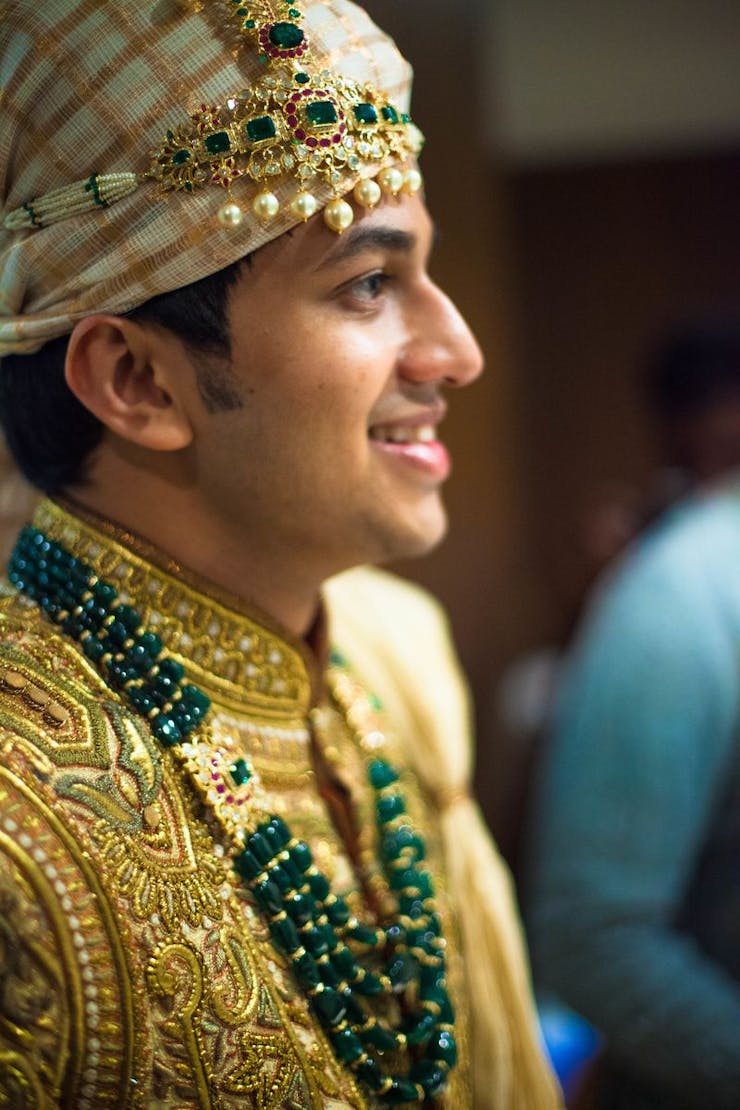 8. Regal Kundan Haar – Screams Nothing But Royalty
This groom has raised the bar high with a Kundan necklace. Placing uncut diamonds on sheets of gold produces a stunning royal necklace. Kundan jewellery for groom can add more charm to his wedding attire. This show-stopper groom has stolen the limelight by wearing an alluring Kundan necklace.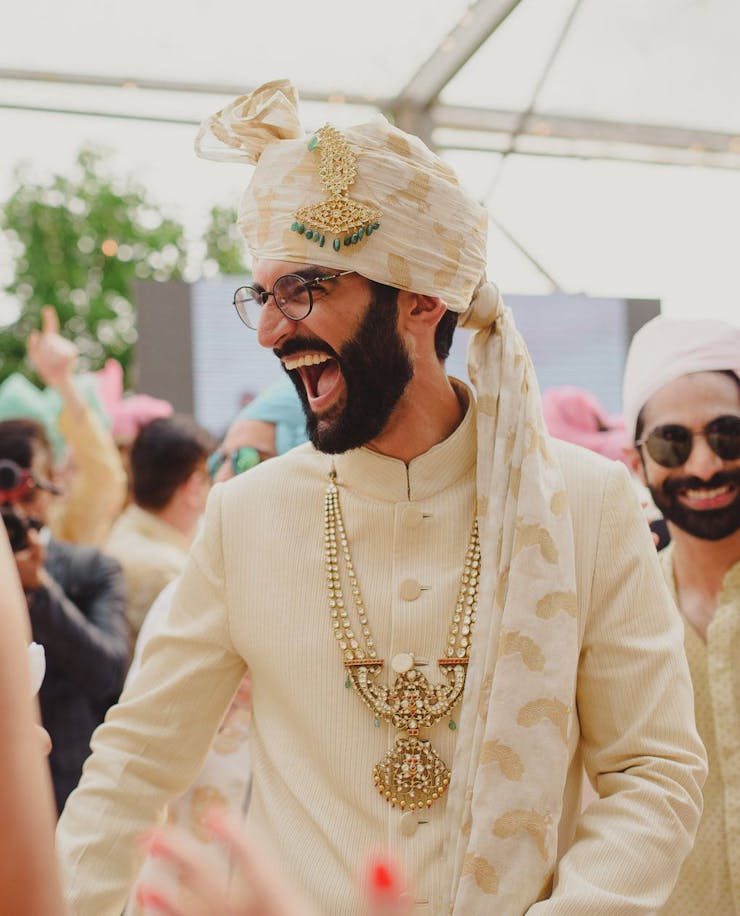 9. Evergreen Gold Chain – A Timeless Beauty
A gold chain is the most classic wedding jewelry for the Indian groom to flaunt his ethnicity. This is the best gold jewellery for groom to wear at wedding functions like an engagement or receptions. It's an excellent choice to give your wedding look an exceptional touch. A gold chain looks more beautiful on a sherwani with golden embroidery.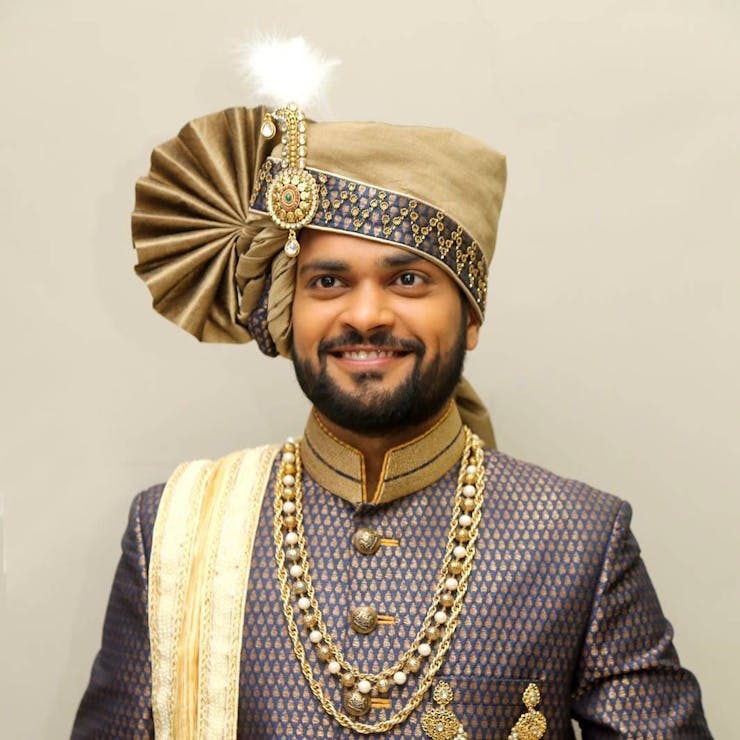 10. Statement Brooches – Best Groom Jewelry For Wedding
Your wedding sherwani will look incomplete without putting on a statement brooch on it. The exquisite design of brooches can make a dazzling statement. It can uplift your whole look and make you one of the most handsome grooms. You can choose brooches designed made of pearl, Kundan, or gold to give your sherwani a royal look.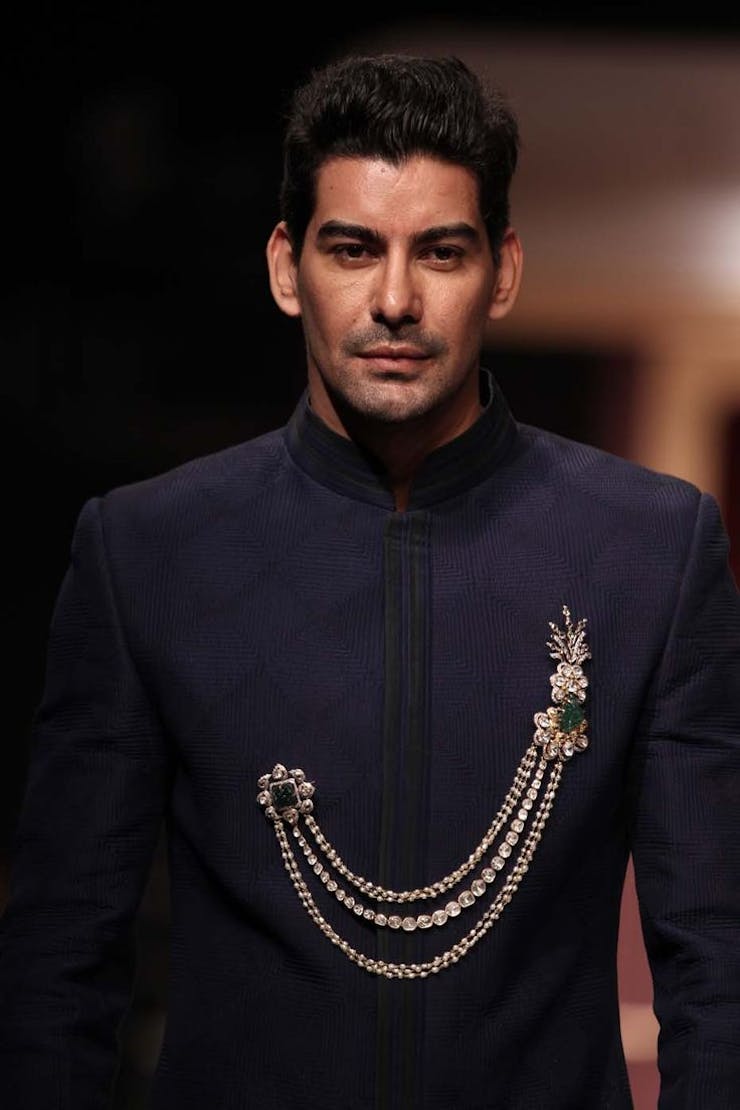 11. Alluring Bracelet – Adds An Extra Appeal
A diamond bracelet can uplift your wedding look like nothing else. It is the most precious jewellery for wedding function that adds grandeur to your wedding suit. A diamond bracelet screens out class and elegance. It can add a splendid touch to your entire personality and make you the most stylish groom.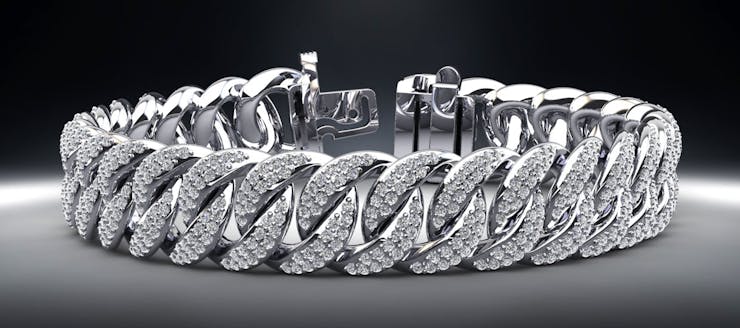 12. Pleasing Pearl Sehra – Go Conventional With Style
Have you seen a stunning sehra of a North Indian groom? Our charming dulhe raja has worn a beautiful sehra over his turban. The splendid safa of this groom made of silver tassels and small pearls is giving him an enchanting look. It is an apt choice for guys who love experimenting with modern looks.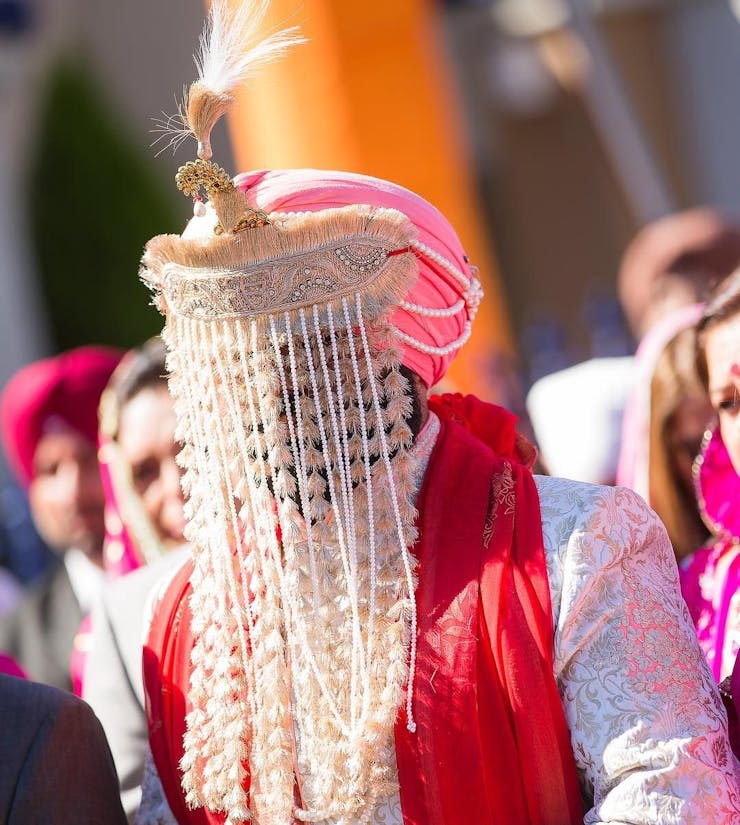 13. Lustrous Finger Rings – Pretty Bling Ornaments
The last one on this list is the statement rings for grooms. A perfect ring when put on the finger can make your wedding look graceful. A wedding ring made of diamond is the best choice to match with a classy outfit.