15 Latest Engagement Dress Ideas For Couples
Looking for a stylish outfit for ring ceremony? Check these offbeat couple engagement dress ideas that you must try to achieve the best couple look.
---
Indian wedding festivities begin with vibrant engagement ceremonies. Couples plan a grand engagement party to celebrate the beginning of their relationship. Many couples have created beautiful memories of their ring ceremony with us, a team of creative photographer in kolkata for wedding. From color-coordinated outfits to pastel shades dresses there are multiple options available for you to achieve the most stunning couple look on your engagement day. To steal the limelight of your wedding, you need to add that extra touch to your engagement outfit. To help you out in selecting the perfect engagement outfit, we have compiled a list of 15 drop-dead gorgeous couple engagement dress ideas.
1. Similar Shades Couple Dresses
Following the ongoing trend like color coordination will surely suit your style. Twinning your ethnic wear like a bridal lehenga and a designer kurta can make you stand out from the crowd. This kind of similar ring ceremony dress looks amazing in your engagement ceremony portrait.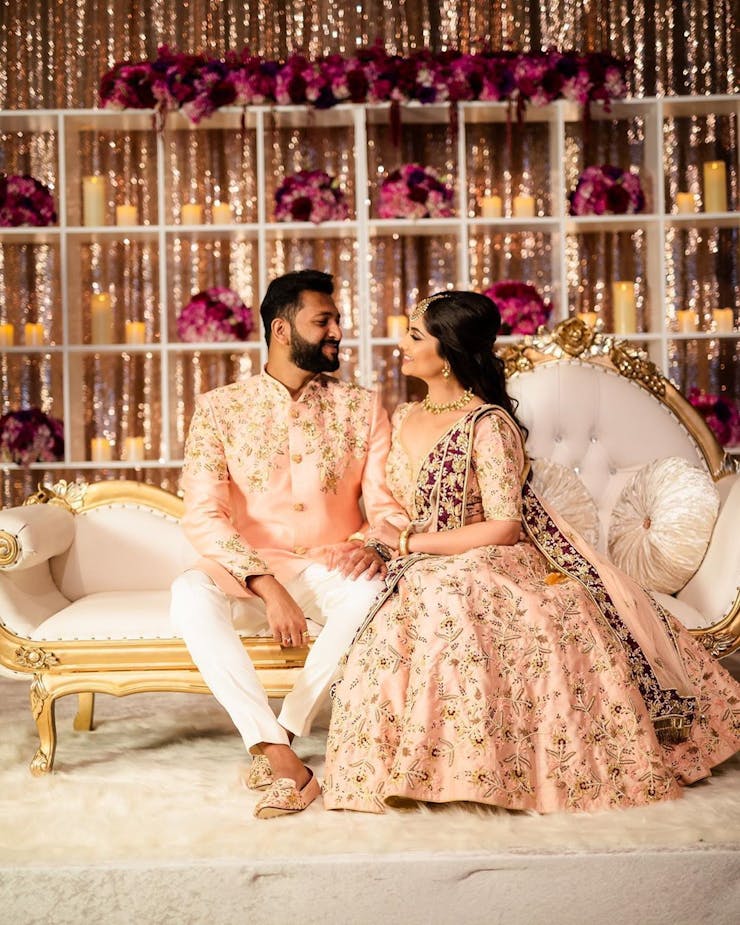 Recommended: 13+ Unique Pre-wedding Photo Shoot Ideas For Every Couple
2. Lovely Pastel Shades Couple Dresses
The pastel shades are the most charming shades for a couple's outfit. A pastel dress is considered the best dress for engagement. Wearing pastel shades like blush pink and ivory blue is a new trend at Indian engagement parties. A pastel sherwani and bridal lehenga is really a classy option for a grand event.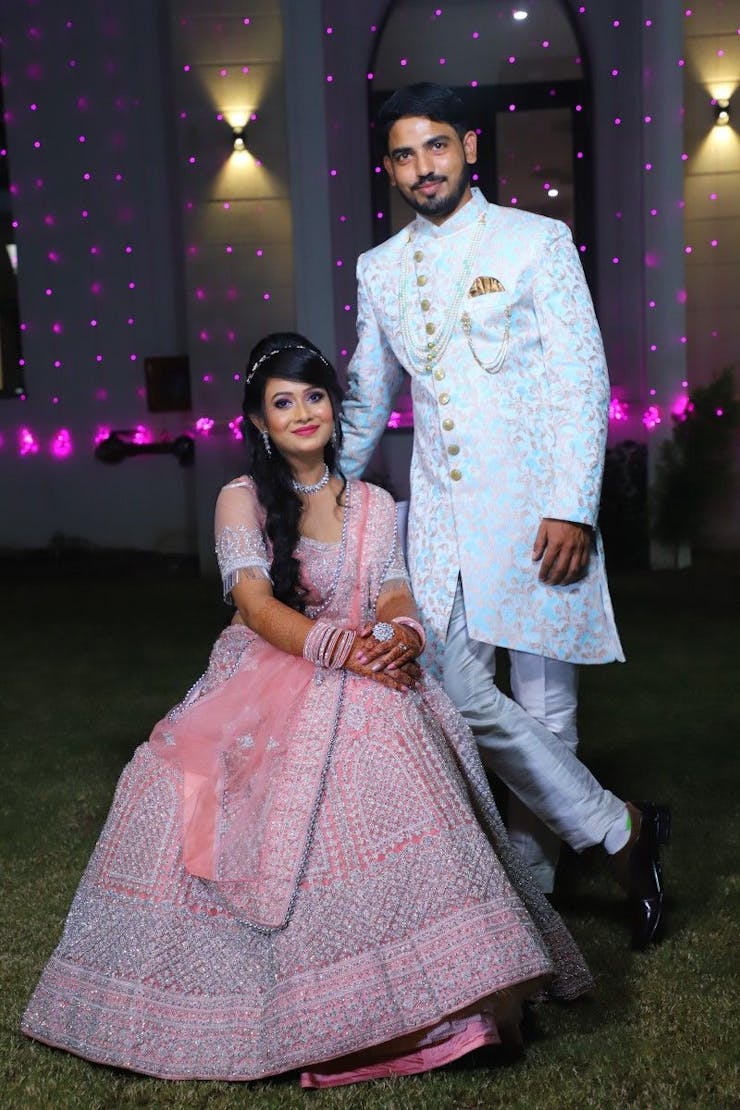 3. Floral Marvels Couple Dresses
How about a floral print engagement dress? This beautiful couple wore a printed floral jacket and gown for a picture-perfect engagement look. Choosing a floral gown dress for engagement is undoubtedly a timeless choice. You just need a passionate and candid wedding photographer in kolkata to capture the mesmerizing beauty of your enchanting engagement look.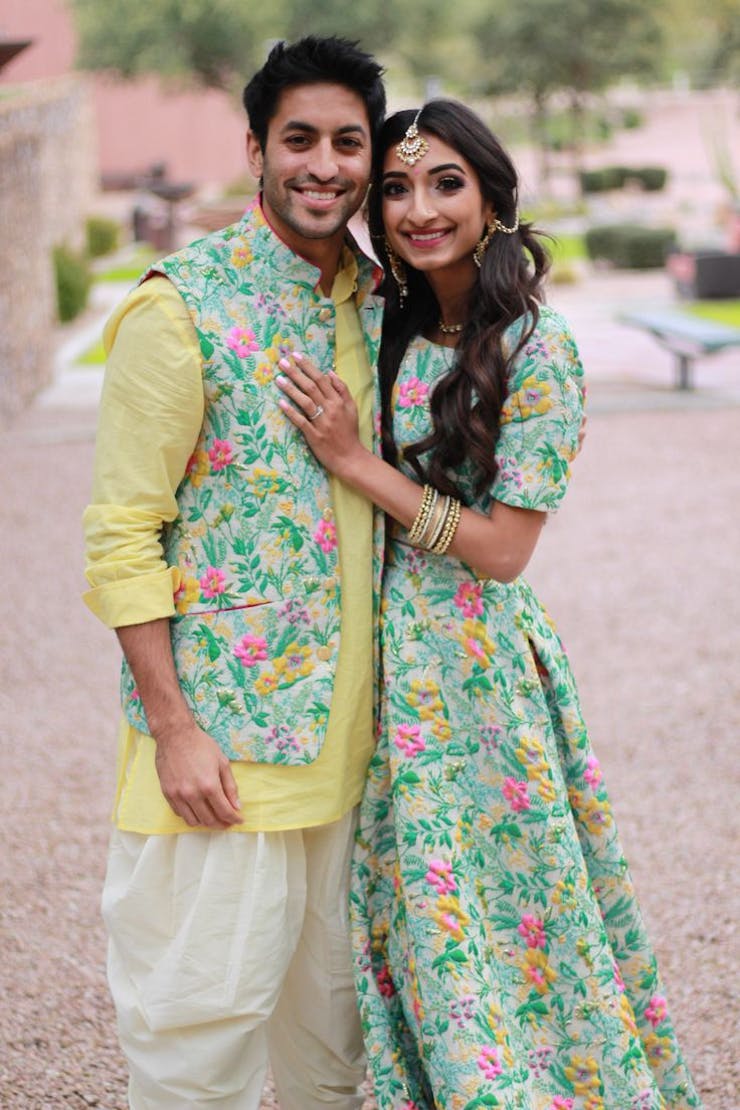 4. Magical Gold Couple Outfits
We can't take our eyes off this golden designer outfit worn by this adorable couple. While the brides look elegant in her designer lehenga, the groom looked dashing in his gold and ivory mixed embroidered sherwani. This couple's engagement look depicts how happy they are together.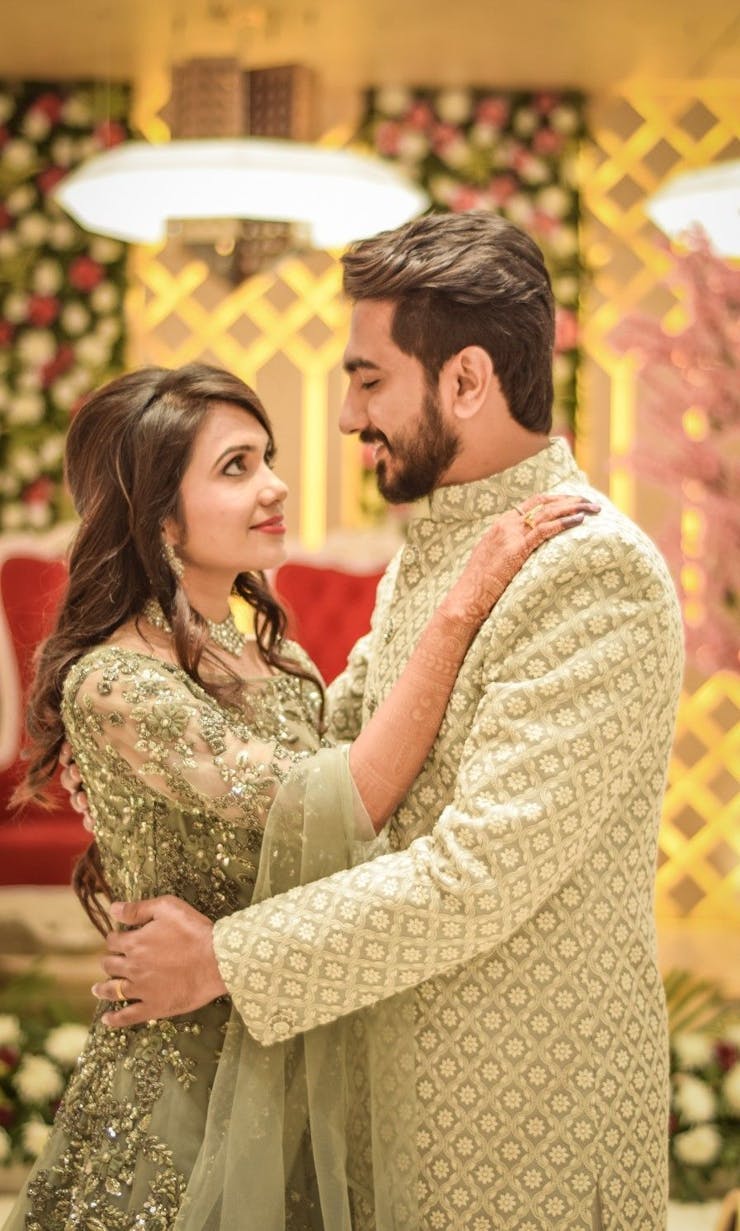 5. Gorgeous Red Couple Outfits
Take a cue from this stunning couple who has rocked the fashion book with their red ethnic attires. The romantic red is one of the best outfit for engagement. Here the groom is perfectly complementing the red floral lehenga of the gorgeous bride. Their dazzling outfit is a visual treat for the eyes.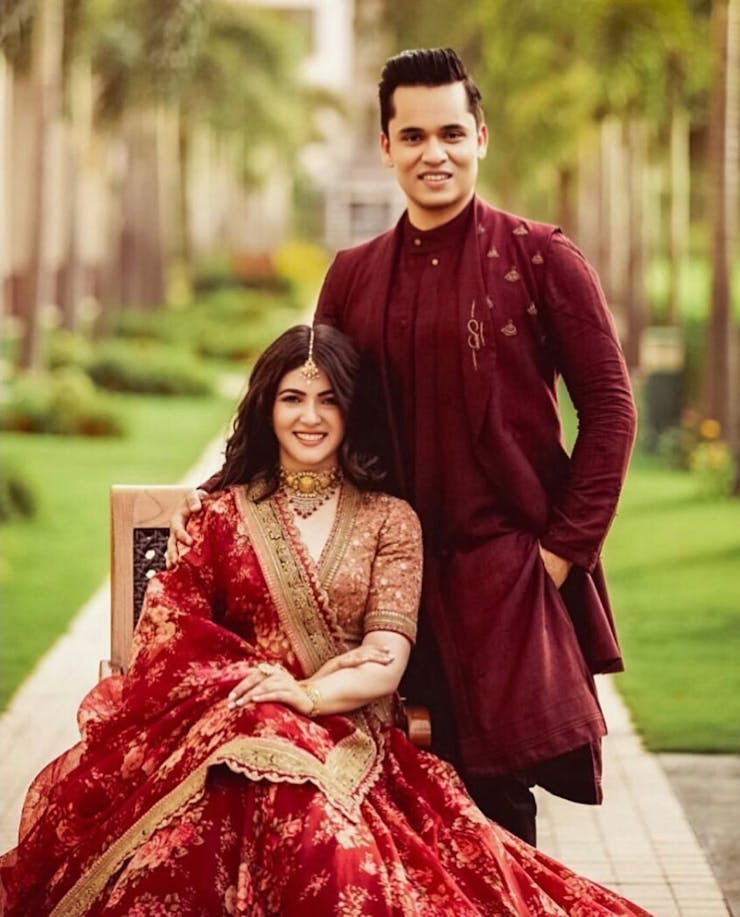 6. The Heart Melting Ivory Shades Couple Outfits
An ivory shade is simply a color of class and sophistication that will bring out the perfect charm in your engagement pics. Simple engagement dresses in ivory shades are the best option for the minimalist couple. You are fond of simplicity so you must surely try this soothing ivory shade outfit to get the entire attention at your special event.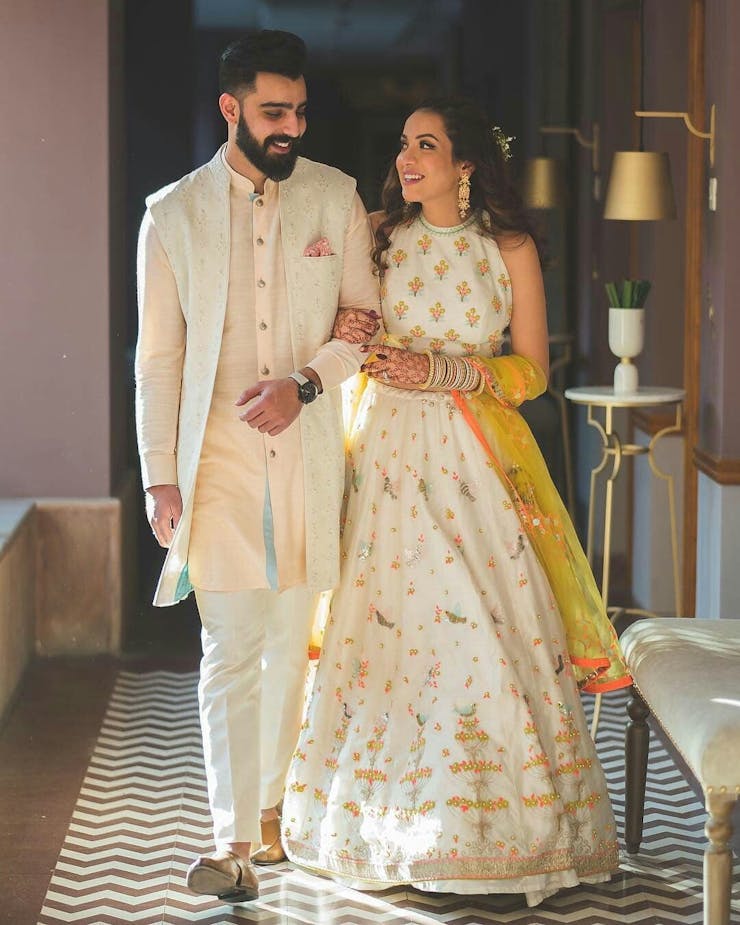 7. Blissful Lavender Shades Couple Dresses
The monotoned lehenga and lavender jacket is a beautiful combination for a ring ceremony. This lovely color can turn your engagement event look in a way that you have never imagined. The subtle shade of lavender is perfect engagement dress for bride and groom.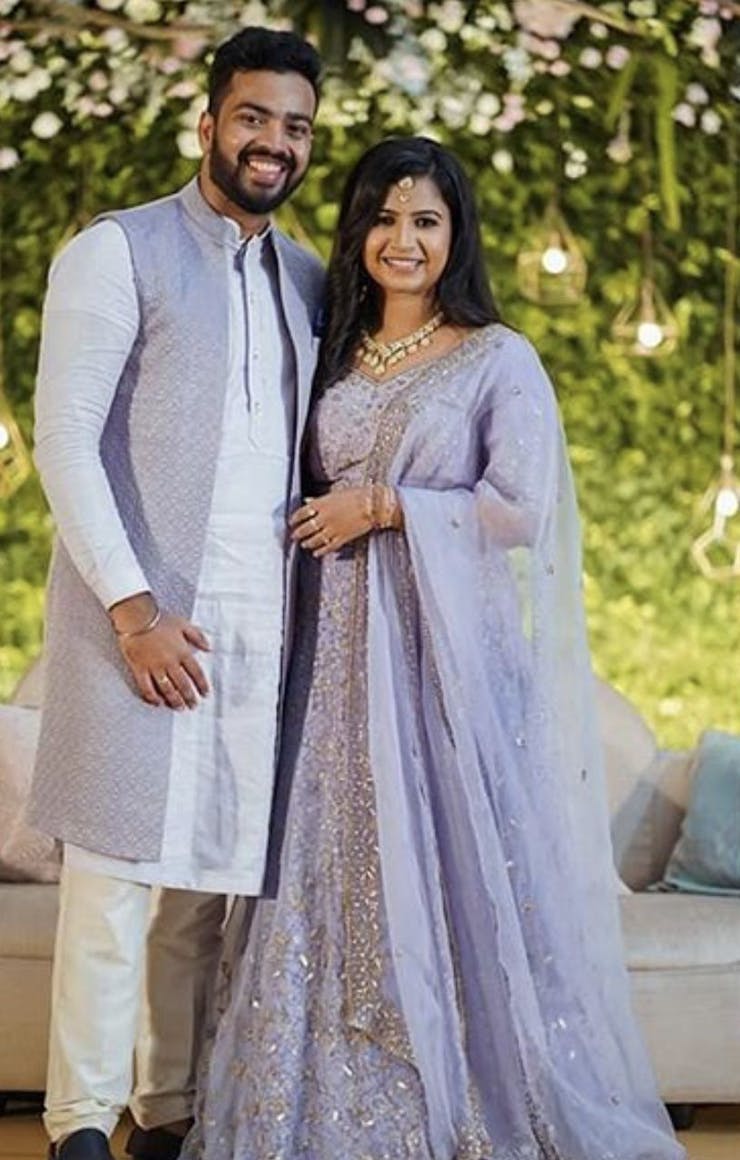 8. Shiny Blue Couples Outfit
A couple wearing the same color on their engagement day looks amazing in their engagement photographs. A gorgeous blue gown and blue suit and pants is a major couple goal idea that will make you look charming and beautiful together. All in blue coordinated engagement outfit ideas for couples offers more richness and royalty in your engagement look.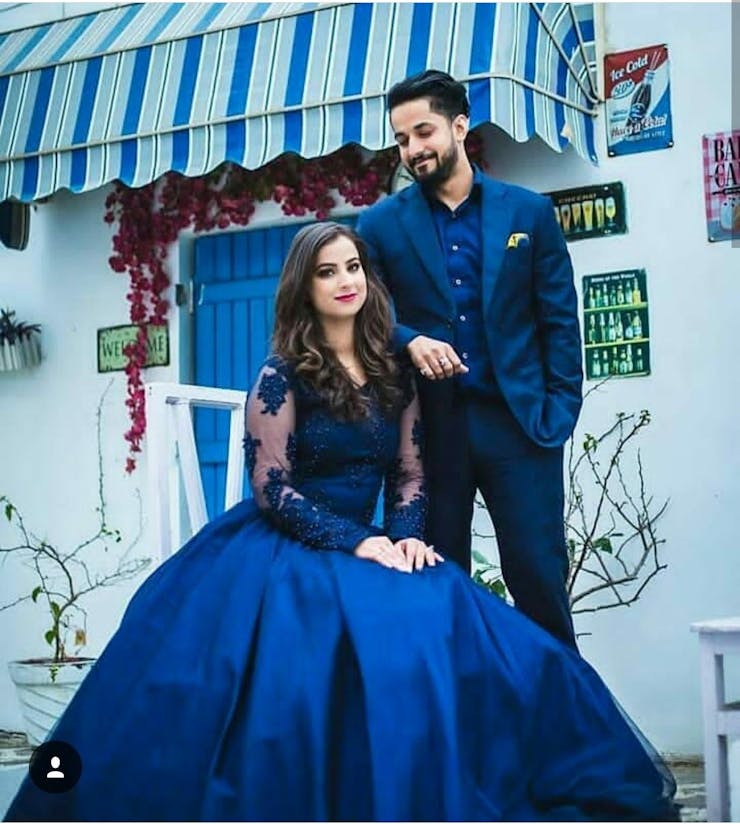 9. Contrasting Shades Of Wine & Maroon Couple Outfit
The stunning pair of a beautiful maroon lehenga and wine jacket kurta adds royalty to your entire look. The rich texture of these bold outfits is unique and extremely pretty to be worn at a pre-wedding function. Pairing this ethnic outfit with stunning jewelry makes a style statement.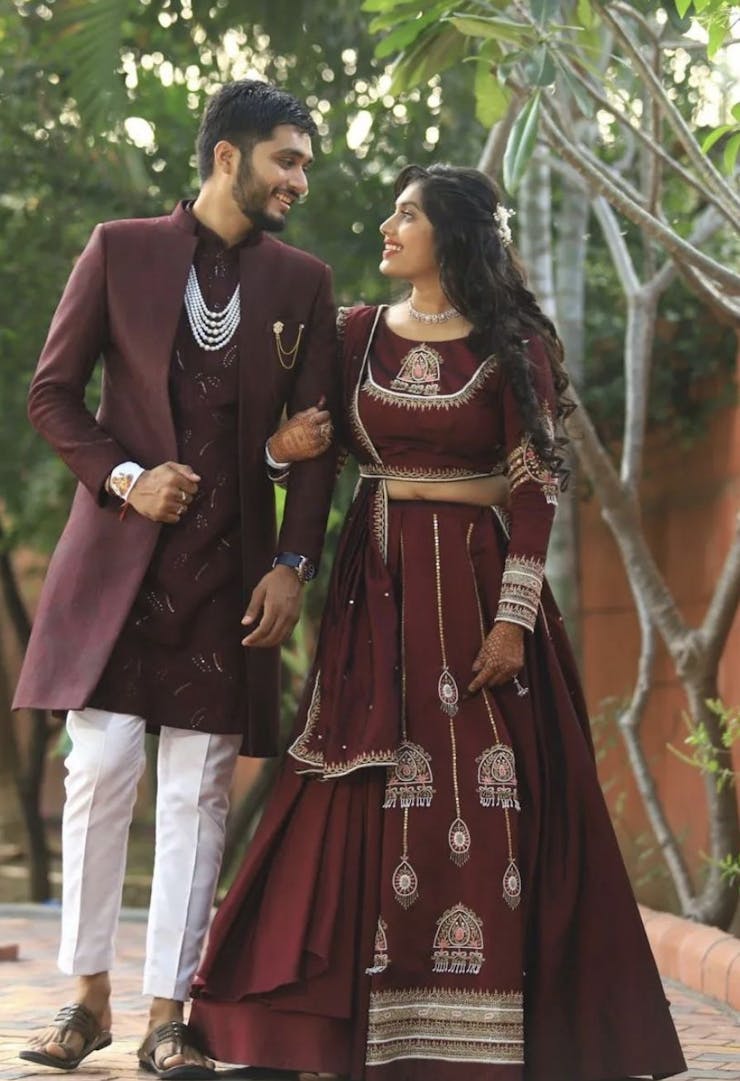 10. Multicolor Couples Dresses
This adorable couple has added vibrancy and beauty to their engagement look by wearing a multicolored ethnic outfit. The matching jacket of this stylish groom complements the bridal lehenga very well. This stunning couple-loving chemistry is creating a romantic engagement story. If you want to become the limelight of your show then you must definitely try this traditional prints multicolored lehenga to add a refreshing look to your engagement pictures.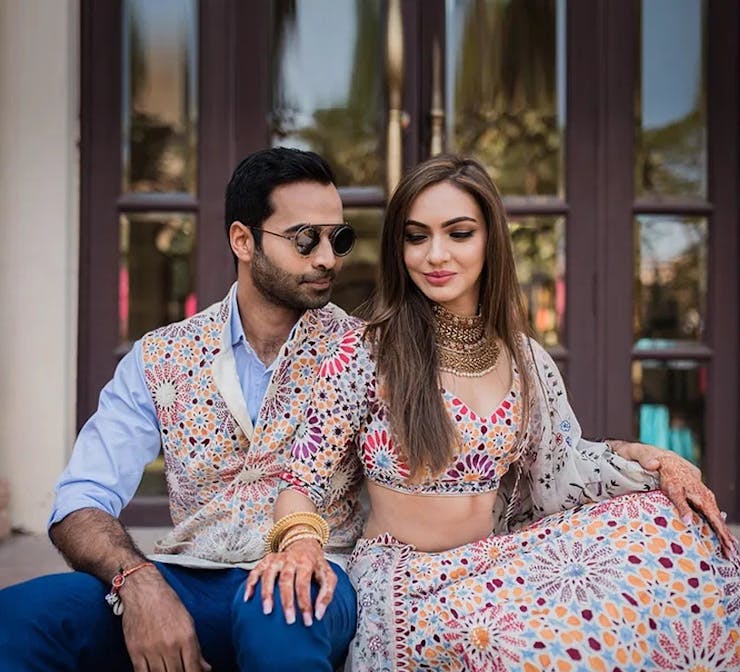 11. Enchanting Magenta Shades Couple Dresses
For those who are looking for a glamorous option for their ring ceremony, this magenta shade engagement couple dress ideas will be a good choice. The mesmerizing shades of magenta in a bridal lehenga and a groom's jacket look amazingly well together. This type of engagement dress combination works well both in the daytime and at a night event.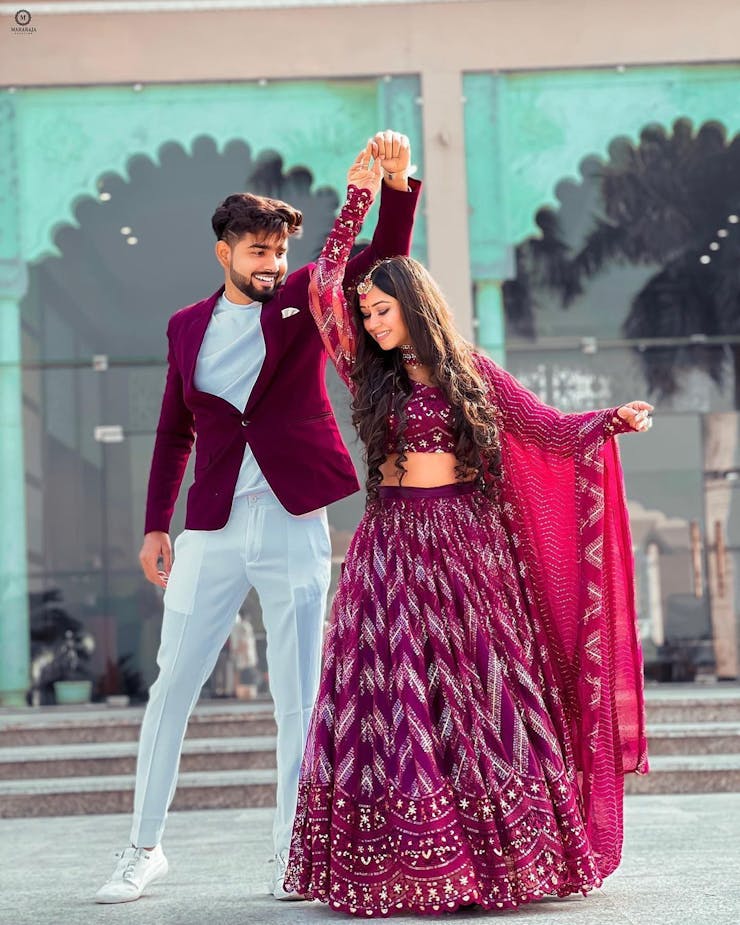 12. The Regal Velvet Couples Dresses
A velvet Anarkali dress and a stylish kurta simply highlight your engagement look. This kind of glamorous couple outfit can turn the aura of your gorgeous makeup. This kind of sassy couple outfit is a perfect choice for a grand engagement event.
13. Stylish Indo-Western Couple Outfits
If you also want to look like the most stylish couple at your engagement party then you must definitely try an Indo-Western dress to shine like a star. Take inspiration from this lovely bride walking in the flayer gown with her prince charming. Here the groom has opted for a statement jacket with a classic white shirt. This stylish combo together rocks their engagement look in pictures.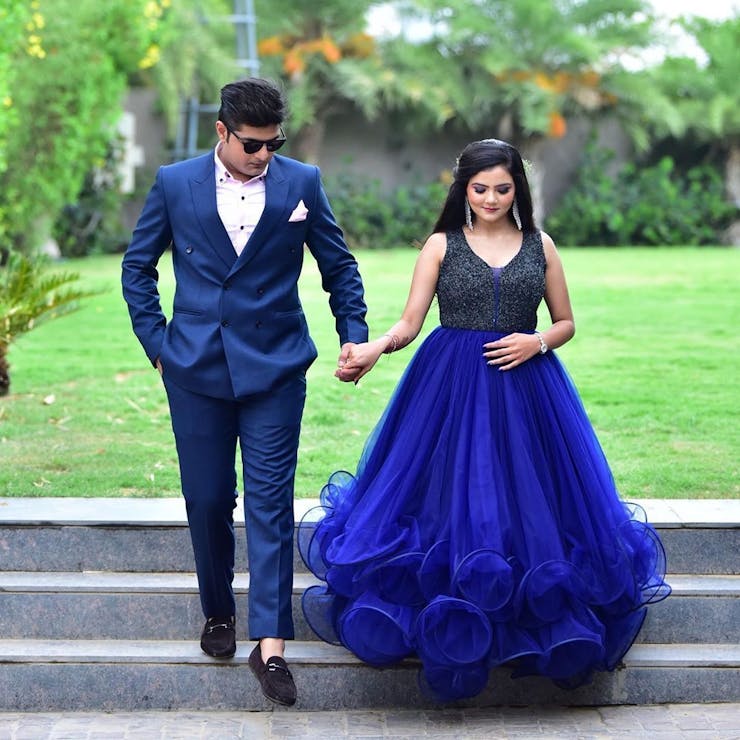 14. Turquoise Couple Outfit
This couple dressed in a well-coordinated turquoise lehenga and sherwani seems like a match made in heaven. The subtle and sophisticated engagement outfit makes a fashion statement. The lovely charm of this Indian engagement dress is making the twirling pose more beautiful.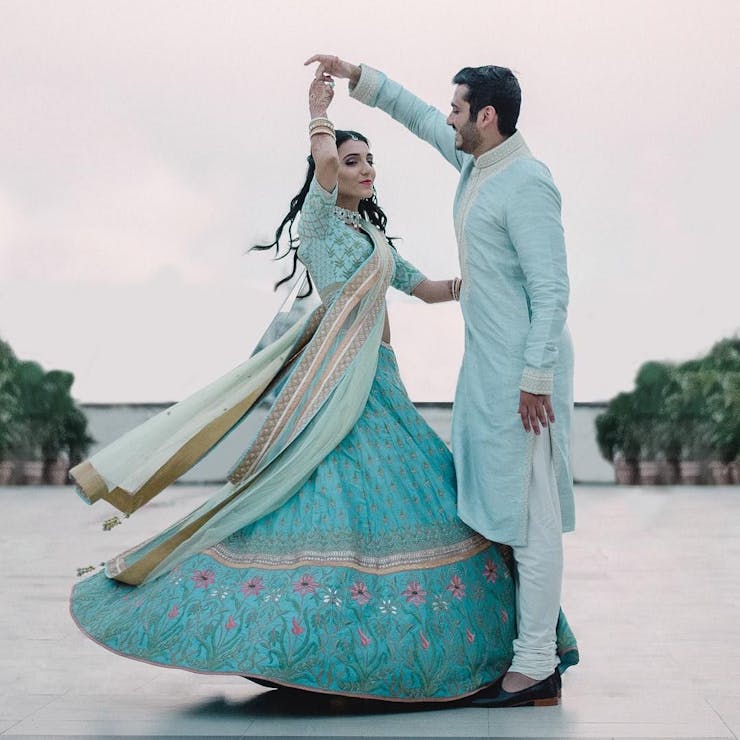 15. An Offbeat Black Outfit For Couples
Ending the list with an offbeat and glamorous couple engagement dress ideas in black shades. If you want to experiment with a new look on your engagement day then you must definitely try the dazzling black outfit to glamorize your special event.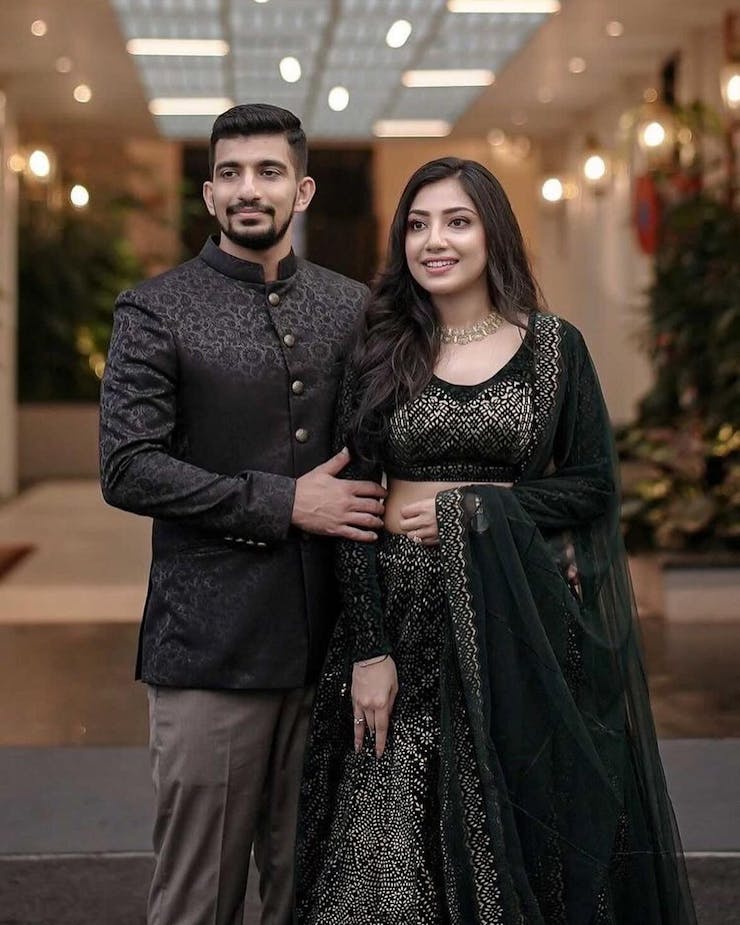 These stylish and coolest couple engagement dress ideas are sure to bring glamour to your engagement look. Pick up your favorite engagement outfit from here.