Latest Bridal Lehenga Latkan Design That Are Going To Stun
Wondering how to make your lehenga look more stunning and attractive? Check out here amazing bridal lehenga latkan design to stand out from the crowd.
---
We can never imagine a bridal blouse without a stunning latkan. It adds beauty and grace to your wedding outfit and also reflects your personality and style. It can make your simple lehenga a stylish and gorgeous outfit. Bridal latkan is one of those bridal accessories that are truly hard to ignore. These dainty embellishments complement your look and make you stand out on the big day. The right latkan design can be chosen from various options available in the market. You can try traditional designs, contemporary designs, and even custom-made ones. Being the best wedding photographer in Kolkata we have seen many trending latkan worn by brides.
We have done the searching part for all the brides-to-be and found the best bridal lehenga latkan design. Continue reading this blog to find the ideal bridal latkan design.
Recommended: The Latest and Trendiest Bridal Double Dupatta Lehenga Style
1. Customized Latkan For Bridal Lehenga
Customized wedding latkan for bridal lehenga is a popular option for a gorgeous bridal look. Any simple blouse can be made attractive with a customized latkan. You can incorporate special lines or quotes in the wedding latkan to provide it with a modern twist.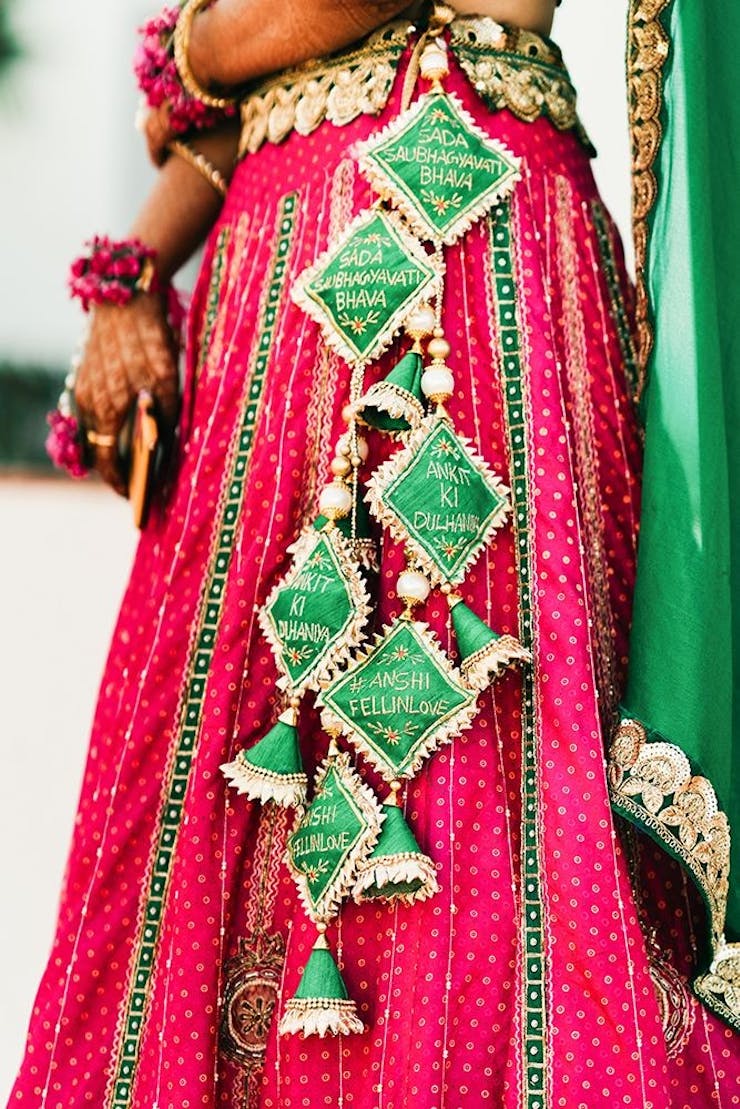 Must Read: 12+ Amazing Mehndi Outfits For Bride – Milan Magic
2. Blush Pink Bridal Lehenga Latkan Design
Blush pink is an eye-pleasing color that grabs the attention of brides very quickly. A blush pink wedding latkan for bridal lehenga gives you a fancy look. You can pair this with a light pink wedding lehenga to add a magical vibe. Ask your photographer in Kolkata for wedding to click some insta-worthy bridal images.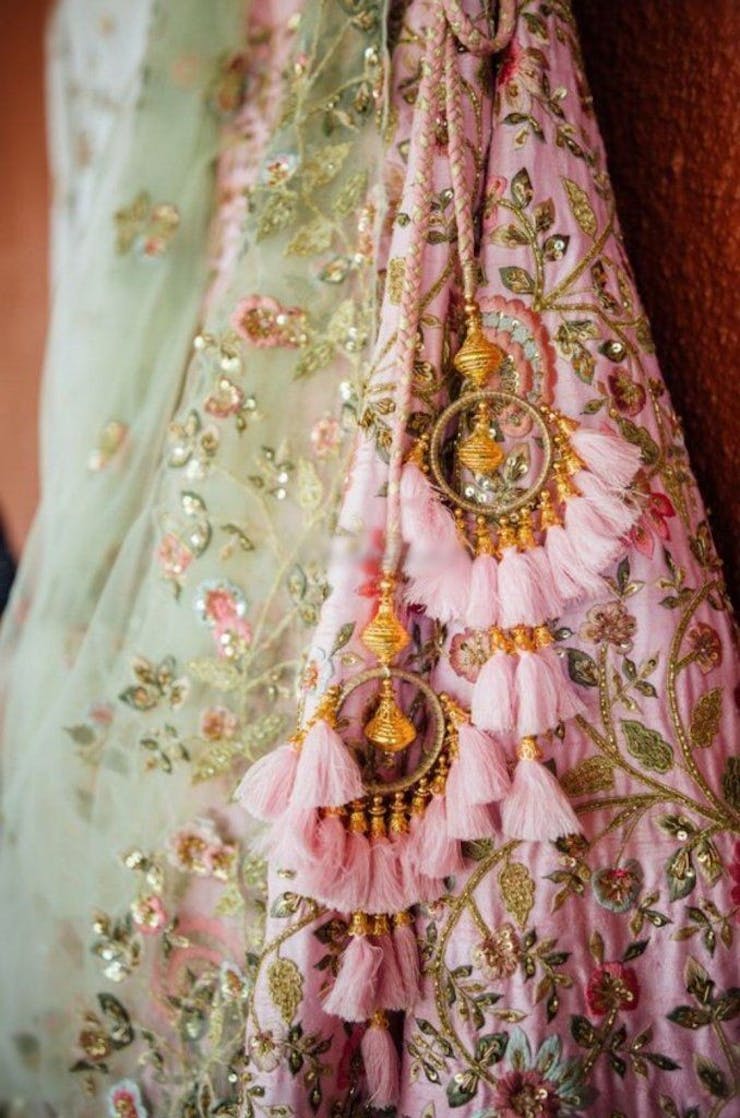 See More: Top 15 Unique Pre Wedding Poses For Couples You Should Try
3. Quirky Latkan For Wedding
How adorable is this wedding lehenga latkan! The katputli figures in the latkan add a quirky vibe to your wedding attire. You can try this wedding latkan with any fabric. This adorable puppet symbolizes our vibrant culture and provides a creative touch to your bridal attire.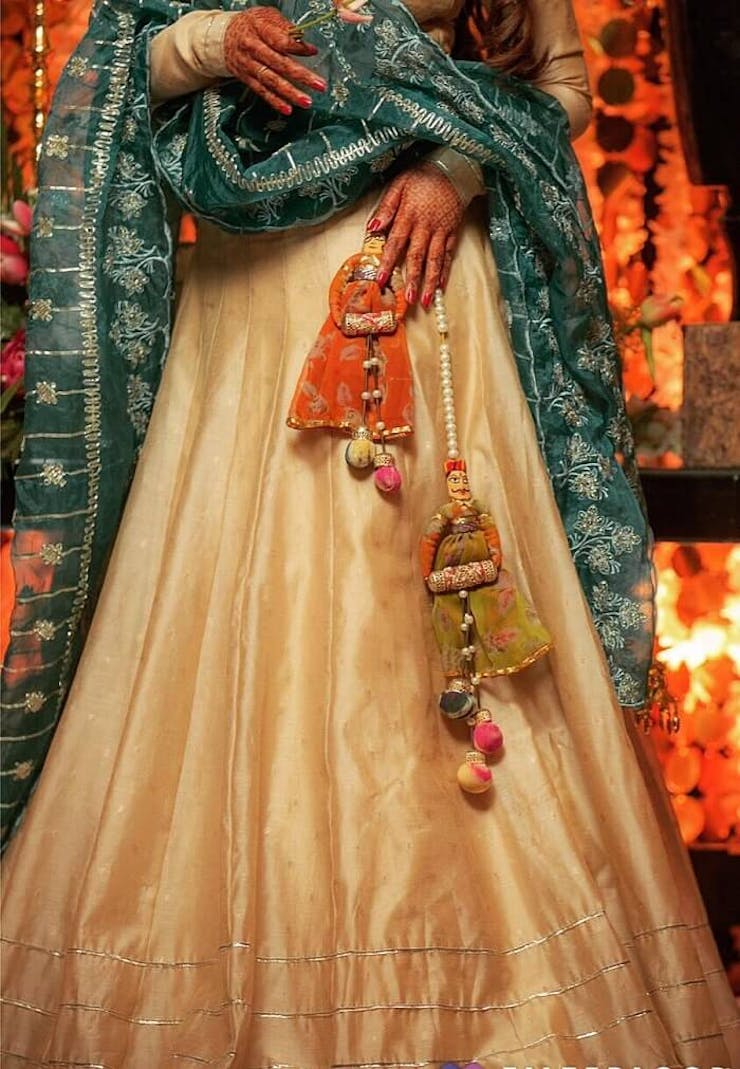 4. Cushion Lehenga Latkan For Bride
If you want to experiment with something new, try this bridal lehenga latkan with name. Incorporating your name in the latkan will give the latkan a personalized touch. This kind of latkan compliments a vibrant-hued bridal lehenga. This cute bridal latkan is perfect for functions like mehendi or haldi ceremonies.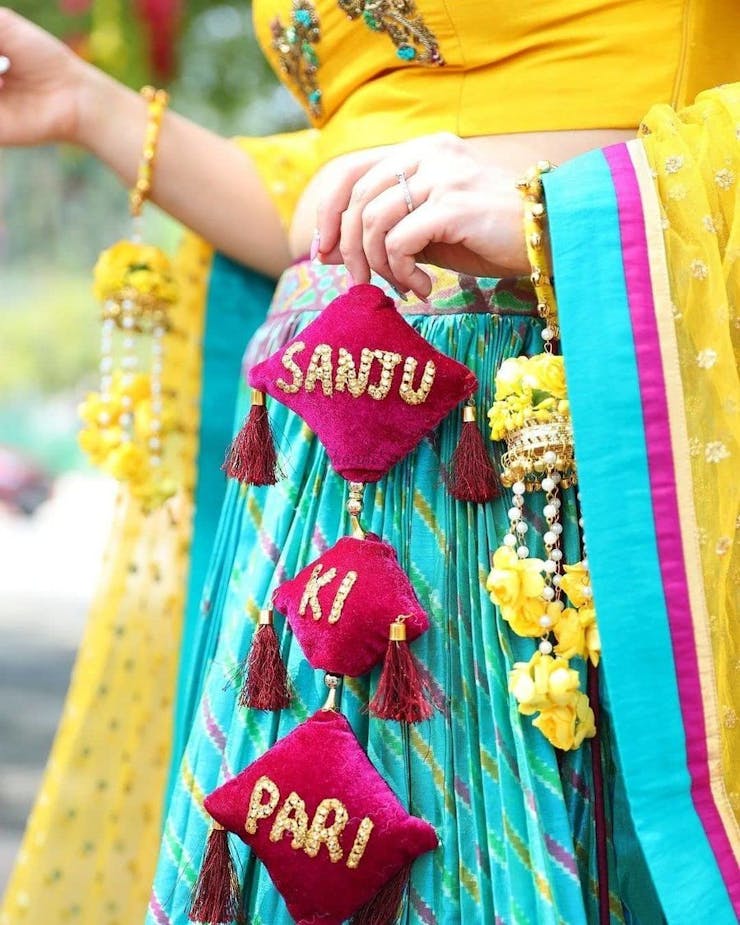 5. Pearl Bridal Lehenga Latkan
The pearl signifies purity and innocence, making it the perfect symbol for a bride's special day. Pearl latkan design for bridal lehenga is the perfect way to add a touch of glamour and elegance to your bridal look. These exquisite pieces of jewelry are intricately crafted with small pearls. The pearl in the latkan makes them the ideal accessory for special occasions like weddings.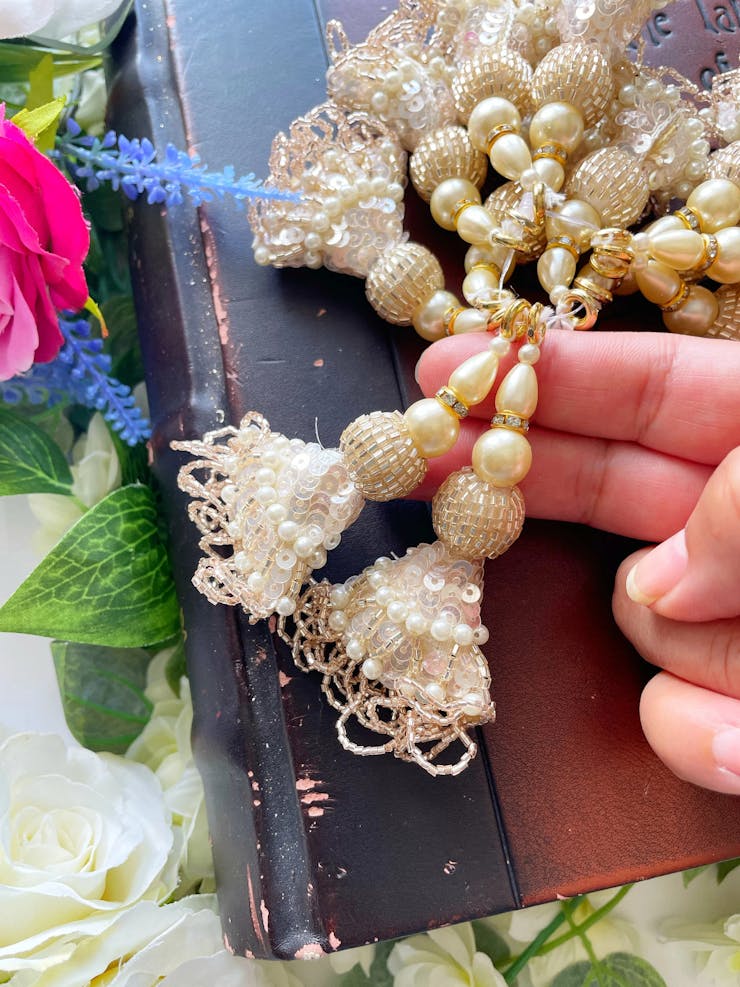 6. Mirror Work Latkan For Bride
A mirror work bridal latkan for lehenga can take your fashion game a notch higher. This sparkling latkan is made up of small pieces of mirror sewn onto the fabric in various patterns. Whether your blouse is heavily embroidered or has a minimal design, this latkan complements all styles.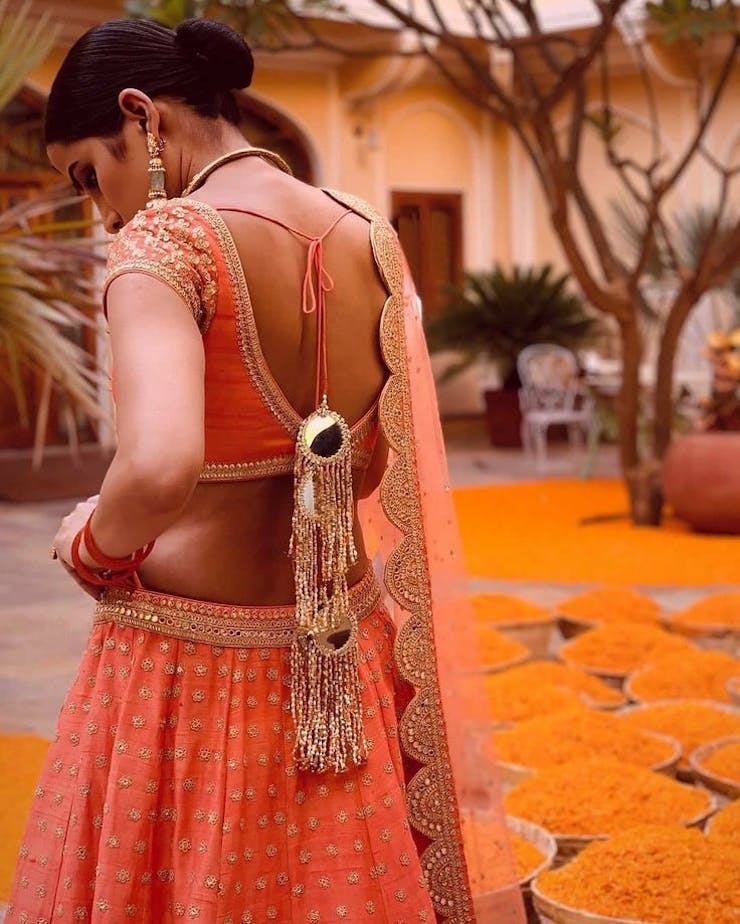 7. Classic Indian Bridal Latkan For Lehenga
If you are looking for something conventional, then try this classic latkan design. The combination of red and gold adds a special charm to your traditional bridal lehenga. It can add a perfect amount of grace and sophistication to your wedding day look.