The Latest and Trendiest Bridal Double Dupatta Lehenga Style
Here is an ultimate list of trending bridal double dupatta lehenga styles for all pretty bride-to-be out there! Sounds interesting? Read on.
---
As soon as the wedding day arrives, brides get worried about how to style their wedding lehenga perfectly. They would end up buying every small thing that can beautify their gorgeous lehenga. But one important thing that they often miss is how to style a bridal dupatta. Over the years, we have seen a drastic change in the bridal dupatta draping style.
The double dupatta draping style has now become a unique and stylish way to dress up Indian brides. This traditional style of dressing has been around for centuries. But it has recently gained more popularity due to its modern twist. With the help of this style, brides can create a look that is both traditional and modern at the same time.
Don't forget to hire the best Bengali wedding photographer in Kolkata who can capture your elegant look.
So, here we are sharing some latest bridal double dupatta lehenga style that we have spotted in the recent wedding season.
Recommended: Save These Best Gown Shop In Kolkata For Wedding
1. One Dupatta On Head And Other On Shoulder Double Dupatta Style
This is the most beautiful double dupatta style for bride that can make you the center of attraction. This red bridal lehenga with double dupatta is a perfect choice for the wedding day. You can ask your candid wedding photographer in Kolkata to click some stylish bridal photos in such royal and classy attire.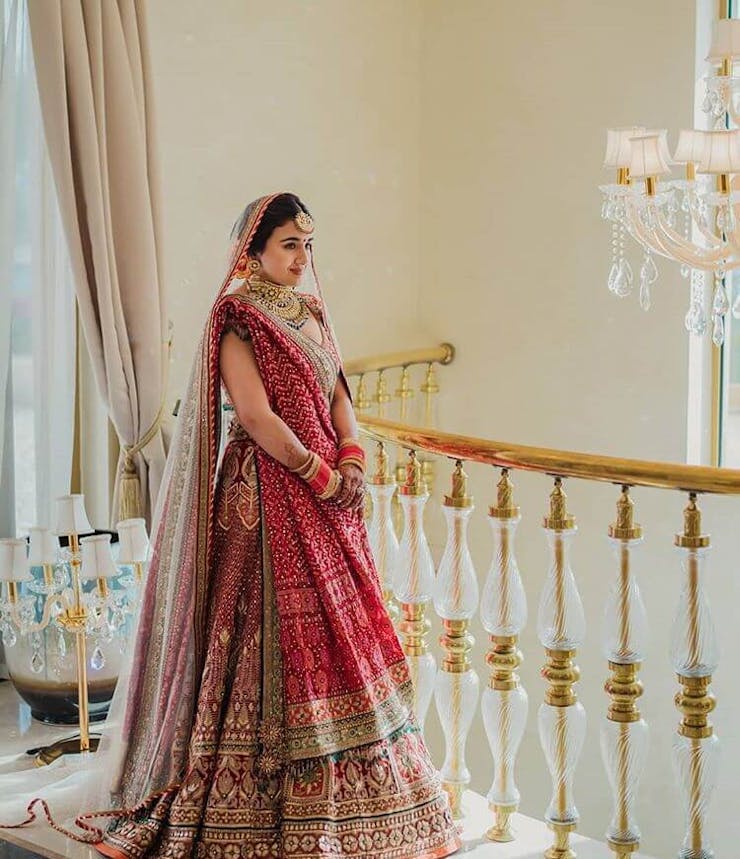 Must Read: 13+ Amazing Blouse Designs Ideas For Wedding
2. Patiala Double Dupatta Lehenga Style
Another wonderful way to style your wedding lehenga is by draping the dupatta in Patiala style. This is the most classy double dupatta lehenga draping that can make you a super chic bride. This double chunni lehenga style is even a great pick for your mehndi and sangeet ceremony.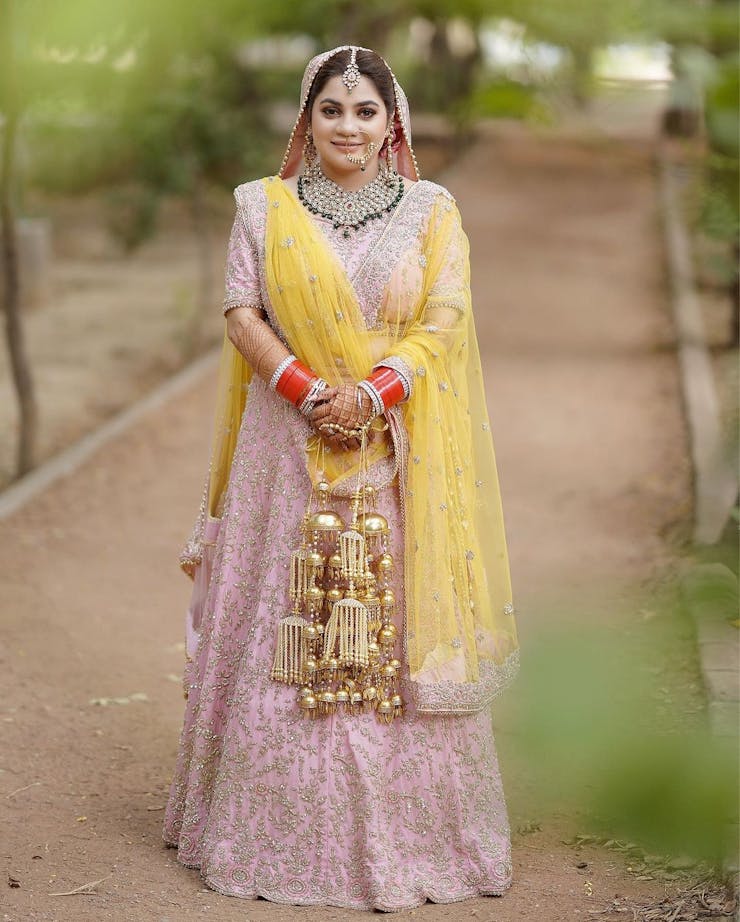 See More: The Latest Bridesmaids Dress Trends You Need To Know
3. Pleated Double Dupatta On Lehenga
This is a very popular style of double dupatta lehenga design. This kind of double dupatta draping can help you to move freely and adds elegance to your bridal persona. Pleat one dupatta on your shoulder. And place the other dupatta on your head to look as fascinating as this gorgeous bride.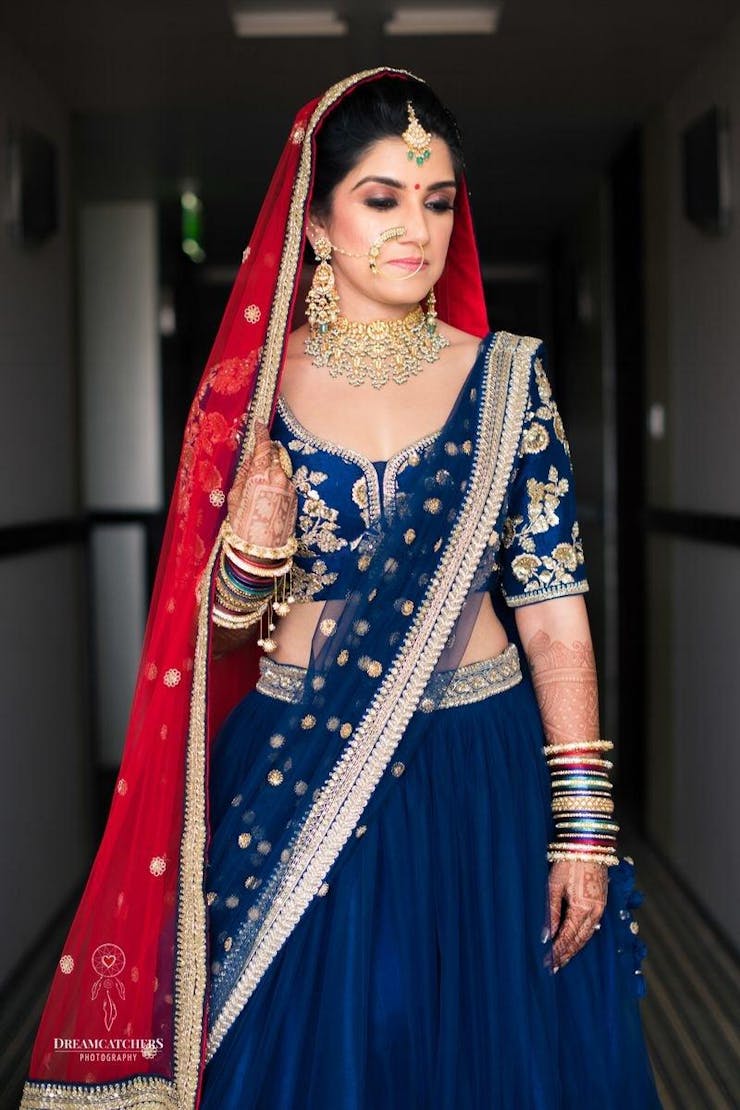 4. Front-Belted Lehenga With Double Chunni
If you are looking for creative double dupatta draping styles for brides, opt for this one. You can tuck the heavily embroidered dupatta on your waist with a stylish lehenga belt. Place the sheer dupatta on your head and add an oomph factor to your bridal look.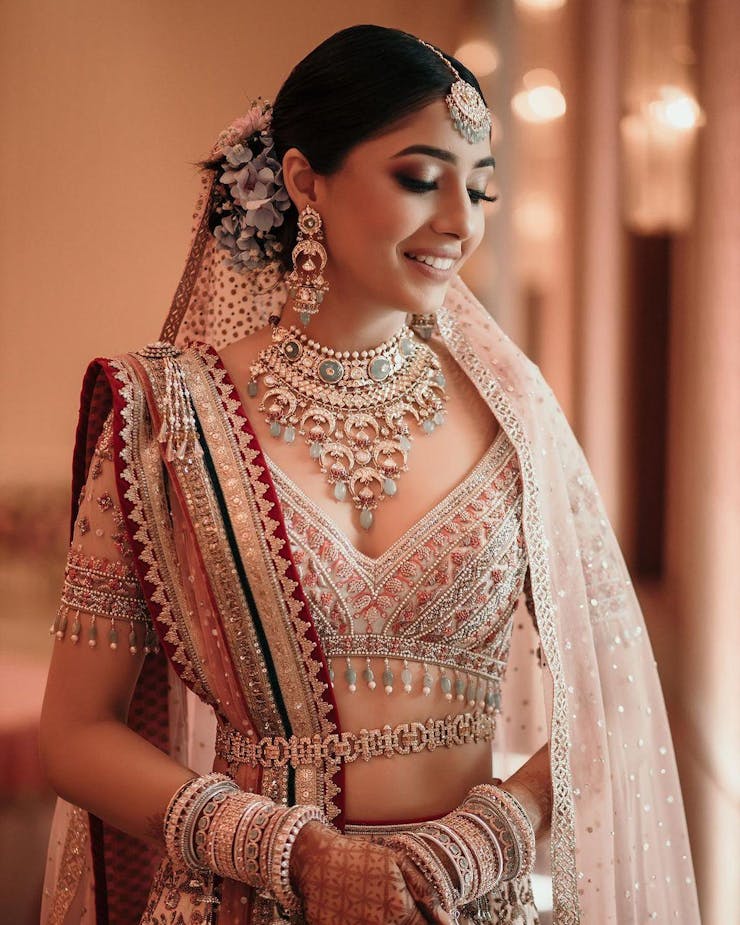 5. Contrasting Shade Double Dupatta Style
Contrasting hues always make brides appear more beautiful. Take inspiration from this lovely bride who has paired a heavily embroidered maroon dupatta with a sheer dupatta. This kind of wedding lehenga with double dupatta is sure to make you feel like a royal queen.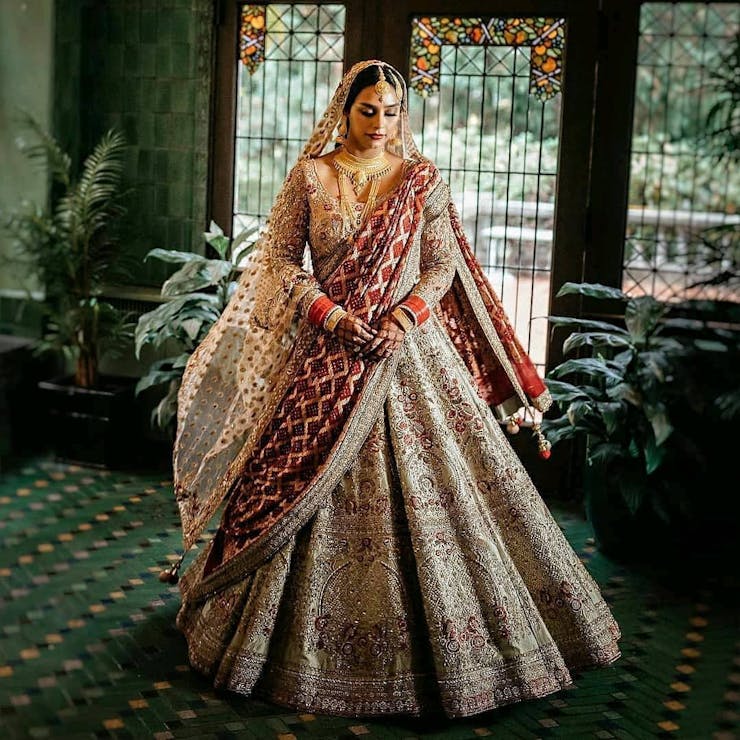 6. Stunning Blend Of Sheer & Velvet Double Dupatta Draping
Velvet is considered the most classy fabric to wear at grand events like weddings. Pairing a velvet dupatta with a sheer net dupatta can make you a fashion-forward bride. This double dupatta red bridal lehenga made of velvet fabric will keep you cozy. It will also add a dose of glamour to your winter wedding look.