15 Popular Newborn Baby Photoshoot Poses Ideas You Should Try 
Newborn photography has become a great way to capture your child's memories. Explore some creative newborn baby photoshoot poses ideas to click cute pics.
---
We know that it is impossible to relive the beautiful moments of life by going back in time. And that is why people started using photography to save their beautiful memories. Children grow very quickly with the passing times. Hence, it's better to capture the sweetest memories of their childhood, so that you can relive these golden moments forever. Being one of the best newborn photographer, we have captured many professional-looking newborn baby pics in the past few years. Hence, we have accumulated a creative collection of newborn baby photoshoot poses ideas for you. So that you click some delightful pictures of your baby.
1. Adorable Froggy Pose
This one is the cutest newborn photoshoot ideas. Make sure to achieve this pose in front of a well-trained newborn baby photographer. Keeping safety as a first priority we should carefully support the baby's weight with one hand. Most of the parents love this cute frog pose for their little one.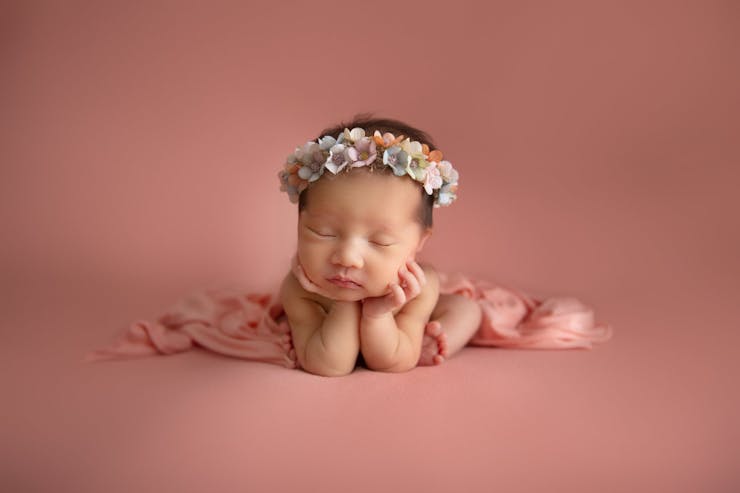 2. The Sleeping Beauty
This is another simple go-to pose. You can simply click a natural shoot while your baby is sleeping under the blanket. Comfortably laying on their bed with both relaxed hands below the chicks looks lovely in a picture frame.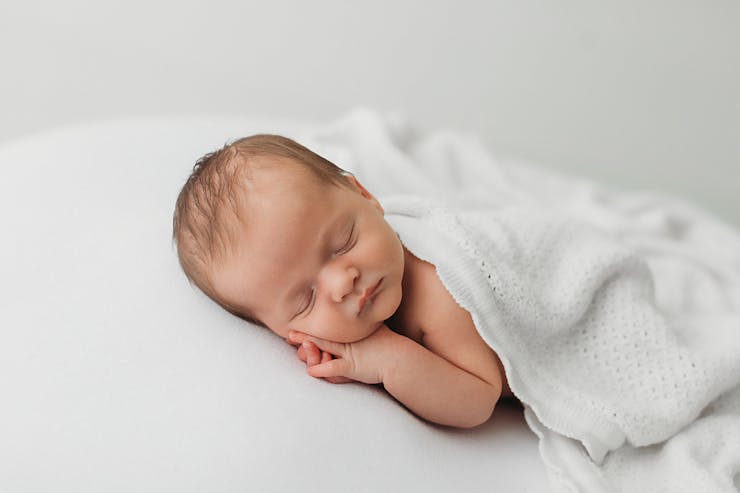 3. The Womb Pose
The womb pose is gaining immense popularity due to its creativeness. This creative and lovely baby photoshoot in kolkata has become a great way of capturing a baby's picture. The curled-up pose of the baby looks like an embryo inside the womb. A professional photographer can make it more unique by adding amazing props to make it a beautiful memory.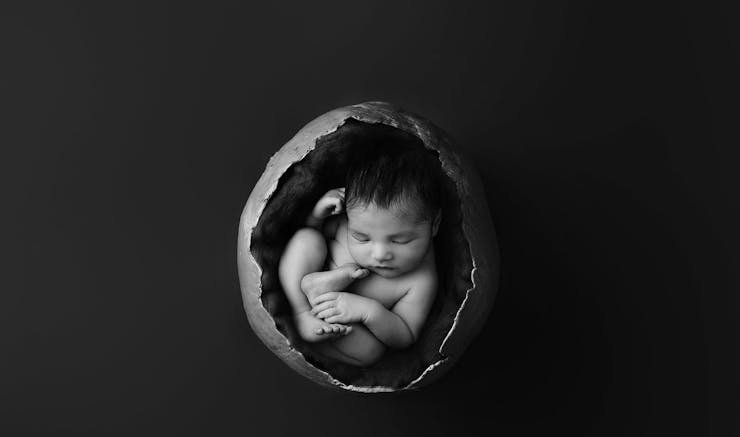 4. A Fun-filled Poster Pose
Oh! Isn't it looking so adorable? Tell a beautiful story of your little baby by posing him or her in a fun-filled way and let your photographer do the magic to create a creative poster image of your little one.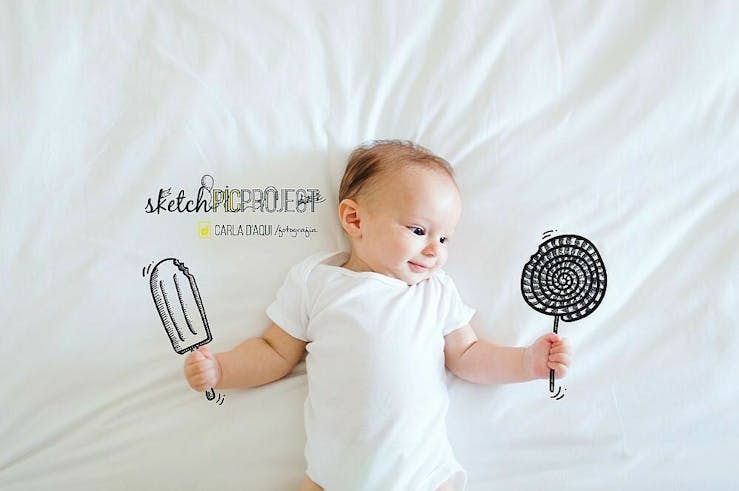 5. Wrap Around Baby
The popular egg wrap is the cutest one for your little munchkin. This cute newborn photo ideas needs a blanket to wrap the baby and place your baby in a basket. Tuck your baby's hand and legs and start wrapping using the blanket to get a successful DIY baby picture.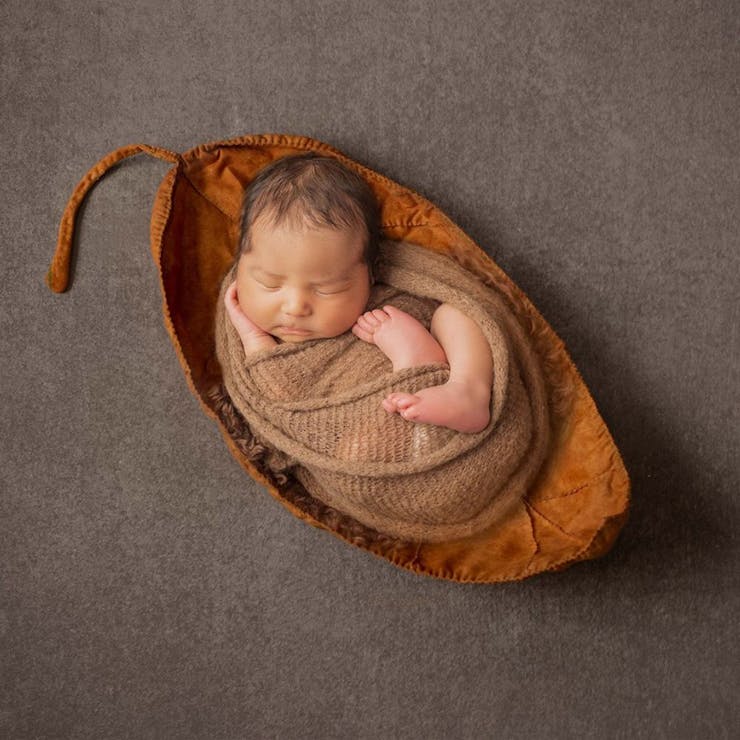 6. A Cute Fairy Tale
Create a fairy tale by dressing your little angle like a Disney princess. You can create a beautiful aura using some props like a floral basket, a fancy dress, and some cute toys to shoot the dreamy snap of your little princess.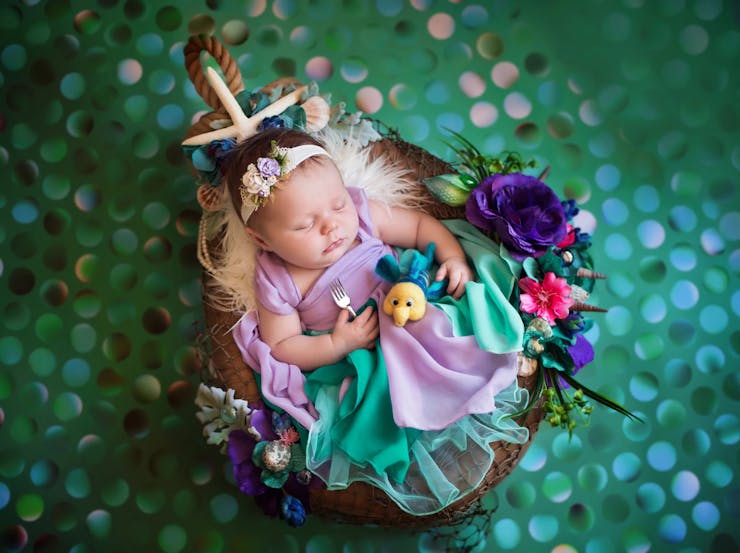 7. The Yawning Pose
Sometimes it's good to capture the simple activities of your little baby. A yawning pose is one of those moments which easily attract everyone with its cuteness. Shoot this natural pose while your baby is feeling sleepy and yawning under his bed.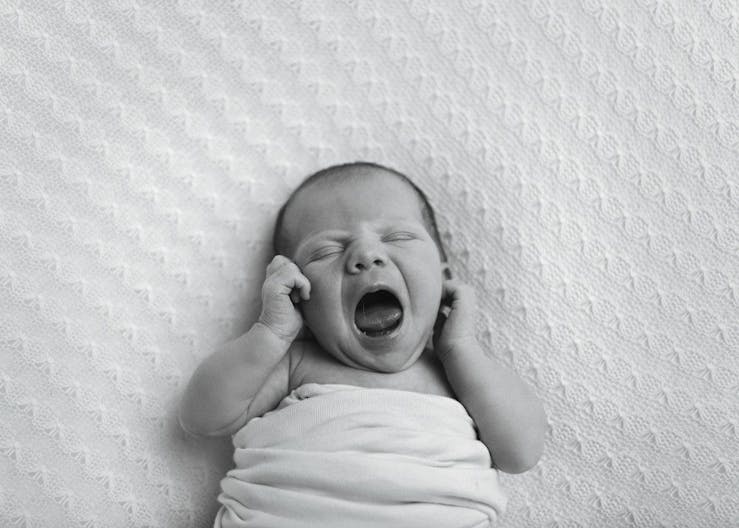 8. A Pose With Daddy
This newborn shoot ideas is probably one of the most requested ones in a baby photoshoot. This type of photography always reflects the strong bond between the father and baby. This particular pose is a true treasure for every dad.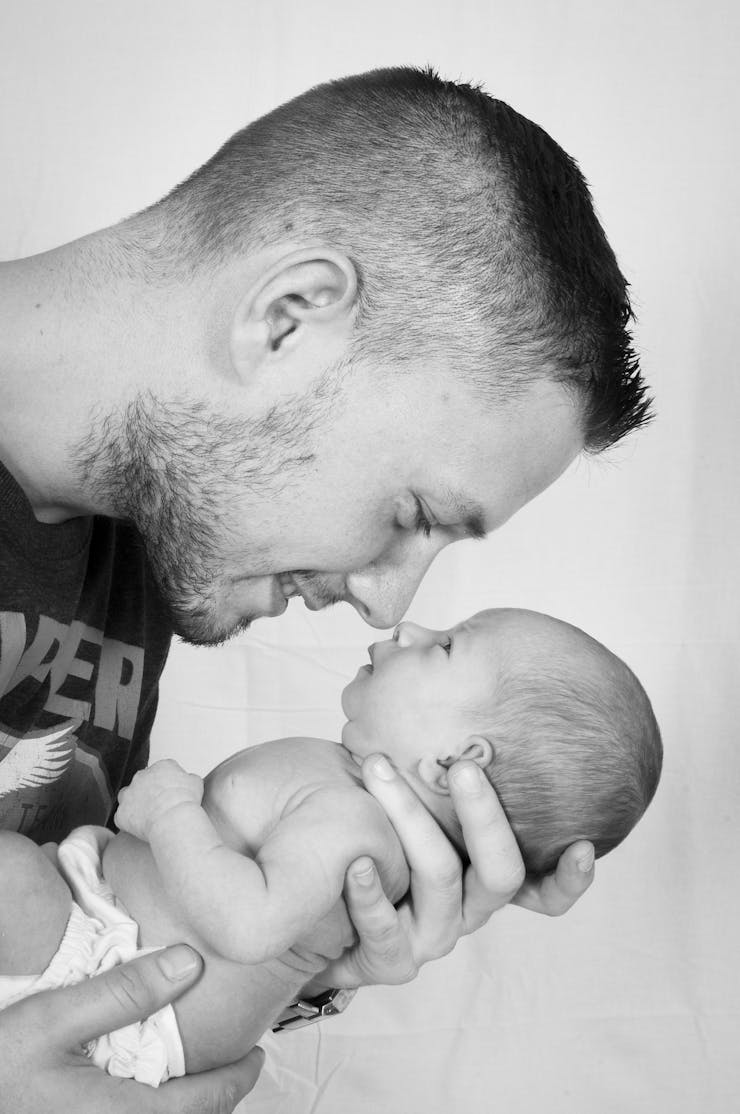 9. A Pose With Mummy
A pose with mother is a must for new born family photo ideas. Hold your little baby in your arms and show your affections in the picture. This beautiful bond between a loving mother and their babies is the most beautiful part of childhood.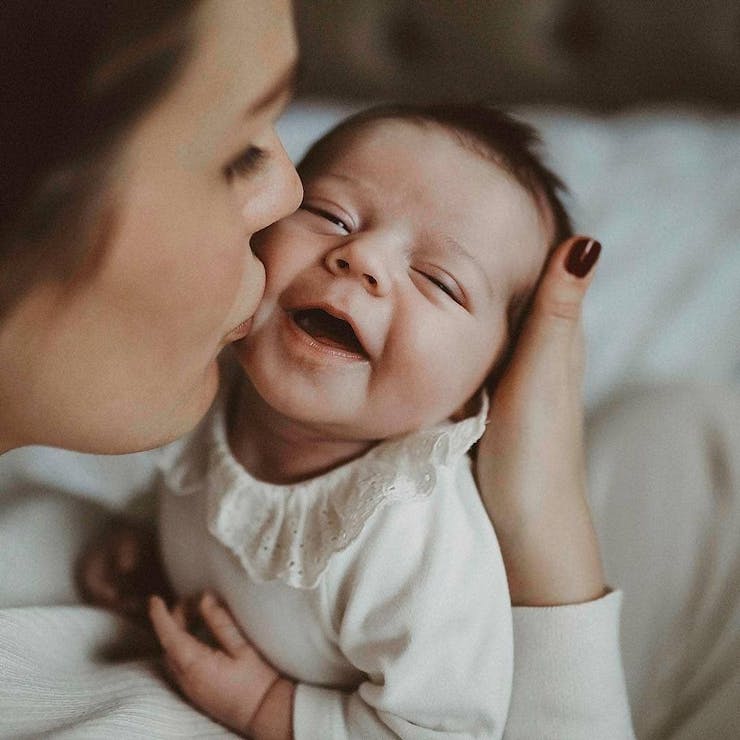 10. A Lovely Pose With Siblings
Older siblings share a loving bond with the new babies. If you have an elder child then you must capture all the siblings in a single frame to make a priceless memory that will last forever.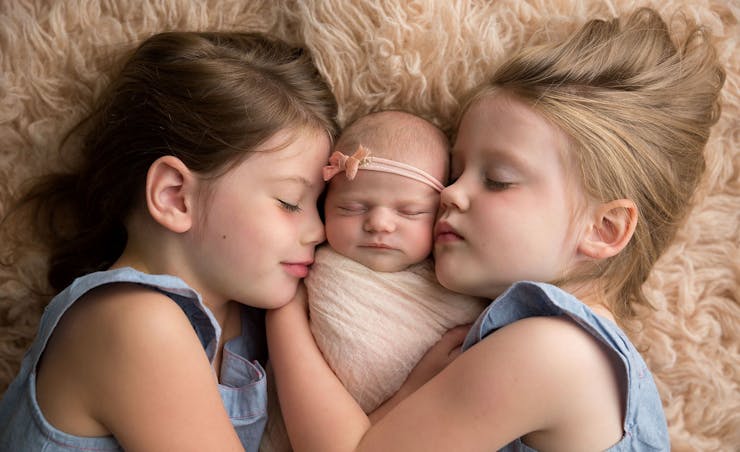 11. A Sweet Family Pose
Newborn poses with parents are the most popular ones in a baby photoshoot. Keep your baby in the middle and give him or her a sweet kiss on the chicks to show your love towards them.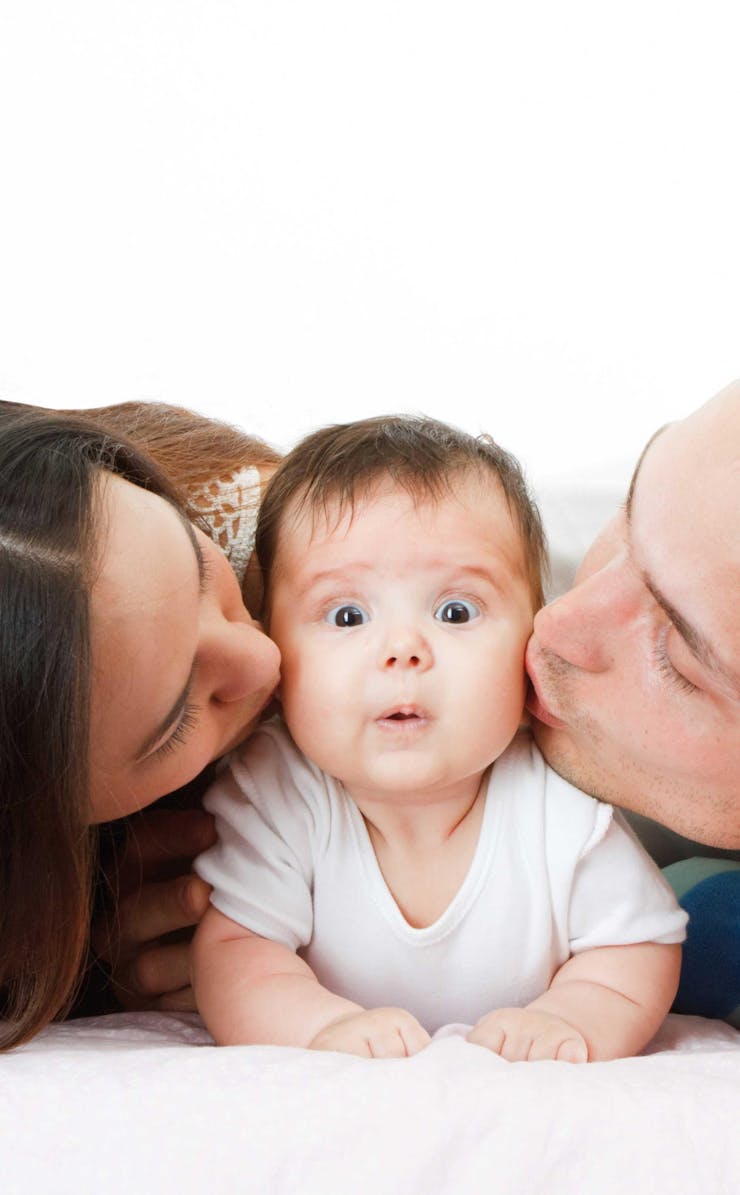 12. Playful Pose
Capture fun baby moments while their sleeping by placing a soft toy beside them. You can add a little bit of creativity to make the simple photo look extraordinary.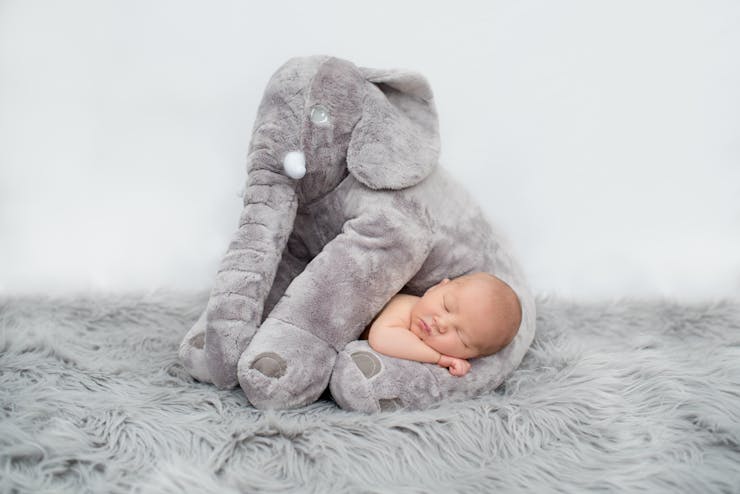 13. The Water Baby
Babies look adorable in their bath-tub they love to play with water which can create a fun moment for everyone. You can capture this special moment by placing your cutie-pie in the water tub with profs like strawberries or red roses.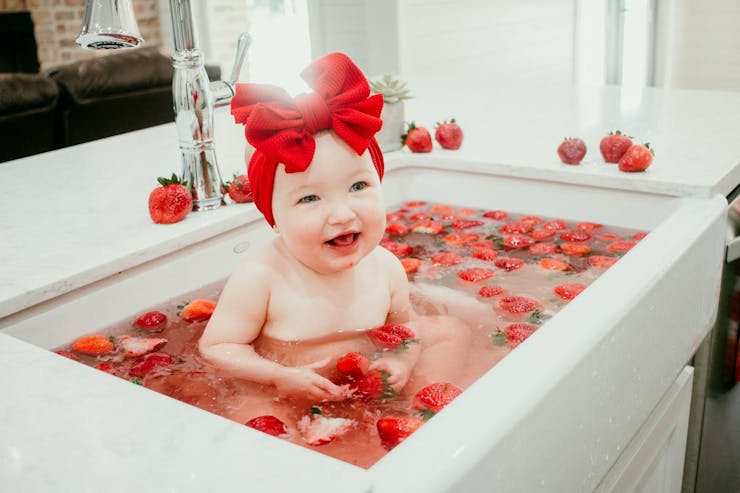 14. A Cute Fashion Pose
Dress your baby by picking a traditional costume or a stylish hat and tie to get the most fashionable newborn click. These are one of the most beautiful and creative photograph ideas that you must try.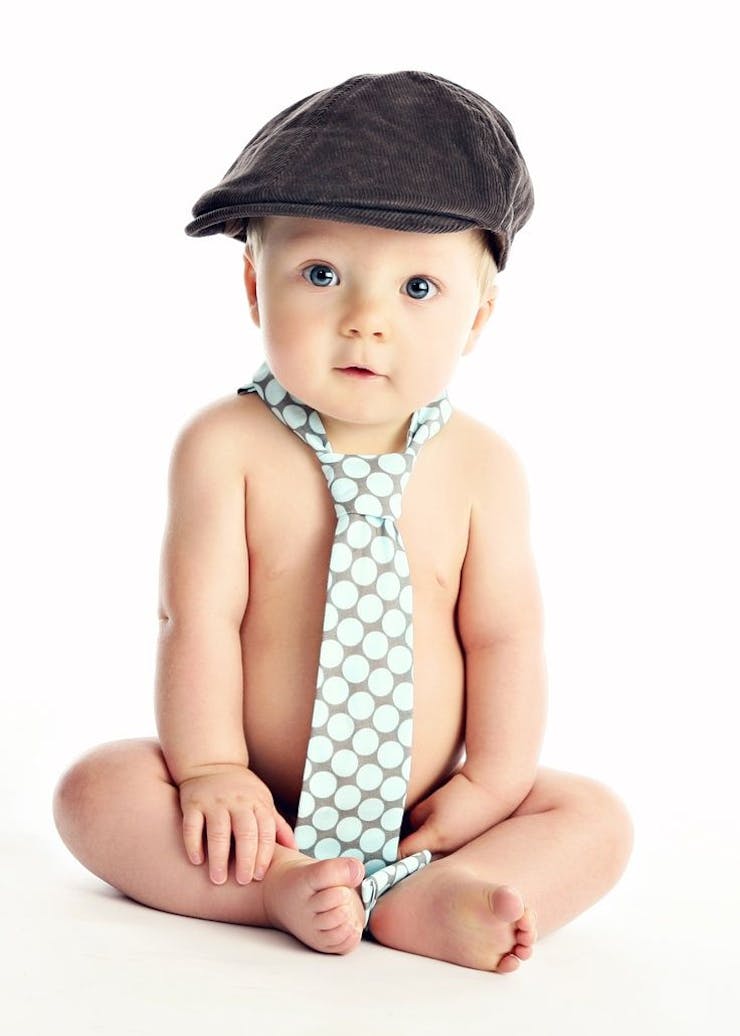 15. Beautiful Smiling Pose
The pretty smile of a sleeping baby is a heart-melting pose that parents love to try. This is a very simple pose that can be easily achieved at home.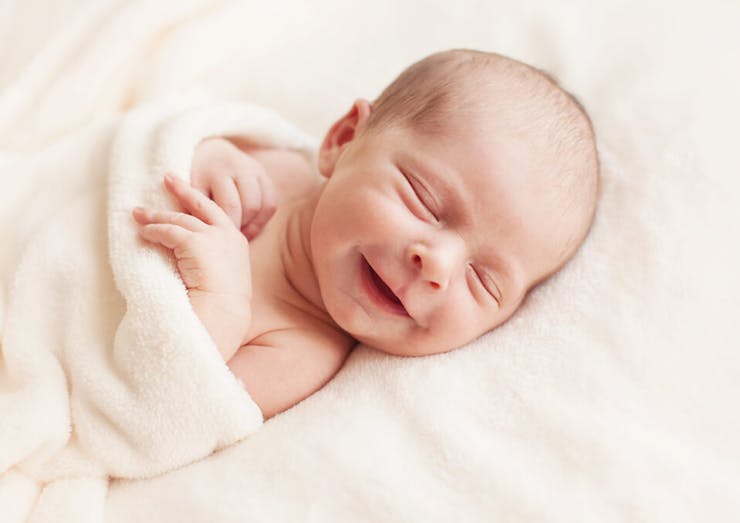 If you think that you can handle newborn photoshoots at home then follow these DIY baby photoshoot tips to capture those squooshy moments.
Make Sure To Manage The Best Lighting
To get a bright and angelic shot of your baby, allow the natural lights in the room. Thus, plan the photoshoot in the daytime and leave your windows open that lets in light come in.
Shoot According To Your Baby's Schedule
Find the timing of the day when your baby stays happy and in a playful mood. You can also click the pictures while they're asleep and calm.
Always Choose A Light Color Props
A neutral color outfit or prop will reflect the light and brightness during your baby's photoshoot.
Set Up Your Camera In Advance
It's really difficult to tell when a baby will be in a good mood. Hence, preparing the camera to shoot the baby in advance will provide you with an instant happy click.
Toys Or Music Can Easily Draw Their Attention
To establish eye contact with babies while clicking pictures, you can use their favorite toys or play music. Start shaking legs or play with them to get a really exceptional photo.
But it is always a good idea to hire a professional newborn photographer that can help you produce the right kinds of the image with their knowledge and expertise. If you want to create the sweetest memories that will last forever from the comfort of your home then contact our photography experts today.